December 08, 2014 -
Dr. David Chao
Monday Morning MD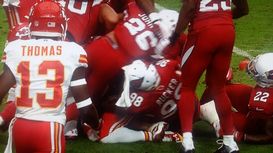 With some injuries, speed is everything.
The Kansas City star running back had his left leg/foot trapped in a pile and was bent over backwards like a pretzel. He was in enough pain that he dropped the ball for what was initially ruled a fumble. How was Charles able to return to score on a nifty 18-yard catch and run?
By video, there was a clear high ankle type mechanism on the same left side where he had a high sprain earlier this season. Yet Charles was able to return to finish the game.
The Chiefs offensive juggernaut headed to the locker room after the injury and emerged to be quite nimble. Kudos to the KC medical staff for employing a successful combination of taping, bracing and/or medication to allow for an effective and safe return to play.
Contrary to media impressions, all high ankle sprains do not mean prolonged absences. Treated effectively, mild varieties can miss little to no time. However, don't be surprised if you see Charles in a precautionary boot after the game to avoid swelling.
What also played a role in minimizing the damage to his ankle ligaments is the slow speed of the torque. Quick forces do not allow a ligament time to stretch and thus tears are more common. Lower speed injuries allow connective tissue time to accommodate and stretch without causing loss of structural integrity.
Although not exactly a parallel, this is why stretching and warm-up can help avoid injury. Warm-up, stretching and slow forces tend to maximize the elastic properties of ligaments and tendons.
With good medical care and a gradual torque, Jamaal Charles was able to escape more serious injury. I am always happy to get a chance to talk about a player being able to return rather than their injured reserve status.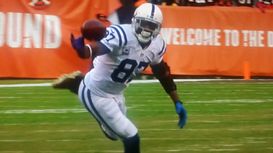 The brace on Wayne's left arm
MMMD 1: Reggie Wayne playing with torn left triceps
The Colts veteran wide receiver had probably his worst game in his heralded 14-year NFL career. In a post-game radio interview, head coach Chuck Pagano indicated Wayne was "fighting through: knee, elbow, torn tri." There was no elaboration or clarification if he meant a triceps tear. He missed Week 8 with an elbow injury but a triceps injury has never been disclosed.
Admittedly, I have not previously seen a play where I felt Wayne tore his triceps. Based on the radio comment, I went back and looked at his eight targets versus Cleveland this week. My conclusion is that Wayne does indeed have a left triceps tear.
Wayne is wearing a large hinged brace, not a sleeve, on his left elbow. He favors his left arm, has trouble get off the line and only uses his right side in the routine hand fighting at the snap. He runs routes with his left arm bent up and stiff or hanging limp at his side. He doesn't ever pump his left arm when he runs. He has three obvious drops and several more catchable balls hit the ground. He has a very small target zone and never truly extends his hands for the ball. His hands are never really together as his left side lags behind when he reaches for a catch. His only catch in the 4th quarter is made with his body rather than arms extended.
These are all clear signs of triceps dysfunction. In total, Wayne had eight targets with one completion, three obvious drops and three other catchable balls hit the ground.
Hats off to Wayne for attempting to play through what most would consider a seaso-ending injury. Based on my video analysis his triceps is indeed torn. Look for the surgery announcement to come sooner than later.
MMMD 2: Injuries not always as initially announced
Initial team reports are not always correct. The Cardinals announced
Antonio Cromartie injured his Achilles, but later head coach Bruce Arians indicated it was not an Achilles. By video, it was not a classic mechanism for season ending Achilles tendon rupture.
There are a number of reasons why initial injury assessments can be inaccurate beyond teams purposefully misleading opposing teams. The initial reports are issued within minutes and are only a first estimate of injury. Sometimes the injury declares itself over time. Other times it is just non-specific terminology which is later clarified. For example, leg becomes quad or shoulder becomes pectoral, etc.
I try to correlate all injury reports with the facts seen on injury video to improve accuracy. Neither reports or my video analysis will ever be 100% correct but the combination of the two methods is better than either alone.
Hopefully Cromartie's initial report is confirmed to be incorrect as the only ten win NFC team can't afford to loose any more starters.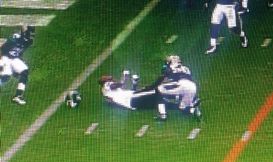 Posturing is often cause for concern.
MMMD 3: Andre Johnson posturing
In the health and safety era, everyone cringes at a big hit. When a collision leads to posturing or involuntary muscle contractions, we all get even more worried.
Although medicine is doing its best to study the effects of head trauma, there is still more we don't know than what we do know. Fortunately, posturing is not correlated with more (or less) head trauma. It is not necessarily associated with worse outcome or slower recovery.
I am not suggesting posturing is no big deal. Clearly if it occurs, a player needs to be pulled from the game, even if he passes a concussion exam. The good news is posturing is more unnerving to the viewers than it is indicative of larger brain issue.
MMMD 4: NFL investigating Romo's ribs
The talk the last month has been about Tony Romo's transverse process fractures. Last week it turned to his ribs after the Thursday night game.
In an interview, Romo admitted to dealing with a rib injury that required medical treatment and extra padding. The NFL is investigating whether the Cowboys were obligated to disclose the injury.
Injuries that put a player at risk to miss time are required to be reported. The policy also says, "All players with significant or noteworthy injuries must be listed on the report, even if the player takes all the reps in practice and, even if the team is certain that he will play in the upcoming game."
The question will be whether a rib cartilage injury that someone is playing through is considered significant or noteworthy. Then again, if the NFL fines the Cowboys for this incident, there should be a lot of teams fined every week.
MMMD 5: Haloti Ngata admits to Adderall use
The Ravens defensive end was suspended for the final four game of this season for testing positive for Adderall. Some NFL players have medical waivers and can use the medication legally, primarily for Attention Deficit Disorder (ADD).
Some media members indicated that al l Ngata needed was a prescription to take it legally for NFL purposes. That is simply not true. In my NFL team physician experience, the process for approval was more complicated than that. Players were not granted an exemption just because they had a prescription. They had to establish the diagnosis of ADD. Each case was reviewed individually and required much more than a single doctor's visit and a prescription.
The other unique angle of this story is that Ngata quickly admitted his use. However, he claimed to take Adderall to combat the grind of the season and help him deal with the rigors of three small children at home.
If Ngata needs the Adderall, he should go through the formal NFL process. Although more involved than obtaining a simple doctor's prescription, there is a pathway for legitimate use.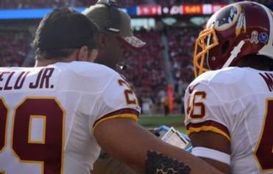 The new padding on Roy Helu Jr.'s elbow
MMMD 6: What is that fancy new protection?
Some of you may have noticed the black mini hexagons on the elbows of some NFL players. Even at the collegiate level, Heisman candidate Marcus Mariota was using it in the Pac-12 championship game.
Defender Skin is the latest form of custom protection. The unique padding come in a sheet and allow for flexibility and comfort while providing significant cushioning. It is idea for elbows and knees to prevent abrasion, contusion and traumatic bursitis.
My prediction is this special product will become commonplace throughout football and in many other sports. I wish I had thought of this simple but revolutionary form of protection.
MMMD 7: Medical Morsels
Louis Delmas injured his right knee. By video, he appeared to tear his ACL. After the game, the Dolphins confirmed the belief of a season ending ligament tear.
Andre Ellington began the year with a foot tendon issue and recent was knocked out with a hip pointer. Ultimately, a sports hernia surgery will end his Cardinals season.
Gerard McCoy reportedly dislocated his patella but returned to play. I believe it to very unlikely that he suffered a true dislocation (requiring reduction), but rather a subluxation (quick in and out shift). There is no way he walks off the field with a dislocated kneecap and no way he returns. Video was also consistent with a patella subluxation. I am not taking anything away from McCoy for playing through the injury as many would not be able to play after their kneecap popped out and back in. It just wasn't an actual full dislocation that required reduction.
Zach Mettenberger aggravated his throwing shoulder when he was sacked in the 4th quarter. He was playing with a right AC joint grade 1 sprain and likely exasperated the injury. I doubt the ensuing MRI will show any other damage but the degree of injury could be advance to a grade 2 or 3 category.
Percy Harvin played a great game in his Jets return to Minnesota but was injured late in the game and did not play in overtime. He apparently hurt his left ankle on a catch just after the two-minute warning. Video did not show an obvious mechanism but Harvin left the stadium on crutches.