July 07, 2014 -
Dr. David Chao
Monday Morning MD
The NFL will prohibit non-standard/over-built facemasks for the 2014 season. The banned equipment has, "more bars, smaller spaces between the bars, and a generally larger coverage area." Several players, including former Raven Ray Lewis, have used them previously.
A memo from the NFL cites safety concerns based on research from the National Operating Committee on Standards for Athletic Equipment (NOCSAE) that the over-built masks more frequently fail safety tests. All helmets and facemasks are required to meet NOCSAE standards prior to usage in the NFL. Some of these new facemasks reportedly do pass, yet all the new configurations will be banned.
Troy Vincent, NFL executive vice president of football operations, also cites a study performed by the University of New Hampshire on behalf of the NFL. The concern is about the added weight which "can cause neck fatigue that could lead to a more head-down posture during contact" potentially leading to increased head or neck injury. If this is true, certainly more lightweight materials could be used or even a bungee-cord like device on the back of the helmet to encourage a head-up position.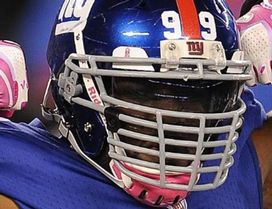 Ravens DT Chris Canty has been wearing this facemask for years.
Although cited by the NFL, both the NOCSAE data and the University of New Hampshire study are unpublished and cannot be referenced or reviewed publically. Several NFL committees composed of team doctors, athletic trainers, outside specialists and leading researchers meet regularly. The Injury and Safety Panel and the Head, Neck and Spine Committee are two such groups that have likely had access to this unpublished data. These dedicated volunteers meet regularly throughout the year and serve to advise the commissioner.
Players cite safety as the reason they want to use the "grill" masks. The openings are significantly smaller and don't allow fingertips to reach in to grasp the bars. Used with eye shields, it prevents fingers and fingernails from scratching the face or the eyes.
Baltimore Ravens defensive tackle Chis Canty states he can't play without his custom facemask. In 2005, Canty was struck in the eye with a beer bottle and suffered a detached retina, which required emergency surgery. Canty has played his entire NFL career with the "grill" facemasks and tinted eye shield.
The NFL will allow individual players to apply for a medical waiver. There is no reason to believe that Canty won't be allowed to wear his custom facemask since he has been allowed to wear it before and his medical circumstance hasn't changed.
Oakland Raiders defensive end Justin Tuck adopted the new configuration to make it harder for opponents to grab or tug at his facemask. He suspected offensive linemen were yanking on his old facemask to aggravate his neck injury. Broncos pass rusher DeMarcus Ware may have adopted the new facemask last season for similar reasons after he had several cervical stingers. Players will argue fingers pulling down the head and neck may play a bigger factor in injury than the neck fatigue issue raised by the aforementioned study.
There is no question that players may like the Bane-like look and value the intimidation or "cool" factor. Arizona Cardinals defensive tackle Darnell Dockett pleaded to the NFL to allow players to have some "swag."
Likely, the NFL also values the uniformity of the current facemasks. Historically, the league has been very strict on its uniform rules. For example, they don't allow athletes to use tinted shields without an approved medical waiver.
In the NFL health and safety era, medical is often cited as the reason for change or lack thereof. The league wants to ban new facemasks based on safety. Players want to use them because of safety. But I wonder how much of the NFL or player desires are based on fashion versus safety.
MMMD 1: Growing list of linebackers injured this off-season
Kiko Alonso tore his ACL while training in Oregon and will miss the 2014 season. The Buffalo star linebacker was involved on the play last season where Browns quarterback Brian Hoyer tore his ACL. In a classy move, Hoyer tweeted well wishes to Alonso.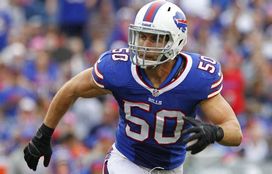 Alonso ranked third in the NFL with 159 tackles last season.
The Bills player joins the unfortunate group of star linebackers with significant training injuries this off-season.
Sean Lee of the Cowboys tore his ACL and there was some initial hope of returning late in the season. Unfortunately, he was recently placed on injured reserve. The hope is that this is not a sign of bad news discovered at the time of his surgery and just a roster decision.
Atlanta's Sean Weatherspoon tore his Achilles tendon and is done for the year. Giants linebacker Jon Beason suffered a significant tendon injury and small fracture in his big toe and will likely miss the start of the season, but at least he is the only one on this list who will play in 2014.
MMMD 2: Jabari Greer's career likely over
The former Saints cornerback has probably reached the end of his illustrious 10-year career. Greer suffered a multi-ligament injury and dislocated his knee on a gruesome play against the 49ers last season. He recently admitted that he is not currently seeking any playing opportunities and likely would not be ready to work out for any teams in time for training camp.
As initially discussed when he tore his ACL, PCL and posterolateral corner, it is difficult for any player to return from that injury, but near impossible for a 32-year-old cornerback.
Congratulations to Jabari on a wonderful career. The upside is that his knee should be close to normal for everyday life and he will now have time to spend with his family.
MMMD 3: Players object to concussion settlement
Seven players claim the proposed settlement is a lousy deal for players. They allege that although they have post-concussion symptoms, they would not receive any money as their symptoms are not severe enough at the moment. The players also object to the $122.5 million in legal fees the attorneys negotiated for themselves despite never doing an y of the customary deposition and legal work.
Under the terms of the proposed agreement, the players do have the ability to opt out and pursue individual litigation. They likely are objecting because single plaintiff litigation is costly as opposed to being a part of 1,500 plaintiffs.
The NFL was hoping to put the concussion litigation behind them with the now uncapped settlement, but that seems unlikely to happen as a slew of individual litigation is likely to crop up.
MMMD 4: How do boxing and football mix?
No, I am not referencing concussions and the chronic traumatic encephalopathy (CTE) first discovered in boxers. I am referring to off-season training.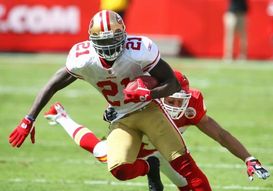 ICONNiners running back Frank Gore cross-trains during the off-season.
A number of NFL athletes like Frank Gore cross-train with boxing when away from football. Shawne Merriman and others used to swear by it as well.
Boxing training can provide endurance, speed and quickness. Fast hands and fast feet are requirements for many football players and boxing can enhance those hand placement and footwork traits. Besides, a switch-up in training is often healthy for the mind and body. In addition, one can see the attraction of the performers of one "gladiator" sport to that of another "gladiator" sport.
MMMD 5: What is a TUE?
Therapeutic use exemptions (TUE) are part of the performance enhancing drug policy. A TUE allows an athlete to use a normally banned substance for documented medical need. Most head team athletic trainers file the paperwork on behalf of the players to keep them on the right side of suspensions.
June 30 marked the deadline for NFL players to file the medical application for their TUE. A player may apply for a TUE at any time, but a positive test after July 1 leads to discipline.
The most common application is for Adderall, an attention deficit disorder medication. Players claim it helps them concentrate. Extensive documentation is required to obtain the TUE. By my informal count, over 10 percent of NFL athletes take Adderall, which is a form of amphetamine.
MMMD 6: All spine fractures are scary, but not all are dangerous
In the "other" football news, Brazilian soccer star Neymar was reported to have suffered a L3 vertebrae fracture after he was kneed in the lower back. Any lumbar spine fracture sounds ominous, but this one is likely just painful.
By mechanism, Neymar has an injury to his spinous or transverse process. Brazil's team doctor confirmed my suspicion and has called it a "benign fracture" that needs 3-4 weeks to recover.
I have treated a number of these injuries in the NFL. The good news is this injury is non-structural, doesn't need surgery, doesn't involve the spinal cord or nerves and will return to be 100 percent healthy. The bad news is that it is very painful, the fracture may not truly unite and Neymar is very likely to miss the rest of the World Cup, even if his team makes it to the finals.
By the way, the pictures of Neymar's fracture shown on Brazilian television and on the internet worldwide are not authentic. First, it is not even an X-ray, it is one image of a CT scan. Second, it depicts a chronic injury as it has sclerotic borders and is therefore not an acute fracture. Third, it shows a pars injury that happens from hyperextension and this mechanism was a direct blow while his spine was flexed. Finally, the level of injury on this film is L5 and Neymar's injury was at L3.
Inadvertent bad medical information from traditional media is one reason I write this column.
MMMD 7: Slowest time of year for NFL news, still plenty of football medical news
According to Mike Florio, this is the hardest time of the year to find one story per team for his ProFootballTalk one-liners feature. As an indication of the lack of football stories, a headline read, "Sapp helps fill dead spot by stiffing waitress."
Even in this slow NFL news month, I have not found any dearth of medically related football news. Admittedly, I don't need to find 32 stories, but it has not been hard to continue the in-season format of one main topic and seven additional items.
As I continue my first year of this column, the beginning of each week brings worry that there may not be enough medical news. By the next Sunday, there has always been plenty of subject matter and typically I leave off topics as to not make the column too long.
I hope you continue to find it interesting and am happy to tackle any subject the reader may suggest. Tweet me @ProFootballDoc.
MMMD extra: ACL surgery series – Week 25
As we follow the recovery of the same day ACL surgeries of Patriots tight end Rob Gronkowski and Broncos linebacker Von Miller, one must remember the complete recovery process is long.
Broncos cornerback Chris Harris, Jr. underwent ACL surgery in February and stated that he is now at 85 percent. Typically, a patient continues to improve for at least 18 months after surgery. I tell patients that even though they can return to play sports early, the second season back will be better than the first.
This is especially true for a cornerback like Harris. He needs to instantaneously react to the receiver and ball in the air. This is one reason I have predicted a big year for New England cornerback Darrelle Revis, as this will be his second season back and his first fully healthy one.
Follow David on Twitter: @profootballdoc
Dr. David Chao is a former NFL head team physician with 17 years of sideline, locker and training room experience. He currently has a successful orthopedic/sports medicine practice in San Diego.