May 19, 2014 -
Dr. David Chao
Monday Morning MD
Last year's NFL sack leader was suspended for the first four games of the upcoming season for a violation of the NFL's performance-enhancing drug policy. Robert Mathis reportedly tested positive for a prescription drug named Clomid (Clomifene), which is most commonly known as a female fertility drug. It is also known to be a masking agent taken in conjunction with steroids. Notably, baseball player Manny Ramirez and many Olympic athletes have received suspensions for testing positive for this banned substance.
The Colts linebacker insisted he wasn't cheating and that he only took the medication for his family's infertility issues. We have all heard the "dog ate my homework" excuses before. In this case, the question is whether or not Mathis' explanation can be viewed as plausible.
On the surface, Mathis' excuse appears unbelievable. The NFL is correct in stating that Clomid "is not approved by the FDA for fertility in males and is a performance-enhancing drug that has been prohibited for years."
Clomid is a selective estrogen receptor modulator. To simplify, it helps decrease the effects of estrogen and potentially increases testosterone production. In females, it can help induce ovulation. In addition, Clomid is linked to steroid use, but is not itself a steroid. It can decrease the side effects of steroids, including gynecomastia (male breast enlargement).
Although Clomid is known primarily as a female fertility drug, the little known truth is that it is also frequently used in males as well. Infertility experts that I have spoken with confirm unequivocally this appropriate usage in males. These specialists commonly use Clomid on males with low sperm counts. Typically, the drug needs to be used for at least three months to see results. Athletes are not immune to having low sperm counts as overexertion, heat and trauma can contribute to or cause the problem.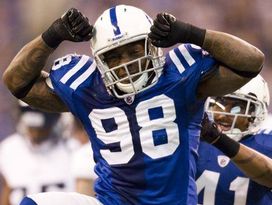 Mathis led the NFL with 19.5 sacks last season.
The NFL is correct in that Clomid is not FDA approved for male fertility treatment. However, drugs don't have to be approved for a specific usage in order for doctors to prescribe them for a medical condition. Licensed physicians have discretion on how to utilize any FDA approved drug. There is a restriction on pharmaceutical companies to only market a medication for approved usages, but there is no restriction on doctors to use it as they see fit.
I cannot confirm that Mathis had fertility issues or that his story is correct as I have not treated him. I have no idea if he had a low sperm count and have not seen his medical records. I am only stating that it is indeed plausible that Clomid is used in male fertility treatments.
Even though Mathis' personal physician apparently told him it was fine to take Clomid, it is clear that a player is always responsible for what he puts into his body. Apparently, Mathis did not check with the NFL, NFLPA, the drug hotline, independent administrator, Colts physicians or Colts athletic trainers. If asked, any of the above would have let him know that Clomid was a banned substance.
Although this policy appears harsh, there is logic to the enforcement. Just because a doctor prescribes steroids (and some do), that doesn't give a player permission to use them. Players and the league have agreed to this stipulation in the Collective Bargaining Agreement and there is no room for discretion from the Commissioner or anyone else.
Despite initial suspicious reactions to Mathis' male infertility explanation, upon further inspection, it is indeed a logical possibility. His apparent willingness to share his medical records supports his claim that he is a clean player. In any case, however, the four-game suspension will remain.
MMMD 1: Human growth hormone testing may finally begin
The NFL and the NFLPA agreed to HGH testing in 2011, but that testing has yet to be implemented. Last year, an NFC starter estimated that 10-15 players on each team were using HGH.
The league accuses the NFLPA of dragging its feet. The players want independent arbitration of discipline.
HGH testing may finally be around the corner, as a newly renegotiated drug policy is finally close to agreement. These matters are collectively bargained and any change requires agreement from both sides.
MMMD 2: Higher marijuana levels may soon be allowed
A part of the aforementioned new drug policy that will allow HGH testing, the NFL threshold for positive marijuana tests may increase to Olympic levels. Currently, the limit of a positive NFL test was 15 nanograms (ng) per milliliter (ml) of urine. At the Sochi Olympics, a test was only considered positive at ten times that level (150 ng/ml).
Despite the fact that marijuana use is no longer illegal in the home states of both Super Bowl participants, it is still not allowed in the NFL. However, although it is not a done deal yet, there is likely to be a rise in the minimum level that is considered a positive test. This probably will be the only compromise, as the NFL is unlikely to agree to removing marijuana from the banned list as some players want.
MMMD 3: Rookies undergo physicals prior to mini-camps
Post draft, teams hold mini-camps to introduce their systems to rookie players and to get their first look at the new acquisitions.
A big part of every mini-camp is the rookie physicals. All new players will undergo a full physical. Players who attended the Combine will have completed their comprehensive physical and usually are just checked for any active or new issue. Since a good portion of rookies did not go to the Indianapolis event, teams will now be getting their first medical look at these players.
If a player passes a physical, the team is responsible for any medical condition. In my 17 years, there typically were a number of players with pre-existing issues. Sometimes they were failed and sent home. Other times a rider or exclusion of the injury was signed. Teams tend to exercise caution on free agent rookies, as the likelihood of making the 53-man roster is low and the possibility of future liability is high.
MMMD 4: College loss of value insurance policies
The potential income of college players and the risk of injury are both so high that some have elected to take out insurance. Ex-USC linebacker Morgan Breslin may be the first to collect on such a policy.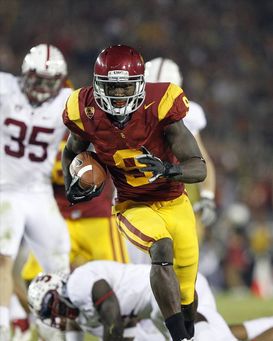 ICONUSC wideout Marqise Lee sli d to the second round, possibly due to injury concerns.
Breslin was third in the nation in sacks in 2012. He purchased an insurance policy in 2013 and then had sports hernia and hip issues. He subsequently fell from a potential first round selection to an undrafted free agent. It is postulated that he will have a solid claim to collect up to $1 million.
His former college teammate, wide receiver Marqise Lee, had a policy as well and might also be able to collect. Lee's draft stock may have tumbled due to a knee injury.
As potential NFL incomes soar and injury risks remain high, it is likely we may see more of these insurance policies. Freshman and sophomores need financial protection since they can't turn pro until after their third year in school.
MMMD 5: NFL medical issues trickle down to CFL
Just like in the NFL, medical issues are at the forefront of the Canadian Football League. CFL players want independent sideline neurologists similar to what was instituted in the NFL this past year.
In addition, Canadian league players want the right to get a second medical opinion from the doctor of their choosing. NFL players have had the right to do this for decades. Second opinions have become the norm in the NFL.
It just goes to show that whatever happens in the NFL ultimately trickles down to all other levels of football. This is another reason for the NFL to handle medical issues correctly, as the football world will follow suit.
MMMD 6: Style over function
Johnny Manziel currently has the number one selling rookie jersey. Nike also has a potential new cleat concept design for Johnny Football.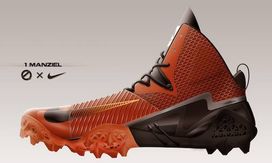 I find it interesting that there are seven pictures of the potential Manziel cleat design, but none actually show the cleats on the bottom of the shoe. It is all about the swoosh on the side and the new look.
A well-designed cleat can improve traction and help to avoid injury. The NFL even has a shoe committee dedicated to shoe safety. Despite this being the injury and safety era, the function of the shoe seems to play second fiddle to how it looks.
MMMD 7: Injury epidemics – UCL and ACL
The media is calling the increase in ulnar collateral ligament (Tommy John) injuries in Major League Baseball an epidemic. Dozens of pitchers have needed the surgery since the beginning of the season.
In the NFL, there were also calls of an ACL injury epidemic this past season.
Further analysis is needed before calling the elbow injuries in baseball an epidemic. The same is true for ACL injuries in the NFL. Now that the draft is over and NFL news begins to quiet down, in subsequent weeks, we will take the time to delve into the epidemiology of ACL injuries.
MMMD extra: ACL surgery series – Week 18
Four and a half months after the ACL surgery for Patriots tight end Rob Gronkowski and Broncos linebacker Von Miller, the rehab continues.
Throughout the first months, it is routine to take anti-inflammatory medication. Typically, I prescribe stronger prescription forms of Advil/Motrin or ibuprofen. There is inevitable swelling and it pays to stay on daily medication to keep the swelling to a minimum.
By this time, the anti-inflammatory medications should be weaned down to only on an "as needed" basis. I recommend medication only after a heavy rehab day or a long day on the feet. Short-term anti-inflammatory use has few side effects. The goal is to stay away from long-term use.
At week 18, if daily medication is required due to swelling, that may be a bad omen of continuing issues. If swelling persists this far out from surgery, the cause needs to be investigated.
Follow David on Twitter: @profootballdoc
Dr. David Chao is a former NFL head team physician with 17 years of sideline, locker and training room experience. He currently has a successful orthopedic/sports medicine practice in San Diego.