July 28, 2014 -
Dr. David Chao
Monday Morning MD
With the commencement of NFL training camps around the country, teams have the option of assigning an injured player to the Physically Unable to Perform (PUP) list. Although this designation is important, it is hardly as meaningful or always as ominous as it may sound.
Many fans don't realize that there are actually two distinct PUP categories. One is Active/PUP (preseason) and the other is Reserve/PUP (regular season). The current designations are all of the first variety and do not mandate any missed games or time. Once a physical is passed, practice may commence immediately. The second variety of PUP comes into play as the season starts and includes a 6-10 week absence. By placing a player on Reserve/PUP, it frees up a roster spot, but the player is not allowed to return until a minimum of six weeks into the season. The confusion occurs as PUP is typically discussed without stating the Active or Reserve designation.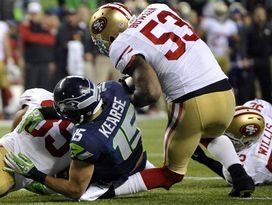 NaVorro Bowman is on the PUP list after suffering a gruesome knee injury in last January's NFC Championship game.
Being left off Active/PUP is more significant than being put on the list. Not being on PUP means that a player has passed his physical and can practice with the team. However, this doesn't mean a player is completely healthy or a full go. It does indicate that the club thinks he is close enough that he doesn't risk missing the first six games of the season, but it is not a guarantee a player will play in Week 1.
In order to be eligible for Reserve/PUP where a roster spot is freed up, the player has to have been on the Active/PUP list first. If he passes his physical and starts the season practicing with the team, the Reserve/PUP option is gone.
For example, Bengals star cornerback Leon Hall is coming off an Achilles tear and was placed on Active/PUP at the start of camp. Two days later, Hall passed his physical and was cleared for practice. Immediately after coming off PUP, Hall was doing well enough to line up with the first team during Thursday's first practice.
There is nothing improper about what the Bengals did with Hall. It is an allowed maneuver that would preserve the inactive/PUP designation should Hall suffer a setback. Had he not started the season on PUP, Hall would not be eligible for the roster saving PUP designation. Of note, new and/or different injury would not qualify Hall for regular season PUP.
On the other hand, Patriots tight end Rob Gronkowski not being placed on the PUP list doesn't guarantee that he will be ready come Week one. Gronk is practicing with the team against air, but is not 100 percent and has yet to participate against a defender in 7-on-7 or 11-on-11 drills. Even if he suits up in the season opener, he may not get the typical number of plays and targets as later in the season when he works his knee into playing shape. At least the lack of an opening PUP designation indicates the Patriots have no worries about Gronk needing the six-game cushion.
PUP means a player has an injury that is related to last season or the off-season and currently has not passed a physical and is prohibited from practicing with the team. Non-Football Injury (NFI) is the designation for non-NFL incurred injuries, such as injury from college, illnesses, appendicitis or even the alcoholism of Aldon Smith.
Starting training camp on PUP does not preclude playing 16 games and having a great season. However, beginning the season absent from the list doesn't guarantee full practice or a healthy Week 1, but is a good sign that full recovery will be soon.
MMMD 1: Notable PUP and non-PUP players
Now that we have discussed what PUP in the preseason actually means, here is a list of notable players initially placed on Active/PUP, as well as those left off the list:
Notable players starting on preseason PUP are: Brian Cushing (Knee/LCL), NaVorro Bowman (ACL/MCL), Geno Atkins (ACL), Tyrann Mathieu (ACL/LCL), Chris Harris (ACL), Jermaine Gresham (back), Jon Beason (toe), Knowshon Moreno (knee), Kam Chancellor (hip}, Jairus Byrd (back), Golden Tate (shoulder), Mike Pouncey (hip), Anthony Spencer (knee), Bruce Irvin (hip) and others.
Notable players who had surgery and bypassed PUP: Rob Gronkowski (ACL/MCL), Tony Romo (back), Sam Bradford (ACL), Von Miller (ACL), Jadeveon Clowney (sports hernia), Julio Jones (foot), Reggie Wayne (ACL), Brian Hoyer (ACL), Cam Newton (ankle), Eli Manning (ankle), Henry Melton (ACL), Jerod Mayo (pec tear), Clay Matthews (thumb), David Wilson (neck) and others.
MMMD 2: Camp just begun and injuries already start
It is inevitable that significant injuries will occur during training camp. In my two decades of medical duties in the NFL, each training camp always brought season-ending injuries. The key was to avoid significant injury to key players. Unfortunately, more often than not, my teams placed a projected starter on Injured Reserve.
Just days in, a trio of running backs had their season ended. The 49ers' Kendall Hunter tore his ACL, the Colts' Vick Ballard ruptured his Achilles and Panthers rookie Tyler Gaffney tore his lateral meniscus (and maybe more). In addition, Ravens cornerback Aaron Ross tore his Achilles tendon during the team's conditioning test and Patriots wide receiver Greg Orton was carted off the field with a season-ending lower body injury. Fortunately, LaMichael James' elbow dislocation will not be season-ending and should only have the San Francisco running back out 2-4 weeks.
All of these are non-contact injuries. The elimination of two-a-days, limits on contact and practice time have not served to decrease these injuries as one might have hoped.
MMMD 3: Pattern of high-intensity practice continues
Recently, the NFL has adopted a trend on increased tempo in practice. This tendency may have been spurred on by the new CBA rules limiting practice time. When faced with practice limits, coaches tend to cram more plays into limited sessions by increasing speed and tempo.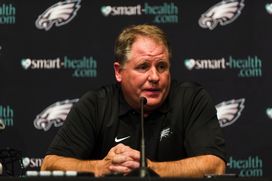 Kelly's Eagles may run more plays during practice than any other team in the league.
Chip Kelly, the standard bearer for quick tempo, told beat writer Jeff McLane that the Eagles ran 10-12 more plays per practice this spring than last year.
Although an increase in plays and tempo may help football performance and evaluation, it may be the reason why the new CBA elimination of two-a-days hasn't resulted in decreased injuries.
MMMD 4: Failed conditioning tests are not medical tests
Buffalo Bills defensive lineman Marcel Dareus reportedly failed his initial conditioning test and was placed on the Active/NFI list. Although there are objective medical tests for fitness, NFL conditioning tests are traditionally determined by the coaching staffs.
Typically, it involves a timed running test. Each coach determines his own standards and often passing thresholds differ by position and/or player. Objective measures like cardiac treadmill stress tests or other medical fitness test are not used.
I am not saying this is the case in Buffalo, but the subjective nature of conditioning tests can lead to the famous standoffs as seen with Mike Shanahan and Albert Haynesworth in the past.
MMMD 5: Cowboys begin prophylactic knee bracing
Last year, all collegiate teams in the Top-25 Associated Press final poll used preventative bracing, with 23 teams using the DonJoy Defiance brace. Prophylactic bracing is most effective for offensive linemen and also has been used on the lead legs of quarterbacks. In the NFL, it has never caught on for routine use.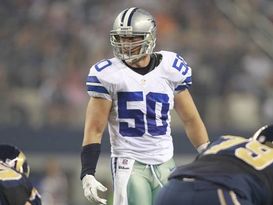 The Sean Lee injury in Dallas has caused some policy adjustments.
Medical staffs have long recognized the potential benefits of prophylactic bracing, but NFL players typically don't like wearing the braces. Recently, players have even objected to wearing mandatory knee and thigh pads that weigh ounces.
Through the efforts of management and medical personnel, the Cowboys now require these braces on all linemen for practice. This policy may be partly due to the Sean Lee ACL injury that occurred during minicamp, but linebackers are not included in the policy. It has yet to be decided if bracing will be a game directive.
Last year, the Patriots were the only team with the mandate, but some teams like the Cowboys have tried it previously. Other teams like the Bills, Chargers, Jets and Texans offer preventative bracing, but it is not required. In this health and safety era, maybe the bracing trend will finally catch on in the NFL.
MMMD 6: Robert Mathis fertility drug works
When he was suspended for violating the league's performance enhancing drug policy, Colts linebacker Robert Mathis stated he used the banned substance Clomid for male fertility purposes. Whether one believed Mathis or not, his excuse was medically plausible.
The fertility medicine may have worked, as Mathis announced the birth of a daughter. Regardless, he will be suspended for the first four games this season.
Mathis and his family likely view his new addition as worth the penalty, but that could have been easily avoided if he had consulted with any team medical personnel before taking the banned medication.
MMMD 7: Miami incidents not isolated
According to Miami Herald columnist Armando Salguero, Dolphins owner Stephen Ross said the, "incidents here," relating to the last year's harassment scandal, "wasn't just here in Miami."
In my experience, NFL banter is typically different than what one hears in the real world. I don't have first hand knowledge of what went on in Miami, but certainly I am aware of comments in the locker room and training room that begin to skirt political correctness.
We may never know the truth of how different or similar Miami was to the rest of the league, but this statement does sound eerily similar to some of the comments related to the Bountygate scandal that took place in New Orleans.
MMMD extra: ACL surgery series – Week 28
The big news last week on the ACL recoveries of Patriots tightend Rob Gronkowski and Broncos linebacker Von Miller is that neither one was placed on the preseason PUP list. However, this doesn't mean that either player is currently 100 percent.
It does mean that neither the Patriots nor Broncos feel their player has a chance to miss six games. By passing the physicals and not placing either on the initial PUP list, they are no longer eligible for regular season PUP.
This doesn't guarantee either will play come Week 1. In fact, Gronk has not practiced against a defender yet and Miller is being eased back into practice.
Although ACL recoveries have clearly improved over the years, the recovery is not binary. It is never one day "not ready" and the next day "fully ready." It is always a gradual process.
At seven months, both seem to be on track, but don't expect either to be at their best or even play full snaps their first games back.
Follow David on Twitter: @profootballdoc
Dr. David Chao is a former NFL head team physician with 17 years of sideline, locker and training room experience. He currently has a successful orthopedic/sports medicine practice in San Diego.