August 11, 2014 -
Dr. David Chao
Monday Morning MD
Injuries are a part of training camp according to Panthers head coach Ron Rivera. However, when it comes to injury, no general manager, coach or player wants to hear the initials "ACL." Nowadays, the word "Achilles" has joined that dubious rank.
Anterior Cruciate Ligament (ACL) tears and Achilles tears are the two most common season-ending injuries during training camp. Nine players have torn ACLs since the start of training camp (not counting four more during OTA/minicamp). Seven complete Achilles tears have occurred since the opening of training camp (three additional prior to camp).
In a 32-team league, 16 players have already suffered season-ending ACL or Achilles tears during the first two weeks alone. Add in the earlier offseason injuries and 23 players total have been lost to an ACL or Achilles rupture.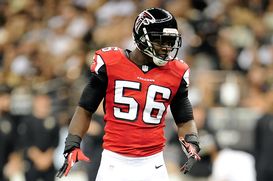 Falcons linebacker Sean Weatherspoon was lost for the season with a torn Achilles.</p>
ACL tears are most commonly non-contact injuries. Unfortunately, the new Collective Bargaining Agreement's transition to limited practice time and contact has not served to reduce frequency. The ACL is needed to provide knee stability for athletes who require quick cutting and planting. Surgery is required to reconstruct the ligament. This typically is a season-ending injury, although Chargers outside linebacker Melvin Ingram tore his ACL in May of 2013 and returned to the field in December seven months later.
Achilles tendon ruptures are also typically non-contact injuries. The Achilles tendon is vital for push-off, as one can't even stand on their toes with a tear much less run or jump. Common mechanisms of injury include sudden change of direction or on get-off. Biomechanically speaking, an unexpected eccentric load causes the tendon to quickly elongate and tear. Typically, surgical repair is needed and recovery is a minimum of six months.
The unstated goal of every training camp is to stay healthy. Teams that can accomplish this objective are in a better position to move forward with a successful season.
With Achilles tears having the same severity and approaching the same frequency, it's no longer just the ACL tear that is feared.
MMMD 1: Not just who is injured, but how many in a position group
A team certainly wants to avoid the loss of an irreplaceable superstar. However, multiple injuries to a position group can be just as devastating.
The Colts lost four projected contributors to the offensive line over the first two weeks of camp. Donald Thomas is out for the year with a quadriceps tear, Ulrick John has a fractured ankle and Xavier Nixon is scheduled for knee surgery. Thankfully, starting center Khaled Holmes only has an ankle sprain.
Three of the top four Jets cornerbacks are now injured. Dimitri Patterson has been missing time with ankle and calf injuries. On Sunday, rookie third-round pick Dexter McDougle tore his ACL and last year's first-round pick, Dee Milliner, suffered a high ankle sprain.
Let's hope Milliner's sprain is minor. Even though reports say x-rays are negative, a severe high ankle sprain can lead to surgery and more missed time than a simple ankle fracture.
MMMD 2: NFL brings safety message to "at-risk" players
The NFL has sent Troy Vincent, executive VP of football operations, to speak to 21 players in person. Six of the players (Dashon Goldson, Michael Griffin, Joe Mays, Brandon Meriweather, Antonio Smith and Erik Walden) were suspended for illegal hits over the last two years. The remaining 15 were felt to be in line for potential suspension if further incident.
The mission is to educate players as to the rules, interpretations and potential fines/suspensions. The meetings include tape review of specific plays in question.
Kudos to the NFL for trying to make the game safer. Unfortunately, eliminating all helmet to helmet hits will not eliminate all head injuries, as there are many other ways to suffer a concussion.
MMMD 3: More tablets on the sideline
Last season, tablets were utilized during games by medical staffs for concussion tests. This season, coaches and players will use tablets to replace the 50-yardline and endzone static black and white pictures that were ubiquitously used on NFL sidelines for decades.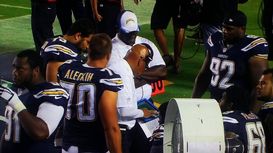 Chargers coaches use a tablet to talk with players on the sidelines.
Most teams have already transitioned from traditional playbooks to tablets. With the incorporation of electronic medical records for all teams this year, soon all player medical records will be accessible on sidelines too.
There are a few bugs to work out as Wi-Fi access is needed to operate the tablets. Bill Belichick indicated a few connection problems during the first preseason game at FedEx Field.
MMMD 4: NFL player shot after preseason game
After the Vikings' first preseason game, defensive tackle Linval Joseph was struck in the calf with a stray bullet. Joseph was an innocent bystander in a potential gang-related shooting and was among nine people who were injured. Fortunately, his bullet wound appears minor and he returned to practice and should be ready to play by Week 1.
During my NFL career, I have looked after three players who were wounded by gunfire. In 2003, defensive back Terrence Kiel was shot three times during an attempted carjacking in Houston. Linebacker Steve Foley's 2006 shooting by an off-duty police officer ended his career. Running back Curtis Brinkley was with his sister when shot in 2009 by her boyfriend who mistakenly assumed Brinkley was a romantic rival.
We all remember the tragic shooting death of Washington Redskins safety Sean Taylor. The mistaken identity 2007 New Year's Day shooting death of Darrent Williams also comes to mind.
In all six of these examples, the NFL players were not wielding guns themselves or provoking confrontations. We're happy to hear Joseph escaped serious injury.
MMMD 5: Two NFL safeties retire safely with their health
Steve Gregory and Yeremiah Bell decided to retire from football last week. Both players cited wanting to leave on their own terms with their health intact and with desires to enjoy family.
Gregory's eight-year c areer was highlighted by his recovery of the infamous Mark Sanchez "butt fumble." Bell had a distinguished 10-year NFL career including a 2009 Pro Bowl nomination.
In this NFL health and safety era, it's good to see two top players and genuinely nice guys move on with life and walk away from the game without a limp.
MMMD 6: Biogenesis founder Tony Bosch surrenders to DEA
17 Major League Baseball players were tied to performance enhancing drugs and the Biogenesis clinic. This was the second major drug scandal for MLB.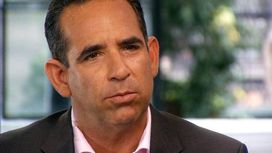 So far no NFL players have been linked to Tony Bosch and Biogenesis.
Over a decade ago, BALCO founder Victor Conte was supplying illegal steroids to Barry Bonds and other baseball players. What many forget is that Bill Romanowski and six Raiders players, as well others around the NFL, were linked to BALCO.
So far there is no evidence to link any NFL players to Biogenesis. Let's hope it stays that way.
MMMD 7: NASCAR's Tony Stewart on a dirt track
It is beyond tragic that 20-year-old driver Kevin Ward, Jr. was killed when struck by Tony Stewart's car on Saturday night. Their cars entangled and Ward later appeared to leave his car to confront Stewart, who was still driving on the track.
I am not a racing expert, but what I found unusual is the mix of different levels of competition. Stewart is at the pinnacle of racing and is a top driver in the Sprint Cup Series, the highest level of the racing sport. When the incident happened, Stewart was competing on a dirt track with minimal purse money on Saturday night when he was scheduled for Watkins Glen International on Sunday.
To me, this is like a top NFL player playing on a dirt field in a policeman's league the night before a game. I'm not saying there aren't quality drivers or athletes outside the top ranks. However, a common complaint among NFL veterans regarding the preseason is the fact that they have to go up against rookies who are trying to prove themselves.
Mixing levels of athletes can lead to more injuries. I am not sure what role, if any, it played in this horrific accident, but one would never see an NFL athlete playing flag football on one day and in the NFL the next day.
MMMD extra: ACL surgery series – Week 30
As we continue to follow the hypothetical ACL recoveries of Patriots tight end Rob Gronkowski and Broncos linebacker Von Miller, this year's crop of ACL injuries has already started (13 to date). If there is any good news about tearing an ACL early, like the Cowboys Sean Lee has, it gives a player an entire year to recover for next season.
Gronk and Miller were injured late in the season and had their surgeries on January 9 of this year. This puts them under time pressure for recovery. Although both seem to be on a good path to recovery for this season, imagine if they had three or four additional months.
I know this is of little consolation to any athlete who suffers a season-ending injury. As a team physician and doctor, I would always try to find the bright side of a situation to encourage a player/patient. If one has to suffer an ACL injury, tearing it early on has its advantages.
Follow David on Twitter: @profootballdoc
Dr. David Chao is a former NFL head team physician with 17 years of sideline, locker and training room experience. He currently has a successful orthopedic/sports medicine practice in San Diego.