October 20, 2014 -
Dr. David Chao
Monday Morning MD
In medicine, we have an informal rule: injuries come in threes. This has now proved true in short order for patellar tendon ruptures and ankle fractures in the NFL. Both are relatively rare injuries and both have come in a flurry of three.
The Giants' Victor Cruz had a much publicized patellar tendon rupture in Week 6 that required surgery and ended his season. Recently, the Cowboys' Morris Claiborne also tore his patellar tendon on a misstep in another nationally televised game.
The Patriots' Jerod Mayo completed the trifecta in Week 6 against the Buffalo Bills, as his injury information was finally released. Real time, I tweeted that Mayo likely had a knee extensor (quadriceps or patellar) tendon tear. Even though his mechanism of injury with forced knee flexion was different than Cruz or Claiborne, the same injury and season ending surgery was ultimately announced. This marks the second consecutive Week 6 tendon tear that has ended Mayo's season, as the linebacker had a pectoral tendon rupture in 2013.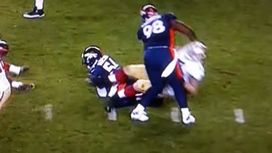 Kilgore suffered an ankle fracture on this play Sunday night against the Broncos.
Ankle fractures happen, but are not common in the NFL. Chargers running back Danny Woodhead and Browns center Alex Mack suffered similar ankle fracture dislocations. Both required season-ending surgery.
Now this past Sunday night in Denver, San Francisco center Daniel Kilgore suffered a similar injury after getting rolled up on with his left leg planted. Kilgore's fracture could be slightly different as he may have also injured his tibia in addition to his fibula. Kilgore's injury is likely a cross between Alex Mack and basketball player Paul George and his surgery may involve a rod rather than plates or screws.
We have now seen three high-profile patellar tendon ruptures and three ankle fractures in short order. Hopefully, this means we are done with seeing these two types of unusual season-ending injuries for this year.
MMMD 1: C.J. Spiller and Fred Jackson both injured
Unfortunately, both Buffalo running backs exited Sunday's game against Minnesota on a cart. Neither will be back for several weeks.
The worst fears were realized regarding C.J. Spiller, as a clavicle fracture was later confirmed. Collarbone fractures can heal without plates and screws, but surgery is usually performed to speed up the healing process and provide an earlier return to sports. Aaron Rodgers did not have surgery last year and was out for over two months.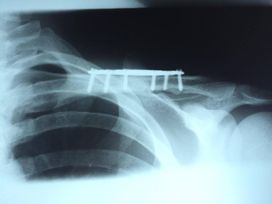 In my NFL experience, it is possible to return as early as four weeks, but often that number is six weeks. Shown here is an x-ray of an actual NFL running back I treated with surgery who was ready to return at four weeks (his name is purposely withheld for confidentiality reasons).
Fred Jackson was determined to have a grade two groin strain and was reported to miss at least two weeks. Groin strains are a hard injury for a running back to overcome. With that in mind, I think his return may be closer to four weeks.
With this pair of significant injuries, the Bills could be without both running backs for a month.
MMMD 2: Brian Orakpo goes down with pectoral injury
There has been a lot of misinformation regarding this injury. The key question now is whether or not the injury involves the pectoral major muscle or pectoral major tendon. A pectoral muscle tear means a several-week injury. A pectoral tendon tear means surgery and injured reserve.
The media has confused this distinction. Reports say there is concern over a right pectoral muscle tear and Orakpo might need surgery. The reality is that one hopes it is a pectoral muscle tear which won't require surgery. Surgery is only needed if it is a pectoral tendon tear where the pec is no longer attached to the humerus.
The pectoral muscle/tendon is needed for a linebacker to wrap up on a tackle. It is essentially the "bench press" muscle.
Orakpo had two previous left pectoral tendon repair surgeries that were widely misreported as muscle injuries. As an orthopedic surgeon, I can tell you we don't operate on muscle injuries, only on tendon tears. Statistically, a player with a pec tendon tear on one side is more likely to suffer the same injury on the other side as there are predisposing factors.
I hope the media reports of a pec muscle tear are correct, but I fear it is a misnomer and Orakpo actually has a pec tendon tear, meaning season-ending surgery.
Last season, Patriots linebacker Jerod Mayo had a pec tendon tear which resulted in surgery and injured reserve. The good news is that recovery is typically 100 percent.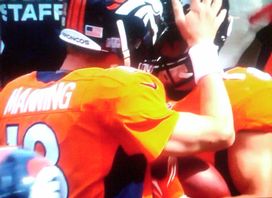 Manning before...
MMMD 3: Peyton Manning 510
The Broncos quarterback now has the NFL all-time passing touchdown record. It wasn't that long ago that his career was in jeopardy with four neck surgeries and nerve issues that left Manning with "grandma's triceps" early in the 2013 season. When nerve signals are blocked, muscles don't fire and the triceps gets small and weak.
Through surgery to decompress the nerve and hard work, Manning's triceps atrophy is much improved as you can see by the adjacent picture from the Sunday night game. Although arm strength has never been Peyton's strong suit, he now has plenty to reset the all-time touchdown record each week going forward.
MMMD 4: Why was Percy Harvin traded?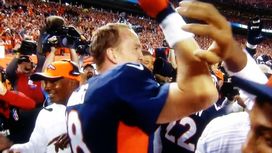 ...and Manning today.
This is a medical column so I don't know what happened inside the Seattle locker room, but I can draw a medical parallel. Harvin was involved in two fights with teammates, yet remained with the Seahawks. It is only when he reportedly refused to go back into a game that he was immediately traded.
A team needs to know that it can count on a player in crunch time. I have seen it behind the scenes related to injury. Even when a player is legitimately hurt, he needs to show that he is fighting to try to play. If a team gets the sense that they can't rely on a player, his time is numbered.
The moral of the story is that in the NFL, it is a bigger sin to not fight for your team than it is to fight with your teammate. Two fights with teammates were tolerated, but one refusal to play and Harvin was sent packing.
MMMD 5: Knowshon Moreno tore his ACL and played the next down
We all know that an ACL tear means surgery and injured reserve. How was it possible that the Miami running back stayed in the game after his tear last week?
All ACL injuries are different. Some are isolated and some involve other ligaments, articular cartilage or meniscus tears. I have seen players try to continue to play with an isolated ACL tear. In a highly publicized case, Philip Rivers played in his only AFC Championship game six days after a knee scope with his ACL torn.
I like to refer to an ACL as an internal seatbelt. With your seatbelt broken, you can still drive your car. However playing football without an ACL is like racing NASCAR without a seatbelt or harness. You might get away with it for a short while, but it is inevitable that an accident will occur.
MMMD 6: Did Pete Carroll know something?
Last week, the Seattle head coach said he wants to do away with the game day inactive list. Currently, seven players, some of who may be healthy enough to play, are declared ineligible to play 90 minutes before the game. Once the list is turned in, it can't be changed.
During pregame warmups on Sunday, Seahawks fullback Derrick Coleman broke his foot. Because it was inside the 90-minute limit, no additional roster changes could be made. Seattle had to start the game a player short and play 45 against 46. If Carroll had his wish, he would have had extra bodies.
This may sound minor, but active roster spots are precious and can affect a team in multiple ways, especially on special teams. During my 17 years as an NFL team physician, there were several occasions when a player was injured during the pregame warmup and there is nothing that frustrates a coach more than when that happens, as it leaves a team shorthanded.
MMMD 7: Coaches put in a hard position
Bengals coach Marvin Lewis and Panthers boss Ron Rivera caught heat last week for their comments about concussions. Lewis clearly misspoke when he characterized that concussions now linger longer due to the media attention. Rivera caught flak this week for using the word "mild" in reference to a concussion.
I respect both coaches and am not trying to be critical. I am just observing that they really are in a difficult position. Coaches aren't doctors, but they are put in the awkward position of being the team's medical spokesperson. Perhaps a medical person should give the injury reports.
Follow David on Twitter: @profootballdoc
Dr. David Chao is a former NFL head team physician with 17 years of sideline, locker and training room experience. He currently has a successful orthopedic/sports medicine practice in San Diego.