April 07, 2014 -
Dr. David Chao
Monday Morning MD
The NCAA and President Mark Emmert had the perfect stage at the Final Four to address the medical issues recently raised by college athletes. However, at a special press conference on this national stage, Emmert did not propose any solutions to those medical concerns. He simply decried the union idea by saying it was not the way to fix things, yet he proposed no real answers himself.
Instead of finding potential solutions, Emmert lashed out at professional football and basketball. "I really think the NFL and the NBA have been irresponsible in not providing other legitimate opportunities for kids that really don't want to go to college." After years of ignoring the arising student athlete problems, who is really the irresponsible one?
The NCAA President is now crying foul. He called unionization a "grossly inappropriate solution" that "would blow up everything about the collegiate model of athletics."
Last week in this column, I wrote about how NCAA athletes as employees could signal the end of college sports as we know it. Respectfully, that might be the only conclusion where President Emmert and I agree.
For many years, the NCAA has fattened its coffers off the backs of college athletes. Let's not forget the NCAA was actually formed in the early 1900s to address the safety and medical concerns of college football. Its primary purpose seems to have strayed to that of caretaker of the massive television contracts.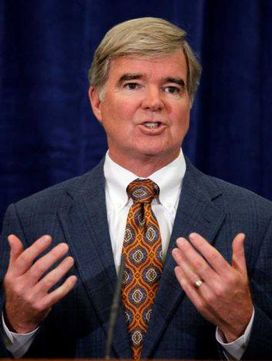 Emmert failed to propose a single solution at his recent Final Four press conference.
Kain Colter and the Northwestern football players are right when they complain about the very real medical issues college athletes face. They don't seek pay. Their number one issue is medical coverage and medical protection.
I performed physicals at the NFL Scouting Combine for 19 straight years and every winter collegiate football players showed up with injuries they didn't know about. Although I didn't go to Indianapolis this year, the pattern continued as three players were discovered to need surgery for injuries that were not treated or diagnosed prior. If star players go untreated, what about the marginal contributors that don't make it to the Combine?
When an athlete is hurt playing college sports, schools try to divert financial responsibility to parental insurance instead of stepping up to take full financial responsibility. A student whose parents have HMO insurance is often at the mercy of that system while the school takes a back seat.
If long-term issues result from the injuries, there is no one there to assist the former college athletes. That may be why they feel like a commodity. I am not taking a stand for or against unions. I am simply for a fair and equitable solution. It seems to me that the athletes took action because none was coming.
The President of the newly formed College Athletes Players Association, Ramogi Huma, said: "There is $1.2 billion in new annual TV revenue available. This new money alone would take care of all of the goals we are pushing for."
The NCAA appears to just want the status quo. Emmert wants five years from now to have the NCAA "still be an association that involves student-athletes who are participating in their sports."
Leaders propose solutions instead of pointing fingers. Where is the NCAA leadership? It may be too little, too late. Others may find a solution for the NCAA.
MMMD 1: Darrelle Revis' trainer says his ACL is a non-issue
The Patriots cornerback tore his ACL in September of 2012. Revis' trainer now says the Pro Bowler's ACL is a non-issue.
Trainer testimonials mean very little, just like letters from personal doctors. A physician can't legally release patient info without a player's consent, and thus it will typically place a positive spin on the injury and recovery. A trainer can't risk his own business by releasing anything negative about a player who is training with him.
With that being said, in this case, I do believe that Revis will have a big year. Although it is not unusual for a player to return early and play effectively, the second season back is usually better than the first. As a practicing orthopedic surgeon, I can tell you that it takes 18 months to fully recover.
This will be Revis' second year after his ACL surgery. His trainer is correct in predicting a big year.
MMMD 2: Let the team visits begin
The school Pro Days are over, but the NFL draft evaluation process continues.
Each team is allowed 30 player visits. They can be players already seen at the Combine or players who were not invited to the Combine.
On these visits, the teams have the opportunity to interview, give full physicals and put the player through a private workout. It also can be considered a recruiting trip and an expression of interest.
MMMD 3: What's the big deal with Clowney's hips?
South Carolina pass rusher Jadeveon Clowney held his Pro Day last week. ESPN's coverage of the event featured plenty of talk about his hips.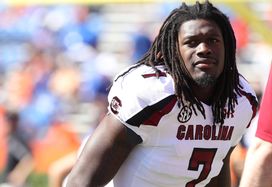 US PRESSWIREClowney's Pro Day workout was the hot topic at the end of last week.
Hips are important in allowing a football player to open up and change directions quickly. A lack of hip motion makes a player look stiff and less agile.
Over the last decade, hip arthroscopy has been an important new tool to help athletes with hip problems to improve their motion and decrease pain. Seattle wide receiver Percy Harvin missed much of the season with a hip scope surgery, but returned for the Super Bowl and even ran a kickoff back for a score.
Many of the Combine and Pro Day drills are set up to test hip flexibility and motion. Ability to flip and open up one's hips is a key quality for any open field NFL player.
MMMD 4: Aftermath of Wells report: Dolphins hire a new head athletic trainer
Miami fired former head ATC Kevin O'Neill following the release of the Ted Wells report, which investigated the Richie Incognito bullying charges. O'Neill explained his actions to the Professional Football Athletic Trainers Society meetings and many believed he acted responsibly.
The NFL Physicians Society expressed their support of O'Neill after he was fired by awarding him the 2014 Fain-Cain Memorial Award for Outstanding Athletic Trainer of the Year. This award is given to the person "who best reflects the virtues of a certified athletic trainer and displays the highest level of professionalism."
The Dolphins have moved on and hired longtime Pittsburgh assistant athletic trainer Ryan Grove as their new head ATC. Miami assistant trainer, Troy Maurer, removed himself from consideration for the head job for personal reasons and will remain on staff.
O'Neill has hired attorneys to defend his name and there is certain legal action to come.
MMMD 5: Anthony Spencer remains unsigned
A month into free agency, the number one free agent player with a red light issue remains unsigned.
Former Dallas Cowboys pass rusher Anthony Spencer underwent microfracture surgery on his left knee meaning he has down-to-bone articular cartilage damage. Even if healed, the regrowth cartilage is not as strong and does not last.
I hope Spencer recovers and gets his new contract, as I have great respect for what players put their bodies through. Unfortunately, the reality is that Spencer will likely only get a short-term, minimum deal and most likely be forced to stay with the Cowboys who know his knee best.
MMMD 6: Chris Conte undergoes shoulder surgery
Chicago Bears safety Chris Conte's shoulder surgery will require 4-5 months of recovery. The injury was suffered during the season, but Conte was able to start all 16 games.
His surgery was performed on March 26 and likely featured a labral repair surgery. With the delayed surgery and recovery timeline, a healthy return for training camp is in jeopardy.
Conte appears to be headed for a battle to keep his starting job. Not being healthy for day one of camp will not bode well for him in this competition.
MMMD 7: Tiger Woods vs. Rob Gronkowski
Both superstar athletes have now undergone back disc surgery. Tiger announced his microdiscectomy surgery last week, a procedure that will force the world's No. 1 golfer to miss the first Major of the season. Woods' recovery timeline has been compared to Gronkowski's last year.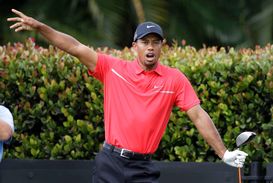 Tiger's back could keep him out of action until next season.
Gronk has now had two of these surgeries, in 2009 and last year. He returned to play about four months after his recent back surgery. It may be longer than that for Tiger.
Football is certainly more of a contact sport than golf, but I have often been told by players that "80 percent is a good day." My experience treating PGA players tells me that one needs to be 100 percent to be effective.
Don't be surprised if we don't see Tiger until the 2015 season, even if golf is a non-contact sport.
MMMD extra: ACL surgery series – Week 12
Three months is a big landmark for ACL post-operative rehabilitation and recovery as Patriots tight end Rob Gronkowski and Broncos linebacker Von Miller have both reached this benchmark.
Up to this point, the focus will have been on traditional rehab. At this three-month mark, the recovery moves toward functional activities. Work on a therapist's table and the weight room now shifts outside onto a field. More functional training and sport-specific training occurs.
Ideally, straight ahead jogging has improved to the point that it can become aerobic exercise. Gradual cutting exercises can be introduced.
At this point, one should rely on an athletic trainer or physical therapist's creativity in incorporating new functional exercises. In any case, this landmark is welcomed by any athlete, as one can start to see the light at the end of the tunnel.
Follow David on Twitter: @profootballdoc
Dr. David Chao is a former NFL head team physician with 17 years of sideline, locker and training room experience. He currently has a successful orthopedic/sports medicine practice in San Diego.