September 08, 2014 -
Dr. David Chao
Monday Morning MD
Injury speculation is always a difficult business. However, I hope to shed some light using insider medical knowledge while leaning on my team physician experience. Traditionally, the only source of injury information is that from the team or media reports. The Jadeveon Clowney injury shows how inaccurate these methods can be.
Teams traditionally play it close to the vest with their injury information. Texans head coach Bill O'Brien gave a very non-specific update post-game on Clowney: "He may miss some time, he may not. Who knows? We'll know better as the week goes on."
I understand a team's desire to limit information, but we know the Texans know much more than they are telling us.
Media reports are not always accurate, as the initial indication in Clowney's case was an MCL injury. Later, it was reported that the pass rusher injured his meniscus. Some now say it's both an MCL and meniscus tear. Most accounts describe Clowney leaving the field with a team trainer while visibly upset. Clearly, he walked off with the Texans head team physician who was in a sport coat and not a team athletic trainer, who would be in team issued apparel. One can see the misinformation that can occur.
I am not critical of traditional media insiders and reporters as I honestly think they are dedicated to their craft and do a great job. However, when journalists not trained in medical terminology rely on sources without a medical background, a lot can get lost in the translation.
The real answer on what Clowney's right knee injury is and when he may return rests with the team physician. Even he may not fully know until after an MRI or a scope is performed. However, analyzing how the injury happened can give us a good clue as to the prognosis.
In sports medicine, history is the best indicator of the ultimate diagnosis. Doctors are trained to talk to patients about how an injury occurred prior to any hands-on examination. In the case of traumatic injuries in the NFL, there is no better historian than the film itself.
Based on a review of injury video, Clowney comes down awkwardly on his right knee. There is no valgus force like that needed with an MCL injury. His injury is consistent with a meniscus tear that is most likely on the more unusual lateral side. In addition, one must hope he did not damage his articular cartilage on the outside of his knee.
A ligament injury can be very accurately judged by physical examination. Meniscus tears are typically confirmed on MRI. Extent of articular cartilage damage is best determined with arthroscopy. I suspect Clowney does not have an MCL injury, but does have a lateral meniscus tear and hopefully doesn't have any associated articular cartilage injury.
Undoubtedly, Clowney is headed for a surgery to treat his knee and to determine the full extent of injury. With a top orthopedists as his head team physician, there is no reason to go anywhere else and I suspect we will hear about the outcome of surgery as early as Monday.
At this point, I think it is a foregone conclusion that Clowney will miss time. The real question is how many weeks? A typical scope for meniscus pathology carries a 2-4 week timetable (as long as it is trimmed and not repaired/sewed which takes months to heal). However, a lateral meniscus, which this appears to be, takes longer (4-6 weeks) due to anatomic factors. One can only hope Clowney doesn't have articular cartilage damage as that may extend the timetable and possibly affect his career longevity.
MMMD 1: Achilles is the new ACL
The dreaded ACL tear is the most common season-ending injury that requires surgery. Now, Achilles tears are fast becoming the words no team wants to hear.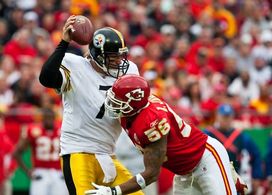 ICONLinebacker Derrick Johnson is done for the year with an Achilles injury.
Just ask the Chiefs. Yesterday, both linebacker Derrick Johnson and defensive end Mike DeVito tore their Achilles tendons which, unfortunately, means their seasons are over. Full recovery is anticipated after surgery as well as a trip to the injured reserve list.
Achilles tendon ruptures happen with an unexpected eccentric load that occurs in two distinct ways and both were illustrated yesterday. Video shows Johnson coming out of a backpedal to quickly change directions going forward and DeVito being slowly pushed back onto his heel as he tried to resist. Ironically, it is not just a weak tendon that causes the injury but a strong Gastrocnemius muscle.
Achilles is fast approaching ACL as the top non-contact season-ending injury. Now there are two things a team, player or fan doesn't want to hear.
MMMD 2: "Riverboat Ron" gambles and wins
With a two-week old, non-displaced hairline rib fracture and having fully participated in practice, Cam Newton was ready and willing to play in the season opener. Head coach Ron Rivera decided to gamble and sit his star quarterback on the road against divisional rival Tampa Bay. The Panthers came up winners and flew home with a victory and a healthy starting quarterback.
It was a calculated risk that may pay off handsomely. Although Newton was ready and able to play, there was the risk of turning the fracture into a displaced one with a hit that could cost more time. Rivera chose to look at the big picture of the season, something head coaches who are ingrained in the "one week at a time" philosophy rarely do. He wanted to have his guy for 15 games rather than risk it for the opener.
This gamble was as big or bigger than any fourth-and-one decision. The second-guessers would have been plentiful with a loss, but when it's the winning decision, it looks like an easy one. The Panthers got their win and now will have an essentially healthy starting quarterback next week.
MMMD 3: Tom Brady's poor performance due to calf?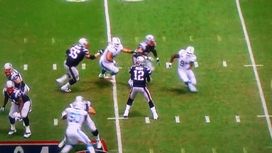 Brady, flat-footed against the Dolphins.
Most people shrugged when the non-mobile Patriots quarterback was announced as questionable with a calf injury. Everyone knew he would play, however, medically I worried about potential accuracy issues.
In order to throw effectively, one needs a solid base. A calf injury could weaken push-off or inhibit follow-through. It is very difficult to be a top quarterback throwing relatively flat-footed.
I did not analyze all of Brady's passes, his protection or the game plan, but his numbers were sub-par (29/56 for 249 yards, 1 TD, 2 turnovers) with a QBR of 32.2 and rating of 43.8. The question is how much did his calf injury affect him.
MMMD 4: Horrific injury of the week: Tyler Eifert dislocates right elbow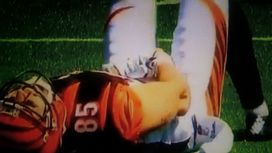 Eifert suffered a dislocated elbow against the Ravens on Sunday.
The Cincinnati tight end suffered a gruesome non-contact injury seen here while bracing himself for a fall after making a catch. By real time video analysis, it was a classic posterior elbow dislocation due to hyperextension. An associated fracture is possible, but unlikely. Even though team physicians would have quickly reduced the elbow, the damage is done with ligament, capsule and muscle tears.
Thankfully, surgery is not typically necessary, nor is a cast. Return to play depends on swelling and stability. Eifert will miss several weeks but hopefully he can return in four weeks and play with a brace. I doubt there is a need for injured reserve as some members of the media have speculated.
MMMD 5: MCL injuries common in offensive linemen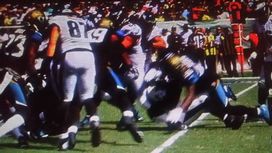 Evan Mathis, getting rolled up on.
In Thursday's season opener, Packers offensive lineman Bryan Bulaga suffered an MCL injury. He was wearing a knee brace and that may have helped him when he was rolled up on. While braces don't prevent injury, they can lessen the degree of injury. Bulaga appears to have a grade one injury, which gives him a shot at playing next week with the extra rest.
Eagles Pro Bowl guard Evan Mathis may not be so lucky. His own player, running back LeSean McCoy, fell onto his left knee from the side with an MCL injury mechanism. Without a brace, Mathis' injury appears to be a higher grade. He is likely to miss several weeks with an anticipated 4-6 recovery. I am sure he will get an MRI, but thankfully, it is unlikely to show cartilage damage and thus no surgery will be needed.
MMMD 6: Will Andre Ellington play Monday night?
The Arizona running back has been dealing with a foot issue and is the proverbial "game time decision." He had an MRI that did not show structural damage or the need for surgery or a cast, but there were conflicting reports of the injury.
If it is indeed a foot muscle injury, Ellington will play. The major muscles that control the foot are in the lower leg. If the Cardinals starting running back has a peroneal tendonitis, then it may be in his best interest to heal up with some rest.
MMMD 7: IVs common in early season
Cramping issues and dehydration are much more common in the NFL during the early portion of the season. Due to warm temperatures and poor acclimation to game conditions, it is not uncommon to see players taken off during a game for intravenous hydration. Cowboys wide receiver Dez Bryant headed to the training room in the second half of Sunday's game against San Francisco for IV fluids as one example.
Previously we discussed the role of IV fluids related to when LeBron James cramped up in the NBA finals. This method is much more immediately effective than drinking Gatorade, as the fluid goes directly into the blood stream.
MMMD extra: ACL surgery series – Week 34
Sunday was a big day for Patriots tight end Rob Gronkowski and Broncos linebacker Von Miller as they both were active and played just shy of nine months removed from ACL surgery. Congratulations to both players and the others like Reggie Wayne, Brian Cushing and Chris Harris, Jr. Even though they have returned, they are far from 100 percent as we learned from the cautionary tale of Rams quarterback Sam Bradford.
Return from ACL surgery is typically easier for offensive players. An offensive player knows where he is going, whereas a defensive player needs to explode and react instantaneously.
Even with limited play, Gronk had four catches for 40 yards and one touchdown. Miller also played, but was somewhat limited while registering only one tackle.
Both will continue to improve provided they don't fall into the trap. Many patients regress once they start to play sports as they forget that it is important to stay with rehab exercises.
Follow David on Twitter: @profootballdoc