February 03, 2014 -
Dr. David Chao
Monday Morning MD
Football is not over. For team personnel, NFL work is year-round, as attention will now quickly shift to the next game seven months away.
There's no question that the Seattle Seahawks deserve to enjoy their Super Bowl XLVIII victory. However, even the attention of the newly-minted champs will turn to next season's preparation, which the rest of the league has already begun.
When I started as a team physician in the NFL two decades ago, there seemed to be a true off-season. There isn't one anymore. Work for the NFL and, for the medical staffs, it never ends.
We have already discussed the busiest medical day of the NFL year, which happens to take place the day after the final game. As teams try to get healthy, more surgeries are performed after the season than during the season. Rehab is performed on both the surgical and-non surgical injuries.
Later this month comes the NFL Combine in Indianapolis, where medical staffs play an integral role. The top 330 or so draft eligible players are evaluated with head to toe physicals.
Individual physicals for draft eligible players not invited to the Combine takes place in the weeks immediately following the Combine. Early March also brings second look physicals for Combine players that make team visits.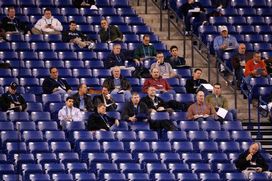 No rest: The NFL now gets set to gear up for the 2014 Combine.
Free agent physicals commence in mid-March, as veteran players start their annual visits to prospective teams. Medical staffs prepare extensive reports on all draft eligible players and sit in on draft meetings.
Early April brings the re-check Combine, with all 32 teams sending their staffs back to Indianapolis to obtain updates on the 50-60 players that have active injuries. May usually brings pre-season physicals in order to assess the entire team soon after the draft.
Although off-season practice is now limited by the Collective Bargaining Agreement, it is still spread throughout most of the spring and early summer with voluntary workouts and off-season training activities (OTAs).
Add in rookie and mandatory veteran mini-camps and you can begin to understand when we say that there really is no off-season anymore.
Because the NFL season is now year-round, Monday Morning MD will continue, as we will provide updates on player recoveries. During the season there is little time to discuss overarching medical topics, but we now have the time to provide that here. Free agent and draftee injury issues will also be analyzed.
This 2013 NFL season may be over, but the 2014 campaign has already begun.
MMMD 1: Teams stay extra night in New York/New Jersey
Typically, NFL teams fly home immediately following a road football game. But Super Bowl teams all plan to stay overnight regardless of victory or defeat.
Teams spend the night due to the magnitude of the big game that brings media commitments as well as the chance to see family members who can't get commercial flights home. Besides, there is no next game to rush home to prepare for.
This means medical staffs need to be prepared to provide more initial triage care than usual. This involves initial treatment with splints, wraps, ice, and medications. This care is expedited by a special staff of NFL-assigned medical personnel.
Team owners traditionally host a party at the team hotel where there is strict security. Limited guest lists of family and close friends allows for a private affair. Winners can celebrate and losers can console. This typically stays private except for the famous cell phone video of New England tight end Rob Gronkowski dancing on an injured ankle following a Patriots loss.
MMMD 2: Broncos and John Fox had one major victory this year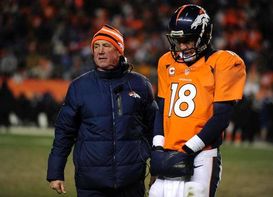 Some have already forgotten John Fox's return from heart surgery.
The Seattle Seahawks get to experience a great end to their season, but the nature of the NFL leaves each of the other 31 teams with the disappointment of falling short.
Congratulations to Pete Carroll and the Seahawks, but let's not forget about John Fox and the Broncos' biggest victory.
What might get lost in a very long 2013 season is that the Denver head coach had successful mid-season emergency heart surgery. That is the biggest victory for Fox, his family, friends and team.
MMMD 3: Richard Sherman's ankle injury is nothing to worry about
The Seattle Seahawks' Pro Bowl cornerback exited Sunday's game due to a right ankle injury. When Sherman was taken to the locker room by cart, concerns were unnecessarily raised.
By video injury review, Sherman hit his right knee harder than his ankle, but neither appeared major. Cart-offs worry fans, but if a player is significantly injured, they are not transported in a sitting position with the ankle down, dependent and hanging.
Sherman certainly injured his ankle, but I believe the cart ride was to get the cornerback off the field quickly and conveniently so that he could be triaged and put in a boot so that he could return to enjoy the victory and post-game celebration with his teammates. After all, the scoreboard read 43-8 by this point. I doubt Sherman even went for an X-ray.
The 12th man should enjoy the victory and not worry about a significant injury to their star cornerback.
MMMD 4: Healthiest Super Bowl in years
All active players on both rosters were healthy enough to play. This is excellent news.
Seattle wide receiver Percy Harvin excelled with his kick-off return for a touchdown and had no hip or concussion issues.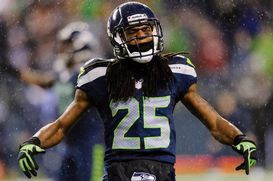 Seattle fans shouldn't worry about Richard Sherman's injury.
Denver running back Knowshon Moreno started the game with chest/rib injuries, but performed reasonably well. However, Moreno exited the game late with what appeared to be a new left flank/rib injury. This looks to be unrelated to the injury he came into the Super Bowl with. Since the game was already out of hand, Moreno didn't return.
Flank and lower left-sided rib injuries can result in spleen damage, but I doubt that comes into play here. Even if Moreno has a rib fracture, his physical recovery from the game will likely be quicker and easier than his mental recovery.
Super Bowls are always intensely physical affairs. Good to see a big game without major injury.
MMMD 5: Peyton Manning's arm will continue to get stronger
I have written extensively about Peyton's triceps atrophy this season. Pictures demonstrated how bad Manning's muscle wasting truly was.
This week, Peyton's arm strength was a hot topic on Radio Row and, as some predicted, there were a few errant throws that seemed to flutter during the Super Bowl.
Broncos fans can rest assured that with more hard work, Manning will continue to recover his arm strength. I have referred to Manning's return as a medical marvel because most times the muscle strength do esn't return despite the hard work.
In this case, we have documented significant recovery. If a muscle shows recovery, typically it can continue to get stronger over time, even if the neck surgeries were two years ago.
Manning's off-season physical is a non issue. The only thing that will keep Peyton from playing next year is Peyton, and I doubt he will choose to retire.
MMMD 6: Peyton Manning's legacy
A lot was said about Peyton's legacy before the game and now even more will be said following such a terrible defeat.
I will leave the discussion about Manning's place in the hierarchy of NFL quarterbacks to the football media professionals.
In my mind, Peyton's legacy as a caring person, great leader and a model NFL citizen is set, so allow me to share one anecdote about a personal experience I had with Manning.
In 2007 I was fortunate enough to be named as the AFC physician for the Pro Bowl in Hawaii. Peyton Manning was there as the starting quarterback.
During one midweek practice, Peyton called me over. "Doc, can you do me a favor? Can you please tell the trainers to just set out 2 bags of ice and an ace wrap for me? I have a Make-A-Wish thing to do after practice."
I replied, "Sure, but we will wait for you to give you anything you need."
Manning responded, "No, it will take me at least 30 minutes and you all are here on vacation with your families. Please just leave out the supplies."
Of course, the athletic trainers waited for Peyton anyway, but that is just a small glimpse of how he deals with people in his everyday life.
In my mind, even with the loss, his unique legacy is set.
MMMD 7: Radio Row and medical issues
I have been lucky enough to have worked two Super Bowls and attend several others, but I had never experienced the chaos of Radio Row until last week.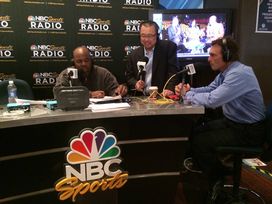 Dr. Chao (center) talking with Doug Flutie (right).
I was interviewed by dozens of radio hosts regarding the NFL medical issues detailed in this column. I also joined former NFL quarterback Doug Flutie to talk about the new Reaction WEB knee braces. I'm grateful to have met several dozen media professionals that all welcomed me to my first Radio Row experience. It was also a special privilege to make Peter King's list last week as one of the top-five "NFL stories you'll be talking about today."
Despite few specific injury issues for Super Bowl XLVIII, medical issues were still big topics. Commissioner Roger Goodell spoke on many health and safety issues that included concussions and medical marijuana.
Now that I have an even better understanding of the media world, I hope to combine that with my NFL experience to continue to provide insider medical knowledge to our readers.
MMMD extra: ACL Surgery Series – Post-op Week 3
Patriots tight end Rob Gronkowski and Broncos linebacker Von Miller are now three weeks removed from ACL surgery. We have talked about prehab, swelling control and the two week post op goals.
Week three is a week to improve on the proficiency of the week two goals: leg straight, leg lift, walk and bike. Not all patients can reach the lofty two week goals and for those who don't, this is a catch-up week. For those who can do all four, it's time to do all four of these things even better.
Knees need full normal extension to return to full function. An active leg lift with the knee extended indicates good initial quad strength. Normal gait walking encourages knee motion, strength and coordination. The exercise bike leads to good flexion motion and strength.
I am sure that Gronkowski and Miller are working hard to get proficient in these four important goals.
Follow David on Twitter:</strong> @profootballdoc
Dr. David Chao is a former NFL head team physician with 17 years of sideline, locker and training room experience. He currently has a successful orthopedic/sports medicine practice in San Diego.