October 14, 2013 -
Dr. David Chao
Monday Morning MD
Of the significant medical issues, from concussions to target areas, MRSA is much ado about very little.
The NFLPA tried to turn it into a big issue with threats of cancelling the Philadelphia-Tampa Bay game due to a third reported Tampa Bay player contracting the MRSA infection. MRSA is an infection that is resistant to normal antibiotics. Frequent use of common antibiotics have selected out these stronger strains over time. More powerful antibiotics work and there are already treatments and cures. This can be a serious problem, but not in relation to transmission while playing football.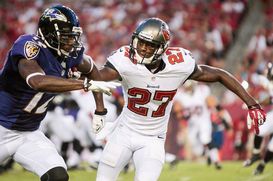 Rookie CB Johnthan Banks was cleared to play on Sunday despite having contracted MRSA.
The first MRSA infections in the NFL were reported almost ten years ago (five cases in 2003). In 2006, policies were established in consultation with the national Centers for Disease Control. Protocols are in place for all 32 NFL teams and they seem to work. There are many precautions to be taken, but it is not transmissible, save for an open or draining wound (in which case the player would be disqualified for his health and the health of those around him). Despite the dozens of cases around the league over the last decade (ex: Kellen Winslow with Cleveland in 2008), there has not been an instance of transmission during football play.
Facilities need to be cleaned if infections arise and Tampa Bay has done that twice. A Duke University infectious disease expert confirmed all of this and the Eagles-Buccaneers game went on as planned. The NFLPA call to potentially cancel the Eagles-Bucs matchup got good press, but was of little substance.
MMMD 1: Rob Gronkowski may not return anytime soon
Gronk didn't even play on Sunday, but he's still worth discussing. The good news is that the Pro Bowl tight end has recovered well from the back surgery he underwent over three months ago. This surgery may have been delayed due to his arm injury/infection.
The bad news is that Gronkowski's forearm fracture and subsequent infection has not been cleared to play by an "independent" physician (Not sure why the Redskins doctor is considered independent, but that is for another day). The issue is this: How likely is an injury/infection that has been going on for almost a year not to be cleared one week and then cleared the next? Gronk's timeline might be more month-to-month rather than week-to-week.
I do think Gronkowski is getting a bad rap if reports of his teammates wondering why he can practice full but can't play are true. He has been cleared to practice fully, so he has. He hasn't been cleared to play, so he hasn't. What's wrong with that? If Gronkowski was malingering, he could simply just take it easy with the scout team reps.
MMMD 2: Robert Griffin III is turning the corner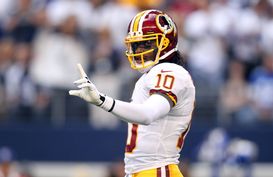 RG3 rushed for 77 yards on nine carries Sunday night at Dallas.
RG3 looks different. Forget throwing mechanics and not planting on his injured left knee because everyone can see that he can run well. The issue is if he can cut or stop. In Week 1, I noticed on one play that Griffin ran out of bounds on his own sideline but couldn't stop. In fact, Griffin ran into his own player on the sideline. This is something I never saw during my 17 years in the NFL. These guys are too athletic to not stop or avoid the various personnel on the sideline when they have the time to stop that RG3 did. On the second play from scrimmage during the Sunday Night game against the Cowboys Griffin ran out of bounds, but this time, he stopped quickly and avoided a coach. That's a big change to me.
Maybe the bye week finally helped the second-year quarterback catch up. Or maybe, the first four weeks of the regular season was his preseason. Or maybe further, at nine months, he is just getting stronger. The score of the game may not have been favorable for Washington, and Griffin definitely tired out during the second half, but I believe RG3 is turning the corner.
MMMD 3: DeMarco and DeMarcus on the Big D sideline
Running back DeMarco Murray (left knee strain) and defensive end DeMarcus Ware (right quad strain) were both sidelined with injuries Sunday night against the Redskins. I'm sure we will await the results of an MRI on Murray and we will see how severe the injury actually is. It doesn't seem too bad based on video analysis. Ware's injury is not severe but could hamper the Pro Bowler for quite awhile. Ware makes a living getting around the edge and bull rushing, two activities which require a strong quad. Even if he returns soon, his effectiveness might be limited.
MMMD 4: Michael Vick hamstrung
Quarterback Michael Vick was suited up for Sunday's showdown at Tampa Bay, but was hampered by his hamstring. Nick Foles started and rookie Matt Barkley was dressed, meaning Vick was likely a decoy. Vick's style of play—starts, stops and change of direction/speed—require a healthy hamstring. I don't think the Eagles want to play "Pocket QB" Vick. They want the "Whole Package" Vick.
This also gives Philadelphia a potential look at the future since Vick is a free agent at the end of this season.
MMMD 5: Where can a defender target?
Packers wide receiver Randall Cobb was hit low on a crucial third down play against the Ravens and stopped short of the sticks. He suffered a hyperextended knee and hopefully his ligaments are spared (but I am concerned there is damage - MRI pending). Green Bay took exception to the low hit. In this day and age of bigger, faster, stronger, what is a defensive back to do? Hit high and expect to receive a letter from the Commissioner's office, aim at the waist and if the receiver ducks down you'll get a fine or run over. I'm worried that this won't be the last time there is a lower extremity injury with the new concussion rules. Dustin Keller's season was ended this preseason with just such a hit.
MMMD 6: Antonio Cromartie fights through the pain
Cromartie had a big knee injury scare late last week in practice. The cornerback dodged a bullet, but there's no way he was 100 percent on Sunday against the Steelers. My hat is off to him for playing hurt, but a cornerback at 90 percent is 6 points for the other team. Cromartie gave up a key 55-yard touchdown pass to Emmanuel Sanders that was pivotal in the Steelers' 19-6 win. Nice try, but this is the NFL. Cromartie should be closer to himself next week, but he gets an A for effort in Week 6.
Follow David on Twitter: @profootballdoc
Dr. David Chao is a former NFL head team physician with 17 years of sideline, locker and training room experience. He currently has a successful orthopedic/sports medicine practice in San Diego.