December 15, 2014 -
Dr. David Chao
Monday Morning MD
Big NFL hits have been compared to a getting hit by a car. Although this euphemism may be exaggerated, events this past week showed how it sometimes might be comparable.
Cameron Newton was involved in an accident with his pick-up truck last Tuesday. Thankfully he "walked away" with the only reported injury being two transverse process fractures. This is the same spinal injury that Tony Romo suffered in the Week 8 Monday night game.
I am not trying to claim that playing football is as dangerous as a high-speed motor vehicle accident. However, in this case, the two quarterbacks suffered similar injuries. Newton was injured in a two-car collision where his pick-up truck rolled over. Romo was sacked and folded up while taking a knee to the back.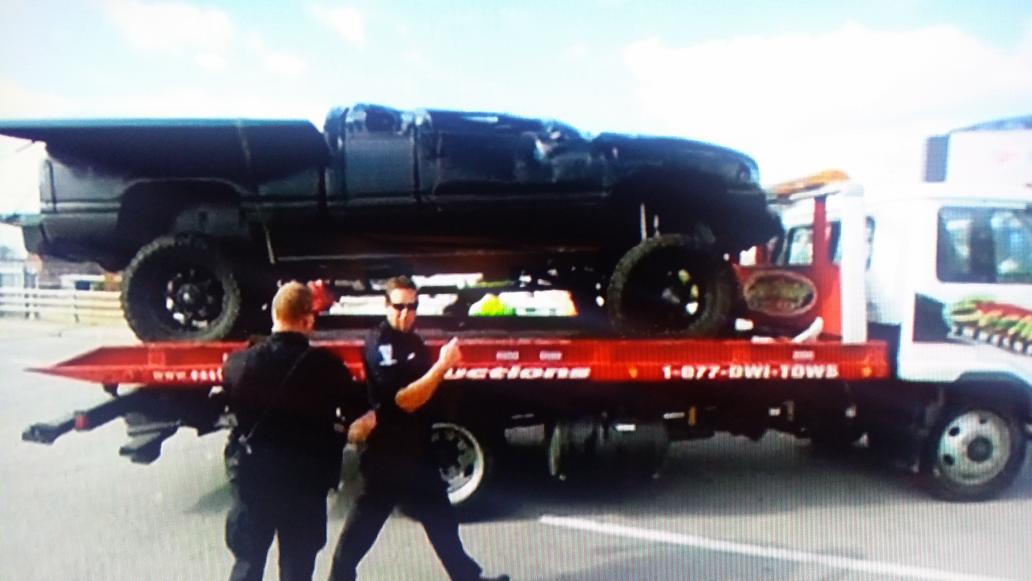 Newton was fortunate to walk away with as little damage to himself as he did.
Newton is famous for his superman celebration. Taking a look at how badly his truck was damaged, one might really think he was made of steel. He certainly was lucky to only suffer the two non-structural spine fractures, although certainly he likely had additional contusion and/or hematoma.
As expected, Carolina's starting quarterback missed this week's game with the injury. However, the Panthers still prevailed and are currently in first place in the dismal NFC South. Based on Romo's return and that of Baylor quarterback Bryce Petty after their double fractures this year, Newton has a good chance to return next Sunday.
Fortunately transverse process fractures are not structural and pose no risk to the spinal cord or nerves. They are certainly painful and cause significant muscle spasm. The good news is true healing is not needed and often doesn't occur. Bone healing doesn't occur in two weeks. Because Newton doesn't need his fracture to heal before playing, he is likely to play after a one-game absence like Romo and Petty did.
Football is not just a contact sport but is a collision sport. Big NFL hits can cause similar or worse injury as that of a rollover truck accident. The point being the Romo hit would not have made the old school "jacked up" highlight reels, yet broke two bones. The forces inflicted week in and week out in the NFL can sometimes be comparable to that of a car accident.
MMMD 1: Ryan Fitzpatrick breaks his leg
The Texans lost their second quarterback, this time to a fractured tibia (larger main bone in leg). This will obviously end his season as Houston turns to rookie Tom Savage. Ryan Mallett was previously placed on injured reserve with a torn pec.
The bad news is that Fitzpatrick will require surgery, which will likely consist of a metal rod being inserted down the mostly hollow shaft of his tibia. The good news is that he should heal and return to be 100% in 4-6 months.
Houston hopes to keep its slim playoff hopes alive with Savage but he suffered a knee hyperextension injury late in the game. He left the locker room limping but is expected to be okay.
MMMD 2: Peyton Manning leaves field early, misses a series.
The Broncos quarterback was announced before the game to be under the weather and have flu-like symptoms that required intravenous (IV) hydration before the game. When he left the field after a called touchdown, it was assumed he went up the tunnel early to get a head start on a halftime IV.
The score was reversed on replay and the ball was place at the one-foot line for a fourth and goal, yet Manning didn't return and thus an easy decision was made in favor of a 19-yard field goal. Later it was announced that he left for a thigh injury.
In my team physician experience, IVs can be performed within the allotted halftime and there is no need to leave with two minutes on the clock or to miss a series. The thigh injury makes sense out of why Manning would leave so early. To me, Manning is the wily veteran and his leaving the field allowed him to keep his injury and evaluation confidential. By video, there was no contusion when he threw his block or on any previous play. The injury is presumed to be a thigh muscle strain but by leaving the field, we don't know which side was injured or if it was a quad strain or hamstring strain.
Without a solid base, some of his second half passes fluttered more than usual. However, I don't expect Manning to miss any game time in the quest to secure home field advantage in the AFC.
MMMD 3: Jake Locker injures non-throwing shoulder
When the Titans quarterback was dumped onto his left shoulder, thoughts of Aaron Rodgers or Nick Foles clavicle fracture crossed viewer's minds as it seemed to be a similar mechanism.
Upon closer video inspection, his arm position and angle of impact differed from the classic collarbone fracture mechanism. By video, he appeared to suffer a posterior shoulder subluxation. Indeed Locker returned to the sideline in uniform with a shoulder brace on.
Locker likely could have returned to play in an emergency, as it was his non-throwing shoulder. Last season, Christian Ponder had a late game posterior shoulder subluxation and returned to play the following week.
Posterior shoulder instability can be effectively braced in a non-throwing quarterback's shoulder. Despite being out of the playoff picture, I think Locker has a good chance to return. His motivation to play is powerful as he may need to perform well to sustain his NFL career.
MMMD 4: How dangerous is spitting up blood?
Russell Okung was reportedly coughing up blood after being blown up on the final play of the half. Russell Wilson was intercepted and the run back after the interception creates odd angles where it is common that the blocker turned tackler can get blindsided chasing the ball carrier.
In general, spitting up blood on the sidelines is not dangerous and not uncommon, provided the expectorant is just tinged with blood. True hemoptysis or coughing up pure or copious amounts of blood is very concerning.
By video, Okung was spitting up trace amounts of blood. In this health and safety era, the Seahawk physicians exercised proper caution and took the left tackle to the hospital to be checked. He was quickly released before the game was over. Coach Pete Carroll announced his injury as a bruised chest wall.
I anticipate that Okung will play in Seattle's showdown at Arizona next week and did not suffer any significant injury. I also anticipate that Okung has already apologized to the athletic trainer he pushed on the sideline. Frustrated in the moment, Okung surely realizes the trainer was just doing his job to check on his health.
MMMD 5: Jadeveon Clowney longevity in question
This year's first pick in the draft underwent microfracture surgery on his knee last week. This procedure is performed in an attempt to regrow articular cartilage by punching or drilling small holes in the bone surface. I refer to it as aerating the soil to get some grass to grow into a patch of dirt. The key is the cartilage that grows back is not pure hyaline cartilage but weaker fibrocartilage. Players do not typically return to have long careers after this procedure and it has signaled the end of some careers.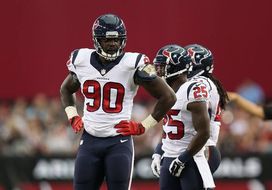 Is Clowney's longevity in doubt?
Clowney's first knee scope was not performed poorly. Likely the cartilage damage was seen during the initial menisectomy surgery by the Texans surgeon. The hope was he could play through without microfracture, since that carries a 6-9 month recovery. There should be no thought that the Texans treated Clowney inappropriately. After the much publicized outside second opinion, he choose to return to have the team physician perform the second procedure.
It is not the microfracture that puts Clowney's longevity in doubt, it is the fact that he had enough articular cartilage damage to need this salvage procedure at the tender age of 21.
MMMD 6: CDC and the NFL</p>
The Centers for Disease Control and Prevention (CDC) has played a role in sports before. Currently the CDC is involved in consulting with the NHL on their mumps epidemic, with superstar Sidney Crosby among the 13 confirmed cases across five teams.
With previous MRSA (staph resistant to common antibiotics) outbreaks in the NFL, the CDC had been involved as well. They are the perfect repository of information and advice in these matters.
The worrisome fact is that Crosby apparently contracted mumps even though he was vaccinated and even received the booster immunization. One cannot blame the societal decrease in immunization (from the unfounded fears of autism) in this case, as the vaccine has been used.
I am an orthopedist, not an infectious disease expert but this calls into question whether the virus causing mumps is mutating since the vaccine was not effective. Resistance to common antibiotics in MRSA is attributed to overuse of medication selecting out new strains of bacteria. Teams are ideal targets for these infections due to close quarters, tight contact and the inevitable exchange of sweat in sports competition. It is smart for the NFL and NHL to consult with the CDC in these unique circumstances.
MMMD 7: Medical morsels
NaVorro Bowman and Glenn Dorsey were both placed on injured reserve prior to Sunday. Bowman was still recovering from his ACL/MCL from last season and Dorsey was on IR/dfr for his biceps tear. The fact that the 49ers gave up on them might have been a realization that the team was not playoff bound. With Sunday's loss to Seattle, the 49ers will now officially miss the post-season.
Reggie Wayne eclipsed Peyton Manning's record of most games played for the Indianapolis Colts. Playing in his 209th game, Wayne is still battling his triceps tear. He was stripped during the game and the fumble was blamed on his left arm injury. The triceps certainly wasn't the direct cause as he was carrying the ball in he right arm.
Asa Jackson apparently suffered a PCL injury to his knee. This is typically not surgical, but with two regular season games remaining, there is no guarantee the Ravens cornerback can return.
LaAdrian Waddle was carted off with an apparent MCL sprain to his left knee. It is doubtful that surgery is needed, but depending on the severity of injury, he may not make it back this season for the Lions.
Gerald McCoy was seemingly knocked from the game with a recurrence of the same knee injury from last week. His injury was initially reported as a dislocated kneecap which would be impossible to recover from in one week. Later it was described as a bone bruise. The truth is likely in the middle with a patella subluxation. He valiantly returned to play but with the re-injury, he may be shut down for the season.
Nick Foles fractured his clavicle in Week 9. With two straight Eagles losses, might he return next week? Certainly an X-ray will be taken but a CT scan is three-dimensional and more accurate. He is approaching the seven-week mark and should be getting medical clearance soon.
Follow David on Twitter: @profootballdoc
Dr. David Chao is a former NFL head team physician with 17 years of sideline, locker and training room experience. He currently has a successful orthopedic/sports medicine practice in San Diego.