May 12, 2014 -
Dr. David Chao
Monday Morning MD
The 2014 NFL draft is over, but the historical significance may last quite a long time. Michael Sam, the first openly gay football player, is now a member of the St Louis Rams.
NFL Network's Michael Silver was present in the St. Louis draft room and witnessed it all. He shared his unprecedented access and revealed how head coach Jeff Fisher decided on the selection of Sam.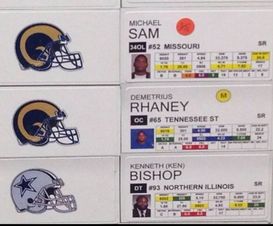 Silver also tweeted a limited picture of the actual Rams draft board. This picture is quite revealing and shows a lot about how a draft room works.
Pictured is Sam's draft day summary magnet. The photo also happens to show the information of Demetrius Rhaney and Kenneth Bishop, the two players selected after Sam. These listings are used by teams to provide quick access to player information.
I was fortunate enough to be in a draft room during the majority of my NFL career as a team physician. Certainly, every team and every general manager run their respective rooms differently. I don't pretend to be a scout or talent evaluator. Below are just some of my first-hand observations.
Typically, there are two main draft boards with two sets of magnetic listings for each player. One draft board usually ranks players as best available by talent. The other lists them as best available by position.
When a player is drafted, one magnet listing is moved to a board that lists all drafted players in sequence with his new team shown next to it. This is what appears to be shown in Silver's tweet. The other magnet is moved to a board that lists each individual team's draft picks.
Upon closer inspection, the magnet listings display school, position, year in school, height, weight and all relevant Combine or Pro Day testing numbers. There are also character and medical grades.
Medical grade is also indicated on this magnet when appropriate. On Rhaney's magnet, a yellow "M" is clearly visible. This typically means there is a medical issue. The color yellow means "caution." Red typically means either "do not draft" or "draft after serious consideration." I have used a similar color system in identifying the top medical issues for this year's draft.
The prominent use of this special designation for medical grades reveals the importance of health issues. Often, if two players grade out similarly, the medical grade becomes the tiebreaker.
That simple tweet by Silver reveals a lot. I can't wait for his full story on his three days in the Rams draft room.
MMMD 1: After the final pick, the work is now just beginning
To the casual viewer, the end of the draft marks the end of work for scouts and coaches. In reality, the exact opposite is true.
Immediately after the "Mr. Irrelevant" final selection, it is time to work the phones and sign undrafted free agents to complete the 90-man roster. Of course, contact with these potential free agents has been made prior. However, the end of the draft is like the end of the music in a game of musical chairs. Teams, agents and players scramble to find a roster spot.
MMMD 2: Redskins pass on Cyrus Kouandjio
It was no surprise that the Alabama offensive tackle fell out of the first round due to knee issues. This occurred despite many teams, like Washington, having offensive line needs.
Since a Redskins team physician treated Kouandjio and wrote a personal letter vouching for his knee health, it appeared as if the Redskins could be poised to select Kouandjio with their first pick in the second round (No. 34 overall). Instead, Washington passed on Kouandjio and traded their pick to Dallas. The NFL Network's Ian Rapoport tweeted, "Thought the #Redskins would take him, but he failed their physical."
Once again, this just goes to show that letters from personal physicians are universally positive and, thus, mean very little.
MMMD 3: Medical trends of the draft
One medical trend was apparent in the first round. Teams in the top half of round one were not willing to take medical risks, while teams in the bottom half were willing to assume such risk.
The National Football Post previously identified the top-15 medical issues for the draft. None of these players were selected in the top 16 picks. However, during picks 16-32, six prospects with potential medical issues were selected.
I'm not saying that medical was the only reason for the first round fall, but it does seem plausible that health issues may have pushed some potential top picks to later in the first round.
MMMD 4: Teddy Bridgewater heart issue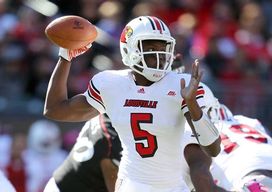 The Vikings traded back into the first round to select Bridgewater at pick No. 32.
In a post-draft conference call, Louisville product Teddy Bridgewater revealed that he had a heart issue discovered at the Combine. The Vikings did follow-up testing on Bridgewater and determined the issue was minor.
Heart issues are surprisingly more frequent in high-level athletes than one might think. San Francisco 49ers head coach Jim Harbaugh had an irregular heartbeat and underwent an ablation procedure while he was a quarterback in the NFL. It was likely a similar condition that resurfaced while as a head coach.
While any heart condition is worrisome and requires a full workup, fortunately, most athletic heart issues are minor and treatable.
MMMD 5: 49ers draft a redshirt for second year in a row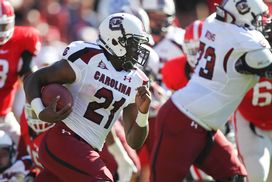 US PRESSWIREThe 49ers took a shot on Marcus Lattimore in 2013, who was coming off a major knee injury.
Last year, San Francisco selected South Carolina running back Marcus Lattimore knowing he had a multi-ligament knee injury and would require the entire season to recover. This year, the 49ers drafted ex-Ohio State running back Carlos Hyde, but said that selection did not reflect any doubt as to Lattimore's recovery.
I believe that assessment, as the 49ers employed the same redshirt philosophy again this year by drafting ex-Clemson offensive lineman Brandon Thomas, who tore his ACL during a private draft workout for the Saints. Thomas will miss the entire 2015 season.
Successful teams like the 49ers often have few holes to fill. This gives them the luxury of stockpiling talent for future seasons by drafting players and giving them an entire season to recover.
MMMD 6: Nate Burleson re-fractures same arm
While with the Lions, wide receiver Nate Burleson broke his arm in a car accident while saving some pizza. Now with the Browns, Burleson broke his arm again in mini-camp last week, requiring surgery.
With the draft and reports of Josh Gordon's potential drug-related suspension, the Browns were understandably mum on the status of both wide receivers. However, the question does arise as to whether Burleson's original fracture fully healed. Burleson certainly would have had to pass a Browns physical. Although Cleveland has undergone some medical transition, it would be unlikely that an unhealed injury would be missed.
It is unusual, but not unheard of, to re-break the same arm. The question is why would it happen. Did the forearm fracture in the same spot? Not likely, unless it never healed in the first place or there was an underlying infection (as was the reported case with Rob Gronkowski). Sometimes a new fracture can occur at the stress point at the end of the plate. It could also be a completely unrelated bad luck injury.
So far, reports indicate Burleson will be back for training camp. Often times, re-fractures take longer to heal than the original. Let's hope that this is not the case and the original return estimate is not overly optimistic.
MMMD 7: Two star safeties have off-season surgery
Both Seattle's Kam Chancellor (hip) and Tampa Bay's Dashon Goldson (ankle) were recently reported to have undergone surgery. Both procedures were termed minor and the two are expected to be ready by training camp.
Like in these two cases, off-season medical information is much less reliable and usually trickles out well after the fact. Players (and reporters) are not around the practice facility as often and there are no league mandated injury reports during the off-season.
MMMD extra: ACL surgery series – Week 17
Just over four months removed from ACL surgery, Patriots tight end Rob Gronkowski and Broncos linebacker Von Miller continue with functional rehab.
As usual, ACL injuries were prevalent in the draft. LSU quarterback Zach Mettenberger is currently in a similar recovery timeframe and had performed well at his Pro Day. Mettenberger was drafted early in the sixth round by the Titans even though he is many months away from being fully recovered.
The Patriots made Florida defensive tackle Dominique Easley a first round pick. Easley is coming off a right knee ACL surgery and previously tore his left ACL. Georgia quarterback Aaron Murray, who continues to recover from his own ACL surgery, was selected in the fifth round by the Chiefs. The 49ers even drafted Clemson offensive lineman Brandon Thomas, who will miss this upcoming season with an ACL injury.
All of this goes to show that what used to be a career-ending injury is now considered relatively routine. Kudos to the advancements in medicine and rehabilitation techniques.
Follow David on Twitter: @profootballdoc
Dr. David Chao is a former NFL head team physician with 17 years of sideline, locker and training room experience. He currently has a successful orthopedic/sports medicine practice in San Diego.