September 29, 2014 -
Dr. David Chao
Monday Morning MD
Why the rash of Achilles, high sprains, Lisfrancs, turf toes, ankle and foot fractures? In Week 4, Vikings quarterback Teddy Bridgewater, Raiders quarterback Derek Carr and Panthers running back DeAngelo Williams all exited their respective games early with apparent high ankle sprains. Robert Griffin III, Matt Cassel, Danny Woodhead, Derrick Johnson and DeAngelo Hall are just some of the other recent foot/ankle victims. Knee injuries used to be the leading injury, but that trend seems to have changed.
My analysis of current NFL rosters indicates that the foot/ankle has overtaken the knee when it comes to serious injuries. Currently, 51 players are listed on injured reserve (including designated for return) due to foot/ankle issues versus 40 with known knee issues.
During my two decades caring for NFL players, I have slowly observed this developing shift. When I began, knee ligament (ACL, PCL, MCL), meniscus, patella and cartilage issues dominated the training room. Although the knee is still prominent, injury frequency has moved down to the foot/ankle.
As an example of the change, I stated that Achilles tears are the new ACL. Both lower extremity soft tissue ruptures are typically non-contact injuries that happen without warning and lead to surgery with a lost season. No team wants to hear the word "Achilles" or the letters "ACL."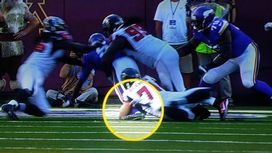 Bridgewater threw for 317 yards before exiting Sunday's game with an ankle injury.
When I first looked at this issue halfway through the preseason, league-wide there were nine ACL tears and seven Achilles tears. Now, just under a quarter of the way through the regular season, I count 24 ACL tears and 16 Achilles ruptures. Hopefully, the total doesn't rise with the Monday injury reports that could include Cowboys cornerback Morris Claiborne's presumed ACL.
These two injuries are far and away the leading two categories for the 153 players on injured reserve with no other specific diagnosis reaching the double digits of frequency.
The Chiefs made news last week with their third season-ending Achilles tear. Many theories were thrown around as to the cause, but one can't blame limited preseason practice (injuries happen later in the season, too), turf (all three injuries occurred on grass), certain antibiotics that weaken tendons (players not on Cipro), PEDs (would not be limited to Achilles) or even shoes/insoles.
I doubt this anomaly is related to the Kansas City strength coaches or their quality medical staff. Statistical variances do happen. For example, there are currently 13 Achilles ruptures in the AFC, but only three in the NFC and there is no common denominator to explain that conference discrepancy.
Why the increase in foot/ankle injuries? There is no doubt that the reason is multi-factorial and no one explanation can account for it all. My theory has always been related to the changing NFL landscape. As players continue to get bigger, faster and stronger, the foot/ankle essentially remain the same and, thus, becomes more vulnerable. If you continue to plant a bigger tree into the same size pot, problems are inevitable.
MMMD 1: Not all high ankle sprains lead to prolonged absence
Most knowledgeable NFL fans fear a high ankle sprain knowing it is typically more severe and takes longer to return than a traditional low ankle sprain. High sprains happen with external rotation while low sprains happen with inversion.
Severe high sprains can even lead to fracture and surgery (see Danny Woodhead). Although it is common for a player who suffers this injury to miss six weeks, there are milder varieties of high ankle sprains.
Kansas City running back Jamaal Charles was injured during Week 2 and missed last Sunday's game at Miami, but is listed as 'probable' for his Week 4 Monday night game. Despite initial concerns about prolonged absence with his high ankle sprain, the Kansas City running back looks to meet my original 1-3 week estimate.
By mechanism, I am expecting the high ankle sprains sustained by both Teddy Bridgewater and Derek Carr to be relatively mild. They both might have an outside chance to return for the next game. I don't expect a prolonged absence of over a month. Bridgewater's prognosis may be better, however, Minnesota's next game is on Thursday. Carr's main issue is his ankle, but he also has a mild knee MCL injury.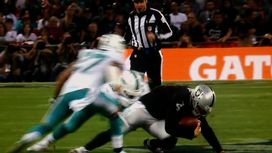 Matt Schaub is likely to take over for Derek Carr, who was injured on this play.
Since Carr is likely to miss some time, history may repeat itself. Matt Schaub replaced brother David Carr in Houston and now Schaub might temporarily replace Derek in Oakland.
Panthers running back DeAngelo Williams may have the most severe of these three high ankle injuries. He was immobilized in a boot after the game, which is not uncommon, to reduce swelling over the first few days. With Jonathan Stewart and Mike Tolbert already out, this injury leaves the Panthers without any of their top three running backs what could amount to several weeks.
MMMD 2: Hope for RG3 ankle dislocation
Kirk Cousins' four-interception second half performance last Thursday halted talk of permanently replacing Robert Griffin. However, will Griffin's ankle every fully recover?
One only has to look at Philadelphia's Darren Sproles, who early in his career dislocated his ankle with a fracture. He is now in his tenth season. The week RG3 was injured, Sproles racked up 178 yards from scrimmage and one touchdown. On Sunday he had an 82-yard punt return for a touchdown.
There is no reason RG3 shouldn't fully recover despite the gruesome injury. Medically, ankle dislocations without cartilage damage return to full form.
MMMD 3: NFL players play through injuries we don't know about
At some point, almost everyone gets injured and fans don't always know the extent. The NFL only requires disclosing injuries when it might affect whether or not a player will suit up. Many smaller injuries go undisclosed to the public.
Tampa Bay wide receiver Vincent Jackson likely suffered a hairline fracture to his wrist during the second series of the team's Week 3 loss at Atlanta, but finished the game before x-rays were even taken. On Sunday, Jackson played the entire game with the bad wrist but still managed to catch the game-winning touchdown.
49ers tight end Vernon Davis was hit in the lower back and x-rays were negative, but we don't yet know the extent of his injury. Davis left the game d ue to back spasms, but joins the list of players who expect to play through his injury next weekend.
Almost all NFL players get hurt at some point during the season. What one does with the injury and how one safely plays through it determines true championship character. Most of us will never know what these athletes go through.
MMMD 4: Injuries have domino effects
Often times it is not just what a missing player isn't able to do but how his absence affects the team downstream.
After Raiders quarterback Derek Carr was injured Sunday in London, backup Matt McGloin came in and botched a shotgun snap that lead to an easy six points for Miami.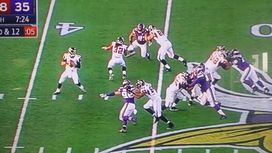 Levine Toilolo (80, bottom) had to play right tackle for the Falcons on Sunday due to injuries.
Jaguars wide receiver Cecil Shorts injured his left hamstring at San Diego, causing him to not run his full route with vigor, which led to Blake Bortles' first NFL interception.
The Falcons offensive line became so depleted in Minnesota that there were only four healthy linemen left suited up on Sunday. Tight end Levine Toilolo filled in as best he could at right tackle, but it essentially gave no chance for Matt Ryan to rally his team.
From a fantasy prospective, an in-game injury can't be replaced. From a reality prospective, sometimes it can lead to even bigger problems.
MMMD 5: The bye weeks begin in Week 4
The bye week has been a positive addition for the NFL, as players and teams welcome the rest and chance to get healthy. With a plethora of games and the rise of fantasy football, few fail to notice that three fewer games were played this week.
The biggest complaint for some is that the bye week comes too early in Week 4. The Seahawks have complained that as Super Bowl champions, they shouldn't have the bye this early, as they have a long 13-game stretch to go plus a potential trip to the postseason in order to repeat.
I feel the best solution is to add a second bye week. In the health and safety era, this would eliminate long stretches without rest and add revenue/television opportunities without increasing the number of games or injuries. This might be the best compromise in place of the proposed 18-game regular season.
MMMD 6: Medical matters when drafting
Although it is too early to give out draft grades, there is no doubt medical input is important.
The Texans placed rookie NT Louis Nix III on injured reserve last week due to his knee after being inactive for the first three games. He was listed as a "red light" grade for his knee in my top medical issues for the NFL draft column.
Third-round picks, like Nix, are counted on to contribute significantly. In the end, I hope he is a productive player. But so far, Nix's knee injury has left him on the sidelines until next year.
MMMD 7: London calling
Sunday marked the first of three NFL games to be played overseas this season. It is part of the NFL push to get a London-based team within the next decade. Many further steps are needed including playing back-to-back games.
With coast-to-coast travel affecting visiting teams, how would a trans-Atlantic club fare? Medically, a team in London is feasible. The time change issues and travel are surmountable, as a Seattle at Miami game is almost equal to the travel required for New England to arrive in London.
Or course, games would need to be clustered and paired with byes. The bigger issues will be socialization of living in a foreign country when most players haven't even traveled outside of the United States.
Follow David on Twitter: @profootballdoc