August 25, 2014 -
Dr. David Chao
Monday Morning MD
The Rams held great optimism for the post-ACL return of quarterback Sam Bradford this season. After their starting signal-caller exited the third preseason game and was examined, initial reports indicated his ACL was not torn. Unfortunately, that expectation disappeared after an MRI, as it turns out Bradford re-tore his ACL and will miss all of the 2014 season.
ACL re-tears happen and this does not make Bradford injury prone. The Rams may have been shocked to discover they lost their quarterback again, but medically speaking, a re-tear is more likely in the first year post-injury. Usually teams are not surprised by MRI results as the medical staff can easily diagnose ACL tears with physical examination. Typically, initial examination prior to the knee swelling and guarding is even more accurate than MRI.
Some of the initial optimism stemmed from the fact that Bradford didn't feel a pop and wasn't in significant pain. However, this is not unusual in early re-tear as the graft still has no nerves in it. Bradford also was walking around fine in the locker room without crutches or a limp, leading to more of a false sense of security. Not only does the graft not have nerves, it also doesn't have a blood supply yet. So when it tears, there is not the usual level of swelling that leads to a limp.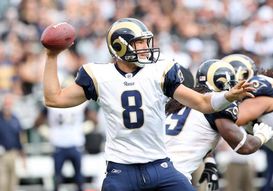 ICONBradford's injury likely signals the end of his time in St. Louis.
Football fans have been lulled into a false sense of security after Vikings running back Adrian Peterson's much publicized ACL recovery several years ago. Despite medical advances, ACL recovery is not without peril. There is a higher risk for ACL graft tear in the first 12 months of recovery as the ligamentization process is not yet complete.
Even when an athlete returns to sports early, full ACL recovery takes a minimum of 18 months. All the rehabilitation in the world can't speed up the biology of graft incorporation where donor tissue becomes a ligament. Once the graft is fully ligamentized, the rate of re-tear can drop to half that of the other side native ACL tearing.
I am not criticizing St. Louis doctors or Bradford's surgeon. Early return has become the industry standard. In a perfect world, an athlete would sit out two seasons before playing, but this is simply not practical.
Looking at the video, the hyperextension mechanism did not seem severe. The initial hope was for scar tissue or bone contusion. Bradford's brace may have stabilized the knee enough that the shift was not seen on replay.
Quarterbacks often wear a prophylactic brace on their lead leg. Although it did not save Bradford from graft tear, the brace still likely prevented additional cartilage damage. Typically, a brace can decrease the severity of injury by a degree and, hopefully in this case, helps his injury remain an isolated tear.
The statistics show Bradford has an uphill battle ahead of him. 95 percent of athletes return to the same level of play after their first ACL injury. That rate of return drops considerably after a second same-knee ACL tear. Given this injury is likely isolated, I believe Bradford still has an excellent chance to return despite the longer odds.
Patella tendon is the most common graft choice in the NFL. Since the middle third of Bradford's kneecap tendon was used ten months ago, it cannot be reused. Bradford's surgeon will likely choose the hamstring tendon as the graft. Other options include quad tendon or patella tendon from the other knee. A cadaver is usually the last option, as it has higher failure rates.
Once we examine the medical facts and increased frequency of early ACL re-tear, it would be unfair to label Sam Bradford injury prone. More accurately, it is the desire for quick return accompanied by bad luck.
MMMD 1: Regular season game conditions lead to more injuries
Most preseason games look nothing like a regular season game. However, the third preseason game traditionally features starters playing against starters for the first half. This brings regular season intensity and, unfortunately, injuries increase as a result.
Whenever competition heats up, inevitably more injuries occur. It is no coincidence that there are fewer injuries in the fourth quarter of a blowout and more injuries in a hard fought divisional game.
Although there has been much talk of limiting preseason contests, this phenomenon may not go away. Even if the NFL cuts back on these dress rehearsals, that would only push up the timing. The second-to-last contest will always be the high intensity contest with higher injury risk.
MMMD 2: Cam Newton rib fracture is not necessarily bad news
No one wants to sustain a fracture of any kind. However, if you have to suffer one, a hairline rib fracture like the one Panthers quarterback Cam Newton recently sustained is the best one to have.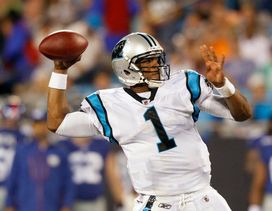 Newton should be fine for the Panthers' season opener.
In general, rib fractures heal very quickly and never require surgery or casting. A hairline fracture is non-displaced and offers the quickest of healing. Based on my NFL team physician experience, it is better to have this type of rib fracture than an intercostal or oblique muscle strain. It is likely that Newton will miss less time with his fracture than Drew Brees did with his oblique muscle strain suffered this preseason.
Newton continued to play into the second half despite the injury. I fully expect the Panthers to have their starting quarterback for the regular season opener. In fact, there should be more worry about residual effects from his ankle surgery (or rust from that recovery) than about this rib fracture.
MMMD 3: Pattern of concussions may bode poorly for Wes Welker
The Denver wide receiver suffered his third concussion in the last calendar year. Welker's first concussion last season was in Week 11 and he returned after one week. The second was suffered in Week 14 and he missed a month before returning for the playoffs with an oversized helmet for extra protection.
There is a lot we still don't know about concussions, but we do know severity and proximity create bigger problems. The magnitude of the head injury and the closer they occur together, the more problematic for a player.
I have no knowledge of Welker's symptoms after this third concussion in 10 months, but it could lead to a prolonged absence. Certainly, a fourth head injury would lead to one. You can bet that the Broncos will at the very least sit their star receiver for the final preseason game.
MMMD 4: Chiefs may be without their big offseason acquisition
Linebacker Joe Mays recently underwent wrist surgery to repair ligament damage. Often times an NFL linebacker plays through a fractured wrist with a cast, but a ligament tear resulting in bone instability is a different story.
Mays' ligament tear was significant enough to require surgery. Typically, this means a minimum recovery of eight to twelve weeks. If the doctors were able to stabilize with pins during surgery, Mays might be able to return to play earlier with a cast.
Most times, NFL athletes play through wrist injuries. This one might be severe enough to land Mays on IR or IR designated for return.
MMMD 5: Giants offensive line takes another hit
Guard Geoff Schwart, a big offseason acquisition, exited the third preseason game on a cart. Initial media reports incorrectly surmised that a dislocated toe would not be a big deal.
Although I had not examined Schwartz, based on my NFL experience, I immediately indicated on twitter that the Giants had a big problem as he likely dislocated his first metatarsal phalangeal joint. By video, the Giants team doctor pulled the toe and easily reduced the dislocation on the field. An easy reduction is not a good sign as it means that much capsular tissue was torn.
The big toe is vital for push off and this is not a benign injury. One could consider this to be a very severe turf toe injury.
Schwartz is now headed to see a foot specialist. The best case scenario is conservative care in a boot and a six-week absence. My expectation is that he will need season-ending foot surgery with an outside chance of injured reserve designated for return. I hope I am wrong.
MMMD 6: Jets will likely start season without star cornerback
First-round draft pick Dee Milliner was recently confirmed to have suffered a high ankle sprain. Traditional low ankle sprains swell more, but heal more quickly. High ankle sprains swell less but need more time.
Because Milliner was reported with significant swelling, his high ankle sprain is likely at least moderate in nature. Based on my experience, a cornerback with such an injury typically needs four to six weeks to recovery from his August 10th injury putting the opener in jeopardy.
In this case, the next man up can't be Dexter McDougle, as he tore his ACL at the same practice that Milliner injured his ankle.
MMMD 7: Unique training camp injury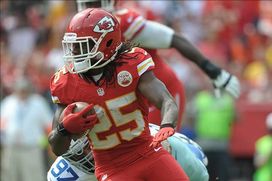 Fantasy owners were likely worried about Charles' freak injury.
Chiefs running back Jamaal Charles suited up but did not play as a result of his training camp foot injury. He suffered the injury while carrying boxes during his move out of the dorms.
Kansas City's star running back has since returned back to practice. Being held out of the game was likely precautionary and there is no reason to believe he won't be 100 percent for the season opener. However, next time Charles might want to tip an intern to get some help moving.
MMMD extra: ACL recovery series – Week 32
The eight-month mark has arrived for the ACL reconstructions of Patriots tight end Rob Gronkowski and Broncos linebacker Von Miller. The topic for this week will be re-injury scare.
Most athletes are understandably tentative and worried about their knee upon return to action. I usually forewarn players that until they survive an injury scare, they won't regain full confidence. Until they go down and clutch their knee thinking the worst, then dust themselves off and realize their knee is fine, the mental healing process is not complete.
Eagles wide receiver Jeremy Maclin had just such a re-injury scare last week when he went down with a non-contact mechanism. In the end, Maclin checked out just fine. Hopefully this is what he needed to cross his recovery threshold.
Unfortunately, Sam Bradford's knee did not survive the injury scare that most athletes go through to return to 100 percent.
I am not sure if Gronk or Miller have had their moment yet, but they will likely need to survive a scare on the road to becoming the great players they are again.
Follow David on Twitter: @profootballdoc
Dr. David Chao is a former NFL head team physician with 17 years of sideline, locker and training room experience. He currently has a successful orthopedic/sports medicine practice in San Diego.