March 31, 2014 -
Dr. David Chao
Monday Morning MD
Last week's ruling from the National Labor Relations Board allowing Northwestern University athletes to form a union was so significant that it could very well change the college athletic landscape forever.
The issue is so complex that I will stick to the medical implications. After all, Kain Colter—the former Northwestern quarterback leading the movement—has stated, "Our number one issue is medical coverage and medical protection." He is right to point out medical care issues.
Even though Northwestern players have indicated that they are not seeking to be paid, the unionization opens up that and many other avenues. The biggest medical implication of being considered an employee versus a student athlete is that medical care would change. All injuries would likely fall under the workers' compensation systems.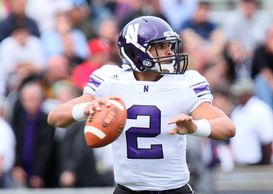 Former Northwestern quarterback Kain Colter is leading the charge against the NCAA.
This would increase the cost of college athletics significantly. In my experience of working with college athletes, as a cost saving measure, most schools attempt to utilize parental insurance to care for students when surgeries are needed. A player with HMO insurance needing ACL surgery would likely have that performed by the HMO doctor, not the team physician. Under workers' compensation, that would change and the schools would be held primarily responsible.
Colleges would not only be responsible for the cost to treat injuries, they likely would be held responsible for future lost wages under the workers' comp system as well. This opens up schools to pay out significant settlements for future medical care and lost income.
I am not a human resources expert, but in my experiences dealing with professional sports teams, work comp costs are a big percentage of expenses. In fact, some arena football teams were driven into bankruptcy by skyrocketing work comp costs even though player salaries were controlled.
Maybe I am biased living in California where many small businesses feel the workers' comp cost pinch. I just know that the student athlete re-definition as employees will change how injuries are handled at universities across the country.
I am quite sure the major programs like Alabama and Texas would survive the extra cost. The question is what happens to the smaller and less prestigious football schools that don't bring in millions of extra dollars each season?
We haven't seen the last of the lawyers in this case. Redefining student athletes as employees opens up a huge can on serpent-sized worms.
MMMD 1: Trickle down effect of student athletes as employees
How will this affect the non-revenue sports? It has long been implied that revenue sports like football tend to support the rest of the athletic department.
The potential problem is that as a result of what is happening at Northwestern, football program expenses will go up with the work comp costs mentioned above. Will there be enough left over to support other sports?
What about the work comp costs of non-revenue sports? Or will these sports simply fall by the wayside?
MMMD 2: Trickle up effect of NCAA football players as employees
If the Northwestern ruling stands and my prediction of increased work comp costs is accurate, it could gravely affect the "minor league" of the NFL.
The majority of current Division I programs do not claim to make a significant profit, meaning many colleges might need to abandon football altogether. Currently, the NFL has a free minor league system in place. What happens when some of that talent development disappears?
MMMD 3: Employees have to pay taxes
Student athletes on scholarship don't have to pay income taxes. Employees, however, do.
A potential outcome of being "hired" by a university to play football is that the scholarship benefit would be taxable. The value of a Northwestern football scholarship could be worth up to $76,000.00 and subject to federal and state income tax. A Northwestern student from California might have to pay California state income tax as well.
NFL players not residing in California see their weekly paychecks dip when they play road contests in San Diego, Oakland or San Francisco. California takes extra state income tax from players' paychecks that week.
If Northwestern plays Cal like it did last fall, would players now owe the state of California income tax for the scholarship benefit? Where would students get the cash to pay these taxes? If schools paid athletes extra to be able to pay taxes, that money would be taxed as well.
MMMD 4: More employee issues for student athletes
Assuming a Northwestern football "employee" receives pay of $76,000.00 per year (cost of tuition, room and board), what about the pay of another university's "employee?" Must they be paid the same amount to keep a level playing field?
What happens to a student on scholarship where the tuition, room and board totals only $26,000.00? Will those players be paid the remaining $50,000.00 in cash?
The ruling raises more questions than it answers. We will all have to wait and see.
MMMD 5: New NFL safety rule—No rolling up on the sides of legs
A rule already exists to protect a player from being hit on the back of the legs. The new rule disallows hits to the side of the legs.
Some postulated that this new rule was in response to ACL injuries. That is just not the case. ACL tears are not typically caused this way. In fact, most ACL tears are non-contact injuries.
This rule will help to prevent medial collateral ligament (MCL) injuries and high ankle sprains. Any rule to cut down on injuries is a good one and hopefully this will help.
MMMD 6: New NFL rule—No dunking due to safety?
A new NFL rule will penalize any player who chooses to dunk the ball over the crossbar. While one can argue whether this is just another example of the "No Fun League" or not, one is hard pressed to make this rule about safety as some have.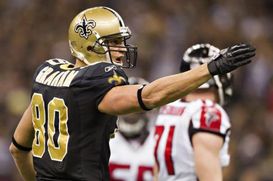 The "Jimmy Graham Rule" goes into effect next season.
There really aren't any special safety concerns other than perhaps rolling one's ankle after dunking. Trying to cloak this rule as safety-related doesn't make sense. The reality is that the NFL doesn't want game delays for a damaged goal post. To me, there is an easier solution.
It's not dunking that damages the goal post. It was New Orleans tight end Jimmy Graham hanging on the crossbar after his dunk that tilted the goal post. Hanging on the goal post is what should be disallowed, as the actual dunking is harmless.
MMMD 7: Navy freshman f ootball player dies
On the first day of spring practice, Navy freshman running back Will McKamey collapsed. He subsequently fell into a coma and died.
There was no apparent contact or other sign of trouble. As a high school senior, McKamey did sustain a concussion that required hospitalization. After multiple tests and the opinions of more than one specialist, he was cleared to return to football.
At this point the cause is unknown and it doesn't feel appropriate to speculate as to what happened. All that is left to do is mourn and send best wishes to his family, friends and Midshipman classmates.
MMMD extra: ACL surgery series – Week 11
Patriots tight end Rob Gronkowski and Broncos linebacker Von Miller underwent ACL surgery on the same day 11 weeks ago. As both players approach the big three-month milestone for rehab, let's discuss why allografts (cadaver tissue) are the least desired choice.
A patella tendon autograft (middle one-third of one's own knee cap tendon) was likely chosen for Gronk and Miller. Most NFL physicians consider this the best and strongest choice.
Allograft (cadaver) tissue is still utilized, but has been shown by the prestigious ACL study group to have high failure rates. I'm lucky enough to have been elected as a part of this group of top worldwide ACL surgeons and we have known for over a decade that the highest failure rates come from allograft.
All ACL grafts are scaffolds for one's own tissue to grow into. There is not routine technology to tissue type or match donors to recipients. I theorize for this reason that sometimes cadaver grafts don't incorporate to become live tissue.
Failed ACL surgery is the worst thing that can happen to an athlete. Losing one season is hard enough. Missing a second season with a graft re-tear many times means the end of a professional career.
Follow David on Twitter: @profootballdoc
Dr. David Chao is a former NFL head team physician with 17 years of sideline, locker and training room experience. He currently has a successful orthopedic/sports medicine practice in San Diego.