October 28, 2013 -
Dr. David Chao
Monday Morning MD
Last week's plethora of significant injuries to marquee players was avoided this week. Thankfully, this Sunday was more typical with fewer injuries.
Before we get to the rundown, let's take a look at the potential medical related issues involving travel with London games. With the second London game of season played on Sunday, the announcement of three London games for 2014 and talk of placing a permanent NFL team in London, it makes sense to take a quick look.
The travel time may be longer, but is there really a big difference between Seattle to Miami (2,734 miles) and New England to London (3,281miles)? These two trips are only a slight headwind away from having the same flight time. Certainly, it is significantly longer for west coast teams, but there are ways to mitigate that.
Currently, all teams playing in London get a bye week immediately following the game to recuperate. In addition, west coast teams get to play on the east coast the week before, allowing the opportunity to fly straight to England for the London game. One big worry is the swelling and increased recovery time from a long flight. Typically, teams fly home right after a game. For London games, however, teams fly home the next morning, allowing time to ice, treat and prevent early swelling. These accommodations are why the NFL feels it is worthwhile and feasible to expand to three games. Games in London are certainly less of a medical concern than Thursday Night games on a short week (but that is for another article).
The bigger issue comes into play if a team is placed in London. The home field advantage might be six points instead of three. The travel disadvantage for a London team would be equaled out by the bigger home field advantage. Having accompanied an NFL team to London, the bigger issues are non-travel related. Different culture, housing, foods, medical systems, socialization, taxes, distance from family, etc., are the more pressing concerns. It would require a lot of forethought and planning, but medically, it would be feasible. The trick is to convince the players.
At least one player told me after playing in London, "Never again."
MMMD 1: The Philadelphia quarterback carousel continues
Starter Michael Vick injured his left hamstring three weeks ago and backup Nick Foles played until he suffered a concussion last Sunday. Because Vick wasn't ready, rookie Matt Barkley finished Philly's Week 7 loss to the Cowboys. Foles was not cleared this week and Vick stepped up to start. Vick said he felt a pop (just like the first time) in the first quarter and exited again, which meant the Eagles had to turn back to Barkley, who was ineffective.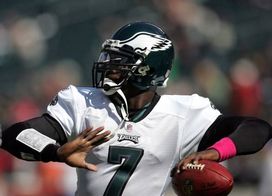 ICONVick reinjured his hamstring and had to exit Sunday's loss to New York.
Regardless of the MRI results, Vick is extremely unlikely to be able to go in Week 9. This is a re-aggravation of the same left hamstring injury. The first recovery attempt took three weeks, which doesn't bode well for this time being a one week injury. Besides, with Vick's type of game, he needs to be mobile. Even if the MRI returns favorable results, how can the Eagles (and Vick) trust that the hamstring will hold up again in just one week's time?
In any case, Foles should be available for this Sunday's showdown with Oakland. Per protocol, the second-year signal-caller will need final clearance from an independent neurologist. This shouldn't be an issue since Foles has already sat for one full week.
MMMD 2: Jimmy Graham sits out for two weeks, but still comes up big in his return
A lot of speculation was generated regarding the reinjured foot of the Saints tight end extraordinaire. Graham had the entire bye week to rest and still wasn't ready to practice the following week. Fortunately, he had an injury that was amenable to injection.
Jay Glazer reported Sunday morning that Graham had a partially torn plantar fascia. The plantar fascia is essentially the arch of the bottom of the foot. It is a very painful and slow healing condition that prevents the ability to plant or push off. This injury is not a dangerous one to play through, but it certainly is a painful one. Plantar fasciitis can become chronic, but the most reliable way to get the injury to heal (besides rest, meds, treatment, taping) is to let it tear all the way. The surgery to cure plantar fasciitis is to cut or release it and that is precisely what tearing it would do.
but was able to play against Buffalo on Sunday.
MMMD 3: Injury woes continue in New England
The Patriots have suffered significant ailments on all three levels of the defense. Injuries to nose tackle Vince Wilfork (Achilles tear-IR), linebacker Jerrod Mayo (pectoral tear-IR) and cornerback Aqib Talib (hip flexor) forced New England to name new defensive captains.
The offensive side of the ball got wide receiver Danny Amendola back from injury (groin and then concussion), but that didn't mean Sunday's win against Miami was all good news. Based on video analysis, I now fear the team has lost right tackle Sebastian Vollmer for the season with a right leg/ankle fracture. Vollmer was carted off the field Sunday in a fracture splint. I anticipate season-ending surgery.
MMMD 4: Redskins exercise restraint with RG3
While trailing by three scores late on Sunday at Denver, Redskins head coach Mike Shanahan took quarterback Robert Griffin III out of the game following a legal hit that drove the former Heisman Trophy winner to the ground. Griffin appeared to injure his left knee during the game as well. It's worth noting that Griffin's right knee is the one that was injured during college and reinjured at the end of last season, requiring surgery. Further, RG3's left knee served as the donor site for his right knee surgery, but any minor injury sustained has nothing to do with that procedure.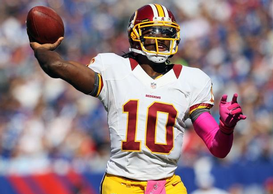 Griffin was removed from Sunday's loss at Denver, mostly as a precaution.
Griffin's left knee was examined on the sideline, which then led to the decision to keep him out of action. Based on video analysis of the hit and injury, it didn't seem like any significant damage was sustained. At most, Griffin suffered a very mild MCL strain. Normally, the quarterback would resume playing and it appeared as if Griffin wanted to go back in the game, but the Redskins showed restraint and kept backup signal-caller Kirk Cousins in the game, even after throwing a pick-six.
I believe Sunday's action s are the result of the scrutiny the Redskins faced last year for sending RG3 back into games too soon, and I wonder what would have happened if this was a one score contest or playoff game.
MMMD 5: Don't write Doug Martin off just yet
Tampa Bay running back Doug Martin was reported to have a labral tear (deepens the shoulder socket) following the team's Week 7 loss at Atlanta. Based on video analysis, it was a subluxation (shifting) injury and not a dislocation (where the ball comes out of socket completely). Initial reports had the second-year running back headed to the injured reserve list.
Martin needs arthroscopic labral repair surgery. If he elects to postpone this until the offseason, it may be possible to rehab and brace this kind of injury. Others have done it before, including former Falcons running back Michael Turner, who played through a labral tear late in the 2007 season while with the Chargers. Turner's play when starter LaDainian Tomlinson was injured earned him a $34.5 million contract with the Falcons the following year. All of this was done with a torn labrum that required offseason surgery.
MMMD 6: Jermichael Finley's season is likely done
The Packers tight end was released from the hospital four days after suffering a neck injury. A general rule of thumb is that each night spent in the hospital equals at least one week of recovery time. This puts Finley at four weeks minimum.
The tight end is reported to have a spinal cord contusion and it's important to note that injuries involving neurologic structures always take longer. Of course, I have not seen his MRI or examined him personally, but I think it is very likely that Finley will be placed on injured reserve in the near future.
MMMD 7: Maybe all of this concussion talk is helping
The concussion dialogue continues. Seattle cornerback Richard Sherman wrote an article last week stating, "We choose this profession," while admitting to concealing concussions. Players may still hide concussions, but at least they aren't fighting obvious ones anymore.
Bengals linebacker Rey Maualuga is a throwback. I never thought I would see the day when he would willingly exit the field on a cart due to a concussion. Of course, Maualuga's left knee was injured as well. Video injury analysis seems to show this to be mild knee strain, but he was held out of the game for a concussion and will undergo standard protocol for clearance to return.
I believe that in the past, Maualuga may have waived off medical attention. The system is not perfect, but at least players aren't fighting the obvious concussions as often anymore.
Follow David on Twitter: @profootballdoc
Dr. David Chao is a former NFL head team physician with 17 years of sideline, locker and training room experience. He currently has a successful orthopedic/sports medicine practice in San Diego.