November 04, 2013 -
Dr. David Chao
Monday Morning MD
There is never a shortage of medical issues when it comes to the National Football League. Even in a week of thankfully less than typical on-field player injuries, there is still plenty to talk about from the health of two head coaches to workplace bullying. Before we get to that, let's discuss the topic of the week.
The target zone: head injury vs knee injury.
Fines for high hits have reached an all time peak. Weekly controversy exists regarding changes to the game. Most recently, Washington safety Brandon Meriweather's comments ignited the controversy. However, it was Green Bay tight end Jermichael Finley's words that were most telling to me.
Finley suffered a neck injury from a hit sustained in Week 7 against the Cleveland Browns and was placed on a spine board and taken to the hospital. He has since been released with a diagnosis of spinal cord contusion. His chilling personal account entitled, "Fear, Relief, Resolve," says it all.
Although the account has to do with his neck injury, it sheds tremendous light on the target zone controversy. The second sentence of the second paragraph is quite telling: "I remember seeing the defender out of the corner of my eye, and I intentionally lowered my head and shoulders to protect my knees." These comments demonstrate two things. First, the position of the receiver's head/neck is always changing. Second, despite increased concussion awareness, NFL players still fear knee injuries more than head injuries.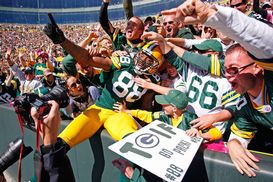 Finley went low to protect his knees, which could have contributed to his season-ending neck injury.
Defensive players are increasingly fined for high hits. This has led to a lowering of the strike zone, but as indicated above, that area is a moving target. Try as defenders might to avoid the head/neck area, in the long run, that may prove to be an impossible task. Aiming at the waist sounds good, but the target is not stationary and changes in a split second. Besides, aiming at the waist of a bigger player may get you run over. One way to avoid accidental head/neck contact is by aiming lower for the legs. This may have inadvertently led to the injuries incurred by Miami tight end Dustin Keller and Green Bay wide receiver Randall Cobb.
In my experience, players still fear the career/season-ending knee injury more. In general, players don't like to be cut. They see a head injury as putting them out for a game. A knee injury could be for a career. Players try to take care of each other when it comes to knees. Teammates stand up for each other on low hits. Aaron Rodgers reacted instantly on the Cobb low hit. In my time on the sidelines, I witnessed players react and retaliate for hits to the knees, but not to a high hit. Until the long-term perspective is embraced, this thinking won't change.
The bottom line is that the safety solution is not simple in this fast moving, hard-hitting game.
Now, on to the weekly rundown. Please note in this fast changing world, updates come quickly. This column is written immediately after the Sunday Night Game.
MMMD 1: Gary Kubiak collapses at halftime
The only place better to collapse than a hospital is an NFL sideline. All NFL medical staffs are well prepared. Every team practices emergency drills prior to the start of the season. Each medical staff consists of multiple physicians and athletic trainers. All NFL sidelines have an Emergency Action Physician capable of providing the most advanced lifesaving procedures. Full advanced cardiac life support equipment is available, including defibrillator, medications, IVs, intubation equipment and paramedic transport.
Kubiak experienced "lightheadedness and dizziness" and collapsed as the nationally televised game between Indianapolis and Houston went to halftime. Initial reports stated that Kubiak's vital signs (pulse, blood pressure and respirations) were stable. Being allowed to sit up is hopefully a good sign, as patients are typically kept on their backs to preserve the all important blood flow to the brain. The on-air broadcast stated that Kubiak did not suffer a heart attack.
One can say Kubiak didn't suffer a heart attack in the form of cardiac arrest. However, medically, a heart attack can only be ruled out with electrocardiogram and serial enzyme blood testing (which usually takes several hours). The list of possible medical diagnoses cardiovascular and non are long, but I won't speculate here.
I know the Houston medical staff to be excellent. It appears that Dr. Walt Lowe, Dr. Jim Muntz, Geoff Kaplan, ATC and their medical team all reacted quickly to take care of a scary situation. Best wishes to Coach Kubiak and his family.
MMMD 2: John Fox has a heart valve issue
The Denver head coach experienced dizziness over the weekend and was hospitalized. Fox was already under the care of cardiac professionals and was previously alerted of his aortic valve condition. Team medical personnel also routinely treat coaches as well as players. Heart valves are needed to have proper blood flow. Fox was trying to put off valve replacement heart surgery until February. When he became dizzy while golfing, Fox did the right thing by heading straight to the hospital.
Coach Fox will have heart surgery early this week to replace his aortic valve. Heart surgery is nothing to down play, but it seems luck is on his side. The good news is that his heart (the pump) seems to be in good shape and a leaking valve is replaceable. In addition, Fox was already visiting his heart doctors while the team was on its bye week. I would anticipate (and hope for) a quick recovery and return to the sidelines before the season is over.
MMMD 3: Workplace bullying in the NFL
The details are still emerging, but the departure of Miami offensive tackle Jonathan Martin from the Dolphins was unprecedented. The suspension of offensive guard Richie Incognito for conduct detrimental even more so.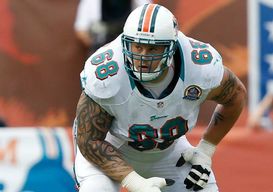 Incognito has been suspended indefinitely by the Dolphins.
Assuming the leaks are correct and that workplace bullying is the central issue here, this could deeply affect the entire team mentally and affect the careers of both players.
I am personally aware of many rookie rituals. It is tradition to have a first-round draft pick host the entire team for a lavish dinner. Chargers linebacker Shawne Merriman treated the team to a $30k plus night out during his rookie year. Martin, however, is a second-year player and not a rookie. Since I never played the game, I will let current and former players comment further. I will stick to the medical issues.
NFL.com's Ian Rapoport reported that Martin will be placed on "reserve/non football related" injury/illne ss. It is unknown whether he will be paid during his absence. Martin has also filed accusations of player misconduct. Assuming this bullying happened at work during football practice—in the team locker room, meeting rooms and at mandatory team meals—how is it considered "non football related"? Let's not forget that when football players are injured, the injuries fall under workers compensation laws. Medically speaking, injury or illness that results from the workplace is considered work related.
MMMD 4: Secrecy may have paid off for the Patriots
New England has long been known for its secrecy regarding the reporting of injuries. When Patriots defensive lineman Vince Wilfork tore his Achilles tendon earlier this season, fellow d-lineman Tommy Kelly's roll became even more important. Kelly was thought to be recovering well from his Week 5 knee injury, but instead, he was placed on IR Saturday. This all happened after the Patriots were able to beat the trade deadline and obtain DL Isaac Sopoaga in a deal with Philadelphia.
My guess is that the price might have been a bit higher had the real news about Kelly's pending move to IR been released.
MMMD 5: Jeremy Kerley injures left elbow
Based on real time video injury analysis, the Jets wide receiver suffered a significant left elbow injury. Kerley hyperextended his left elbow and likely suffered at least a subluxation injury. Ligament tears and a fracture have not been ruled out yet as of this writing. Based on injury mechanism, the best-case scenario is a several week recovery period. I fear the season may even be in jeopardy if additional imaging is positive.
The Jets have a quality medical staff and will do what they can for a safe and quick return. However, as a wide receiver, the bracing options to allow early return may be more difficult, as Kerley needs a full range of motion to play effectively.
MMMD 6: Recurring hamstring injury for Darren McFadden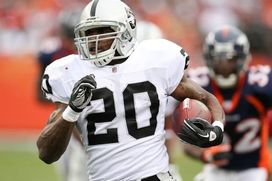 ICONMcFadden is once again hampered by a hamstring injury.
The Raiders running back had already missed time this year with a hamstring injury and now McFadden appears to have reaggravated the issue, which happened early in the second quarter against Philadelphia on Sunday. If he tore some scar tissue, he could be back quickly. If he truly reinjured the ailment (like Michael Vick did last week), McFadden will be out next week (like Vick was Sunday) and maybe longer. By way of video injury analysis, it seems like McFadden suffered a re-injury.
MMMD 7: Arian Foster suffers a compounding injury
Houston's star running back was battling hamstring issues, but started the Sunday Night game before exiting after two plays. Based on video injury analysis, it appears Foster injured his back on the opening offensive play when he was targeted with an incomplete pass. He played only one more play where there was no contact and then was immediately ruled out.
The combination of back and hamstring injuries may prove difficult to recover from quickly. Typically, an elite athlete can compensate for one body part that is not 100 percent, but when they have two areas hurting, that's when the situation becomes far more challenging. Take the example of Atlanta wide receiver Roddy White, who is still struggling to return from hamstring and high ankle injuries.
Follow David on Twitter: @profootballdoc
Dr. David Chao is a former NFL head team physician with 17 years of sideline, locker and training room experience. He currently has a successful orthopedic/sports medicine practice in San Diego.