December 29, 2014 -
Dr. David Chao
Monday Morning MD
The health of Aaron Rodgers and Le'Veon Bell will be reassessed this morning. For team medical staffs, Monday morning may be more important than Sunday afternoons.Game day gets all of the attention, but the extent of many injuries is better determined the day after. As a former NFL team physician, I often told general managers or head coaches that what an injury looked like the next day would give the best information on whether a player could play the following week.
Injuries can get better or get worse overnight. If swelling happens, the majority of it happens overnight. The Monday evaluation usually comes with MRI results but, most importantly, gives you a second data point to see the direction of the injury.
The Packers were worried enough about Rodgers' calf injury going into the game that three quarterbacks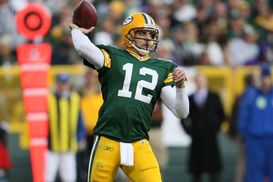 ICONHow Rodgers feels today will tell the tale of the injury.
were activated for the first time this season. The star quarterback re-injured his calf but returned in the second half to lead Green Bay to the NFC North crown. He remained effective, but immobile, while using shotgun formation exclusively and remaining in the pocket.
What Rodgers' examination looks like and how his calf feels on Monday will be a better indicator of how much he can practice and how mobile he may be for the playoffs. Often a player who stays warm can play through an injury but it swells and gets worse by the next day.
Certainly the bye week will help Rodgers, but calf strains tend to linger longer than hamstrings and could effect him all the way through a potential Super Bowl run. There are multiple hamstring muscles that perform similar functions but only one gastrocnemius muscle complex that allows for strong ankle push-off.
Le'Veon Bell hyperextended his right knee during the Sunday night regular season finale. Despite some initial fears of a season-ending injury, Steelers head coach Mike Tomlin said after the game that Bell's knee "structurally seems to be fine". The hope is he avoided ligament damage, but the worry still is bone bruise. No doubt, an MRI will be performed, but what the knee exam is like the morning after is the key. If Bell has significant effusion (fluid on the knee) and stiffness, he will miss time. His chance to play in the playoffs in six days hinges largely on how his knee responds to treatment overnight.
What a medical staff does to assess and treat injuries on Monday may be just as important as what is done on Sunday. To me, the most vital day for a team physician is the day after a game. The evaluation of Rodgers, Bell and others Monday morning may change the playoff picture.
MMMD 1: No off days for Christmas
Team medical staffs don't clock out because it's the holidays. Alex Smith was diagnosed with a lacerated spleen on Christmas Day. Drew Stanton had his knee urgently scoped on Christmas Eve. Even if coaches adjust the mandatory one-day-a-week off to Christmas Day, the daily medical treatments and checks continue. Diligence by the Chiefs medical staff may have saved their starting quarterback a ruptured spleen. Quick action by the Cardinals medical staff may have saved Stanton long-term knee cartilage damage from infection.
Kudos to NFL medical staffs and their families that accommodate the holiday interruptions.
MMMD 2: Will Drew Stanton be able to return?
Arizona's second starting quarterback had urgent arthroscopic knee surgery to clean out infection from his knee. It apparently was caused by an outside treatment. Presumably, a needle treatment (PRP/stem cell or acupuncture/dry needling) introduced infection into the knee joint.
Infection of a joint calls for immediate action as it can cause permanent articular cartilage damage. If bacteria were found in the knee, don't be surprised if Stanton needs repeat wash out surgeries and up to six weeks of intravenous antibiotics. If the Cardinals medical staff caught the infection early and the surgery was precautionary, Stanton may have a chance to play in the playoff game versus Carolina this weekend.
MMMD 3: Rough week for AJ Green
Six days earlier, the Bengals star receiver took a vicious hit to his right arm and was in and out of their playoff-clinching win. Sunday, Green suffered a blow to the head and fumbled on the same play. He was placed into the concussion protocol.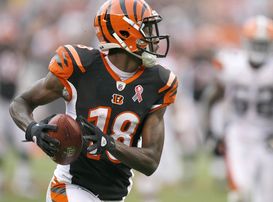 Green was placed into the concussion protocol Sunday.
Concussions are like snowflakes, no two are the same. The makes it hard to project Green's recovery. The biggest prognostic factor is how he checks out the day after. If he feels good, then more likely than not he will be cleared. If he still has symptoms the next morning, then his playing in the wild-card round is in jeopardy.
Fortunately for Cincinnati, they were assigned to play on Sunday instead of Saturday. This gives Green an extra day to safely get through the mandated NFL protocol.
MMMD 4: Superman and his team shine
Carolina trounced Atlanta on the road to win the lowly NFC South. Lets not forget that Cam Newton is only two plus weeks out from his rollover pick-up truck accident and suffering two transverse process fractures. There is no way any bone heals in two weeks and Newton deserves credit for playing through the pain. He will have to do so again next week as the Panthers host the ailing Cardinals.
MMMD 5: Early bye week may have hurt Broncos
Every team wants a mid to slightly later season bye. No one wants an early one.
Denver had its bye early in Week 3 and has since played 13 straight games. That may have caught up to the Broncos this week as they listed a season high 20 players on the injury report.
Maybe it's time to reconsider a second bye week. John Elway might vote that way if it prevents Denver from playing 13 straight games. The good news is the Broncos record has earned themselves a first-round playoff bye this week.
MMMD 6: Playoff bye will help with injuries.
Certainly a first-round playoff bye guarantees progression to the divisional round, but the biggest advantage may be to allow some players time to heal. The Patriots have the best record in the AFC and will have an extra week to get Nate Solder and Brandon LaFell healthy. Solder was injured on the final play of the first half but by video, his knee injury does not appear significant. LaFell finished his game but was still seen in a walking boot afterwards. Immobilization is used for prevention of post-game swelling and I expect his is precautionary.
The Seahawks have the best record in the NFC and had three defensive injuries. Jordan Hill appeared to suffer a knee hyperextension and with the extra week should return. K.J. Wright's index finger dislocation won't be an issue but Jeron Johnson's elbow dislocation will need every bit of the extra time to be able to play.
Dallas wishes it had a bye, as by video, Anthony Hitchens suffered a high ankle sprain and could use the extra week.
MMMD 7: Busiest day of year
Today is the annual busiest time of year but not because of Black Monday and management/coaching changes. For the 20 teams out of the playoffs, it is the busiest day of year as all players get mandatory checkout physicals. This often involves dozens of imaging studies as well. The season may be over, but the medical work is just beginning.
Follow David on Twitter: @profootballdoc
Dr. David Chao is a former NFL head team physician with 17 years of sideline, locker and training room experience. He currently has a successful orthopedic/sports medicine practice in San Diego.