July 21, 2014 -
Dr. David Chao
Monday Morning MD
Brett Favre made headlines last week by again stating that he would be leery to let his son play football because it is a "violent sport." With heightened injury and concussion worries, should you or would you let your son play this contact sport?
As an orthopedic surgeon specializing in sports medicine and as a former NFL physician, I have been asked this question many times including in a recent television interview. I have dealt with this issue for decades in my sports practice, the foundation I run to treat injured children and as a team physician at the high school, college and professional levels.
When parents have asked me if it is safe for their son to play football, I try to give them some practical advice. If you want to be as safe as possible, there is no way your child should play football. Football is far more dangerous than non-contact sports. However, that doesn't mean your son won't tear his ACL playing basketball.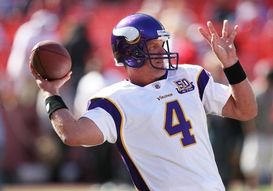 ICONFavre has stated multiple times that if he had a son, he would not want him playing football.
The bottom line is that playing football is like choosing to ride a motorcycle. It is inherently more dangerous than driving a car, but one can still be injured in an automobile. Like motorcycle riding, playing football is not for everyone, but some people love it and are willing to take the risk.
If you ask my wife, she would definitely not let our son play football. All of the media attention on concussions has led her to the visceral reaction to protect her son.
Some have suggested that waiting until high school when a child's brain and body are developed would make it safer, but that theory may not be correct. There is much less force generated in Pee Wee and Pop Warner football. Newton's Second Law of Motion is force equals mass times acceleration (F=MA). Mass of younger children is smaller, the speed is slower and that means less total force or energy in a collision. Although a young brain may be more susceptible to injury, theoretically, it also has much greater recovery capacity.
As concussion issues dominate the landscape, football is not the only sport where there is significant head trauma risk. Soccer, with its collisions and heading the ball, has been strongly implicated. By the way, I do let my 13-year-old daughter play club soccer.
Our medical knowledge of concussions and chronic traumatic encephalopathy (CTE) is in its infancy. There is much more that we don't know about concussions than what we do know. Currently, there is no proven treatment other than rest. In any case, my worst fear about football is not a head injury but that of a spinal cord injury.
Programs for safe tackling techniques may help, but they aren't the ultimate answer. The NFL rule changes, penalties, fines and suspensions can help set the tone, but the majority of concussions do not occur from defenseless player hits.
My son is only one and a half years old. I don't need to make the decision now. I will let concussion research, treatment modalities and prevention efforts take its due course. Certainly, if my son had equal interest in football and another non-contact sport, I would steer him towards the other sport.
As Mike Florio of Pro Football Talk pointed out, it might not be fair to have Favre hypothetically chiming in since he does not even have a son. In addition, Dan Patrick asked on his radio show if Favre could be considered a hypocrite, as he coaches high school football and sends other kids out to play this "violent sport."
Ultimately, the choice to play football, like the choice to ride a motorcycle, is an individual decision. Each parent/child and athlete has the right to be informed and weigh options.
MMMD 1: New concussion lawsuit: NFLPA sued
In a new, but not unexpected twist, litigation has been filed against the NFL Players Association (NFLPA) and past presidents Trace Armstrong, Troy Vincent and Kevin Mawae. This action now pits player against player on the concussion issue.
NFLPA executive director DeMaurice Smith testified at Congressional hearings in 2009 that, "We were complicit in the lack of accountability and leadership," as it related to its role in concussions. The NFLPA participated in the NFL's maligned Mild Traumatic Brain Injury (MTBI) Committee. The NFLPA issued an immediate statement denying the contentions of the lawsuit.
With the preliminary approval of the NFL lawsuit settlement, no depositions or testimony would occur in that case. With this new case, it is possible we may finally see the evidence as it likely hinges on the same MTBI committee.
Don't be surprised if even more litigation arises. The new terms of the NFL settlement no longer bars NFL players from going back to sue their college or high school teams.
MMMD 2: The war of attrition begins
Later this week, all 32 NFL teams will have opened training camp. Quoting ESPN NFL insider Adam Schefter, "Almost every week in the preseason, a team is going to lose a player who it now thinks is going to be vital this season. It's always a war of attrition and that starts the moment drills do."
Even with reduced contact and elimination of two-a-days, every NFL team will have significant injuries during training camp. The hope is that they happen to non-essential personnel or are not season ending. Often what is more important is who is injured as opposed to how many are injured.
With expanded media attendance at practice, I hope to have video in order to analyze the mechanism of each major training camp injury. This summer, practice video allowed me to call Sean Lee's ACL tear before it was officially confirmed by the Cowboys.
MMMD 3: Injury rates not higher for Thursday Night Football
NFL Commissioner Roger Goodell made this claim as he spoke about the new deal with CBS to broadcast Thursday games. In my anecdotal experience, I can't disagree with him. As a team physician in a number of Thursday night games, I did not notice a statistical increase in injuries.
Although short rest games may not cause more injuries, I can tell you that it is definitely harder for a player who is injured to return in just four days. For example, it would be considerably more difficult for a player concussed on Sunday to progress through the mandated protocols compared with a normal week.
One way to have Thursday games and allow proper rest is to only schedule them coming off a bye week.
MMMD 4: Raiders and 49ers as co-tenants of new stadium?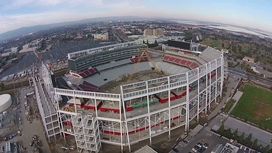 Could the Raiders wind up sharing Levi's Stadium with the 49ers?
State of the art Levi's Stadium was built in the Bay Area exclusively for the 49ers. At the Thursday ribbon-cutting ceremony, Roger Goodell suggested the Raiders could join the 49ers in their new digs.
The Raiders are, for the foreseeable future, co-tenants with the baseball A's. Having personally been to all 32 current NFL stadiums, the Raiders' stadium is the worst in the league and they are the only team in the NFL to play some home games on a dirt infield.
A move to co-habitat with the 49ers would solve the poor stadium conditions while the Raiders look for a new permanent solution.
MMMD 5: Most meaningful ESPY
The ESPY awards have become the premiere sports award event. The show is the ultimate confluence of Hollywood and the sports world.
I am lucky enough to have attended a handful of previous ESPY awards shows. Despite the star-studded athlete list and the great moments and teams celebrated, the Jimmy V Perseverance Award continues to be the highlight.
The award was named after former North Carolina State basketball coach and ESPN broadcaster Jim Valvano. While he was battling cancer, Valvano received the Arthur Ashe Courage and Humanitarian Award at the inaugural ESPYS in 1993 and uttered the famous quote, "Don't give up…don't ever give up."
This year, ESPN anchor Stuart Scott stole the show with his acceptance speech. Unfortunately, Scott is fighting a rare metastatic cancer that likely will ultimately take his life. Fittingly, Scott has been courageously battling his disease for seven years, since the inception of the first Jimmy V Award in 2007.
MMMD 6: Underclassmen feedback system to change
The NFL Draft Advisory Board gives underclassmen projections on where they might be drafted in order to help them decide on if they should enter the NFL early. That system will change to better help the college athletes.
This year, 45 of the record 107 college players who came out early went undrafted. I am not a scout, but I trust the new changes will give players a better estimate of their draft stock in order to make a good decision on whether to enter the NFL early.
I would suggest that this system also include a medical evaluation. Every year there are injuries discovered at the Combine for the first time that ultimately affect when or if a player is drafted. If an underclassman declares early and is later found to have a medical issue, he might be better served to have stayed in school and gotten healthy first. This type of evaluation would afford the players this opportunity.
If the goal of the underclassmen feedback system is to give the most accurate draft rating, it should include a medical component.
MMMD 7: MLB to copy NFL Combine physical examinations?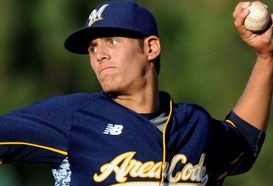 The Astros lost out on top pick Brady Aiken.
The big baseball news this week was that the first overall pick in the draft went unsigned over a disputed injury. The Astros had an issue with Brady Aiken's left ulnar collateral (Tommy John) ligament and will now lose his rights completely. Aiken and his agent say he threw 97 mph in his last outing and has no elbow issues.
Major League Baseball does not hold pre-draft physicals like the NFL does. Perhaps if they did, Aiken's elbow issue would have been discovered or debunked prior to his being the number one overall pick.
Many in the NFL consider the physical to be the most important part of the Combine. Teams examine players before the draft to make sure they are not picking damaged goods. Maybe as a result of this incident, MLB will start doing physicals on top players prior to the draft.
MMMD extra: ACL surgery series – Week 27
Training camp starts for Patriots tight end Rob Gronkowski and Broncos linebacker Von Miller as they reach the seventh month of rehabilitation after their same day ACL surgery. The key is to see what they are allowed to do during practice or on the side. This will be the best predictor of when these two players might actually return to play.
Even though Gronkowski says he is, "planning on playing the whole season this year," he is likely to initially land on the active/physically unable to perform list.
Miller has a chance to pass his physical earlier and participate in full practice, as his injury may have had less associated damage.
Follow David on Twitter: @profootballdoc
Dr. David Chao is a former NFL head team physician with 17 years of sideline, locker and training room experience. He currently has a successful orthopedic/sports medicine practice in San Diego.