November 25, 2013 -
Dr. David Chao
Monday Morning MD
The controversial "non call" at the end of last Monday's Patriots-Panthers showdown created much debate reminiscent of the September 2012 Seahawks-Packers "Fail Mary" debacle. The NFL later reiterated that referees are permitted to take extra time to explain game-ending calls. Referees are empowered to maintain control throughout the football game, but once the clock strikes 00:00, pandemonium occurs and everyone rushes the field. The referees react to this chaos by running off the field—many times without full explanation—leaving an unfulfilled ending.
Ending games with both teams and media rushing the field has always been a potential medical concern for me. Players can just as easily be injured on the final play. Once during my time in San Diego, after an interception on the final play of a game, one of our wide receivers was subjected to a blind-side block and remained down on the field. Only a few people noticed the injury amidst the tumult and the receiver's care was unable to be handled in the usual manner. Referees were not present to help provide space to treat the player.
On Sunday, there were two injuries sustained that occurred on the last play of either the half or the game. Denver cornerback Dominique Rodgers-Cromartie (see MMMD 3 below) was injured on the final play of the first half of the Broncos' loss at New England. Additionally, San Diego defensive end Corey Liuget had his right knee rolled up on the final play of the Chargers-Chiefs divisional matchup.
For years now, referees take the gridiron for pregame warm-ups to ensure teams stay on their designated sides of the field in order to prevent pregame confrontation. This warm-up time is subject to penalty and league discipline. Since this rule change, there have not been any pregame issues. Why can't the same be done to control the end of a half or game?
It may be time to allow for a brief "cooling off" period at the end of a game or half. This would allow for the identification and treatment of any injuries.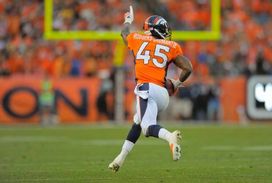 Rodgers-Cromartie exited Sunday's game after being hurt on the final play of the first half.
A clear field would allow for orderly automatic review or referee discussion and subsequent explanation. This type of rule could have prevented Tom Brady from chasing down a referee in Carolina last Monday, or possibly have halted the Jim Harbaugh-Jim Schwartz "handshake" incident. Even the final snap of Super Bowl XLII (Giants-Patriots, 2008) ended with some New England coaches and players walking onto the field despite enough time on the clock for one final play.
All of this could be accomplished with a rule forbidding people from entering the field of play until after a final signal from the referee has been given. In most games, this would mean a 5-10 second delay. In unusual circumstances, it might take a minute or two to clear up a call, perform a video review or tend to an injured player. A breach could even be subject to penalty (too many men on field or unsportsmanlike conduct). Compliance would be easy, as no player would want to be penalized, the result of which would give the opposing team another play.
A simple new rule to prevent the immediate rushing of the field would allow for proper medical care, an orderly booth review, provide time for referees to gather information and perhaps even prevent post-game confrontation.
MMMD 1: Chiefs lose 20 sacks, fall to Chargers
Kansas City rode their dominant defense to the best record in the league prior to last Sunday's loss at Denver. The pass rushing sack duo of Tamba Hali and Justin Houston have combined for 20 sacks to date this year. After the pair was injured Sunday against San Diego, the Chargers offense captured a high-scoring victory.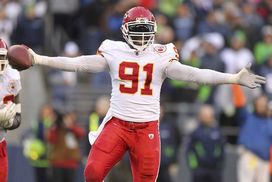 Hali had recorded 9.0 sacks on the season before going down on Sunday.
Hali went down first on a non-contact play where he suffered a right lower extremity injury. He was helped off the field, then carted to the locker room and did not return. Both Mike Garafalo and Jay Glazer reported a "mid inside ankle sprain." By the mechanism of push off and eccentric load, there appears to be a mechanism for Achilles injury. Hopefully, the MRI shows no tears.
Houston had a definite hyperextension elbow injury. As the elbow is forced beyond anatomic limits, it "dislocates." The injury mechanism here was classic. As Houston made an arm tackle, his elbow was hit from behind by "friendly fire." Reports reveal a subluxation (transient dislocation) where the medical staff did not need to relocate the joint. In my experience with similar elbow injuries on linebackers, the return can be as quick as 1-2 weeks with a brace. The MRI and amount of swelling/tearing will determine the recovery, but subluxation is much better than a dislocation where ligaments tear.
MMMD 2: Alfonzo Dennard plays effectively despite last week's knee surgery
The New England cornerback did not start Sunday night's game against the Broncos, but played significant snaps in aiding the Patriots' comeback victory. Dennard reportedly had a minor knee procedure last week. The normal recovery time for such a procedure is usually several weeks.
This type of quick recovery has happened before. A known example is when Chargers quarterback Philip Rivers tore his ACL and meniscus in the divisional round of the 2008 playoffs. He had a knee scope on a Monday, six days before the AFC Championship game in New England. Only after he played with a brace did the news surface about his "secret" surgery.
News of this surgery was announced, but kudos to Patriots team medical staff, Dr. Tom Gill and Jim Whalen, ATC. Not only did Dennard play, but he appeared to play well.
MMMD 3: Dominique Rodgers-Cromartie exits with a shoulder injury
On the final play of the first half, the Denver cornerback dove for a potential interception and appeared to injure his left shoulder/ac joint. DRC did not return to the field and, subsequently, the tide turned in the Patriots' favor, with New England seeing different coverages and overcoming a 24-point deficit to win.
The point here is that it is not always the number of injuries a team suffers, but which players are injured. This seemed to be a key injury (as was Hali/Houston above). Baseball has WAR (Wins Above Replacement). Perhaps football needs YAR (Yards Above Replacement) or ScAR (Scoring Above Replacement) to determine the affect of a player's loss.
MMMD 4: Jason Campbell suffers a blow to the head
The Browns have had their fair share of quarterback injury issues, with the trend continuing on Sunday against the Pittsburgh Steelers. Video analysis clearly showed that Campbell suffered a blow to the head from the left hand/forearm of a blitzing William Gay prior to fumbling. A penalty should have been called on the play, but was not. Subsequently, Campbell was taken to the locker room for head evaluation.
MMMD 5: Cortland Finnegan headed to IR
The St. Louis cornerback suffered an eye injury in late September, but tried to play through the ailment. However, Finnegan is now expected to have surgery due to double vision. Function of both eyes is necessary for depth perception, which is especially important to track the flight of a ball. When the eyes don't work as a pair, double vision occurs.
Fortunately, orbital (eye socket) fractures are not common due to helmets and facemasks. Eyes can be further protected with shields. Clear shields are always allowed, but tinted shields require special NFL medical approval. The darkness of the tint is related to what the league deems medically necessary.
MMMD 6: Will Aaron Rodgers be tempted to return early?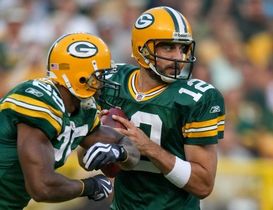 ICONWill Rodgers attempt to return to action sooner than he should?
The stage is set. The Packers have gone 0-3-1 since their star quarterback went down with a broken collarbone. The upside is that Green Bay is just a half game out of first place in the division, with NFC North co-leader Detroit hosting an important Thanksgiving game against the Packers this Thursday.
Rodgers and his injury/recovery have been described in this space before. This is not a pain tolerance issue. There is not a magic day of complete healing. Stability will occur over months. My original estimate was 4-6 weeks to be reasonably safe to return. The question now is will the quarterback, team and medical staff be tempted to allow play sooner and accept some re-injury risk?
MMMD 7: Meniscectomy vs. meniscus repair
Chicago is abuzz with the recent injury suffered by Bulls superstar point guard Derrick Rose. Rose's injury and dilemma has relevance to NFL injuries. After a buckling type injury, where Rose at least tore his meniscus (maybe more), he is set to have surgery. Implications of meniscectomy (trim/remove) or meniscus repair (stitch and attempt to preserve/heal) are many. Removal results in quicker recovery, but more long-term issues of knee degeneration.
Repair, if feasible, leads to longer recovery, but less long-term problems. Meniscectomy recovery is measured in weeks. Meniscus repair recovery is measured in multiple months.
When NFL players were presented with a survey question of meniscectomy vs. repair, they overwhelmingly chose removal for the quick recovery. I have had many NFL players choose meniscectomy, but I would only agree to that if repair was not feasible. This indicates their "play now" mindset. Having served as a NBA team physician as well, the culture of the NFL is much different. Maybe non-guaranteed contracts play into this dilemma for NFL players.
The question is, what will Rose and his doctor choose to do?
Follow David on Twitter: @profootballdoc
Dr. David Chao is a former NFL head team physician with 17 years of sideline, locker and training room experience. He currently has a successful orthopedic/sports medicine practice in San Diego.