January 12, 2015 -
Dr. David Chao
Monday Morning MD
Why is one elite quarterback able to overcome a lower extremity muscle injury and another is not? Aaron Rodgers led his Packers to victory despite a partial calf muscle tear while posting a 125.4 quarterback rating (83.1 QBR). Peyton Manning, meanwhile, was bounced from the playoffs while struggling with his thigh injury and recorded an atypical 75.5 quarterback rating (27.9 QBR).
Besides reducing mobility, both injuries were on the lead leg and altered throwing mechanics by affecting follow through. Arguably Rodgers, the mobile quarterback, should have been hampered more than Manning, the pocket passer; however, that was not the case.
Was it higher pain tolerance, stronger will to win, better surrounding players, superior game plan or inferior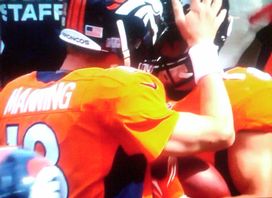 Peyton Manning's "grandma" triceps when he first joined the Broncos.
opponent that allowed one future hall of famer to excel but the other to fail? I don't think any of these were the main reasons. I believe the difference was arm strength. One has it and the other does not anymore.
Rodgers is known to have a strong arm. He showed Sunday he could overcome the calf injury and follow through issue. Although his mobility was obviously limited and announcers openly questioned Rodgers health in the first half. By the second half he fired the ball into tight spaces when needed. His arm was strong enough to overcome flat-footed mechanics and the tendency to throw high.
Manning's arm weakness stems from his neck surgeries and nerve issues. Although he has made a significant recovery, there is no way to regain full strength. With an already weakened arm, the loss of a stable base appeared to be too much to overcome.
Three days before the game, based on limited Broncos practice video, I stated that "I am more worried about Peyton Manning thigh than Aaron Rodgers calf". Manning appeared to be favoring the left quad and posting on his lead leg affecting his follow through. After ESPN's Adam Schefter retweeted my statement, it became a hot topic in Denver. I was accused of overblowing the issue and received twitter "hate". I promise that I am not a Bronco hater. In fact, I can say, unequivocally, that I have the utmost respect for Manning and have written about that.
Manning now admits that the thigh issue suffered in the Week 15 Chargers game has "kind of hung around". No one can be sure that the muscle injury was the culprit but it does correspond to a late season slide. Some theorize that Manning's arm has gotten even weaker with age, but a lower extremity injury will sap arm strength. An already weak arm is more vulnerable and unable to fully compensate for lack of follow through. Ask any baseball pitcher and they will tell you that ball velocity comes from the legs.
MMMD 1: Will Peyton Manning retire?
I hope this is not the end of Manning's illustrious career. His poor performance and weak finish to the 2014 season has led to speculation. No question his arm strength is weaker and he is older. However, you can't lose that much velocity in one month. Because his rapid decline in performance likely is linked to his quad injury (which will recovery fully), I believe he will return to form. As a quarterback, not every throw is necessarily a bullet. Touch and choosing the right target/location still matter. Don't doubt Peyton Manning. I learned my lesson when I worried about his triceps atrophy after neck surgery and he came back to set the career passing touchdown record this season.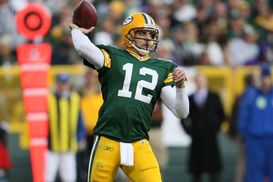 ICONRodgers played through a torn calf muscle Sunday. Can he keep it up?
MMMD 2: Packers injury report
Aaron Rodgers calf dominates the Green Bay concerns. Unfortunately, the calf will continue to be an issue next week and beyond. Two weeks removed from the re-injury, still left him hobbled. Now he has to play in seven days. The best predictor is what his calf looks like the day after at Monday morning injury check. Expect his calf to be similar or slightly improved versus the Seahawks, which means more of the same shotgun/pistol and minimal downfield running. Although, extreme cold will not be an issue in Seattle, a typically damp field with poor footing may provide more problems and increased chance of re-aggravation.
Eddie Lacy exited the game with difficulty breathing in the second quarter. Cold weather is known to aggravate asthma. Medication, inhalers and nebulizer treatments are all legal in the NFL. With severe temperatures not expected in Seattle and good treatment from the Packers medical staff, Lacy's asthma should be a non-issue next week and beyond.
MMMD 3: Seahawks injury report
Paul Richardson re-tore his ACL that was first reconstructed in 2012 and will need surgery again. Unfortunately, the Seattle wide receiver will miss the rest of this year and even the beginning of next season is at risk. (With limited video, I missed this knee injury. My biased self-grading has me at 127-11 on calling injuries correctly on twitter so far this season)
Max Unger just returned after he was rolled up on in Week 11, suffering a combined left knee MCL and high ankle sprain. By video, another high ankle re-injury to the same side occurred with approximately two minutes left in a two-touchdown victory. The severity is not known, but it may be difficult to return by next week.
Byron Maxwell's play was limited due to shortness of breath. Normally, these symptoms are quite concerning but his is a result of a chest illness from last week. He should be close to 100% by next week.
Jeron Johnson dislocated his elbow in the final game of the regular season and my prediction came true that the bye week wasn't enough time for the back-up safety to return. With another week, he should be close to returning to play with a brace.
MMMD 4: Patriots injury report
Bryan Stork exited the game with what seemed to be a significant MCL sprain. Although the injury is not confirmed, by video, it appeared to be a higher grade tear and I would an ticipate the Patriots center will likely miss the AFC Championship game but have a good chance to return in a brace if New England advances to the Super Bowl.
Brandon Browner injured his knee and did not return. The New England cornerback is quoted saying he won't miss any time. However, I did not see any video of the injury and we only have his word to rely on to date. (Please send me injury video link if you have it)
MMMD 5: Colts injury report
Dan "Boom" Herron suffered a left shoulder injury but finished the game. By one replay, the Colts running back appeared to suffer an AC joint sprain. Unless a surprise occurs, expect him to be able to play next week.
Trent Richardson was a healthy inactive. My guess is with Herron's shoulder, the former first-round running back will be activated next week for insurance, if not for playing time.
Vontae Davis exited just before halftime after falling on the ball. By video, the main concern was for rib/chest/lung injury. When the medical staff took the Colts cornerback straight to the locker room and bypassed X-ray, my thought was that he would have no issues and return. He played well in the second half and should be good to go for next week.
MMMD 6: Text messages illegal, unless for medical
The Browns are being investigated as high-ranking personnel may have improperly texted the sidelines about play calls. This sort of communication is strictly prohibited except for medical uses. Previously, even medically related cell phone usage was prohibited on the sidelines. In 2011, Troy Polamalu was initially fined $10,000 for calling his wife to tell her he was fine after a concussion.
In the health and safety era, the rule has changed and medical personnel may have cellphones on the sidelined but outside communication has to be restricted to medical purposes.
MMMD 7: Possession rule causes confusion
It is a shame when the game is decided by injury, but it is just as disappointing to have outcomes decided by referees. We all want the best players deciding games. I am not a rules official (and I should probably stay in my lane), but I can tell you from my NFL sideline experience, players are confused by what constitutes "completing the process". Even Odell Beckham, Jr., the player who made the catch of the year, doesn't understand the rule.
Both outcomes Sunday may have been affected by interpretation of the rules. In the early game, Dez Bryant had the ball for three steps but was ruled to have not made a catch because the ball belatedly moved when it hit the ground. In the later game, Josh Cribbs never took a step and only caught the ball for a split second but when it hit the ground, the ball was ruled dead and the Colts retained the ball.
I know one is a pass and the other is a punt, but the possession process is the key determining factor in both plays. To me, consistency and common sense should rule the day. Either Bryant made the catch AND Cribbs down by contact OR Bryant incomplete pass AND Cribbs fumbled. It just doesn't seem consistent the way the rules stand now.
More importantly, the players on the sidelines and the fans in the stands don't understand it.
Follow David on Twitter: @profootballdoc
Dr. David Chao is a former NFL head team physician with 17 years of sideline, locker and training room experience. He currently has a successful orthopedic/sports medicine practice in San Diego.