January 27, 2014 -
Dr. David Chao
Monday Morning MD
The Super Bowl involves more preparation than any other football game. The medical preparation for Super Bowl XLVIII is also more complicated than for a typical NFL regular season or playoff game.
During all other NFL games, the home team medical staff automatically serves host functions for the visiting team. This is not mandated by the league, but is an unspoken rule. Athletic trainers and team physicians across the league have mutual respect for each other and recognize that the priority is athlete health, regardless of team allegiances.
We have all witnessed a moment when a player goes down near an opposing sideline and the closest medical staff jumps in to lend an initial hand. If a player is seriously injured and needs to visit the hospital, the visiting doctors will not have any local privileges and the care will be handled and coordinated by the home team physician taking direction from the visiting team doctor.
For the Super Bowl, both teams are technically visitors. When I served as host physician for Super Bowl XXXII and XXXVII, I worked with Dr. Jim Ellis, emergency room physician, who has served as NFL team medical liaison for over 20 years. Together, we facilitated medical access during the week of practice as well as during and after the game.
Both the AFC and NFC teams arrive in the Super Bowl host city a week prior to the big game. Each team needs medical support before the game, as practices and medical treatment continue. Under federal law, narcotics and other medications may not be transported by teams across state lines, yet medications may still be needed. Treatment and diagnostics may also be required during the week. Of course, this medical support is extended through the game and into the postgame. The Super Bowl is the only contest where teams stay overnight before flying home.
The NFL is well prepared with a team of medical professionals who come in to coordinate local medical care. Although the primary focus is on providing medical care for both visiting teams, they also play a big role in VIP medicine to team owners/families and the NFL/corporate contingents. Finally, they administer disaster preparedness and are undoubtedly involved in the cold weather plans.
MMMD 1: Peyton Manning's amazing recovery from four neck surgeries
The medical story of Super Bowl XLVIII has to be Peyton Manning. As a result of neck issues, Manning's throwing arm had significant weakness. Pictured to the right is a look at Manning's obvious triceps atrophy when he first signed with Denver. I think we all remember the "ducks" he threw initially as a member of the Broncos.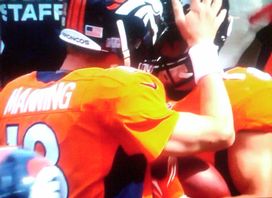 A weak triceps interferes with the ability to extend the elbow and finish throws. It hinders velocity, distance and accuracy (not to mention the ability to throw a pretty spiral).
Manning's neck issues were not related to neck pain, but rather, nerve compression causing an interruption of signal to his throwing arm. This resulted in the visible loss of muscle in his triceps.
Even after four neck surgeries, there is no guarantee of return of muscle strength. Typically, muscle wasting like Manning's is not reversible. However, his atrophy is now visibly improved (but not 100%). Through good medical care and hard work, Manning has made an incredible comeback, as evidenced by his play on the field and this picture from the AFC Championship game (see right).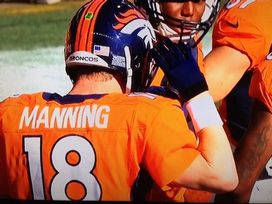 Seeing the "grandma" triceps from the beginning of last season transform to where it is today, combined with Manning's record-breaking year, leads me to call this the miraculous medical story of the 2014 Super Bowl.
MMMD 2: Broncos and Seahawks at full strength
The additional week before Super Bowl will help to allow both teams to be at full strength. Both teams have suffered season-ending injuries to key players. For example, Seattle lost wide receiver Sidney Rice and Denver lost linebacker Von Miller, both to ACL tears. The good news is that the current active roster should be relatively healthy.
Broncos running back Knowshon Moreno suffered a chest/rib injury in Denver's AFC Championship win over New England. X-rays revealed no fracture, but that doesn't mean no injury. Rib cartilage and intercostal muscle injuries can be more debilitating than a fracture. With the extra week of rest and good medical care, I expect Moreno to be full go.
Seahawks wide receiver Percy Harvin missed the NFC Championship game with a concussion, but has been cleared to practice and, barring further symptoms, should be full go as well. Harvin's hip issues appear to have subsided as well.
MMMD 3: Cold weather factor overhyped
Like the big game itself, the cold weather issues surrounding Super Bowl XLVIII appear to be overhyped. Whatever the game conditions, there won't be sub-zero temperatures in New Jersey this Sunday. The forecast calls for a high of 39 degrees with no wind and a 30 percent chance of snow.
The game will resemble football. The NFL will be prepared and accommodations for cold weather will be made. In any case, the era of "frozen tundra" games is over.
Despite contingency plans to move the game, the kickoff time will not be adjusted. The bigger concern lies more with the fans sitting in the cold than on the play of the game itself.
MMMD 4: The truth always comes out
When it comes to injury, the truth always surfaces eventually. During the NFC Championship game in Seattle, 49ers offensive tackle Joe Staley left the field right before halftime without explanation, but returned to finish the game. It turns out that Staley suffered an open thumb dislocation, which means the bone penetrated the skin. Staley returned after receiving halftime medical treatment and finished the game. Injury updates during the game were not provided or required, as Staley didn't miss any time and was always a full go.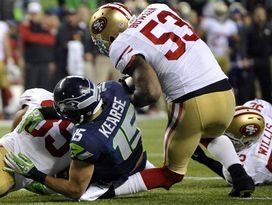 Bowman suffered a horrific knee injury during the NFC Championship game at Seattle.
Besides Staley's toughness, San Francisco offensive guard Mike Iupati walked off the field with a broken ankle. Fortunately, he won't need surgery. Linebacker NaVorro Bowman suffered a gruesome multi-ligament ACL/MCL tear in his left knee. Running back Frank Gore finished the game with a broken finger that needed surgery.
Hats off to the 49ers' toughness. The NFL is truly a man's game.
MMMD 5: Adrian Peterson undergoes another groin surgery
This marks the third off-season in a row where Peterson needed surgery. He had ACL surgery two years ago, groin surgery last year and now, another groin surgery.
The operation Peterson underwent last year is called sports hernia surgery. Sports hernia is also referred to as athletic pubalgia or core muscle injury. Many times this surgery involves adductor tendon/muscle release. This was not a part of Peterson's original surgery.
After further symptoms arose at the end of this season, Peterson decided to go back and have the additional groin release. Because his surgery is a release and not a repair, he should make a quick off-season recovery. Peterson will be ready for training in two months. If this second procedure solves his groin pain, it might even improve his cutting and explosiveness from last season.
MMMD 6: Injury-free Pro Bowl
Even though the Pro Bowl was the only game this week, there is no shortage of football medical topics. Thankfully, there is no significant injury news from Hawaii. The game was not played with playoff intensity, but it certainly looked more like football than in the past.
During the 1998 Pro Bowl festivities, New England rookie running back Robert Edwards suffered a serious knee injury that shortened his career. Injury has been a main worry since. The key is to provide a venue for celebration and entertainment without causing injury. This year's Pro Bowl appears to have succeeded in accomplishing that goal.
MMMD7: Concussion protocol for the Super Bowl
A big part of the concussion protocol is to be proactive and remove players suspected of a concussion. "When in doubt, keep them out," is the mantra.
With Super Bowl appearances for NFL athletes being rarer than Olympic chances, I wonder about the dynamics during this Super Bowl regarding a player who is only suspected, but not diagnosed, with a concussion.
I don't know what the right answer is. No one wants to see a player with long-term issues, but no one wants to rob a player of a once-in-a-lifetime chance, either. Hopefully, there are no concussions and this hypothetical scenario never materializes.
MMMD extra: ACL surgery series – Post-op Week 2
New England Patriots tight end Rob Gronkowski and Denver Broncos linebacker Von Miller are now two weeks removed from surgery. After a likely one month wait for his MCL to heal, 49ers linebacker NaVorro Bowman will soon follow in Gronkowski and Miller's ACL surgery path.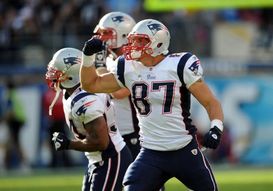 ICONGronkowski hopes to be 100 percent by the start of the 2014 season.
So far, we have discussed prehab and week 1 swelling control. Our goals now shift toward early return of range of motion and weight bearing.
Full knee extension is the first priority. A flexion contracture (where the knee does not fully straighten) causes abnormal mechanics and leads to a poor result.
I give my patients four practical goals to reach by the end of week 2. First, we want to get their knee completely straight. Second, we want to perform a straight leg raise. After that we want to progress off crutches and slowly walk normally (heal-toe gait) without a limp. Finally, the last goal is to gently pedal a full revolution on an exercise bike.
Of course, all of this is in addition to physical therapy, icing and the motion (CPM) machine. The four, simple two-week goals (leg straight, leg lift, walk and bike) make it easy for patients to target and gauge their own progress. It gives them homework between therapy appointments.
Not everyone reaches these four goals by two weeks post-op, but they are good goals to shoot for. If one can perform all four, they will be in the 90+ percentile of patients recovering from surgery and that is what we want to achieve.
Continue to follow ACL recovery here each week this off-season.
Follow David on Twitter: @profootballdoc
Dr. David Chao is a former NFL head team physician with 17 years of sideline, locker and training room experience. He currently has a successful orthopedic/sports medicine practice in San Diego.