November 18, 2013 -
Dr. David Chao
Monday Morning MD
The NFL has made numerous rule changes over the last few years in the name of player safety. One of the changes involves protecting a ball carrier's head. The importance of this rule and the need to expand the rule came into play recently.
Several years ago, a new rule was established stating that when a ball carrier's helmet comes off during a play, the play is immediately ruled dead. This rule came into play last week during Indianapolis' loss to the St. Louis Rams. Colts wide receiver David Reed lost his helmet before reaching the goal line and lunging across for what was initially ruled a touchdown. Upon automatic scoring review, the play was appropriately overturned. By rule, the play was dead the instant Ross' helmet came off, which occurred at the three-yard line.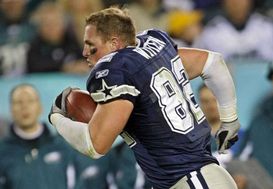 Cowboys TE Jason Witten, sprinting down the field against Philadelphia, without a helmet.
A second instance involving the loss of a helmet occurred this past Thursday, when Colts linebacker Erik Walden head-butted a helmetless Delanie Walker. This action was panned across the league as a safety issue with a fine and/or suspension pending. The force of this head-butt, although dangerous, is no worse than a helmetless player being blocked or tackled, where head-to-head contact often happens. In fact, one could argue that many of the hits sustained during routine football action are harder than the head-butt that was delivered by Walden.
That is why, for safety sake, the NFL rule needs to be modified to protect all players on the field. We all should applaud the efforts for increased football safety. From my medical perspective, the current rule does not go far enough. Clearly, the rule should protect helmetless ball carriers from being tackled. When an offensive lineman loses his helmet, coaches still expect him to block. When a defensive player loses his helmet, fans still expect him to attempt to make a tackle. We certainly don't want a wide receiver continuing to run a route over the middle while helmetless. The rule should protect all 22 players on the field, not just the ball carrier.
Of course, we can't have the ball dead and the play over whenever any player loses his helmet, especially if the player is away from the ball. I would propose a rule change that states any player who loses his helmet during a play immediately becomes an ineligible player. That player may no longer participate in the play and, in addition, no player may engage the helmetless player. No tackling, blocking, being blocked, catching or running. A violation could result in an unsportsmanlike conduct penalty or illegal participation penalty for any player that continues to play without a helmet or engages a player without a helmet. Of course, this would still include the current rule of the helmetless ball carrier being ruled dead instantly.
This way, not only would we no longer see a helmetless Jason Witten running down the field with the ball, we would no longer see helmetless players making tackles. All players, not just the ball carrier, deserve the same safety protections.
MMMD 1: Jabari Greer suffers a serious knee injury
The Saints cornerback suffered a nasty left knee injury during the first quarter of Sunday's win over San Francisco after landing on his left ankle awkwardly and then twisting his knee. Greer was placed in a fracture splint and carted off.
Based on video review of the injury mechanism, Greer is expected to have a multi-ligament knee injury. This type of injury can be considered a knee dislocation and requires swift action to ensure that there is no nerve or artery damage. The Saints medical staff, led by ATC Scottie Patton, jumped into quick action to minimize the consequences. Greer is presumed to have torn his LCL and possibly ACL and/or PCL. Hopefully, no additional damage is discovered. This type of injury requires surgery and, as a result, Greer will be placed on injured reserve.
All multi-ligament knee injuries have potential long-term consequences and can be considered career threatening. From first hand knowledge, former Chargers linebacker Shawne Merriman had a comparable injury and his knee stability never returned to normal. 24-years-old at the time of the injury, Merriman was never the same player again. This injury shortened his Pro Bowl career.
Cornerback is among the hardest positions to play coming off a knee injury because of the quickness and reaction required. We just witnessed a serious knee injury on a 31-year-old cornerback. I hope I'm wrong, but there's always the chance that this injury could mark the end of Greer's career.
MMMD 2: Injury disrupts San Francisco offensive line consistency
The 49ers' success may be tied to its stability along the offensive line, as San Francisco has started the same five o-line players for the entire 2012 season and the 2013 season to date. By contrast, only one Chargers OL player (C Nick Hardwick) has started all ten games this season.
Guard Mike Iupati's third quarter left knee injury will likely put an end to that amazing San Francisco streak. Based on video review, the suspicion is that Iupati suffered a significant MCL sprain. He exited the game on a cart and left the locker room on crutches with a knee brace. The extent of his injury is not yet known, but look for the 49ers' streak to end.
MMMD 3: Wes Welker reported to have a concussion
The Broncos wide receiver left the Sunday Night game against Kansas City during the fourth quarter for a concussion evaluation. Later, Pro Football Talk relayed that the team confirmed Welker had suffered a concussion.
A big story line for next Sunday Night's game is the return of Welker to face his old Patriots team. Before this can happen, Welker needs to pass the NFL concussion protocol, which includes an independent neurological MD specialist clearing him for contact.
Some have speculated that perhaps Welker should have been removed before his final catch. By NFL concussion policy, the referee can stop play for suspected injury, and an ATC spotter in the booth can call attention to a potential concussion. In addition, an independent sideline neurologist MD is also available. Until we learn all the facts and hear from Welker himself, lets not second-guess the situation. Besides, the Broncos medical staff has an excellent reputation for caring for its players.
MMMD 4: Hair is considered part of the body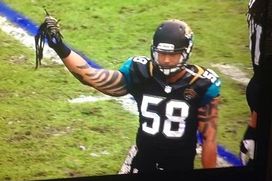 On Sunday, Jason Babin emerged from the pile with a handful of Andre Ellington's hair.
Cardinals running back Andre Ellington was tackled on Sunday by Jaguars defensive end Jason Babin, who emerged from the pile with a handful of Ellington's dreads. Under current rules, hair that extends out of the helmet is legal to grab and use in a tackle. There is no penalty for this action and, correctly, none was called. You may remember the infamous Troy Polamalu interception when the Pittsburgh safety was tackled by his hair in the open field.
One might want to consider the injury risk if hair is grabbed by a tackler from behind. Besides potential neck injury, pulling a runner down from behind by his hair could mimic a horse collar tackle, which is known to be dangerous.
MMMD 5: Ozzie Newsome with potential medical issue
The 57-year-old Baltimore general manager and former NFL player was witnessed to be sweating excessively and w as advised by the Ravens medical staff not to fly home with the team. Reports surfaced that Newsome was taken by ambulance from the locker room to a local hospital. No speculation here on his medical condition, only well wishes.
This is the third medical issue for a non-player team leader in the last three weeks. The Bears medical staff will assist the visiting Ravens with his care. See last week's MMMD for more details on how this is typically handled.
MMMD 6: Aaron Rodgers' return is not based on pain tolerance
With marquee players like Rodgers, the questions and speculation regarding a return to the field never stop. There is almost always increased speculation on an earlier return. Reports had the Packers quarterback throwing the ball during practice and in warm-ups on Sunday. And remember, Rodgers jogged off the field immediately after suffering the injury without favoring it.
Based on my experience, Aaron Rodgers' return may not be based on pain tolerance or ability to play. Instead, it will likely be based on the healing of a non-displaced distal clavicle fracture. If Rodgers returns too early, a fall or hit sustained to the left non-throwing shoulder may displace the fracture and lead to season-ending surgery. Medically, it is hard to make a bone heal faster. The team will have to hold on until this December or take an earlier chance. I predict that Packers medical staff will do the right thing for their star quarterback.
MMMD 7: Jermichael Finley has surgery in order to continue NFL career
The Packers tight end, who was placed on IR after suffering a spinal cord contusion, had surgery to improve his chances to return to football. Contrary to initial reports, cervical spine surgery does not signal the end of Finley's career. It actually signals his desire to try to continue it.
If Finley had decided to retire from football, he wouldn't have needed the cervical spine fusion/decompression surgery, as he could have lived a normal life without that procedure. But since Finley wants to try to continue his NFL career, surgery was needed to open up and stabilize his cervical spine to allow for the contact of football.
The standard among NFL physicians is to clear single level cervical spine fusions. The risk of paralysis returning to play football is not typically higher after this surgery. Many players have returned from surgery like the one Finley just underwent.
However, Finley has a complicating factor in that this injury was not a routine disc injury, but it involved his spinal cord. I have been involved with a similar unusual case and the player in question underwent surgery to protect his spinal cord and returned to play for thee more years. The question now is which team would be willing to clear Finley?
Finley's surgery was performed by a Pittsburgh Steelers spine specialist. I am sure the topic of clearance to return to football was heavily discussed ahead of time.
Follow David on Twitter: @profootballdoc
Dr. David Chao is a former NFL head team physician with 17 years of sideline, locker and training room experience. He currently has a successful orthopedic/sports medicine practice in San Diego.