October 13, 2014 -
Dr. David Chao
Monday Morning MD
When a player is seriously injured, medical transportation comes onto the field. This season, "carted off" is a term that has become regularly used, but what does it really mean? A player being transported implies severity of an injury, but does it mean injured reserve?
Not always.
New York Giants wide receiver Victor Cruz not being able to walk himself off the field Sunday night at Philadelphia does not offer a good medical prognosis. Cleveland Browns center Alex Mack was unable to bear weight after his ankle injury. (Details of these and other cart-off injuries are discussed in detail below)
Certainly carts are standard NFL stadium equipment. In fact, there is typically one for each sideline and that is not counting the stretcher that is also available from the mandatory paramedic crew.
Over the majority of my 17 years in the NFL, often players insisted on walking off the field. A player with a broken ankle once demanded to use my shoulder to help limp off. A running back with a displaced clavicle (collarbone) fracture needing surgery got up and walked to the sideline to seek medical attention nary an injury timeout. A veteran whose career ended with a tibial plateau fracture refused a cart. At the time, he didn't realize it was his final NFL play, but he recently thanked me for allowing him to not be carted off the field for his farewell.
I don't have any statistics, but it seems like cart use has increased. That is not necessarily a bad thing, just an observation. In fact, it may be a good trend that shows players are paying more attention to their health rather than to their pride.
The biggest change in this health and safety era is that it is now okay to admit to signs of a concussion. It used to be that players would universally hide symptoms. Some still may, but the culture has changed. It appears that this trickle down from acceptance to admittance of head injury symptoms has spilled over to allow players to acknowledge injuries in general and stop resisting being carted-off.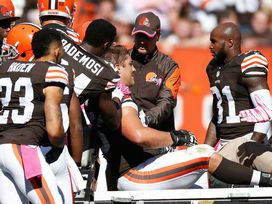 Browns center Alex Mack was carted off the field during Sunday's win over Pittsburgh.
Cart use does not always signify a significant injury. When Seahawks cornerback Richard Sherman rode off to tend to his ankle during last February's Super Bowl, it was to expedite his return for the post-game celebration. When Vikings quarterback Teddy Bridgewater got on a cart after his mild high ankle sprain two weeks ago, it's because the home team Vikings are temporarily playing in a college stadium without the NFL requirement of in-stadium X-ray facilities.
In addition, the media made a big deal about Cincinnati wide receiver A.J. Green's toe injury suffered in practice last week because he was "carted-off," but Green walked over to the cart to get on. The Bengals practice field is a long distance from the training room. This also was likely an easier way for a frustrated player to avoid walking by reporters.
Although cart use seems to be on the rise, don't read too much into every time a player is carted-off. When your favorite player is loaded on to the cart, sometimes there is still hope of avoiding serious injury.
MMMD 1: Victor Cruz carted off in tears with knee injury
Unfortunately, the New York Giants wide receiver had his right knee buckle attempting to catch a touchdown pass, which he dropped due to the severe injury. The team quickly confirmed a torn patellar tendon. It was so painful that Cruz was admitted to a local Philadelphia hospital and did not travel home with the team. NFL teams and team physicians are not allowed to travel with narcotic pain medication as it is against federal law.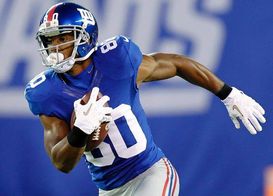 The Giants will turn to Rueben Randle and Odell Beckham now that Cruz is done for the year.
The patellar tendon functions to extend the knee and when torn, requires open surgery to be repaired. Cruz will not be allowed to bend his knee for up to six weeks and likely won't run for a minimum of six months.
The good news is that Cruz should fully recover. During my time as a team physician, I contributed cases to a study on patellar tendon ruptures in NFL players conducted by Broncos team physicians. Their conclusion was that although this injury is relatively infrequent, the vast majority of players returned to play in the NFL.
The road to recovery for a patellar tendon rupture is more painful and harder than an arthroscopic ACL surgery, but at least it is a more reliable recovery long term. We won't see Cruz again this season, but we should see him in 2015. However, the question is whether or not the wide receiver will regain all of his explosiveness.
MMMD 2: Alex Mack fibula fracture doesn't tell the whole story
The Cleveland Browns Pro Bowl center was carted off Sunday against the Pittsburgh Steelers and later reported to have suffered a fibula fracture.
By video analysis, Mack has much more than a fibula fracture. Unfortunately, his mechanism was one of a severe high ankle sprain that likely has his syndesmotic ligaments torn in addition to the fracture. This means the ankle joint is widened and unstable. It is the ligament disruption, not the fracture, that leads to the need for surgery. If it were just the broken bone, Mack would have a chance to return this season.
Mack had never missed a snap in his career prior to this point. Fortunately, I do expect full recovery prior to the next preseason.
MMMD 3: Dee Milliner's season over with Achilles rupture
Fox Sports' Mike Garafolo posted a video showing the New York Jets first-round draft pick's injury, which revealed a typical Achilles tear mechanism. As Milliner pushes off, he suffers a classic eccentric load force that causes the rupture.
Milliner's on-field exam and foot posture as he was helped off the field were all consistent with the injury. Officially, the Achilles tear is suspected but not confirmed yet pending MRI. Unfortunately, the picture all fits and I am confident that soon the announcement will come that his season is over and he will need surgery. Here's hoping I am wrong.
As players get bigger, faster and stronger, Achilles injuries continue to occur in the NFL on a regular basis. It can happen on any play, but it makes it all that much worse that it happened during a special teams play on a Denver field goal attempt. The good news is that Milliner should have a full recovery for the 2015 season.
MMMD 4: Patriots win game but lose two star players
Both running back Stevan Ridley and linebacker Jerod Mayo appeared to be seriously injured in Sunday's win at Buffalo. Details were not release d by the team, pending MRIs Monday.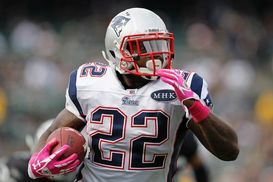 Unfortunately for the Patriots, it looks like Stevan Ridley is done for the season.
Ridley got his right ankle caught up as his knee was hit and forced into valgus. He appears to at least have a significant MCL injury, but the worry is whether or not his ACL is also torn. The majority of ACL injuries are non-contact, but Ridley's injury looked eerily similar to Rob Gronkowski's hit, which caused both an ACL and MCL tear last season.
Mayo injured his right knee defending the run and was carted off. His diagnosis was not released. Thankfully, Mayo's mechanism did not seem to be that of an ACL tear. The worry for the linebacker is injury to his extensor mechanism. I hope he avoids quad/patellar tendon complete tear.
Patriots fans appropriately worry that the MRI results likely will have both players on injured reserve.
MMMD 5: Seattle loses game and a key defensive back
Byron Maxwell, who plays cornerback opposite Richard Sherman, injured his right ankle and did not return Sunday against the Dallas Cowboys. In real time, he was seen to suffer a non-contact high ankle injury.
After the game, head coach Pete Carroll confirmed the injury. Cornerback might be the hardest position to play with a high ankle sprain. Anticipate that Maxwell may miss several games.
MMMD 6: Expecting good news for Darren Sproles
Now playing for the Philadelphia Eagles, Sproles is having a big year, but the running back went down awkwardly on a tackle during the Sunday Night Football game. The NBC broadcast team indicated ACL and MCL tests on the field.
Anytime the letters ACL are mentioned, the worry is high, as Sproles left the game and did not return. I anticipate a relatively mild MCL sprain with the ACL being spared. Based on the video mechanism of injury and with an Eagles bye next week, Sproles is not likely to miss any games and will continue his stellar season.
MMMD 7: One-year anniversary
This week marks my one-year anniversary on twitter @ProFootballDoc and writing this Monday Morning MD column. After almost two decades, I ceased my formal affiliation as NFL team physician with the start of the 2013 regular season.
My wife became my captive audience when I was home for the first time watching football and commenting to the TV during games. She signed me up for twitter saying, "Tell it to someone who cares," as I had never utilized social media before and still don't even have a Facebook account. Soon thereafter, I realized 140 characters on twitter weren't enough to fully explain my medical opinions and I began writing this column.
I have always maintained a full-time orthopedic surgery practice, but this has provided me with a new hobby. I enjoyed my time in the NFL, but with my boy/girl twins now turning two and three low back surgeries, my time is better served at home on weekends.
I hope to continue to share insider medical knowledge. Thanks to the over ten thousand twitter followers and thanks for reading.
Follow David on Twitter: @profootballdoc
Dr. David Chao is a former NFL head team physician with 17 years of sideline, locker and training room experience. He currently has a successful orthopedic/sports medicine practice in San Diego.