January 05, 2015 -
Dr. David Chao
Monday Morning MD
Wildcard weekend concluded with three double-digit losses for the three teams with injured offensive stars. "It really is about being healthy at the end of the year and being hot" said Panthers head coach Ron Rivera.
The Cardinals lost by 11 without quarterbacks Carson Palmer and Drew Stanton. The Steelers were upset by 13 points while missing Le'Veon Bell. The Bengals were defeated by a 16-point margin as A.J. Green sat out. The only close game of the wildcard round was the Lions at the Cowboys where both teams' offensive stars were active. Injuries are no doubt part of the game, but in today's NFL, it is hard to overcome losing a key weapon. This is especially true if the loss comes late in the season making it hard to adjust.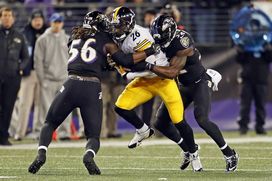 Bell's absence proved to be the difference.
Bell hyperextended his knee in the final regular season game. Pittsburgh ranked second in total offense this season. Without their star running back, who accounted for 40% of their output, the favored home team Steelers struggled and lost 30-17. They resorted to starting new acquisition Ben Tate. Perhaps if newcomer Tate or rookies Josh Harris or Dri Archer had more time to acclimate, the impact would have been lessened.
When Palmer re-torn his left ACL in week 10, Stanton stepped in and performed reasonably well before going down with his own knee injury. When Stanton's expected playoff return was delayed by knee infection, that turned out to be fatal. Late season acquisition Ryan Lindley struggled under the playoff intensity with a quarterback rating of 44.3 and threw two interceptions en route to a 27-16 defeat,
Green was expected to be cleared from his concussion to play. Late in the week, his status was downgraded to doubtful. Perhaps if Cincinnati had more time to alter its game plan, the Bengals might have been able to put up more than 10 points as they went down 26-10.
In the competitive NFL, the differences between the best and worst playoff teams are small. Six of the last nine Super Bowl champions have come from the wildcard weekend. Often a late season injury is enough to send a team home.
MMMD 1: Was Ben Roethlisberger checked for concusion?
Twitter and the media speculation world lit up when Ben Roethlisberger was returned to game and immediately threw a pick. I am not here to defend the Steelers medical staff. I am only using my knowledge of NFL sports medicine to correct assumptions that may not be true. In fact, if Big Ben (or Health Miller) were in anyway "groggy", they should have been removed from the field of play and taken to the locker room for a comprehensive concussion evaluation and likely held out.
The misperception was that Roethlisberger wasn't checked for concussion. Sideline reporter Michelle Tafoya did not say he wasn't looked at for head injury. The quote on NBC was "Well, when Ben Roethlisberger first came off the field, he was talking to the team internist. They were having some conversation. They were also testing the strength in his neck and his shoulders, feeling around at the back of that neck to the upper part of his spine. But then he put his helmet back on and walked to the sideline as though he were ready to come in and that's when they let him come in, Al (Michaels)". The initial conversation could have easily incorporated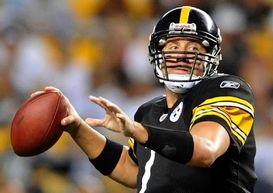 The Steelers' medical staff had adequate time to check for concussion.
the concussion screen and then moved on to the neck evaluation. Roethlisberger was not returned to play in two minutes as initial skeptics complained. I went back and timed the sequence of events. From hit to running back onto the field was 4:14 of real time. Two minutes was game clock time.
The protocol is to check for concussion with an on-field screening examination consisting of a series of questions and observation of the player. If there is any concern, then a full 10 plus minute locker room examination is warranted. It is my opinion that the Steelers medical staff had sufficient time to perform a concussion screen and clear Roethlisberger's neck. Post game, the Steelers quarterback spoke to the media and confirmed there was no head injury, only "a little whiplash on my neck". The problem is that due to medical confidentiality, the Steelers medical staff can't speak out to defend or explain their actions.
MMMD 2: Weather can reduce injuries
Wet conditions may negatively affect the game but it can positively affects injuries. In my almost two decades as a NFL team physician, I always noticed we had less traumatic injuries on a slick playing surface. I theorized less force could be generated resulting in fewer injuries due to poor footing.
Despite hard-hitting playoff intensity, this seemed to be true for both of Saturday's outdoor wet weather games. There were few injury stoppages and Carolina's Philly Brown shoulder injury diving for a pass seemed to be the only major injury.
The league has studied footing and injuries as part of the NFL shoe committee. International research has also shown correlation of less injuries on slick fields.
MMMD 3: Good use of injured reserve-designated for return
DeMarcus Lawrence broke his foot this preseason and was placed on injured reserve (IR) which typically ends a player's season. How was he able to return to make the game ending play that sealed the Cowboys playoff victory? Lawrence was placed on short-term injured reserve as each team is allowed to designate one IR player for return after 8 weeks.
Lawrence needed surgery and team doctors properly advised the team that he could return this season. He missed on his first chance to end the game when he recovered a fumble but subsequently coughed up the ball. Later, he atoned for his mistake with his first career sack, causing a Matthew Stafford fumble, which he also recovered to end the Lions final threat.
The old IR rules with season long absence are antiquated and perhaps teams should be allowed more short term IR spots.
MMMD 4: Transverse process fractures in the past now
Two playoff quarterbacks suffered spine fractures this season. Tony Romo and Cam Newton each had two fractures.
When Romo had a rough start to the playoff game, announcers and media speculated that his back might still be bothering him. Absent new injury, there is no way his transverse process fractures were acting up as the injury occurred 11 weeks ago and have long ago become asymptomatic.
Newton's injury was only three weeks ago and he led his team to victory. Usually by four weeks, transverse process fractures have minimal symptoms.
Look for both quarterbacks to have no issues from their spine fractures as their playoffs continue.
MMMD 5: Cowboys and Panthers survive injury scare to key players
Cam Newton had his surgical left ankle/foot stepped on. He initially limped but by video the injury was not significant. He finished the game and later reports revealed ankle soreness but h e should be available for the divisional round.
DeMarco Murray broke his left hand and had surgery three weeks ago. Early in Sunday's game he was seen favoring his hand and came out of the game to consult with medical staff. In real time, there did not seem to be significant injury, and indeed, he returned to finish the game. For next week's game, Murray's hand issue should be essentially behind him.
MMMD 6: Stuart Scott passes away from cancer
Stuart Scott fought a good fight and lived life to the fullest. The football world woke up to a sad morning to hear the news of his passing. One of the luckiest parts of my NFL career was to meet great people like Scott. For years, SportsCenter was the backdrop as I got ready for my day and he was a big part of that. May the other side of his pillow always remain cool.
MMMD 7: Medical morsels
Philly Brown left the Panthers game and is listed as day-to-day. By video, he appeared to sublux/dislocate his left shoulder. As a wide receiver, this is a hard injury to brace and I would anticipate that he will be at best questionable for next week.
Rolando McClain was initially announced to have illness/dehydration issues. After the game, he was announced to have concussion-like symptoms and will undoubtedly need to be cleared before playing next week.
Rey Maualuga left with a hamstring injury. Obviously he has an offseason to his recover, but his departure contributed to another Bengals first round playoff exit.
Jaron Brown fractured his scapula and will miss part of the offseason program. This is a high-energy injury typically seen in motor vehicle accidents. The good news is that surgery is not typically needed.
Follow David on Twitter: @profootballdoc
Dr. David Chao is a former NFL head team physician with 17 years of sideline, locker and training room experience. He currently has a successful orthopedic/sports medicine practice in San Diego.