January 13, 2014 -
Dr. David Chao
Monday Morning MD
Concussions continue to appear at the forefront of NFL news, so I'd like to take this opportunity to clear up three fallacies. First, concussions don't occur solely from helmet to helmet hits. Second, the magnitude of the hit does not necessarily correlate to the severity or even presence of a concussion. Third, the locker room is not the only place for concussions to be evaluated.
The first fallacy is that helmet-to-helmet hits cause the majority of concussions in the National Football League. "Friendly fire," knees to the head and the ground cause more concussions than defenseless player hits. Sunday, linebacker Manti Te'o was one of three San Diego Chargers who suffered a concussion while making a tackle and being hit by his own teammate. Green Bay's David Bakhtiari took a knee to the head last week, resulting in his concussion. In addition, Kansas City running back Jamaal Charles and Seattle wide receiver Percy Harvin were removed from playoff games after hitting their heads on the turf.
The NFL is doing its best to reduce concussions from helmet-to-helmet contact through penalties, fines and suspensions. Unfortunately, head injuries can't be legislated out of the game, as they occur from more than just an opponent's helmet.
Secondly, concussions don't correlate to the severity of the hit. Jamaal Charles exited Kansas City's wild card game at Indianapolis after suffering a relatively innocuous blow on the turf. Percy Harvin took a big hit Saturday against New Orleans and the Saints were penalized 15 yards, but Harvin passed his locker room concussion evaluation and returned to the game. A subsequent and more minor head hit on the turf after his return is what knocked Harvin out of the game. This is why sideline video is not particularly helpful in diagnosis. The injury spotter may point out suspicious head hits, but there is no substitute for examination and relying on a player's symptoms.
The third fallacy is that all concussion evaluations are performed in the locker room. There is some confusion within the media regarding the NFL concussion protocol as it relates to this point.
All injured players and those suspected of injury are first assessed on the field and on the sideline. If the initial injury screening and standard assessment is suspicious for concussion, a player is then removed to the locker room (technically the training room) for formal evaluation. This formal examination is documented on a dedicated ipad. The evaluation is standardized league wide. An independent neuro specialist unaffiliated with the team is available for each franchise as well.
The concussion protocol and the new rules are helpful, but football remains a collision sport.
MMMD 1: Wes Welker returns with new helmet and mouth guard
The Denver wide receiver suffered two concussions within three weeks, which led to his being held out for the final five games of the regular season. Welker returned to play Sunday against San Diego with some new protective equipment. He had a new oversized helmet as well as a larger mouth guard. Both of these were suggested to him by the Broncos medical staff as additional safety measures.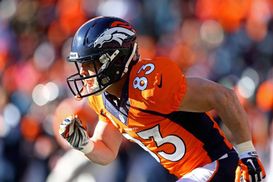 Welker's new helmet and mouth guard.
All players are presented with NFL-approved helmet choices. Safety specification, fit and feel are considered as each player chooses his preferred helmet. It is important to realize that despite improving technology, no helmet prevents all concussions.
Mouth guards are recommended but not mandatory in the NFL. They might help prevent against a concussion when hit in the jaw. This may help a boxer, but in the NFL, the jaw is rarely exposed with the facemask protection.
Welker finished the game without issue, but his new gear is not a guarantee of protection. Some data indicates a larger helmet may provide more safety, but the larger size may also provide larger surface area for contact and absorbing punishment. The mouth guard rarely comes into play and most players use it for oral and dental protection rather than to prevent against concussions.
MMMD 2: Percy Harvin back for the NFC Championship?
Harvin was jacked-up early in Saturday's win over New Orleans with a helmet-to-helmet hit. He cleared his locker room concussion testing and returned. Later, his head hit the turf and he was then removed from the contest.
It's too early to tell if Harvin will face the 49ers next Sunday in the NFC Championship game. Concussions are like snowflakes, with no two being the same. One needs to rely on examination and symptoms. Dr. Stan Herring with the Seahawks is a leader in the field of concussions and will do the right thing. However, other than rest, there is no proven treatment for concussions. The Seahawks have to hope Harvin's symptoms go away with the extra day of rest.
MMMD 3: Peyton Manning neck issues and a Bud Light
Manning's neck issues affect nerves that control muscles in his throwing arm. When he came to Denver, he had significant triceps atrophy that affected arm strength and the ability to throw spirals. Wind was a big factor in Sunday's playoff tilt against San Diego and affected several field goal attempts and long passes. Peyton has recovered significantly over the last two seasons and even bounced a bullet pass off the chest of wide receiver Eric Decker that turned into an interception.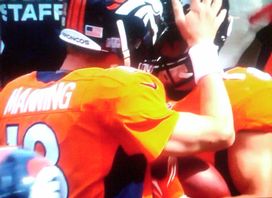 When asked if he was worried about an offseason neck exam affecting his future, Manning replied, "It's really not. What's weighing on my mind is how soon I can get a Bud Light in my mouth. That's priority number one."
Yearly physicals are a routine part of every player's NFL life regardless of previous injury. Having been a team physician, I can tell you that specific medical clauses in guaranteed contracts are routine in cases of major previous surgery.
Peyton shouldn't have anything to worry about regarding his March physical. His bigger worry might be the rocky mountain fans reaction to his preference of Bud Light over Coors Light.
MMMD 4: Will Tukuafu suffers knee injury
The 49ers are known for their power run game and are one of the few teams that regularly utilize a fullback. Starting fullback Bruce Miller is already on IR with a broken scapula. The availability of their second-string fullback for the NFC Championship game is now in question.
Will Tukuafu was rolled up on the outside of his left leg with his foot planted Sunday at Carolina. This mechanism typically results in a high ankle sprain and/or MCL sprain. He tried to return with a knee brace, but could not.
Tukuafu's status will depend on the extent of his MCL sprain. Grade 1 (mild): possible for next week. Grade 2 (moderate): Questionable at best for next week. It does not appear to be a Grade 3 (severe) MCL sprain, or he would not have been able to try jogging on the sideline with a brace.
MCL injuries primarily affect the ability to cut and move laterally. Fortunately for the 49ers, Tukuafu's job as a fullback is primarily straight ahead.
MMMD 5: Steve Smith plays coy with injury
The Carolina wide receiver said last week that he was at 57 percent and r an limited routes in practice leading up to Sunday's game against San Francisco.
Smith was presumed to have a mild posterior cruciate ligament (PCL) injury. As expected, Smith played well in his return three weeks from injury.
Smith now has an offseason to rest and rehab. PCL sprains typically do not require surgery to improve, although he may have some mild permanent residual posterior knee laxity. This should not affect his return next season.
MMMD 6: Wet Saturday games lead to less injury
Wet weather in Seattle and New England contributed to fewer injuries, as a slippery playing surface leads to poor traction. Poor traction results in less force/torque being generated. Also, some injuries happen when a foot gets stuck in the ground, which is less likely to occur when the field is wet. This trend held true during both Saturday games.
Although there are fewer traumatic lower extremity injuries in wet conditions, there are typically more muscle strain injuries with the poor footing. It is harder to keep muscles warm and stretched in the cold. In addition, slipping when cutting and changing directions can contribute to this trend as well.
MMMD 7: Stadium noise and home field advantage
I have been on the sideline of all 31 current NFL stadiums and can tell you that Seattle's CenturyLink Field is the loudest outdoor venue of them all. Don't be fooled by the open-ended design. The half dome sideline design serves to reflect sound and it most definitely works. To visiting players, it sounds like the Seahawks pump sound through the stadium's speakers. That is illegal during a play, but the fervor of the "12th man" makes that unnecessary anyways.
Of note, Denver's old Mild High Stadium and Kansas City's Arrowhead Stadium ranked up there as elite outdoor stadiums when it came to crowd noise. Arrowhead still is, but the newer Sports Authority (formerly Invesco) Field no longer seems as loud. The old Mile High had metal bleachers and fans sitting right behind the visitors bench separated by a chain link fence.
MMMD extra: ACL Surgery Series Part I: Prehab
Patriots tight end Rob Gronkowski and Broncos linebacker Von Miller both had their ACL surgeries performed last Thursday. In this space through the off-season, I will chronicle each player's rehab to give fans a feel for what athletes go through in their return to the gridiron.
This first installment discusses the timing of surgery. Miller waited two and a half weeks to have his surgery. With both the ACL and MCL torn, Gronkowski waited over a month before having his surgery.
Delays for surgery are often purposeful. The idea is to decrease swelling and increase motion. Swelling and loss of motion are the first things we worry about post operatively. The goal is to head into surgery with as little swelling and as much motion as possible. This gives a patient the best chance to recover. A chronically stiff and swollen knee is among the worst outcomes from ACL surgery and should be avoided at all cost.
Many athletes perform prehab (pre surgery rehab/therapy) to get rid of swelling and increase motion and some surgeons have a defined waiting time before surgery. I personally do not. I evaluate each situation individually. In general, if an athlete can get his knee straight and ride an exercise bike, that means the swelling is down and the motion is good enough to proceed. Often times that is immediate, but sometimes it requires a wait.
The surgery delays by Gronk and Miller were meant to speed their recovery and return to play, not delay it. More to come in the following weeks.
Follow David on Twitter: @profootballdoc
Dr. David Chao is a former NFL head team physician with 17 years of sideline, locker and training room experience. He currently has a successful orthopedic/sports medicine practice in San Diego.