December 01, 2014 -
Dr. David Chao
Monday Morning MD
We all know football is a contact sport, and each week is guaranteed to have injuries. Sometimes we forget how dangerous the sport can really be.
Yesterday, Justin Hunter and Miles Austin suffered injuries to major organs and did not travel home with their respective teams. Hunter lacerated his spleen and remained in a Houston hospital while the Titans flew home. Austin suffered kidney damage and was taken to a Buffalo area hospital for overnight observation as the Browns travelled back.
Hunter was the victim of a vicious, but legal (some say unnecessary), body shot on a Zach Mettenberger first quarter interception that the Titans receiver had no chance to catch. He was examined by Tennessee medical personnel and returned to play in the game with what was later determined to be a lacerated spleen. Fortunately, the Titans medical staff was diligent in keeping an eye on their player as major organ injury can be life-threatening. As he developed more abdominal pain in the second half, he was sent to the hospital. It is not unusual for a splenic injury to present late as the organ is encapsulated, and thus, internal bleeding is often not initially detected.
In 2006, QB Chris Simms of the Buccaneers was hit hard in the 2nd quarter, yet finished the game prior to having an emergency splenectomy (spleen removal) and missed the rest of the season. Jason Witten suffered a small spleen laceration that did not need surgery in preseason 2012 and returned after three weeks.
Fortunately, Hunter seems stable and did not need emergency splenectomy surgery. Despite this, with four games remaining for a two-win team, his season is likely done.
Despite a direct blow to the small of his back, Austin led the Browns with 86 yards on seven catches. He wasn't hospitalized for observation of his kidney injury until after post-game interviews. It is certainly smart to be conservative with kidney injuries. A player can continue his career after losing a spleen. Losing a kidney often signals the end of a football career.
Typically, a team athletic trainer remains behind with the injured player while the team physicians fly home with the rest of the players and coaches. The team medical staff remains in communication with the home team doctors, who assume and manage care of the athlete.
There is no written agreement, but it is an unspoken rule that the home team doctors act as host physicians for the visiting team. When a hospital becomes involved, visiting medical staff don't have privileges to treat at the local facility and must rely on the opponent's physicians and their network.
As part of the Hippocratic oath, physicians in the NFL are all very cordial and routinely help each other when needed. As a team physician, I knew the physicians on all 31 other teams. We would spend four days a year together at the Combines, attend NFL Physician Society meetings together, and see each other at other national medical meetings. In many ways, doctors in the NFL know each other better than opposing coaches no each other. It is routine before each game for the home and visiting team doctors to meet. Home team medical facilities are usually a topic of discussion at this pregame gathering.
Fortunately, it doesn't happen often that a player needs to be hospitalized overnight and left behind. In my almost two decades of NFL experience, it happened less than a handful of times, including an appendicitis during an overseas game and pneumothorax (punctured lung).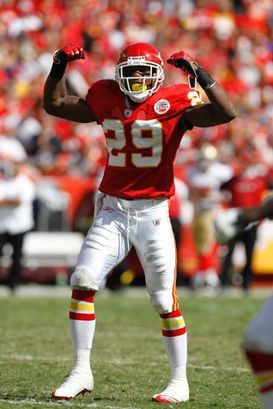 ICONBerry has been diagnosed with a form of cancer.
MMMD 1: Eric Berry with potential life-threatening disease
Kudos to the Chiefs medical staff for discovering a thoracic mass after his post-game complaint of chest discomfort. He is suspected of having lymphoma, a blood cell tumor. This is a potentially life-threatening cancer and he will need specific diagnosis and specialized treatment. Texans offensive lineman David Quessenberry was discovered to have a curable form of lymphoma earlier this year on a routine physical.
Amazingly, the first question Berry asked coaches after he learned of his condition was if he could play in last night's game versus the division-leading rival Broncos. That is one small reason that he is loved by teammates, coaches, and fans.We all hope he has a curable disease and wish him and his family the best. There are more important things than football.
MMMD 2: Players don't want to miss time
Eric Berry is not the only one to not want to miss a game. In my experience, it was the rare player that wasn't pushing hard to return from or play through injury. With non-guaranteed contracts, some say NFL stands for Not For Long. Players fear losing their position on the depth chart. After admitting to a concussion, Alex Smith lost his 49ers starting job to Colin Kaepernick in 2012.
With C.J. Anderson's recent stellar performances with the Broncos, Montee Ball and Ronnie Hillman have been pushing hard to get back from injury. When they are healthy enough to return, their spots may be permanently altered as even Peyton Manning has noted the Broncos run game is "up a notch".
MMMD 3: Injuries catching up to Cardinals?
Three more Arizona starters were injured Sunday, all in the first half. The top offensive player (Carson Palmer) and defensive player (Darnell Dockett) are already lost with ACL tears, not to mention injuries to John Abraham and others.
Running back Andre Ellington left with a hip pointer. A classic hip pointer is a contusion and/or hematoma along the iliac crest (brim of pelvis). It sometimes has come to mean any injury to hip muscle. Typically, hip pointers get worse with swelling and stiffness before they get better. This doesn't bode well for Ellington for next week since he couldn't continue this week. Safety Tyrann Mathieu broke his thumb and did not return. He hopes to play through the injury. Even if surgery is needed, that may be possible with a cast. Right guard Paul Fanaika suffered a left high ankle sprain. His ultimate return will depend on the how much swelling occurs overnight. All of these injuries seem to be derailing the Cardinals hopes of being the first team to play a Super Bowl in their home stadium.
MMMD 4: College QB playing with a torn ACL
Freshman quarterback Deshaun Watson led Clemson to victory over in-state rival South Carolina. He plans to play in the bowl game as well and then have surgery to reconstruct his torn ACL.
Why can't Carson Palmer play with his ACL tear? The Cardinals clearly need him and other quarterbacks like Philip Rivers have done it before.
Playing through injury is an individual patient/doctor decision made with informed consent. A ll ACL tears are not the same as often there is associated cartilage or ligament injury.
It is sometimes possible to play with a torn knee ligament using a brace. However, playing NFL football with a torn ACL is like playing Russian roulette with your knee. The knee is fine, until it is not fine. The knee can give out at any time and one risks permanent articular cartilage damage.
Some players choose to take the risk and play in an isolated game or two. It certainly is not wise to do it on a prolonged basis. It would be unfair to ask Palmer to risk his knee to try to finish the season. The Cardinals had up to 10 games left if they were to make it to the Super Bowl.
MMMD 5: Patriots extended road trip
There was some initial speculation that Chandler Jones (out 6 weeks now with hip injury) might play in Green Bay since he made the trip. He did not suit up, and the real reason he travelled is the team is not going home after the game.
New England lost an epic battle versus the Packers, but instead of going home like every other team in the NFL, they headed for San Diego for a week of practice prior to the Sunday night game versus the Chargers.
Clubs, including the Patriots, have done this before when playing two consecutive west coast teams, but Wisconsin is closer to Massachusetts than it is to California. Clearly, ease of travel was only one part of the equation, as Bill Belichick likely has planned this schedule more for late season team bonding.
By the way, this is what a London franchise would look like with clusters of games overseas alternated with consecutive stateside games.
MMMD 6: Odell Beckham, Jr three-fingered reception
Last Monday night's "best catch ever" is still fresh in everyone's mind. The catch was nothing short of amazing, but it involved a lot more than two fingers and a thumb.
Through practice, Beckham has innovated a new one-handed technique that we may see more of. Instead of using the two overlapping hands to create the classically taught "diamond", he uses four fingers on one hand to create the pocket. With his big hands, glove and using his thumb, index, long and side of the fourth finger, a unique one handed "diamond" is formed. In baseball, this is akin to the two-finger fastball involving the thumb and fourth finger.
Unbelievable athleticism combined with innovative technique. Beckham makes this catch routinely in practice. Hats off to the catch of the year. My guess is that we will see more players copying his technique.
MMMD 7: Medical morsels
Ben Roethlisberger injured his hand on follow through during a pass. He proceeded to hand-off with his left hand for the next several plays but finished the game. I do expect significant swelling, as the hand is prone to do, but I don't expect Big Ben to miss any game time.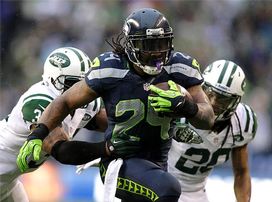 Will arthritis slow down Lynch's production?
Zach Mettenberger was dumped on his throwing shoulder and suffered a grade 1 (mild) AC sprain and left the game without returning. Because the injury is mild, he should be able to quickly return, but he may not be ready to take all the practice reps a rookie needs.
Marshawn Lynch was reported to have compressed cartilage in his back. Essentially, this is early arthritis and may be responsible for some of his recent back spasms. The good news is he can play with it. The bad news is that this issue is not going away.
DeSean Jackson appeared to escape significant injury with only a fibula contusion. Bone bruises can lead to extended absence, but since this one doesn't involve a joint surface or even a weight-bearing bone, I expect a good chance to play this next week.
Rashard Jennings, by video, has a mild right high ankle sprain. His recently injured MCL seemed to be spared. He did not finish the game but I only expect limited miss time.
Brett Keisel was reported to tear his triceps. By video, the location of pain and injury indicates a tendon tear. That would mean surgery and the likely end of his career as he is 36 years old and a free agent.
Robert Ayers was reported to have a pectoral injury. By video, the worry is right pec tendon tear. If so, this would end his year and mean surgery as it is similar to Brian Orakpo earlier this season.
Follow David on Twitter @ProFootballDoc