January 20, 2014 -
Dr. David Chao
Monday Morning MD
Football always carries a sense of urgency due to the high level of importance associated with each game. With only 16 contests in an NFL regular season versus 162 games in a MLB season, each NFL showdown is the rough equivalent of ten baseball games. With the playoffs, that tension is ratcheted up and the Super Bowl pressure is over the top.
Most sports fans feel the Olympics are the penultimate of drama as they are only held every four years. NFL playing careers average under four years and, statistically speaking, most players never appear in a single Super Bowl. This once in a lifetime chance can be rarer for most players than Olympians. Perennial Pro Bowler and 15-year veteran Champ Bailey will be appearing in his first Super Bowl in two weeks. This creates a big stage and an overwhelming sense of urgency.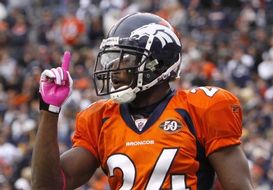 After 15 years in the league, Champ Bailey is finally headed to the Super Bowl.
This is why an extra week of rest and preparation before the Super Bowl is helpful. NFL players and coaches are conditioned for seven days between games and this extra time is an eternity on a NFL calendar. This allows medical staffs to get players healthy. Many times during the season, scopes or other procedures are squeezed in during a bye week. This is essentially another bye week. The extra days also help to take care of the Super Bowl "extras" like family travel plans and ticket requests from friends.
Most players recognize this once in a lifetime opportunity and would "sell their souls" and long-term health in order to play. Most take daily and weekly risks playing football, but that desire is heightened for the Super Bowl.
When a player would be pushing to return early from injury, I counseled them that it is not worth the risk of aggravating the injury and missing more time. I have even used the words, "If this were the Super Bowl…" Well, it is, and players are all in.
Some players seek alternative treatments with a willingness to try anything. Former Philadelphia Eagles wide receiver Terrell Owens used a hyperbaric oxygen tent for his ankle prior to Super Bowl XXIX. The use of Platelet Rich Plasma (PRP) came into vogue from pre-Super Bowl XLIII usage by Steelers wideout Hines Ward and others. A lot of shortcut "cures" lacking scientific proof come out of the woodwork. The Super Bowl has a great placebo effect and a hungry media to soak it in. However, most players just embrace the tried and true methods and take advantage of the extra healing time before the next game.
Broncos running back Knowshon Moreno exited Sunday's AFC Championship game against New England during the fourth quarter with a chest injury and did not return. Word was released that Moreno does not have a rib fracture. Even without a broken bone, rib cartilage or intercostal muscle injury can be debilitating. Based on mechanism of injury, I doubt he has any visceral (organ) injury. But two weeks of rest before the Super Bowl gives the Denver medical staff a good shot to get Moreno healthy.
Seahawks wide receiver Doug Baldwin injured his hip during Sunday evening's NFC Championship game against San Francisco. Even though Baldwin finished the game for the Seahawks, sometimes swelling comes up later. Broncos defensive back Tony Carter suffered a concussion Sunday. Seahawks wide receiver Percy Harvin has an extra two weeks to clear his concussion and rest his hip.
I'm convinced that all of these players will not miss Super Bowl XLVIII.
MMMD 1: Navarro Bowman sustains horrific knee injury
After making a fantastic goal line stop and stealing possession of the ball (missed by officials), the Defensive Player of the Year candidate suffered a gruesome injury to his left knee. Bowman was hit from the outside of his left ankle resulting in a valgus force to his knee. His knee was not even hit, but Bowman's ankle being pinned to the ground contorted his knee into a non-anatomic position indicative of a multi-ligament knee injury.
Ligament tears are accurately diagnosed by examination and the 49ers' medical staff knew the bad news within minutes. An MRI is pending to confirm the tears and determine associated cartilage damage.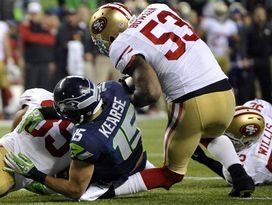 This is the play that could keep Bowman from stepping on the gridiron in Week 1 next season.
During his postgame interview, San Francisco head coach Jim Harbaugh indicated an ACL tear. All ACL tears are not of the same severity. The associated damage can increase pathology. In this case, Bowman's mechanism of injury was consistent with an associated high-grade MCL tear. Surgery is definitely needed.
The injury is not career ending, but it will be difficult (but not impossible) to return by the start of the 2014 season. With this multi-ligament injury, it is typical to undergo prehab (pre-surgery rehab) and surgery may not occur for a month or more, depending on Bowman's swelling, to give time for the MCL to heal before ACL surgery.
Contrary to classic medical teaching, the "unhappy (or terrible) triad" knee injury as originally described does not happen often. It was originally described as ACL/MCL/medial meniscus tears. In reality, if there is meniscus damage here, the tear is usually on the lateral (outside) or compression side of injury. Ask any true sports medicine specialist to confirm.
MMMD 2: Mike Iupati walks off field with ankle fracture
A large part of San Francisco's success over the last three years is tied to the team's offensive line stability. Iupati was the only member of the group not to start all games over the last three years when a left knee MCL sprain had him missing four starts this season.
The 49ers left guard was still wearing a left knee brace on Sunday when he had a similar high ankle injury type mechanism where his left leg was rolled up on. This time it was his ankle that was injured. A severe high ankle injury force turns a sprain into a fracture. As I postulated on twitter during the game, the fact that Iupati walked off the field did not rule out a fracture.
Many players refuse the cart, even when a fracture is suspected. On several occasions over my 17 NFL years, players would demand to walk off despite having a fracture. I suppose this old school toughness is what makes Iupati and others who they are.
Unfortunately, with this type of high ankle fracture, the joint is disrupted and surgery is needed. Fortunately, six months of recovery should have Iupati back by the start of the 2014 regular season. Jacksonville's Luke Joeckel and New England's Sebastian Vollmer are two other offensive linemen who suffered similar ankle fractures earlier this season.
MMMD 3: Carlos Rogers gives up game-winning touchdown
The 49ers cornerback suffered a hamstring injury in Week 17 and missed San Francisco's first two playoff games before returning to action on Sunday at Seattle.
I have no idea as to the severity of Rogers' hamstring injury, but I do know that cornerback is the hardest position to play coming off a hamstring injury. One needs to be close to 100 percent to effectively react to the wide receiver and possess the burst needed to close on the ball.
Seattle wide receiver Jermaine Kearse beat Rodgers to catch the game-winning touchdown on Sunday. I don't know if it was rust, residual injury or just a great play by the Seahawks, but it was likely a combination of all three.
MMMD 4: Peyton Manning proves his neck and arm are healthy
There was talk again last week about Denver quarterback Peyton Manning's past injuries. His four neck surgeries and arm atrophy/weakness have been well documented. Per Manning's contract, he has to pass an offseason physical to prevent voiding his current deal.
In winning the AFC Championship, Manning took advantage of the Aqib Talib rib and knee injuries. Manning had 400 yards passing and a 118.4 QB rating, so I think it's safe to assume he passed his physical.
MMMD 5: Adrian Peterson may need second groin surgery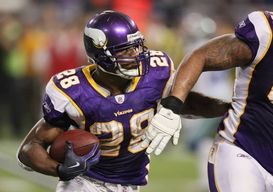 ICONThe Vikings' top offensive weapon may be headed for another surgery.
Last offseason, the Vikings running back underwent sports hernia surgery. At the end of this season, Peterson experienced more groin pain. He is now visiting the same surgeon to consider adductor muscle/tendon release.
Adductor release is commonly a part of sports hernia surgery, but was not performed the first time around. If needed now, Peterson's recovery shouldn't exceed three months.
By the way, the terms sports hernia, athletic pubalgia and core muscle repair can all be considered the same medical entity with different names.
MMMD 6: Pro Bowl medical issues
I have been fortunate enough to act as AFC Pro Bowl physician on two occasions. Fortunately, the work is not difficult, as nobody wants stars injured or playing hurt in an exhibition situation.
Pro Bowl alternates will be the news of the week. With the game played the week before the Super Bowl, six members of the Seattle Seahawks and five members of the Denver Broncos will need to be replaced. With end-of-season medical issue and maintenance surgery common, there will be news of additional replacements. Each team physician needs to certify the health of their players prior to departure for Hawaii.
MMMD 7: Real time injury analysis
On twitter, I use NFL medical experience to analyze injuries in real time based on the mechanism. Although I have used video to analyze injury for 17 years, this is my first season commenting.
Video alone is far from perfect, but I plan to continue this approach during the Super Bowl. In addition, much of what appears in this column is previewed on twitter in real time.
MMMD extra: ACL surgery series - Post op week 1
Patriots tight end Rob Gronkowski and Broncos linebacker Von Miller are one week from surgery.
The first week after surgery is used primarily to control swelling and increase range of motion of the knee. Last week we discussed prehab to start the knee off with motion.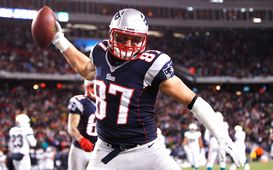 Pro Bowl tight end Rob Gronkowski enters phase two of his ACL recovery.
Rest, ice, compression and elevation are mainstays. A continuous passive motion (CPM) machine is used to move the knee to regain and retain motion. Ace and pressure wraps help control swelling. Ice machines are used for convenience and to cool more effectively underneath surgical dressings. Anti-inflammatory and pain medication are used. I happen to prefer Toradol, as it does both without causing drowsiness.
Physical therapy is in the very early stages. Crutches are still being used with progression to some limited weight bearing during ambulation. Typically, patients are allowed to travel after one week. Caution is still needed to prevent blood clots and avoid infection. Stitches or staples are typically removed at one week (I used dissolving buried sutures, so this was not necessary for my patients).
Most patients miss at least the first week of school or their job. ACL surgery is performed arthroscopically, but is ten-fold greater in magnitude than a simple scope.
Continue to follow the ACL recovery each week here.
Follow David on Twitter: @profootballdoc
Dr. David Chao is a former NFL head team physician with 17 years of sideline, locker and training room experience. He currently has a successful orthopedic/sports medicine practice in San Diego.