December 09, 2013 -
Dr. David Chao
Monday Morning MD
The Rob Gronkowski and Adrian Peterson injuries headlined Sunday's action, but before we get to the rundown, the story of the week is about an injury that occurred over a month ago.
Last week brought us the question of whether or not Green Bay quarterback Aaron Rodgers would officially shut it down for the season. Now that the Packers beat Atlanta on Sunday while Detroit lost at Philadelphia, Green Bay is only a half game out of first place in the NFC North.
Rodgers was injured against the Chicago Bears five weeks ago. A non-displaced (in place) distal (end) clavicle (collarbone) fracture occurred when he was dumped on his left (non throwing) shoulder. Medically, the return would not be based on pain tolerance or Rodgers' ability to throw/play. Early fracture healing is the key to prevent displacement (bones moving out of place) and further injury. If re-injury occurs, Rodgers would likely need season-ending surgery. My medical analysis has not changed over the five weeks since the injury, with an estimate of 4-6 weeks needed for a return to the field.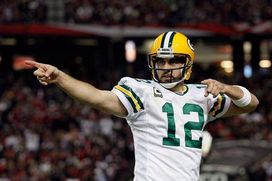 With the NFC North still up for grabs, is it possible Rodgers will return to action in Week 15?
Mid-shaft clavicle fractures typically take 6-8 weeks to heal. Many times, surgical plating can decrease the recovery time. Saints wide receiver Marques Colston (2011) and Chargers running back Ryan Mathews (2012) are two recent examples of early return. Each missed only two games after surgery. A plate converts the slower secondary intention healing (by soft callous) to that of the quicker, stronger primary intention healing (by hard bone). Essentially, bones heal more quickly when the broken pieces are held firmly next to each other by a plate.
Aaron Rodgers has not needed surgery because the ends of his break are already holding next to each other. In addition, a distal fracture would be harder to plate. However, the cancellous (spongy) bone at the end of the collarbone heals more quickly as opposed to the cortical (hard shaft). Rodgers may also have a bone stimulator, which sometimes induces quicker healing.
Fracture healing does not make a sudden leap. The process occurs day by day and heals a little more every 24 hours. The idea of a magic threshold whereby the Packers doctor declares the bone completely healed is a fallacy. In fact, bones continue to heal and remodel for at least six months. If one could guarantee Rodgers would not be hit, he could have played weeks ago.
The doctor's clearance isn't based solely on the x-ray or CT scan findings. It is a balance of risk (re-injury) and reward (playing). It also involves balancing the patient's desires with an informed consent of the risks. This is why being a good team physician is an art, not a strict science.
What happens if Rodgers returns and re-injures and displaces the fracture? Based on my experience, surgery would be required with a minimum of three months recovery. The good news is that there would not be any significant anticipated long-term health or functional issues after recovery.
The Packers medical staff has done a good job of being conservative and protecting Aaron Rodgers by holding him out for five weeks. I am in no way second-guessing their decision. Based on my NFL medical experience (I have not seen film or examined Rodgers), I feel that the timetable is ripe for his full return based on the risk/reward equation and informed consent.
MMMD 1: Rob Gronkowski suffers another major injury
The Patriots' Pro Bowl tight end was hit low by Cleveland safety T.J. Ward and carted off the field Sunday after catching a pass down the seam. Initial reports indicated an ACL tear.
As stated on twitter immediately following the injury, I believe the Patriots tight end has torn multiple ligaments, likely ACL and MCL. This belief is based on the force/direction of the hit and the buckling of the right knee. On exam, the medical staff already knows the status of the ligaments. An MRI will reveal if there is any meniscus/cartilage damage or additional subtle ligament damage.
Reports indicate Gronkowski was taken to a hospital after his injury. Single ligament tears such as an ACL do not typically get transported. Multi-ligament tears, however, do. When more than one ligament tears, there is potential for the knee to sublux or dislocate and cause artery or nerve damage. This potential artery damage is what led a good Patriots medical staff to be proactive and transfer the player to the hospital. The New Orleans staff did the same thing earlier this season with cornerback Jabari Greer's multi-ligament knee injury. Although Greer's ligament tears were different than Gronkowski's, the medical principles are the same.
The New England tight end is certainly headed for surgery and IR. Assuming his arm infection is finally cured, it shouldn't affect the knee reconstruction. If there is not additional damage, it is possible, but not guaranteed, to return for Week 1 next season. San Diego pass rusher Melvin Ingram returned to action this Sunday against the Giants seven months after having an isolated ligament tear. Gronkowski will have close to nine months to heal multiple ligaments before the start of the 2014 regular season.
This injury is sure to reignite the target zone controversy discussed here last month. Dustin Keller was hit low legally during the preseason and suffered a season-ending injury. The legal low hit on Green Bay wide receiver Randall Cobb still has him out with a knee injury. Players are fined for any high hits on defenseless receivers, so their target zones are being lowered. The competition committee will be sure to consider this safety issue again.
MMMD 2: Adrian Peterson exits early
The Minnesota Vikings running back had a classic Lisfranc-type injury mechanism when a Baltimore tackler fell on his right foot Sunday. He immediately fumbled out of bounds due to the pain. After an examination on the sidelines, Peterson left the game on a cart. Stadium x-rays were apparently negative for fracture, which meant that very soon after the worry became ligament injury.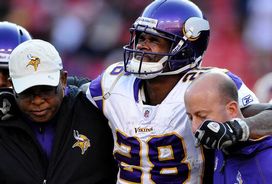 Despite Peterson's early exit, the Vikings still had multiple opportunities to knock off the Ravens.
The news appears to be better than initially expected and I doubt Peterson will need season-ending surgery. Foot injuries are notorious for swelling. If the injury were as serious as initially feared, the Vikings medical staff would not have allowed him to return to sit on the sidelines with the foot in a dependent (lowered) position. They also would not allow him to stand on the sidelines and put weight on the foot if the ligaments were unstable.
I expect that Peterson and the Vikings may have dodged a bullet on this one. I postulate that the soft snow may have worked to his favor to cushion the blow and allow the foot to slide away from more serious damage. Peterson's return is unknown and may depend on competitive factors. I believe he can avoid surgery and that, in itself, is a victory.
MMMD 3: Reggie Bush goes down during pregame warm-ups
The Detroit running back injured his calf during practice this week, but was expected to play Sunday at Philadelphia. However, after re-injuring the calf during a snowy pregame, Bush was scratched from the lineup.
The good news is that calf muscle injuries rarely, if ever, require surgery, even with a tear. The bad news is that this injury tends to linger and re-aggravate. Many times it can last for months, requiring end-of-season rest to truly and permanently improve.
The snow/cold and uneven/slippery conditions may have contributed to Bush's re-injury. This is more likely to happen in inclement weather.
MMMD 4: Wes Welker suffers second concussion in three weeks
The Broncos wide receiver was diagnosed with a concussion towards the end Denver's Week 11 victory over Kansas City. Welker made a quick recovery and passed the concussion protocol seven days later just in time to play against his former team in the New England Patriots.
I do not know the severity of this latest concussion. Also, remember from last week that concussions are like snowflakes, with no two being the same. However, medically, a second concussion is typically more worrisome.
It is not against the NFL concussion policy, but it will be very difficult for Welker to pass a five-step protocol in four days as Denver hosts San Diego on Thursday. It's important to note that the Broncos medical staff has a reputation for doing the right thing.
MMMD 5: Honey Badger's impressive rookie campaign likely over
Rookie cornerback Tyrann Mathieu exited Sunday's game after being tackled awkwardly by several St. Louis defenders. The one initial replay in heavy traffic appeared to show a ligament sprain with valgus force, which leads to suspicion of a lessor MCL injury.
As Mathieu got up and jogged toward the sidelines, his left knee became unstable. Anytime a knee gives out like this, the first thought becomes ACL tear. As FOX's Mike Garafalo pointed out, Mathieu's knee appeared to buckle outwardly in a manner consistent with an ACL tear.
Cardinals coach Bruce Arians indicated the likely bad news of a ligament tear. An MRI is pending, but one can expect Mathieu to need season-ending surgery and try for a 2014 comeback.
MMMD 6: Jonathan Stewart knocked out with knee injury at New Orleans
The Carolina running back exited Sunday's clash with division leader New Orleans due to a left knee injury. Sideline reports indicated the ailment "wasn't severe," but Stewart did not return to the game.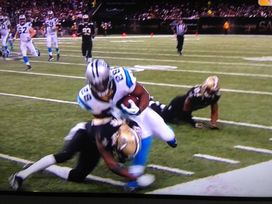 Stewart exited Sunday night's game after this hit.
Kudos to NBC for finding a replay that clearly showed Stewart's sideline left knee injury. Examination of this video replay indicates that Stewart likely has a high grade MCL sprain. The running back's sideline exam showed that his ACL was stable, but did show MCL laxity. As predicted during the game, Stewart did not return. He is unlikely to require surgery and my hope is that he will return for the playoffs.
With this detailed attention to injury and the safety era in which the NFL currently operates, I find that networks are making a concerted effort to show informative injury replays. This certainly makes my job much easier. One can never be perfect and there is no substitute for examination, but the better the replay, the more accurate the TV diagnosis.
MMMD 7: Grabbing the facemask can cause a significant neck injury
During a punt return Sunday night in New Orleans, Carolina's Ted Ginn was tackled by his facemask, causing his head to spin violently around. Saints punter Thomas Morstead saved a touchdown with the illegal play, but he could also have caused a significant neck injury with the violent torque. In a class move, Morstead publically apologized to Ginn, tweeting that he is "not the most experienced tackler."
In this safety era, one should learn how to tackle properly. I don't believe Morstead intended to hurt Ginn, but I do believe he was trying to tackle him by any means possible or he would not have hung on to the facemask. In addition to fines, such vicious and purposeful plays should be considered for immediate ejection and, perhaps, rewarding a touchdown if Ginn would clearly have scored.
MMMD extra: Steelers continue to lose their placement
Last week, Pittsburgh head coach Mike Tomlin put one foot on the field during a Jacoby Jones kickoff return when he "lost his placement." The errant step cost Tomlin $100,000 and will cost the Steelers a draft pick.
This week, Steelers wide receiver Antonio Brown put one foot off the field when he "lost his placement." On the final "rugby" play of the game, Brown was free down the sideline for a touchdown, but his errant step on the line cost the Steelers a last second victory, which pretty much brings an end to the team's playoff hopes.
I wonder which consequence is more severe.
Follow David on Twitter: @profootballdoc
Dr. David Chao is a former NFL head team physician with 17 years of sideline, locker and training room experience. He currently has a successful orthopedic/sports medicine practice in San Diego.