November 24, 2014 -
Dr. David Chao
Monday Morning MD
With the DEA inspections, concussion settlement and painkiller lawsuit all making front-page news, do NFL medical personnel follow the guidelines used in the everyday world? Plaintiff attorneys and sensationalist media members are quick to imply that doctors and athletic trainers in the league act outside the norm for society.
I would agree that on a daily basis, NFL medical staffs violate the community standard of care. However, they do it for the better, not worse. The standard of care in the professional sports world is indeed different than what the average person experiences. It is a much higher bar.
Let's take the simple example of Dolphins cornerback Jamar Taylor, who dislocated his left shoulder on Sunday against the Broncos. When any joint comes out of its socket, it is obviously quite painful. In the real world, one would need to go to a hospital or urgent care. Besides needing to register and wait to be seen, no medical professional would render any treatment before X-rays were obtained. Typically, this means one's shoulder remains dislocated for well over a very painful hour even after arrival at the emergency room door. By this time, spasm has kicked in and reduction is more difficult and intravenous pain medicine and sedation is needed prior to reduction. The longer any joint is dislocated, the more potential damage. In medical school, for safety and liability reasons, we are taught to never reduce a joint before imaging is obtained.
In Taylor's case on Sunday, he had a minimum of three physicians and four athletic trainers on the road with him. His dislocated shoulder was reduced on the sidelines within minutes of the injury. With appropriate training and medical knowledge, immediate reduction is more easily performed than waiting for films first. Besides being the compassionate and humane thing to do, it prevents further damage and provides immediate relief of pain. This is the higher NFL standard, but not the community standard.
As a side note, Taylor appeared to have a more unusual inferior dislocation (like Drew Brees last season). Any shoulder dislocation usually means a torn labrum. This type of tear is hard to brace and I doubt that Taylor will be able to put off surgery until the end of the season.
Although team physicians need to follow the law of the land, the DEA realizes this higher standard of care. In their NFL inspections, they have been clear that there are no criminal violations. As expected, nothing has come from last week's inspections. If there was something illegal, the DEA has the power to act immediately.
Nowadays, it is near impossible to get a doctor to make a house call. Team physicians essentially make glorified house calls by making road trips with the team. After all, if you could get your doctor to make a house call, do you want him to show up with meds or show up empty handed?
The standard is for you and I to go to the pharmacy and get prescribed medications. In the NFL, teams have an on-site pharmacy or specialty meds are delivered. Instead of being handed a prescription, a player is handed the actual medication. NFL players don't wait to see the dentist or eye doctor either. These appointments are made for them around their daily obligations and they don't miss practice or meetings in order to attend.
There are dozens of other examples where NFL medical staffs go above and beyond the standard of care. Robert Griffin III had his dislocated ankle reduced immediately. Dez Bryant isn't told to drink, stretch and wait out muscle cramps, he is given immediate intravenous fluids. I even once reduced a dislocated hip on the field.
Every day, NFL medical staffs violate the community standard of care, but they do it for the better. If I am ever to dislocate my shoulder, I can only hope someone would provide me the higher standard of care and reduce it immediately at the scene to get me out of pain.
MMMD 1: Good thing the Seahawks had a home game
Although the Seattle 12th man is legendary, there are other potential benefits of playing at home. Marshawn Lynch might not have been able to help his team to victory if the Seahawks were on the road.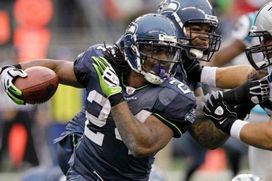 Lynch picked up 82 total yards on 18 touches Sunday against a tough Arizona run defense.
Lynch suffered from back issues during Sunday's game against Arizona. Often, spasms can be treated with muscle relaxer medication. However, these medicines are considered controlled substances by the DEA.
Since teams are not allowed to travel with certain medications, a visiting team might be without the same medicine advantages as the home team. It's not always about painkillers to numb pain as plaintiff attorneys might lead one to believe.
Yes, many home teams have in-stadium pharmacies that could be used to assist the visitors. I am certain home team physicians would provide humanitarian care to an injured player. The question is what about the case where the medication might assist the visitors to victory?
The Seahawks had the crowd noise and medication advantage with their home game. Could a player like Lynch have continued to play as effectively if he couldn't get needed medication?
I am not criticizing the DEA, which is only doing its job by enforcing the existing rules that they don't write. It is not their fault that the laws are antiquated and were created before coast-to-coast travel became commonplace.
MMMD 2: Darelle Revis using ACL injury to his advantage
The Patriots' standout cornerback is using two principles of ACL recovery to his financial advantage. First, cornerback is the hardest position to return to play after ACL surgery, as you really need to be 100 percent to react to NFL receivers. In addition, the second season back is better than the first, as full ACL rehabilitation takes up to 18 months.
This is Revis' second year back after tearing his ACL. By his standards, he had a subpar 2013 season with Tampa Bay and was released from his six-year, $96 million contract. This likely was in larger part due to his ACL recovery.
This offseason, I noted that Revis was smart to only sign a one-year prove-it deal since this would be the year he returns to full form. After Sunday's game against Detroit, Revis' price tag is rising by the day and he should be in line for another big contract. Having faith in his knee for a short-term deal should yield big dividends.
Revis Island is alive and well.
MMMD 3: Ryan Mallet torn pec?
Reports surfaced that the Houston quarterback's poor outing on Sunday against Cincinnati may have been due to a pectoral injury. Apparently, Mallet was first injured against Cleveland last Sunday and practiced all week, but aggravated the problem during warm-ups.
An MRI is pending to determine the extent of his muscle strain. Mallet's pec muscle injury is not like the pec tendon tear of Brian Orakpo and others that require surgery.
Although the pec is not a primary muscle for throwing, it is important for velocity and accuracy. This is not a long-term injury, but any small injury to a throwing shoulder may lead to missing time.
MMMD 4: The mind may want to play, but the body sometimes cannot
Larry Fitzgerald suffered an MCL knee sprain last week and was convinced he would play Sunday at Seattle. After all, he returned to play the second half against Detroit after suffering the injury.
When an MRI revealed a grade 2 sprain, I doubted that he could play. A second degree sprain indicates microscopic tear and knee laxity. Even if a brace were used, wideouts don't function well while wearing them.
The mind is powerful, but in the end, the body would not allow Fitzgerald to play. I am not knocking Fitzgerald at all. Rather, I am marveling at the fact that he returned to play last week with a moderate MCL sprain. That is the bigger surprise than his missing this week.
Fitzgerald won't need surgery and will definitely be back soon. Hopefully it will be next week. The bottom line is that even players can't always know when they can play.
MMMD 5: Tony Romo bad news and good news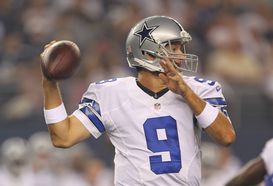 US PRESSWIRERomo led the Cowboys on a game-winning drive Sunday night for a season sweep of the New York Giants.
The bad news is that Romo's broken back is not healed. The good news is that it doesn't need to be. Since his fractures, Romo is 2-0 completing 38 of 53 passes for 515 yards with 7 touchdowns and 0 interceptions.
Four weeks after suffering transverse process fractures, the worst is behind the Cowboys quarterback. The avulsion injury is not structural and is not even expected to heal.
With the help of the bye week, Romo played well in his team's Sunday night victory against the Giants. The quick turnaround to the Thanksgiving game should not be a problem, as Romo's back will only get better.
MMMD 6: End of half or end of game chaos
I continue to suggest a small rule change that would end confusion and improve player safety.
Due to a penalty extending the first half of the Buccaneers-Bears game, players from both sides prematurely ran into the locker rooms. Even head coach Marc Trestman needed to be called back out before the penalty was declined to end the half.
I have been in the situation before where someone is hurt on the final play. With the chaos, it was hard to care for the injured player.
A rule should be instituted where everyone needs to wait for the referee's signal to end a half or game. It would be a momentary delay to allow the officials to get calls right and also ensure that there are no players down. This minimal delay would solve potential confusion and provide some additional player safety.
MMMD 7: Medical morsels
Buccaneers fullback Jorvorskie Lane got his right foot pinned in a pile Sunday at Chicago and his season is likely over due to surgery. Lane appeared to fracture his fibula and tear ankle ligaments similar to the injury that Danny Woodhead suffered earlier this season. The good news is that he should be fully recovered for 2015.
Bengals right tackle Andre Smith injured his left triceps while blocking J.J. Watt. By video, one cannot be certain of the extent of injury, but I expect the MRI will show a tendon tear. This likely would mean surgery, as an offensive lineman who can't forcefully extend his elbow is not very effective.
Browns safety Tashaun Gipson was carted off with a significant knee injury after a mid-air friendly-fire collision. Serious injuries are not as common when the foot is not planted. Hopefully Gipson can avoid surgical injury with a ligament strain and/or non-displaced plateau fracture.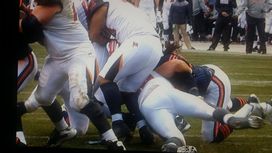 Lane's season is likely finished after suffering this injury Sunday in Chicago.
Titans safety Michael Griffin appeared to transiently sublux/dislocate his left shoulder. The kinesio tape he had on his shoulder wasn't going to help. Hopefully Griffin doesn't have a labral tear and can return quickly with rehab and a brace.
Lions left tackle Reily Reiff was hurt on the first snap of the game and did not return. By video, he suffered a non-contact hyperextension left knee injury. The obvious worry is those dreaded three letters (ACL). Hopefully, it is only a bone bruise and the ligament is spared.
Bears linebacker Lance Briggs slipped and collided with Buccaneers wide receiver Mike Evans. Briggs was taken to the locker room and did not return. By video, I do not expect a significant injury, but there is no guarantee Briggs will be back next week.
Bears cornerback Kyle Fuller injured his right knee during the first half and did not return. The game film showed an MCL sprain. Fortunately, this will not end his season, but Fuller may miss some time.
Redskins cornerback Tracy Porter appeared to suffer a right shoulder separation (AC sprain). Real time video analysis proved accurate as the injury was confirmed. Of course, the extent of injury can't be known for certain without examination or MRI results, but it appears low grade.
49ers linebacker NaVorro Bowman did not suffer a setback. When it was announced his ACL/MCL surgeon was flying in to examine him, some became unnecessarily worried. The reality is that his doctor is also a team physician with Washington, who happened to be Sunday's opponent. It really was just a convenient opportunity for a check-up.
Follow David on Twitter: @profootballdoc