February 10, 2014 -
Dr. David Chao
Monday Morning MD
The NFL Combine has expanded interest and media coverage second only to the Super Bowl. I have been told by general managers around the league that the medical portion is the single most important part of Combine.
The Combine is the only place where all teams get a hands-on medical exam of potential draft picks. Increasingly, players are skipping the workout portion of the Combine in favor of school pro days where conditions are controlled. However, no player skips the medical portion of the Combine.
The medical portion is a week-long event that starts prior to the official NFL Combine (February 19-25) with several days of Professional Football Athletic Trainer Society (PFATS) meetings. Each of the 32 teams sends their entire staff of four or more athletic trainers. Professional education, sharing knowledge, latest research and new protocols are the topics of discussion. This is a dedicated group of medical professionals who do far more than tape ankles and run water.
Over 100 physicians arrive on Wednesday night for the four days of medical exams. Each NFL team sends at least two (and up to five) orthopedists and at least one primary care physician. Some teams will send other specialists including a team radiologist. Separate orthopedic and general medical exams are given.
There is one big medical room with dividers where every Combine participant undergoes a single examination by primary care physicians and specialists and then information is shared at the end of the day.
The orthopedic exams are much more complicated, as the majority of medical issues that affect draft status are orthopedic in nature. There are six orthopedic rooms with five or six teams in each room. Each athlete has to visit all six rooms. The questions and physical exams do get repetitive. This is where the "meat market" reference comes from. Each team orthopedist has a chance to examine every player while stripped down to his Under Armour issued shorts. For example, if a player has undergone an ACL surgery, he is likely to end up with at least 32 different doctors pulling on his knee.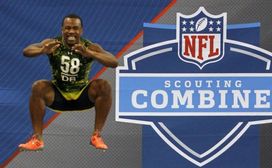 The workouts are just one portion of the NFL's annual scouting combine.
300+ draft eligible players are selected by scouts and the 32 NFL teams to attend the Combine. Their arrival is divided into four days, with different position groups arriving on different days. 75-100 players arrive each day for full head to toe physicals.
In the evenings are a series of NFL Physician Society (NFLPS) meetings for the doctors and athletic trainers. There is a medical/primary care focused meeting. The big dinner meeting is an orthopedic focused conference where research and cases are presented. Finally, there is a business meeting that includes league news and new protocols.
Overall, the NFL combine is serious business for the teams and prospective draft picks. PFATS, NFLPS and all the medical professionals take this process very seriously as well.
MMMD 1: Why Indianapolis?
The NFL Combine was held in New Orleans and Arizona before finding its permanent home in 1987. So what makes Indianapolis the ideal location?
The first need is an NFL city with predictable weather in late February for the workouts. This means an indoor stadium. Second, there needs to be adjacent convention and meeting room space. Third, there needs to be a nearby hospital system big enough and that is willing to cooperate with the extensive needs. Finally, a central location is preferred. Indianapolis is in the middle of the Northeast-centric NFL and meets all of these criteria.
I have attended every Combine since 1994. St. Elmo Steak House used to be the only restaurant. Ike and Jonesy's used to be the only watering hole. Downtown Indianapolis has had quite the boom. Now with dozens of quality restaurants, nightlife, a new mall, indoor walkways, plenty of hotel rooms and expanded convention facilities, I don't see the Combine moving away from Indianapolis anytime soon.
MMMD 2: Why do we call it the Combine?
Decades ago, teams performed all of their draft pick evaluations individually. In 1982, the National Invitational Camp (NIC) was started to centralize the process. There were several other camps as well. In 1985, the camps were "combined" and thus, the name was born.
MMMD 3: New regional combines
A new concept is the regional combines that began this past Sunday and conclude on March 30. There will be 12 dates in 10 cities.
Any prospective player may pay the $245 fee ($295 for kickers/punters) and participate. This is not a fantasy camp and the NFL will attempt to screen applicants to make sure they have some outside shot of making the NFL.
An athlete who does well in these regional combines will be invited to the super regionals on April 12 in Detroit. There is no guarantee that any player from this process will be drafted, but it gives players hope. Remember, the draft used to be 12 rounds, not seven.
As mentioned above, the medical component is a big part of the main Combine. Of note, there is not a medical component to any of these regional combines.
MMMD 4: NaVorro Bowman undergoes ACL surgery
The 49ers' star linebacker suffered a multi ligament ACL/MCL knee injury during the NFC Championship game at Seattle. It is common to wait to have surgery to allow for swelling to go down, increase motion and allow MCL healing. Bowman had ACL reconstruction surgery last week after a two plus week wait.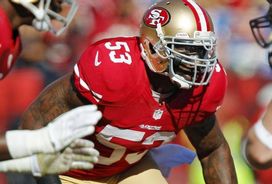 After undergoing surgery, will Bowman be ready for Week 1?
The big question: Will Bowman make it back for Week 1 of the 2014 season? All ACL tears are not the same and recovery depends on the extent of any associated ligament, meniscus or articular cartilage damage.
Bowman's knee being operated on at two weeks indicates potentially a better situation for his MCL, as Patriots tight end Rob Gronkowski had to wait over a month for surgery after his ACL/MCL injury.
As for the cartilage status, Bowman suffered the gruesome injury without even having his knee hit. This mechanism bodes well for an isolated multi ligament injury without associated meniscus or articular cartilage damage.
Hopefully these two factors will combine to lead to a Week 1 return for one of the best defensive players in the game.
MMMD 5: Richard Sherman ankle injury confirmed as minor
Much attention was paid to Seattle Seahawks cornerback Richard Sherman's ankle injury after he was carted off in the fourth quarter of the Super Bowl. My suspicion at the time was that it was not serious.
The injury has been confirmed as a high ankle sprain that happened earlier in the game before Sherman aggravated it in the fourth quarter. He is out of his boot and it is very unlikely to affect him for either the off-season program or next season.
MMMD 6: Tony Romo recovering from back surgery
Back surgery for back pain has mixed results. However, back surgery for radicular symptoms (leg pain) has the best results.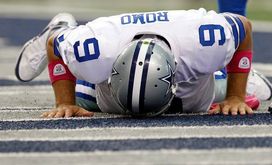 Romo shou ld be ready to rock come next August.
This appears to be the case for Cowboys quarterback Tony Romo. Reports show that Romo is recovering well. Typical recovery after a disc surgery like Romo had is 3-4 months.
Although Romo previously had a cyst removed from his back, so far there is no indication of a direct link to the latest surgery.
Back surgery is nothing to take lightly, but in this case, signs point to a smooth recovery where Romo will have plenty of time to prepare for next season.
MMMD 7: Jermichael Finley recovery from neck surgery
Green Bay Packers tight end Jermichael Finley appears to be recovering well from his cervical C3-4 fusion surgery and expects to be cleared for football soon.
This news is no surprise. As indicated previously, Finley choose surgery to protect his spinal cord from the risks associated with football. He would not have needed surgery if he chose to retire.
Single level cervical spine fusion surgery is fairly reliable. The span from recovery to football can happen as early as three months. Typically, single level fusion surgeries are cleared for football. Multi level cervical fusion is usually not.
I have personally dealt with several players who have returned to football after this type of surgery. In fact, college players with this type of surgery are not failed in their Combine physicals. I anticipate that Finley will be cleared, will have a productive off-season and play well next season.
MMMD extra: ACL surgery series – Post-op Week 4
Patriots tight end Rob Gronkowski and Denver linebacker Von Miller are four weeks out from their ACL reconstruction surgeries. 49ers linebacker NaVorro Bowman just had his surgery last week and is concentrating on swelling control.
In this continuing off-season ACL series, the week four focus shifts to gaining full flexion. Extension should come first, but now that it has been established, full flexion equal to the other knee is desired.
The one month mark is an important landmark to pass to avoid early failures. If an ACL graft were to fail due to technical issues from surgery, it would have done so by now. The graft tissue is beginning to heal and starts to become less reliant on surgically implanted devices to hold the graft in position.
At four weeks, I feel confident enough to perform some stability tests to ensure that the ACL graft is in the correct position and doing its job.
Most patients now are certainly still limited, but they are back to a normal lifestyle. Basic daily routines have pretty much returned to normal by this point.
Follow David on Twitter: @profootballdoc
Dr. David Chao is a former NFL head team physician with 17 years of sideline, locker and training room experience. He currently has a successful orthopedic/sports medicine practice in San Diego.