June 23, 2014 -
Dr. David Chao
Monday Morning MD
Despite accusations that the NFL was slow to recognize or acknowledge the concussion issue, American football is currently advanced compared to the rest of the sports world. During the World Cup on Thursday, a Uruguay player was clearly visually unconscious but was allowed to return to finish the game. Video showed the Uruguay player was slapped and shaken in attempts to arouse him after he was knocked out. This certainly would never happen in the NFL or anywhere in the United States (except in football movies like Jerry Maguire).
Let the firestorm begin. Despite a formal concussion protocol that emphasizes "recognize and remove", FIFA says the decision to return rests solely with the team doctor.
The Olympics also rely on individual countries and their team physicians to handle concussions. The International Olympic Committee does not have a formal concussion policy to remove athletes from competition.
Despite the Uruguay team doctor initially signaling for substitution, once the player awoke enough to assert his will, he was allowed to return to play. Without formal removal policies, perhaps FIFA and Olympic athletes have too much say in remaining in a game.
I am not suggesting the NFL has all of the answers or is anywhere near perfect in the way concussions are handled. I am not defending the NFL or its decision-making processes now or in the past. I am simply stating that the NFL has addressed some concussion issues that the global sports community still ignores. Current NFL protocol would have prohibited the return of an unconscious player, as allowed in the World Cup.
As a result of the Uruguay incident, FIFPro (world soccer players' union) is calling for independent sideline physicians and a change in rules to allow for evaluation of potentially concussed players. The NFL has these two items covered already. In addition, it has an independent spotter, sideline video replay, standardized testing, and a strict graduated return to play protocol.
Some say the NFL has acted too slowly in regards to concussions. I am not trying to debate that issue. I am simply making the point that the NFL is currently more progressive in handling concussions than others in the global sports community.
There is still more we don't know about concussions than what we do know. Concussion research and treatment are still in their infancy. Undoubtedly, there is more that needs to be done, but the international sports community needs to catch up to the American standards.
MMMD 1: When a franchise's future hinges on medical input
The decision at the top of the NBA draft board is a common scenario in the NFL. Potential number one pick Joel Embiid had surgery for a navicular stress fracture. He also had a previous lumbar stress fracture that kept him out of the conference and NCAA tournament.
As a former team physician, when team executives presented me with the question of "to draft or not to draft", I simply presented the medical outlook: chances of recovery, re-injury risk, and longevity. On some occasions, I was asked about my gut feel or thoughts beyond strict medical analysis.
Although I haven't seen Embiid's records or examined him, I would likely vote to pass on him as the top pick. With two recent stress fractures in areas of concern, either one could end his career. Certainly he becomes a tempting risk outside the top few selcetions.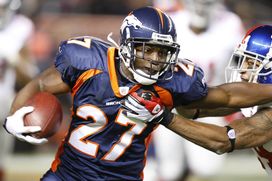 It's now or never for Knowshon Moreno
MMMD 2: Dolphins fans need not worry about their running back yet
Knowshon Moreno is reported to be ailing from a left knee condition and may need surgery. He has been limited in practice. Even if Moreno undergoes a knee scope, he still has time to return for training camp and the season. During my time as a team physician, we viewed this time period as a "now or never" situation. The philosophy was to do something now or live with it through the upcoming season. It was not uncommon to scope a knee or clean up any lingering issues during this final quiet period.
MMMD 3: Johnathan Franklin NFL career over due to neck issue
The Packers rookie running back suffered a concussion and cervical spine injury returning the opening kick-off against the Vikings in week 12 last season. The fourth-round draft pick out of UCLA was placed on injured reserve three days later and that turns out to mark the end of his NFL career.
Although he did not need neck surgery, multiple doctors (including Packers physicians) determined it was in Franklin's best interest to not play football. All indications are that he has recovered from his concussion without issue.
Typically, the possibility of recurring injury, permanent damage, or any increased risk of paralysis are the main reasons for exclusion from football. Although the specifics of the injury were not disclosed, spinal stenosis, cord injury, ligamentous instability, or disc damage are some of the reasons that can end a NFL career.
Let's congratulate this young man on making the right decision to walk away and move on to bigger and better things in life. His previously stated goal was to one day be mayor of Los Angeles.
MMMD 4: Good news for Giants and Beason
Jon Beason's second opinion determined that he does not need surgery for a ligament tear and small seasmoid fracture in his great toe. This is clearly better news than any surgery but the beginning of the regular season is still in doubt. Beason will spend three weeks in a cast and then an additional three weeks is a walking boot. A rule of thumb is the number of weeks of immobilization leads to at least that same number of weeks of rehab. That would take him to 12 weeks minimum.
With the big toe being vital for push off, acceleration, and changing directions, I think it may be optimistic to plan on week one, but at least this encouraging news should have Beason available for most of the season.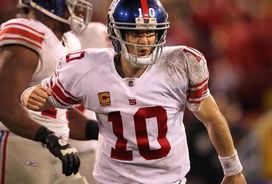 Manning claims to be 100% from his April 10th surgery
MMMD 5: Eli Manning vs Cam Newton is not fair
Both star quarterbacks had ankle surgery this offseason. Manning claims to be 100% from his April 10 ankle surgery. Newton says he felt sluggish and is still recovering from March 19 ankle surgery. He did work 7-on-7 drills during the final day of mini-camp and hopes to be full speed by training camp.
Manning had simple ankle arthroscopy. Newton had an incision with more complex surgery that tightened/repaired loose ankle ligaments. As the more mobile quarterback, Newton obviously relies on his ankles more than Manning. In any case, both ankles should be healthy and have no issues this season.
MMMD 6: NCAA says "we need amateurism to be popular"
Last week, the amateurism line was already crossed when the NCAA allowed some current players to be paid while retaining eligibility. This week NCAA president Mark Emmert testified in the Ed O'Bannon video game lawsuit that paying players would make fans not want to watch. In April, he shifted blame by calling the NFL and NBA irresponsible for not providing legitimate opportunities for kids.