November 10, 2014 -
Dr. David Chao
Monday Morning MD
The Arizona Cardinals' worst fears are soon to be realized as their starting quarterback's season is over. All that is left is a formal announcement after the confirmatory MRI. The ACL re-tear is on the same side of Carson Palmer's 2006 ACL injury.
History appears to repeat itself here. Days before Palmer's first ACL tear, he signed a $119 million contract extension with the Bengals. Last week he signed a $50 million contract extension with the Cardinals. Certainly this is bad injury luck, but fortuitous contract timing.
By video, the non-contact left knee injury is clear. Palmer over-strides on the last step with his knee and attempts to stop but his lead leg buckles and gives out. Even more telling is the video of the injured quarterback gingerly walking on the sideline towards the exam table and seeing his knee give out again.
ACL tears can be easily diagnosed with physical examination. During my time in the NFL, I typically knew the ACL was torn from my quick examination before the player was even helped up for the first time. The instability in the knee can be easily reproduced with gentile manual tests (Lachman, anterior drawer, pivot shift). An MRI is not needed for the ACL tear diagnosis, but is helpful to look for associated articular cartilage, meniscus or other ligament injuries. The Arizona medical staff already knows the bad news. I don't blame the team for holding out hope and delaying the official announcement.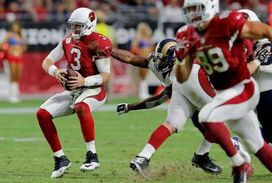 Palmer's season came to an end on this play during Sunday's game against the St. Louis Rams.
There have been a number of ACL re-tears so far this season. Re-injury eight years after the original surgery is different than the recent early 10-month ACL graft failures of Rams teammates Sam Bradford and Jake Long. ACLs are rebuilt with a graft that essentially acts as a scaffold for a patient's own tissue to grow into, which is a process that takes over 18 months. Palmer's ACL was fully incorporated and ligamentized while Bradford's and Long's were still maturing.
Reports indicate that a cadaver graft was used in Palmer's first surgery and seemed to work well for eight years. A source told me years ago that the hamstring was also used. In any case, there is little question in my mind that the central third of Palmer's own patella tendon (bone-tendon-bone) will be used this time. Surgeons of professional athletes do not like to use cadavers because of the higher failure rate. The worst thing for an athlete is to miss a second consecutive season with a re-tear as that often ends a career.
Using a cadaver can make the doctor look like a better surgeon thanks to smaller scars and less initial pain, as there is no need to harvest patient tissue. I am lucky enough to be a member of the prestigious worldwide ACL Study Group and the data clearly shows higher early failure rates when using cadavers. Certainly, each physician/patient must make their own decisions and new cadaver processing techniques may have lowered failure rates.
The good news is that despite Palmer's advancing age, this should not end his career. Revision ACL surgery is routinely successful. If Palmer were a running back, one might have some career worries in this "Not For Long" league.
When Palmer returns, he might want to consider long-term lead leg prophylactic brace use. It is common for quarterbacks to use a brace, as the lead leg is especially vulnerable to an ACL tear. Palmer did not appear to be wearing a brace this time, but admittedly it was a non-contact injury.
As the only one-loss NFL team, the Cardinals sit near the top of the power rankings. Their bid to become the first team to play in a Super Bowl in their home stadium will now rely on backup Drew Stanton.
MMMD 1: Branden Albert's season appears to be over
Despite initial confusion regarding ankle versus knee injury, Albert's season appears over. The Miami left tackle had his right leg rolled up on and twisted to the point that the foot and the kneecap pointed in different directions.
Albert got rolled up on in Sunday's loss at Detroit.
Having the foot trapped can cause a knee ligament injury, ankle sprain/fracture or both. By video, I initially thought that the ankle component was greater. With further video review and early media reports, the hit seemed to cause a knee injury of the MCL and PCL.
Isolated MCL tears rarely need surgery. Multi-ligament injuries with the MCL and PCL, however, are a different story and surgery is a strong consideration.
Despite the initial confusion, it is not a happy ending for Albert's season. Also, I will definitely count this as an error towards my video analysis, which to date this season is 56-5. Upon further video review, the MCL/PCL injury is evident. Without examination and MRI, it is near impossible to make a specific diagnosis, but I will continue to try to provide early general injury impressions on twitter (@ProFootballDoc) to help inform fans.
MMMD 2: Brandon Marshall and Reggie Bush with mild high ankle sprains
At the start of the fourth quarter against Green Bay while down 41 points, the Chicago receiver suffered what appeared to be a mild left high ankle sprain. Before the doom and gloom begins, not all high ankle sprains knock players out for weeks.
The injury appears mild and is on the opposite side. Marshall was smartly held out of the rest of the game, but had the score been close, I believe he could have returned. After the game, he said his ankle was sore but that he would play next week.
Earlier in the day, Lions running back Reggie Bush appeared to suffer a mild high ankle sprain, but he returned to help lead the Lions to victory.
I sense a good chance for both Marshall and Bush to play next week and be productive, not just decoys.
MMMD 3: Why is Dez Bryant always dehydrated/cramping?
Is the Cowboys star receiver out of shape? Was he still recovering from Friday night hijinks? Why does he seem to need an IV every week?
After all, it is Week 10 and the cool weather in London is not a dehydration risk. IVs are definitely more common early in the season due to fitness issues and the weather. We all remember the LeBron James cramping incident from the NBA Finals due to the broken air conditioning in San Antonio.
I don't have the exact statist ics, but it seems that Bryant has left games on multiple occasions for intravenous hydration. IVs are much more powerful than an oral liquid, powder or pill intake and it goes directly into the circulation and bypasses the gut.
Some athletes are at a metabolic disadvantage for dehydration. In my time as a team physician, there were several athletes that regularly needed in-game IV hydration. For patient privacy reasons, I won't identify them, but I promise you they were not out of shape or hungover. We worked these players up medically and never really found a specific cause.
Despite best medical efforts, some players are just more prone to dehydration. It is my guess that this will be a career long issue for Bryant. Cowboys fans can take solace that you cannot get dehydrated/cramps if you are not playing hard and giving it your all.
MMMD 4: A good injury week?
Many would say that this was a "good" health week for the NFL with less than normal injuries. Tell that to the Arizona Cardinals or the Miami Dolphins, who lost their starting quarterback and left tackle, respectively. I am sure they would disagree.
A team averages about 10 players on injured reserve by the end of the season. With 20 games (16 regular season and four preseason), if a team escapes a week without losing a player for the season, it can be termed a good week.
Injuries are unfortunately inevitable with the speed, size and 22 moving parts on the field at once. The key is to keep injury numbers low and to avoid getting key players hurt.
MMMD 5: Romo performs well and doesn't aggravate transverse process fractures
Despite needless worries about the long flight with his spine fractures, Cowboys quarterback Tony Romo played as expected in London and performed quite well with a stat line showing 20/27, 246 yards, 3 TDs, 0 INTs and a quarterback rating of 138.8. He got the victory and emerged unscathed despite unfounded worries about his spine fractures.
The injury is very painful and Romo is to be congratulated for his toughness. He now has a bye week to rest. Likely, Romo will still be painful for the next game. However, the fractures do not need to heal and the worst is fortunately behind him.
MMMD 6: Two injured Buffalo Bills active, but don't contribute much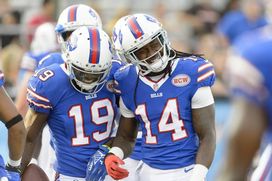 Watkins (right) was held to just 27 receiving yards in Sunday's loss to Kansas City.
The good news was that running back Fred Jackson and wide receiver Sammy Watkins were active for Sunday's game against Kansas City. The bad news was that the Bills lost and neither player contributed much with their respective groin injuries.
Groin tears are hard recoveries for running backs and wide receivers. When Jackson was first injured three weeks ago, initial media estimates said two weeks, but I was much less optimistic. Watkins' groin strain was fresh and happened less than a week ago.
As expected, neither player contributed much in the game this week, but look for a big improvement in the production of both players next week.
MMMD 7: Wembley Stadium's poor field conditions
Sunday marked the third and final NFL game in London this season and it seemed to show on the worn-out grass. It is not surprising to see the wear and tear on the field that predominantly hosts soccer games.
I am not a groundskeeper, but having been on the Wembley grass, other soccer fields and NFL stadiums, the grass is different. In soccer, it is more important to have the ball roll true. The NFL requires a heartier/thicker strain of grass. Believe me, it definitely feels different as you walk on it.
Before we go blaming the Brits, it is late fall and with foggy London weather, a lush green field is a tall order. In addition, NFL stadiums have their own problems. The Texans' field has taken its share of criticism and the Raiders' home field remains a "travesty."
Follow David on Twitter: @profootballdoc