November 03, 2014 -
Dr. David Chao
Monday Morning MD
One of the main storylines last season revolved around Packers quarterback Aaron Rodgers, his broken collarbone and the subsequent weekly "Will he or won't he?" play saga. The Philadelphia Eagles may be in for a similar ride with Nick Foles also fracturing his left (non-throwing) clavicle. The good news is that Foles' season is not over and he will fully recover.
Linebacker Whitney Mercilus of the Houston Texans dumped Foles on his non-dominant shoulder and simultaneous landed on him in Sunday's loss to Philadelphia. This is usually a classic acromioclavicular (AC) joint (shoulder) separation mechanism, but with the extra force/body weight, the clavicle fractured instead. Rodgers was hurt in a very similar manner when the Bears' Shea McClellin sacked him last year. Foles obviously did not return and backup Mark Sanchez played three quarters to get the win for the Eagles.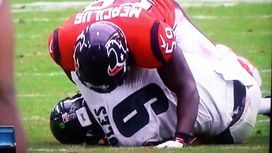 Foles excited Sunday's game after suffering this hit.
Reports say that Foles is due for an MRI, although clavicle fracture treatment is typically solely based on X-rays, which are readily available in every NFL stadium. Collarbone fractures are also easily diagnosed by physical exam, as the clavicle is very superficial and easily palpable. MRI is not typically needed for a bone fracture. The hope is that the report is erroneous and doesn't signal additional soft tissue damage or a very distal fracture involving the AC joint where recovery is delayed. It would be very unusual to have both a clavicle fracture and a shoulder separation, as a chain doesn't usually break in two places at once.
In my NFL and sports medicine experience, surgery is typically performed to stabilize the fracture, insure healing and speed recovery time. The preferred method is plates and screws for firm fixation rather than using a rod. Two weeks ago, Bills running back C.J. Spiller had surgery for just such a fracture. However, Rodgers elected not to have surgery and missed seven games last season. If stable fixation is achieved and the fracture is not comminuted (multiple fragments), then a 4-6 week return is plausible.
Expect Foles' upcoming surgery to be announced soon. A best-case scenario is to return by four weeks for the Thanksgiving game. A worst-case scenario is to return by the Christmas week game. There is one NFL example of a three-week return and several examples of four-week returns. Regardless, I doubt Foles will be placed on injured reserve.
The Packers seemed dependent on their starting quarterback last season. The Eagles seem more flexible with the multiple weapons in a Chip Kelly offense.
In any case, Nick Foles will fully recover and return to play this season. The question is whether Foles comes back to give Philadelphia a "Happy Thanksgiving" or if the Eagles will have to wait for a "Merry Christmas."
MMMD 1: Tony Romo will travel to London
The Dallas Cowboys quarterback dominated the news last week with the confirmation of transverse process fractures. Pregame on Sunday, media outlets were reporting that Romo might skip the overseas trip for this week's game in London and wait until after the bye to return. I never believed that and reports confirm now that Romo will indeed travel with the team. Personally, I think he has an excellent chance to play.
Any spine fracture sounds ominous, but a transverse process fracture is not structural, there is no risk of nerve/spinal cord damage and it is unrelated to his previous surgery. Based on video and my medical knowledge, the fracture and the disc are at completely different levels of the spine. In addition, returning to the Monday night game against Washington did not delay Romo's recovery.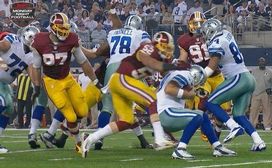 Knee to the mid-back while spine surgery lower near Romo belt line.
The unique part of a transverse process fracture is that it typically is an avulsion injury where muscle/tendon/ligaments pull off a small chip of bone. The key to early return with this injury is that there is no need to wait six weeks for the small piece to heal. Often, the fracture never unites, but becomes asymptomatic and still has full 100 percent return. Pain is the guide. Spasm is usually worse in the days after the game and it is easier to finish a game before spasm/stiffness set in than it is to play the following week. It usually takes three or four weeks for the pain to subside.
This season, Baylor quarterback Bryce Petty similarly suffered two transverse process fractures, finished the game, sat out one contest and then returned without further issue.
When you consider the Cowboys' loss to Arizona and backup Brandon Weeden's poor quarterback rating of 55.5, there is little to be gained by sitting Romo through the bye week, as this fracture doesn't need to heal before playing. In any case DeMarco Murray may be the one the Cowboys really need to keep healthy.
Tony Romo playing next week should keep the Jaguars from being able to only focus on stopping Murray.
MMMD 2: DeMeco Ryans announced as ankle injury, but tears Achilles
The Eagles linebacker would love to have suffered an ankle injury as initially released. Instead, my worst fears came true despite the misleading team announcement.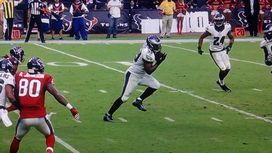 By real time video analysis, it was clear that Ryans suffered a right Achilles tear with a classic eccentric load and forced dorsiflexion. Unfortunately, this will end his season with surgery. In 2010, Ryans ruptured his left Achilles tendon, but returned to full form after surgery.
The play cost the Eagles the services of their star linebacker and also an interception, as Ryans dropped the sure pick as a result of the pain from tearing his Achilles.
MMMD 3: Broncos lose more than the game
The Peyton Manning vs. Tom Brady showdown ended with the Broncos losing the game as well as linebacker Nate Irving and receiver Wes Welker.
Irving's injury appears to be a serious knee ligament injury. His foot was trapped and his knee was rolled up on by teammate Chris Harris, Jr. By video, Irving has at least a significant MCL sprain/tear that likely will have him out four to six weeks. Let's hope there is no associated ligament (ACL), bone or cartilage damage, or Irving may be lost for the season.
Wes Welker took a significant shot to his lower back and ribs. He checked out initially and was reportedly returning to the game, but was later ruled out. Likely spasm set in and prevented thoughts of playing. Hopefully as Welker is further evaluated, no other findings (fracture, muscle, organ injury) will surface.
No question that Irving will miss significant time as the Broncos' thin linebacker corps takes another hit. The hope is that Welker will be ready by next week.
MMMD 4: Texans stars update - Foster, Cushing and Clowney
Houston running back Arian Foster injured his right groin/hamstring in Sunday's loss to Philadelphia. Although the injury appeared to be mild, lower extremity muscle injuries for a running back can be problematic. In this case, Foster has already been battling left hamstring issues for most of this season. The cumulative affect of bilateral injures can make recovery longer and Foster may miss some limited time.
Rookie pass rusher Jadeveon Clowney returned from offseason sports hernia surgery and then had a knee scope for meniscus/cartilage damage. Now with reports of the team becoming "frustrated" with Clowney, he missed a game with illness/flu yet was able to "like" instagram photos during the Texans game. Clowney has overcome two surgeries in his rookie campaign already, now he has to endure more issues.
Brian Cushing missed his second straight game and is likely going to miss more time with knee issues. Meniscus cartilage tears can be fixed quickly, but articular cartilage issues are harder to deal with. Cushing likely is seeking out biologic treatments (PRP, stem cells, etc.) and may be out for another couple of weeks.
MMMD 5: Herremans heroic
Philadelphia Eagles right guard Todd Herremans reportedly tore his left distal biceps tendon, but still managed to play on Sunday. This is an injury that requires surgery to regain strength and can end a player's season.
The distal biceps is responsible for elbow flexion and supination (rotating forearm/wrist outward). If Herremans were a defensive lineman, he would not be able to play effectively. Fortunately as an offensive lineman, that is not a movement that is needed.
In any case, to forgo necessary surgery and play for your team is heroic. As the Eagles line gets healthier with the return of guard Evan Mathis off of injured reserve, hopefully Herremans can get the needed surgery sooner rather than later.
MMMD 6: Seahawks play shorthanded but still win
The Seattle Seahawks played the Oakland Raiders two men short on Sunday. A team is allowed to suit up 46 of its 53 players. Seattle only had 44 healthy players as they inactivated the required seven but had a total of nine players injured. Despite that, the Seahawks still kept the Raiders winless in 2014.
Pete Carroll recently lobbied for a rule change to allow all healthy players to suit up. In this case, it could have left him and the Seahawks with an even bigger disadvantage, as it could have been 44 players vs. 53 suited up.
Obviously, only 11 players are allowed on the field at a time, so fans may not feel that this is a big deal. Coaches, on the other hand, feel that having extra players is a big potential advantage. In this case, the Raiders still were not able to benefit.
MMMD 7: Medical morsels
Robert Griffin III met the 6-8 week recovery timeline and returned seven weeks after dislocating his ankle. His team lost, but Griffin moved and played well with a 90.0 quarterback rating. Now he has a bye week to rest up from this ankle test.
Ravens tight end Owen Daniels played one week after a knee scope. The Ravens lost, but their now starting tight end caught six balls for 53 yards. Certain knee procedures (isolated meniscus tear or loose body) are amenable to this early return. Regardless, Daniels and his medical team are to be congratulated for a job well done.
Running back Lamar Miller left the Dolphins shutout win over San Diego in the second half with a stinger. After the game, Miller reported that he would be fine. Assuming it was just a stinger, he should return next week, possibly with a neck collar to prevent recurrence.
Steelers safety Troy Polamalu didn't even miss a play immediately after having his ankle trapped and leg twisted. This mechanism can cause a high ankle sprain and MCL knee sprain at the same time. Ultimately, he did leave the game at halftime. Expect this warrior to be back next week, as very little can keep him down.
Bengals rookie running back Jeremy Hill was injured and some initial speculation had him tearing knee ligaments. Hill returned with reported rib issues but managed to rush for a career-high 131 yards. Video, or at least interpretation of video, does sometimes lie.
Follow David on Twitter: @profootballdoc