February 24, 2014 -
Dr. David Chao
Monday Morning MD
NFL athletic trainers are often underappreciated. They are similar to long snappers in that they rarely get noticed unless something negative happens.
Several team trainers have been in the news recently, as Dolphins head ATC Kevin O'Neill was let go last Wednesday and Jaguars head ATC Mike Ryan recently resigned</a>. In addition, the Titans replaced their head athletic trainer earlier this month and the Buffalo coaches reportedly want a new head athletic trainer.
The good works of NFL athletic trainers often go unnoticed. This hard working group is known to be the first to arrive and the last to go home.
On their flight to Indianapolis for the NFL Scouting Combine, the Jets athletic training staff jumped in to help a female passenger in medical distress. Lead by head ATC John Melody, they administered potentially life saving cardiopulmonary resuscitation (CPR).
The Jets staff was not required by law to intervene, but true to their profession, they did not hesitate to lend a hand. Upon landing, ground medical personnel took over.
True to form for the athletic training world, there was no fanfare or public recognition for a job well done. They simply proceeded to check in to their hotel and perform their Combine evaluation work.
Team medical staffs are trained and prepared for any medical situation that may arise. The sideline incident involving former Texans head coach Gary Kubiak last season proved that.

This incident reinforces the fact that athletic trainers do a lot more than just tape ankles.
MMMD 1: Alabama tackle Cyrus Kouandjio's knee issues
According to the NFL Network's Ian Rapoport, several teams failed Kouandjio on his physical due to an arthritic knee from failed surgery. The word 'ugly' was used.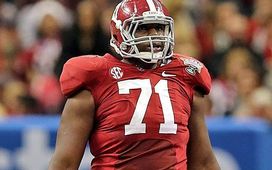 Kouandjio's stock will suffer a hit due to his knee.
Kouandjio underwent ACL surgery during his freshman year at Alabama and the current issues appear to stem from that injury. As I have related several times in previous columns here, all ACL tears are not the same. The associated injuries (other ligaments, meniscus and articular cartilage) often determine the ACL outcome and recovery.
This appears to be a case where the articular cartilage was injured. Most common and most worrisome is when the lateral (outside) surface is damaged. Progression of damage leads to arthritis.
The words "arthritic knee" regarding a 20-year-old football player will likely affect his draft stock. Different teams have varying grading systems. It appears that some have failed him.
In my 19 years evaluating prospects at the Combine, I rarely failed a player. After all, Kouandjio played well enough to get invited and be touted as a potential first round pick. I would assign a lower grade to someone with medical issues that might affect longevity, ability or re-injury.
There is no doubt that Kouandjio will be downgraded. The question is how much of a negative effect it will have on when he is drafted. A first round pick with medical issues inevitably becomes a bargain as the rounds progress.
MMMD 2: Austin Seferian-Jenkins not allowed to perform at the Combine
A pre-existing foot condition was discovered during Seferian-Jenkins' medical examinations. The Washington tight end had planned to work out in Indianapolis, but was prohibited from doing so.
Although the specific injury isn't publically known, the most likely issue in this set of circumstances is a stress fracture. The most common bone involved is the 5th metatarsal. 49ers wide receiver Michael Crabtree was discovered to have this injury at the 2009 Combine when he initially intended to work out much like Seferian-Jenkins
In most cases, this type of injury heals reliably, but often needs surgery. If surgery is necessary, like it was in the Crabtree example above, a Pro Day performance will be out of the question. The good news, however, is that Seferian-Jenkins has plenty of time to recover for the upcoming season.
MMMD 3: North Carolina's James Hurst ankle fracture update
The UNC left tackle broke his leg during the Belk Bowl in late December. The official twitter account of Tar Heel football indicated a non-displaced fibula fracture.
Hurst did not work out at the Combine, but expects to perform at North Carolina's Pro Day on March 25. He is currently two months removed from the injury. Assuming the reports are correct, a three month recovery is reasonable, meaning Hurst should be able to perform at his Pro Day audition.
In my Combine experience evaluating players for teams, this type of injury is unlikely to result in a significant downgrading of Hurst's draft stock.
MMMD 4: Zach Mettenberger's quick ACL recovery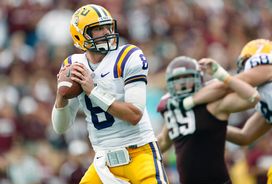 US PRESSWIRELSU signal-caller Zach Mettenberger is on the fast track to ACL recovery.
Last week we discussed Georgia quarterback Aaron Murray's quick ACL recovery. LSU quarterback Zach Mettenberger's recovery from January 2 surgery may be even quicker. According to ESPN's Chris Mortensen, some medical personnel have given Mettenberger a higher grade than Murray, despite the fact that Mettenberger underwent surgery more recently. This hopefully means that both players had minimal additional knee damage other than the ACL tears.
In 2008, Chargers quarterback Philip Rivers participated in a team mini-camp exactly 100 days removed from his ACL surgery. Mettenberger and Murray seem poised to parallel that quick recovery.
MMMD 5: Shoulder scope for Trent Richardson
Indianapolis Colts running back Trent Richardson underwent shoulder surgery recently, as the NFL Network's Ian Rapoport reported the procedure as "just a scope" while describing it as "minor."
Richardson had a sub-par season with the Colts following his trade from the Cleveland Browns. It is unlikely his shoulder issues affected his play.
It is not uncommon in the NFL to have a running back with shoulder issues finish a productive campaign and then undergo off-season surgery. After playing with a shoulder issue during a 2008 Chargers playoff run, running back Michael Turner had shoulder surgery. He still got a big free agent contract with Atlanta and played well the next season.
Even if Richardson's shoulder scope was more than minor, with five months before training camp, it is still unlikely to have much of an effect on the upcoming season.
MMMD 6: Former Dolphins trainer Kevin O'Neill
Former Cowboys and Dolphins head coach Jimmy Johnson recently tweeted, "All I can go on is experience..involved with football over 60 years & championships..O'Neill was best I was ever around…." J ohnson was one of eight Dolphins head coaches that O'Neill served. This echoes the positive impression athletic trainers, physicians and NFL personnel have of O'Neill.
O'Neill spent 25 years as a head athletic trainer for the Dolphins and Cowboys. I had the good fortune of working with him when the Chargers held joint training camp practices with the Dolphins.
O'Neill was dismissed by Miami last week as a result of the Richie Incognito-Jonathan Martin investigation. I have not read the Ted Wells report and am not in a position to comment. What I can say is that universally, O'Neill is recognized as a top athletic training professional.
MMMD 7: Miami's poor timing
Some in the media have implied that the Dolphins displayed poor form in allowing Kevin O'Neill to travel to Indianapolis, only to fire him on the eve of Combine medical exams.
Other accusations of Dolphins dysfunction may be true, but this one is off base. All NFL athletic trainers arrive several days before the start of the Combine for the annual Professional Football Athletic Trainers Society (PFATS) meetings.
The Wells report was issued on the Friday before the Combine. Dolphins head coach Joe Philbin said the team took five days to discuss and deliberate the findings of the Ted Wells report. O'Neill was already in Indianapolis for days when the decision to part ways was made. He did not get fired by the team after stepping off the plane in Indianapolis, as some have assumed.
Whether the decision was justified or O'Neill is merely a scapegoat, at least the Dolphins did the right thing by letting their 18-year employee know of his fate in person.
MMMD extra: ACL surgery series – Post-op Week 6
Week six is a landmark week for Patriots tight end Rob Gronkowski, Broncos linebacker Von Miller and anyone else recovering from ACL surgery. It marks two important thresholds: One for healing and the other for rehabilitation.
Six weeks is the typical time for the graft to reasonably heal to the tunnel. If the graft is patella tendon, the issue is bone-to-bone healing in the tunnel. If the graft is soft tissue (hamstring), the issue is Sharpey's fibers connecting soft tissue to the bone tunnel. This healing is now adequate in either case to allow for an increase in activity.
Six weeks is also a big landmark for rehab. Assuming all previous goals are met, I allow my patients to begin to run. Of course, a fast walk comes before a light jog, which then leads to a run.
The important element to look for is that gait is normal as well as cadence and stride. A secret is to walk/jog on the treadmill and just listen to the footsteps. Both feet should sound exactly the same as they hit.
I prefer that a patient jog for 500 yards with normal stride and no limp rather than someone who runs five miles while limping the entire way.
If unable to begin a light jog leading to a run, then one concentrates on the basics of squats, lunges and leg presses. Once the jog/run hurdle is reached, a whole new world of rehabilitation exercises opens up for the patient, which could lead to a quick Week 1 NFL return.
Follow David on Twitter: @profootballdoc
Dr. David Chao is a former NFL head team physician with 17 years of sideline, locker and training room experience. He currently has a successful orthopedic/sports medicine practice in San Diego.