May 05, 2014 -
Dr. David Chao
Monday Morning MD
What is the medical staff's role during the NFL draft now that all of the injury evaluation work has been completed? Every draft room is a little different. I worked with six different general managers during my time in the league and each had his own style. For the majority of my NFL career, I had a seat in the San Diego draft room next to the head athletic trainer (ATC). However, around the rest of the league, not all team physicians are present in the draft room. Some are just available by telephone.
I felt fortunate siting in the draft room to have this special insider role. At times I felt guilty about my presence, since there were some years that no additional medical questions were asked of me. Typically, there might be a confirmatory question or two for the medical staff during the draft. The medical evaluation work is completed weeks earlier.
Access to the draft room is significantly limited and very library quiet. The only coach in the room was the head coach.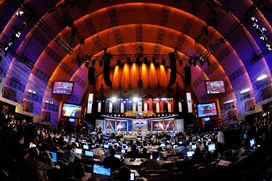 After months of talk, draft week has finally arrived.
In many ways, it was the ultimate fan experience. In Michael Vick's draft year, I witnessed the Chargers trading the first pick to Atlanta. That year, San Diego drafted a running back out of TCU named LaDainian Tomlinson in the fifth spot (via the Atlanta trade) and still got a quarterback in Drew Brees with the first selection of the second round.
Ten years ago I had a front row seat to watch the Chargers select Eli Manning with the first pick of the draft. I saw first-hand my general manager's joy when the Giants selected Philip Rivers at pick four. He knew at that moment he had the trade he wanted.
In 2006, medical played a significant role on draft day. The Chargers were targeting left tackle Marcus McNeill in the first round. When Antonio Cromartie fell out of the top-ten due to his medical grade, the questions began to come to me and our head ATC. As our pick at No. 19 drew closer, the team wanted further confirmation that we felt Cromartie was going to be medically ok after his ACL surgery since other teams were passing. After providing a positive medical report, Cromartie was selected with San Diego's first round pick and became an All-Pro in 2007.
However, the Chargers still needed a left tackle and coveted projected first-rounder McNeill. Since we didn't think he would last until our second round selection, there were attempts to trade up to get him, but a deal was never reached. As other teams continued to pass on McNeill due to his back issues, the head ATC and I were asked if we were sure his back would hold up medically. After our medical assurances, the team happily saw our original first round target fall to us in round two. The draft room was ecstatic when we got a future Pro Bowl left tackle in the second round.
So much so, in fact, that our general manager walked over to me and our head ATC after picking these two players with significant injury histories and half-jokingly said, "Well men, it's all on you now."
To which I replied, "I understand if either of these two picks don't work out that I'm fired. But if they both do work out, do I get a raise?"
The GM responded with a chuckle and walked away.
MMMD 1: Philadelphia draft room seating chart
Eagles beat writer Jeff McLane of the Philadelphia Inquirer recently tweeted a picture of the Philadelphia draft room seating chart. Nine people had a seat at the tables, including the head athletic trainer.
Not all teams have their head team doctor in the draft room like San Diego did, but all of them will at least have the head athletic trainer present. Many head team physicians are either on call or elsewhere in the building as they have already done their evaluation jobs. The head ATC will have all of the medical evaluations recorded.
MMMD 2: A record 30 players to attend NFL Draft
The list of draft attendees released by the NFL includes those with reported health issues.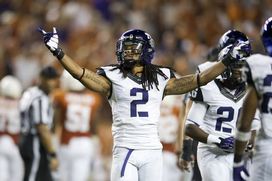 TCU cornerback Jason Verrett is scheduled to attend the draft this week.
The medical grades of five of these 30 prospects may influence their draft positions. Safety Ha Ha Clinton-Dix, offensive tackle Cyrus Kouandjio, wide receiver Cody Latimer, linebacker C.J. Mosely and cornerback Jason Verrett have all been reported to have injuries that could affect their NFL careers.
With 30 players in attendance and some with medical issues, there are certain to be prospects left in the green room when the first round is over.
MMMD 3: Draft day top medical issues
Alabama offensive tackle Cyrus Kouandjio will attend the draft in person and has one of the top medical issues. The projected first rounder had reports of failing medical grades. His personal doctor, a Redskins orthopedist, subsequently wrote letters in support of his knee health.
It will be interesting to see how this plays out, as Kouandjio is attending the NFL draft in person. Despite his green room invite, he is likely to fall out of the first round. Maybe the Redskins will take a chance on him.
A full rundown of the top draft medical issues is forthcoming here at National Football Post.
MMMD 4: Another Giants quarterback has surgery
Eli Manning underwent an ankle scope recently and now Curtis Painter has had surgery on his knee. Painter's arthroscopic surgery should have him out for a good part of the off-season program but back well before training camp.
The Giants drafted quarterback Ryan Nassib last year and then recently added Josh Freeman and now Rusty Smith. Both Manning and Painter are expected to be healthy before training camp. In the end, only three of these five quarterbacks will be on the 53-man roster.
MMMD 5: Injuries affect tenders of 2011 first round draftees
Fox Sports' Alex Marvez recently broke down the 11 first round draft picks of the 2011 class whose fifth-year options were declined. Non-tendering for the fifth season is seen as a sign of first round failure.
Almost half of the 11 non-tendered first-rounders had injury play a role. Five of these players (Jake Locker, Adrian Clayborn, James Carpenter, Gabe Carimi and Derek Sherrod) had significant injury issues.
The point here is that draft failures are not always due to poor scouting. Medical issues contribute significantly.
MMMD 6: Quarterback guru blames ACL injury for RG3 throwing inaccuracies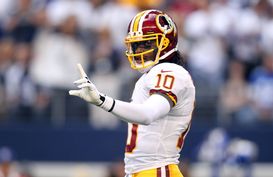 RG3 will come back better and strong in 2014.
Robert Griffin III has worked with a quarterback coach this offseason who says that, "Not transferring over that front foot and using his lower body as well as he should be…" was the cause of a lot of RG3's throws going high last season. The quarterback coach says that focusing on fundamentals during a six-day workout session should help correct the problem.
While that may be the case, the ACL reconstructed knee continues to improve and get stronger over the first 18 months. It is well known in the orthopedic world that the second season back after ACL surgery is often better than the first. This likely will also be the case for Griffin.
MMMD 7: Everyone says they're ahead of schedule
Rams head coach Jeff Fisher recently stated, "You're not going to hear a head coach say he has a player on his team that's not ahead of schedule coming off an ACL." Fisher then went on to claim that quarterback Sam Bradford is "realistically way ahead of schedule."
Like every personal trainer who says his guy works harder than anyone else as well as letters from personal physicians always delivered in a supportive tone, Fisher is right about coaches' optimistic recovery assessments.
In Bradford's case, the quarterback is over six months into his ACL recovery and it will be over ten months by the first game. Other quarterbacks have had even faster recovery from ACL surgery. I'm not sure Bradford is way ahead of schedule, but as long as he makes it back for the regular season as expected, everyone will forget about his recovery pace soon enough.
MMMD extra: ACL surgery series – Week 16
There is always talk after ACL surgery of whether an athlete is ahead or behind on his recovery timetable.
Patriots tight end Rob Gronkowski and Broncos linebacker Von Miller underwent surgery on the same day almost four months ago. It is unfair to compare which player is ahead, as no two ACL injuries are the same. It is all about the associated cartilage and ligament damage.
It makes good reading to hear whether a player is ahead of schedule or not, just like it's certainly fun to see who is winning in the first quarter. However, in the end, the final result is the only thing that matters.
Although I give landmarks in this ACL series, I try not to have my patients obsess over if they are ahead or behind schedule. The key is to have an end goal and to continue to make daily and weekly progress. If one avoids setbacks and has regular progress, the return to play goals will be met.
My key is to not compare against other patients or benchmarks. The real key is to compare against your own knee one week to the next and continue to make progress.
Follow David on Twitter: @profootballdoc
Dr. David Chao is a former NFL head team physician with 17 years of sideline, locker and training room experience. He currently has a successful orthopedic/sports medicine practice in San Diego.