September 15, 2014 -
Dr. David Chao
Monday Morning MD
Before we get to RG3 and the weekly injury rundown, let's decipher the new NFL drug testing deal and discuss what it really means.
When a deal is not a deal: News was trumpeted on Friday that team union representatives had unanimously approved a new deal. NFLPA president Eric Winston proclaimed, "This is a historic moment for our Players and our League." Meanwhile, NFL spokesman Greg Aiello responded with, "We have not yet reached an agreement with the union" and, "There continues to be significant unresolved issues."
Drug testing becomes politics: The process began as implementation of the mutually agreed upon human growth hormone (HGH) testing. It has morphed into a mini collective bargaining agreement (CBA) negotiation that rewrites many of the previously agreed upon drug testing issues. Both sides have bartered to include their own pet desires much like how a simple congressional bill is loaded with unrelated riders.
Three years later, the rush is on: HGH testing was agreed upon over three years ago, but now there finally seems to be a sense of urgency. What has been put off for years now seems just days away.
Marijuana levels not raised like everyone thinks: The new testing proposal only slightly raises the positive marijuana level. The current trigger is at 15ng/ml. When the Olympics raised their marijuana positive level, they adopted 150ng/ml. This agreement only raises it to 35ng/ml, still over four times lower than international testing standards.
Adderall has not been legalized in the offseason: A positive test for amphetamines during the offseason will still be considered a positive test. It will just be moved to the substances of abuse side of the drug policy, but will remain on the performance enhancement drug (PED) side during the season. This means Wes Welker's positive test would still trigger action. However, a first time substances of abuse positive test does not involve a suspension like for PED use. For example, a first time positive test during the offseason now gets a player enrolled in the drug program. If it were a third time positive test, offseason Adderall use could get a player suspended for an entire season.
To play or not to play: Even on game day morning this past Sunday, there was some confusion on if players like Welker or Cowboys cornerback Orlando Scandrick could suit up and play in Week 2. Both have now served two games of their respective four-game suspensions. Upon final acceptance, both would be eligible to play immediately.
Josh Gordon will remain suspended: The Cleveland wide receiver's much publicized situation is a seminal case that has helped spur the recent action. If the new marijuana policy were in place already, Gordon would not even have triggered a positive test and would be subject to no suspension at all. As it stands, Gordon will remain suspended, but his year-long suspension will be reduced to 10 games.
Many details unclear: Will Welker's positive Adderall test get wiped from his record or is he now subject to year-round substances of abuse testing? This and many other questions are yet to be determined.
In summary, the new drug policy is not what it seems to be. When the CBA drug policy is finally modified, there is sure to be new interpretations that we have yet to consider. The devil is in the details.
MMMD 1: RG3's dislocated ankle and potential return
The biggest injury of the weekend belongs to Redskins quarterback Robert Griffin III. By real time video analysis, RG3 dislocated his ankle. By definition, structural integrity of his ankle joint is violated with either a displaced fracture or complete ligament tear.
At the moment, there is no definite answer to when RG3 will return.
Although a dislocation without fracture is rare, I doubt RG3 broke his ankle with the dislocation or we would have already heard about surgery, as it is often best to reduce and stabilize the ankle immediately. If he doesn't have a loss of bone integrity, Griffin most certainly has ligamentous disruption. With his mechanism of injury, he likely has complete deltoid ligament tear/avulsion.
Assuming a dislocation without fracture, there is typically no surgery needed, but still a minimum of six to eight weeks for recovery. We all know a bad ankle sprain can take four weeks for full recovery. Think of this injury as a severe ankle sprain with complete disruption of ligaments. Barring articular cartilage damage, the injury should not be career threatening and Griffin should recover fully.
Pro Football Talk reported that Washington hopes RG3 only misses four or five weeks. Based on my analysis, this would be extremely optimistic unless he didn't suffer a true ankle dislocation, but a variant called a subtalar dislocation.
In any case, Washington faces an interesting dilemma as they have already used their injured reserve designated for return (IR/dfr) slot on NT Barry Cofield. Do they carry RG3 on the 53-man roster or do they put him on IR and end his season?
MMMD 2: RG3 as tough as they come
I would not use the words "injury prone" to describe Robert Griffin III. I would say that he is the ultimate tough guy and team player.
Major joint dislocations are extremely painful. I wouldn't begrudge a player if he were to collapse immediately and drop the ball. I have seen this happen. Instead RG3 heroically finishes the play and not only retains possession, but gets his team a first down.
When a player suffers a significant or painful injury, his reaction cannot be anticipated. RG3 dislocated his ankle and continued to play football. He took an additional step, threw for a 19-yard completion, and then hoped on his one good leg out of bounds without ever putting weight back on the injured left side again before falling.
I am not sure how many other players in the league would do the same thing for his team when suffering such a painful injury.
MMMD 3: Knowshon Moreno dislocates elbow
The Miami running back suffered a classic elbow subluxation/dislocation mechanism when he posted his hand on the ground and his elbow was forced into hyperextension. No matter that the elbow was reduced immediately, the damage is already done. An MRI will show ligament, capsule and muscle damage with significant swelling.
Fortunately, this injury does not require surgery, but Moreno will miss a minimum of two to four weeks. A likely return is with a brace after the Week 5 bye to play the Packers.
This is a similar injury to the one Bengals tight end Tyler Eifert suffered last week. Eifert's injury was worse as it remained dislocated and required a reduction by medical personnel. He was placed on IR/dfr. Jets wide receiver Jeremy Kerley returned four weeks after his elbow dislocation last year.
MMMD 4: Trio of top receivers injured
A.J. Green, De z Bryant and DeSean Jackson were all injured Sunday.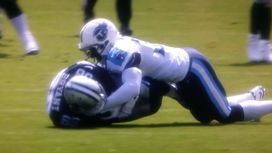 Despite injuring his AC joint, Bryant returned to finish the game.
Green left with a foot injury originally identified as a turf toe and later thought to be a ligament injury. I did not see the actual injury mechanism. He is now reported to see a foot specialist and his status is not known.
By video analysis, the other two suffered AC joint separations. Bryant jogged to the locker room with the head team physician and quickly returned to finish the game. Jackson left the game and did not return.
Let the injury report watch begin for fantasy players and fans.
MMMD 5: Eddie Lacy back to his old helmet
The Packers running back returned to play and returned to using his old helmet for Sunday's game against the Jets. Lacy suffered a concussion in Week 1 at Seattle but cleared the protocol to play this past Sunday.
Lacy wore a helmet that was supposed to help prevent concussions when he got his Week 1 head injury. He is now back to using his original helmet.
It goes to show that try as we might, nothing can fully prevent concussions. That includes rules changes and special helmets.
MMMD 6: Trio goes on IR for pectoral tendon tear
Last week we talked about the Achilles tendon tear as a common season-ending lower extremity injury that requires surgery. A pectoral tendon tear is the main season-ending upper extremity injury that requires surgery.
After Week 1, three players were placed on IR for pectoral injuries: Tampa Bay CB Mike Jenkins, Tennessee LB Zack Brown and Philadelphia LB Naaje Goode.
As a point of clarification, this injury is often referred to in the media as a pectoral muscle tear, but it is the pectoral tendon injury that ends a season and requires surgery. True pectoral muscle injuries are treated conservatively and do not call for IR.
MMMD 7: The heat plays a role in defeating Super Bowl champions
The on-field temperatures in the sun reached 120 degrees as San Diego hosted Seattle Sunday afternoon. Both teams played in the same conditions, but it seemed to affect the Seahawks a bit more.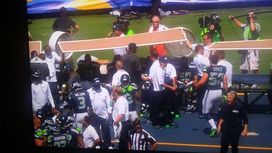 Safety Earl Thomas left the game in the third quarter on a cart with likely heat induced cramps. IV fluids are legal and I am sure both teams used them and other methods pregame and at halftime to prevent dehydration/cramping.
The Chargers were prepared for the heat and even had a "white out" promotion where both fans and the players wore white to stay cool. The Seahawks wore light bottoms, but as the visiting team, Seattle was required to wear dark tops.
The Seahawks also did something I have not seen before in my two decades on the sideline of NFL games. They used human held shade panels on the sideline, as fixed structures are illegal.
MMMD extra: ACL surgery series – Week 35
This marks the final weekly installment discussing ACL injuries. We have followed Patriots tight end Rob Gronkowski and Broncos linebacker Von Miller from the start of their same-day ACL surgery about nine months ago.
As we have discussed, full ACL recovery continues into year two, but the feature will end now as both Gronk and Miller are playing and contributing. Last week, Gronk caught a touchdown pass and this week, Miller notched his first sack.
We have covered a lot of ground related to mechanism of injury, associated damage, graft choices, rehab, recovery and pearls from my experience as a sports medicine orthopedist and ACL surgeon. I hope you have enjoyed it.
Follow David on Twitter: @profootballdoc