March 17, 2014 -
Dr. David Chao
Monday Morning MD
In December of 2013, it was revealed that the Cleveland Browns would be changing their team physicians and entering a new medical sponsorship agreement. University Hospitals became the official health care partner thanks to a deal worth a reported total of $30 million.
"Our goal is to provide the Browns with the most innovative, comprehensive health care program in the NFL and to support them all the way to a championship," University Hospitals CEO Thomas F. Zenty III stated in a press release.
Several months later, the Cleveland medical staff is still not settled. Lead physicians have not been named and/or approved. What type of message does this send to the players and the fans in Cleveland?
The news at the NFL Scouting Combine was that the Browns did not have their complete physician staff in place. Doctors for the Browns did come to Indianapolis for the Combine, but they were not admitted to all Combine-related functions.
Medical has been referred to as the most important component of the Combine. In my 19 years attending and working at the Combine, I never encountered a situation where a club did not have lead team physicians in place. This doesn't necessarily mean the Browns didn't gather the appropriate medical information. Cleveland is grouped with other teams that possess experienced team doctors and it is common for physicians to share data.
The Browns are also known to have a quality athletic training staff led by Joe Sheehan. Often, experienced athletic trainers like Sheehan will arrange to compare notes with another team's medical staff after the Combine as well.
Official Browns doctors have yet to be named or admitted to the NFL Physicians Society (NFLPS). The NFLPS website today still lists the previous team physicians from the Cleveland Clinic. The Browns website does not show any team physicians in the training and medical section where most franchises typically list them.
Player health is a priority and prospective team physicians are vetted by both the league and individual clubs. Several years ago, new requirements for the lead orthopedic and lead primary care physicians were added. In addition to being board certified in their specialty, a certificate of added qualification (CAQ) in sports medicine was required.
The CAQ is obtained by performing a one-year accredited sports medicine fellowship after an approved residency and/or passing written tests. In orthopedics, the CAQ came into existence over the last decade and involves a minimum of six years of training after obtaining the medical doctor degree.
The Browns previously had a 40-year relationship with the Cleveland Clinic. The well-respected Dr. John Bergfeld held the team physician job from 1976 to 2003. In 2011, an investigation into the treatment of quarterback Colt McCoy's concussion found no misconduct, but led to the league-wide addition of the "eye in the sky" independent press box spotter and sideline access of injury video.
Prior to the current UH medical sponsorship, a smaller sponsorship relationship did exist with the Cleveland Clinic along with a separate physician agreement. The NFL prohibits medical sponsorship and medical service from being linked.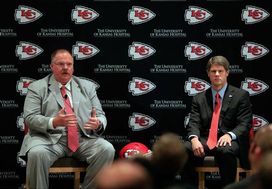 "The University of Kansas Hospital" is listed prominently next to the Chiefs' logo.
Cleveland is not alone in having medical sponsorship and a parallel medical service contract. Medical deals are prevalent throughout the league. Just look at the background logos at the interview podiums (see right).
Current Cleveland owner Jimmy Haslam paid over a billion dollars to acquire the Browns and undoubtedly wants to monetize all opportunities.
This may be another reason why medical second opinions continue to flourish. New doctors may be top notch, but players will naturally have suspicion that the job was purchased. NFL agents are already told by the NFLPA to demand second opinions and that trend will likely continue to increase.
The Browns have been accused of mishandling their recent head coaching situation. Is it a smart football decision to accept a medical sponsorship deal without having doctors in place to take care of the players? Who is currently providing draft and free agent medical advice? Ultimately, a top Browns medical staff may be assembled and approved, but for now, all that is finalized is the reported $30 million medical sponsorship.
MMMD 1: Raiders could have anticipated Saffold shoulder issue
The big medical story of the 2014 free agency period was the Rodger Saffold saga. After failing a physical in Oakland, Saffold's five-year, $42.5 million contract was voided. He returned to sign a contract for less money in St. Louis.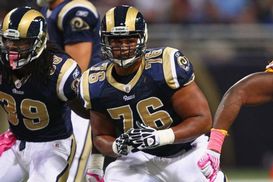 Saffold ended up back in St. Louis after failing his physical with the Raiders.
What happened in Oakland has been detailed, but the big question remains whether or not this could have been prevented.
In my time as a head team physician, general managers would ask me for previews on medical health if they were thinking of signing a player. Saffold could not have direct contact with teams until the new league year commenced, but there are still ways to obtain information on player health. Teams often try to acquire this advanced knowledge through other sources.
In this case, a simple internet search would have revealed that Saffold dislocated his shoulder this past preseason. Even though he returned to play the entire regular season, suspicion of a labral tear should have been high. In my experience, a dislocated shoulder almost always results in a labral tear.
Some early reconnaissance might have alerted the Raiders and may have prevented the embarrassing situation in Oakland.
MMMD 2: Good thing AEDs are mandatory
An automated external defibrillator (AED) helped save the life of NHL player Rich Peverley last week. The 31-year-old center collapsed on the Dallas Stars bench during a home game against Columbus and required emergency resuscitation. Peverley has a cardiac history and was pending a further procedure at season's end for likely cardiac arrhythmia (irregular electrical heart activity).
AEDs can convert irregular heart activity into regular heartbeats and were required at all NFL team practices and games I attended. We even travelled with the device on the team plane (as much for the coaches as the players).
In the NFL, several team physicians always travel wit h the organization. However, during the NHL regular season, physicians do not travel, as the home NHL team physician cares for both sides. Peverley was fortunate this incident happened in Dallas where his team physicians—who were aware of his cardiac history—were nearby to assist him.
The Peverley and Gary Kubiak incidents demonstrate that medical staffs are well prepared for any medical issue. Some say that other than the hospital, the sideline of a professional sporting event is the best place to collapse.
MMMD 3: Playing hurt and getting penalized
Minnesota Vikings linebacker Chad Greenway played a majority of the 2013 season with a wrist that was reportedly broken in two places. His play was subpar, as some of the drop-off in production may have been related to the wrist fracture.
Greenway just agreed to a $1 million pay cut to stay with the Vikings. Fans often criticize players for not playing through injury. Here is a case where a player has played hurt and seems to have been penalized for doing so. In my experience, this may not be good for locker room morale. Will the next Vikings player play through an injury after seeing what's happened to Greenway?
MMMD 4: What does Darrelle Revis' one-year contract mean?
Coming off ACL surgery the previous season, some might think this one-year deal signals questions on behalf of the New England front office regarding the health of Revis' knee. To the contrary, I think the deal indicates Revis' confidence in his knee.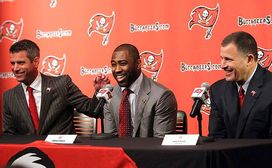 After a one-year stint in Tampa, Revis should return to elite form this season with the Patriots.
The second year after ACL surgery is usually the year when an athlete finally feels 100 percent. Many athletes have made good first year recovery to play, but they usually have room for improvement during the second season. I tell my patients that despite an early return to sports, they won' forget about their injured knee until 18 months after surgery.
This is especially true for a cornerback who is a reaction athlete. At the snap of the ball, Revis doesn't know where he is going, as his job is to read and react to the offense.
My understanding is that Revis and his agent have confidence in his knee, which is the reason they may have wanted a one-year deal. Expect the Pro Bowl cornerback to regain his old form this season and cash in with another big deal next offseason, unless the Patriots decide to exercise Revis' $20 million option for 2015.
MMMD 5: Cyrus Kouandjio elects not to work out at Pro Day
Prior to the NFL Scouting Combine, the Alabama left tackle was projected as a first round pick. But reports of knee issues and a poor Combine performance may have led to a downgrade.
His personal physicians wrote letters of support and Kouandjio vowed to better his Combine performance at his Pro Day. However, when the time came, Kouandjio chose not to run or perform a full workout. Instead, he plans to perform at a subsequent April 8 workout.
Although Kouandjio played well all of last season, the reports of a failed physical, poor Combine workout and lack of a full Pro Day workout fuels speculation about his knee health. Hopefully, his knee is ok and he goes on to a productive NFL career. But doubts have crept in.
MMMD 6: Expect Finley clearance to come this offseason
Tight end Jermichael Finley is four months removed from his cervical fusion surgery performed to allow him to return to football. Remember, he would not have needed surgery if his desire was to retire. The fusion protects further injury to the spinal cord, which has recovered from the original trauma.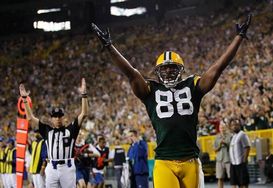 Free agent tight end Jermichael Finley should be cleared any day now.
Finley visited Seattle last week, but remains unsigned. Likely, he has not yet received full clearance, but I expect it will come eventually. It is very rare in cervical spine fusion surgery to not have the bones heal together. I had a similar surgery myself with a plate and cadaver bone that fused uneventfully. If Finley had a plate and his own bone (from hip graft), the chances of healing are even higher.
I have not examined him, but barring something unusual, I still expect Finley to sign this offseason and play next year.
MMMD 7: Will Cortland Finnegan rebound from his season-ending injury?
Finnegan recently penned his own two-year deal with the Miami Dolphins sans agent. A former Pro Bowl player whose production has dropped, Finnegan's 2013 campaign ended last season with a trip to the injured reserve list due to an eye injury.
Orbital fractures are rare in the NFL due to the protection from helmets and facemasks. However, these injuries can affect eye movement. Coordinated binocular vision gives us depth perception. A cornerback with one eye not only loses peripheral vision, but loses the ability to judge the flight of a ball.
There is no indication of vision issues for Finnegan. His orbital fracture should be well healed by now and his production should not be affected by his season-ending eye socket injury. However, Finnegan's age (30) and chronic hamstring ailments would be the more likely culprits if his production doesn't rebound.
MMMD extra: ACL surgery series - Week 9
Last week we talked about the start of the "dog days" of ACL recovery. The early advances in recovery slow down, the newness of rehab has worn off and the player is not yet doing significant on-field work.
As Patriots tight end Rob Gronkowski and Broncos linebacker Von Miller continue to recover from their respective ACL surgeries during this slow period, we will tackle some related topics.
Very rarely can a torn ACL be repaired. When torn, it is shredded to the point that it can't heal by being sewn together. Typically, ACLs are reconstructed. A graft is used to substitute for the original ACL and acts as a scaffold for new tissue to grow into.
Based on my information in the medical community, both Gronkowski and Miller likely had the central third of their patella tendon used for the ACL graft. The majority of NFL team physicians use this as their primary choice. The feeling it that this graft leads to the highest success rate, but may be more sore over the first few weeks due to the bone plug harvest.
In future installments of this series, we will discuss the other graft options.
Follow David on Twitter: @profootballdoc
Dr. David Chao is a former NFL head team physician with 17 years of sideline, locker and training room experience. He currently has a successful orthopedic/sports medicine practice in San Diego.