June 30, 2014 -
Dr. David Chao
Monday Morning MD
The Oakland Raiders are the only team in the National Football League that plays some of their home games on a baseball dirt infield, which owner Mark Davis has called a "travesty." Major League Baseball and the A's recently announced a new 10-year deal to continue playing in the current stadium shared with the Raiders.
In this NFL era of health and safety, Davis may be correct in his terminology, as there are numerous medical issues when playing in the 50-year-old stadium. I have worked and provided medical coverage at all current NFL stadiums and Oakland is by far the worst facility. Imagine trying to move an injured player up three flights of stairs to the league-mandated in-stadium x-ray facility and then having to move him back down two flights of stairs to get to the "baby's bedroom" sized training room for treatment.
The playing field with grass-dirt transitions creates definite safety concerns. Whenever surfaces change, there are inevitable seams that can cause injury. Players wear cleats meant for grass that result in poor footing on the dirt. I have treated hamstring and groin injuries as a result of the surface conditions in Oakland.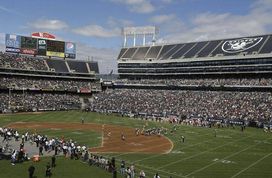 There is no question that the dirt provides less cushioning than grass. Concussions often happen when the helmet hits the ground and this was how running back Jamaal Charles was knocked out of the Chiefs' only playoff game last season during the first quarter. Some have implicated artificial turf to be worse for concussions versus softer natural grass fields. If that is true, certainly the dirt infield provides an even greater concussion danger.
When football is played on baseball dirt, there is a definite increased incidence of skin abrasions. Every early season contest in Oakland led to the post-game training room becoming a mini "road rash" clinic. Skin breakdown can lead to increased incidence for super-infections like MRSA, which are resistant to tradition antibiotics.
I am not a groundskeeper, but to me, baseball grass is thinner and finer than football grass. San Diego's professional teams shared a playing field until 2004 and the old grass was frail and easily torn up by football cleats. After the Padres moved into their own stadium, I noticed a definite difference as the subsequent football-only grass surface was noticeably more durable and forgiving.
California had the three oldest and worst stadiums in the NFL. San Francisco will graduate from that dubious rank this upcoming season with the new Levi's Stadium. San Diego and Oakland remain, neither with a stadium deal in sight.
For the foreseeable future, the Raiders will continue to be the only shared football/baseball stadium in the NFL. With the announcement of a 10-year baseball lease and the safety concerns outlined here, there is pressing need for a solution. The issue isn't just about being fan friendly with amenities and improved sightlines, but one of player injuries in this NFL health and safety era.
MMMD 1: $675 million concussion settlement cap lifted
The NFL agreed to remove the total monetary limit on payouts to retired players for concussion damages. The settlement judge was concerned whether there would be enough money for future claimants and this solves that potential problem.
The original payout formula based on age and illness will remain. Attorneys from both sides believe that no more than the initial $675 million will be paid, however, the settlement is designed to last for 65 years to accommodate former players that develop future concussion related diseases. This change insures that settlement money won't run out over time.
MMMD 2: The potentially bigger concussion settlement issue
The revised settlement proposal not only lifts the cap, it also lifts the ban on suing the NCAA or other amateur football leagues. Previously, anyone receiving concussion settlement monies from the NFL would be barred from going back and litigating against his college or high school.
The original settlement proposal was aimed at ending all future litigation. Now the door is open for injured players to potentially seek damages from their pre-NFL years.
It doesn't look like any of the concussion issues will end anytime soon.
MMMD 3: Writing letter to tell your family you love them, in case you forget
Former NFL tight end Ben Utecht is worried about forgetting that he loves his wife and three young daughters, so he wrote them a letter to memorialize it. His six-year football career ended after a fifth concussion.
The former tight end envisions becoming a full-time advocate on concussion issues. He already is a national spokesperson for the American Academy of Neurology.
Utecht also has begun a music career and this letter is being turned into a song entitled, "You Will Always Be My Girls."
MMMD 4: Jadeveon Clowney says he played with sports hernia in college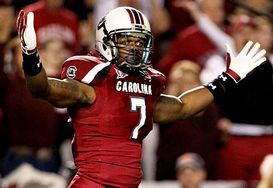 Clowney recently claimed he played his 2013 collegiate season with a sports hernia.
When this year's first pick in the draft had sports hernia surgery, the Texans indicated it was a new injury. Clowney agreed and stated that the injury happened after the Combine.
Now, the standout pass rusher has indicated that he played the 2013 season with a sports hernia injury. Some question why the Texans wouldn't have found that at the Combine medical exams. As explained two weeks ago, often there are minimal exam findings and an MRI typically doesn't show this specific injury.
My information indicates that even if Clowney did have a sports hernia injury last year, it certainly wasn't severe enough to require surgery. In addition, his Combine evaluation showed a rectus strain and not a sports hernia. Most likely, Clowney's transition to outside linebacker is what caused the new symptoms and the need for surgery.
MMMD 5: Expect Mike Pouncey to end up on the PUP list
The Miami Dolphins Pro Bowl center recently underwent hip labrum surgery. The opening estimate for return was "at least three months."
If indeed Pouncey had a labral repair or reconstruction (and not simple debridement), the words "at least" will come into play. He would likely end up on the Physically Unable to Perform (PUP) list which would necessitate missing at least the first six games of the regular season.
As the lone returning starter and "quarterback" of the offensive line, this may significantly affect Miami's start to the season.
MMMD 6: Knowshon Moreno has knee scope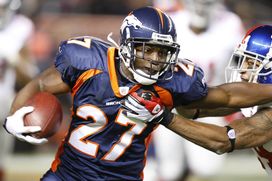 Former Denver running back Knowshon Moreno should be ready to go for Miami's training camp.
We discussed the likelihood of Moreno having "now or never" surgery on his knee last week. The former Denver Bronco has now had the knee scope and should return in time for the majority of training camp.
This surgery should not worry Dolphins fans for this season, but may be a worry for Moreno's career longevity.
MMMD 7: What is that magic spray used on World Cup players?
Cold spray or the magic sponge has been used in the sport of soccer for decades. Skin refrigerants cool the surface of the skin and can provide momentary distraction or temporary relief. Cold water or a sponge soaked in ice water is also used.
Through my years of international travel as a team physician for the USA Rugby team, I am very familiar with this use in international circles. There is no magic here. These techniques don't cure or fix anything. That is why cold spray is not used in the macho NFL world.
There are other reasons unrelated to the magic spray or sponge that make soccer players hop up miraculously after injury.
MMMD extra: ACL surgery series – Week 24
Patriots tight end Rob Gronkowski and Broncos linebacker Von Miller are approaching the six-month mark in their recovery from ACL surgery. At this point, they should be full-go on functional rehab.
I attended an orthopedic conference last week and the topic of ACL graft choices came up. One speaker advocated for the use of non-irradiated cadaver grafts, but even he admitted he would use a patient's own tissue (autograft) if it were a high level athlete. It is well known that cadaver grafts have a significantly higher failure rate than using autograft.
The reason for this higher failure rate is not true rejection, but that of graft non-incorporation. The re-rupture typically happens at the 6-12 month range.
The worst thing that can happen to any athlete is to re-tear their ACL for a second time. Missing two consecutive seasons more times than not ends a high school, college or NFL career. This is why I highly discourage my patients from using cadaver tissue in ACL reconstruction.
Follow David on Twitter: @profootballdoc
Dr. David Chao is a former NFL head team physician with 17 years of sideline, locker and training room experience. He currently has a successful orthopedic/sports medicine practice in San Diego.