March 10, 2014 -
Dr. David Chao
Monday Morning MD
It has recently become popular to have a personal or treating doctor write a letter to teams clarifying how healthy they think a player is. After reports of failing Combine physicals, Alabama team doctors wrote letters and gave interviews on behalf of prospective first round draft pick Cyrus Kouandjio. In addition, following the recent subpar season of free agent wide receiver Hakeem Nicks, it was made public that letters of support were written by his knee and ankle surgeons.
These letters mean very little to teams and team physicians. Despite the efforts of the player's agents to change public opinion and get teams to improve medical grades, little is likely to change.
First, with federal privacy (HIPAA) laws, the only way a treating physician can release information is through patient consent. No player (or agent) will allow the release of negative information. Therefore, these letters are by nature biased and universally positive.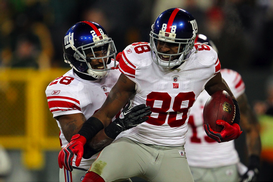 Prospective buyers will want to get their own look at free agent wide receiver Hakeem Nicks.
Second, the agents refer their star players to these physicians. These are good surgeons, but they are somewhat beholden to the referring agents. I am not saying that these doctors will write dishonest letters of support, but they are certainly likely to take the "glass half full" approach.
Third, team physicians and medical staffs will always trust their own judgment when it comes to draft evaluations and free agents. This is why the Combine medical exam is so important, as every team doctor gets to examine every draftee. Also, all free agents will still need to pass the signing team's physical.
Finally, in my experience, when teams receive these letters, they are simply given to the team medical staff, as general managers don't pay them much attention. Most team physicians are highly experienced sports doctors. They are trusted by the team for a reason and are not likely to be influenced by outside sources. I doubt any general managers change their draft board based on the mock drafts produced by Mel Kiper or Todd McShay. It would be the same thing to expect team doctors to change their opinions based on a personal doctor.
A Washington Redskins orthopedist happened to write letters of support saying both Kouandjio and Nicks are healthy. It will be interesting to see if the Redskins draft Kouandjio or sign Nicks.
MMMD 1: Is Alabama's Cyrus Kouandjio healthy or not?
The NFL Network's Ian Rapoport reported on Kouandjio "that several teams have failed him on his physical. Arthritic knee from failed surgery."
Two Alabama team doctors have written letters and made statements that support Kouandjio's knee health and the care he received while in college. One team doctor even stated, "There is no way in the world someone could say Cyrus failed the physical."
Well, there is a way. Within my NFL medical circle, there appears to be a few teams that have failed Kouandjio. Some clubs are worried about his ligament stability as well as the arthritis. I have not examined him and do not know all the medical details. I make no criticisms of the care he received in college. All I know is that Rapoport's report seems to be correct.
This isn't to say that Kouandjio can't play football. He clearly played well in college. But some teams will undoubtedly pass him on the physical with the appropriate downgrade.
However, as a projected first day pick, Kouandjio could be waiting a bit longer to hear his name called.
MMMD 2: "Thirty" has become a four-letter word
As free agency arrives, age discrimination has become a part of the NFL landscape. In the National Football Post's ranking of the top 50 free agents, no player in his 30s ranks among the top-10 and only 12 percent of those ranked in the top 50 are over 30-years-old, with an average age of 27.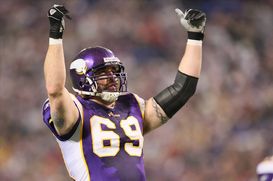 Defensive end Jared Allen is one of several free agents on the wrong side of 30.
It used to be that after their rookie deals, players could land two more contracts during their professional careers. For all practical purposes, it is most times just one main deal now.
Nowadays, players like Pittsburgh safety Troy Polamalu are the exception. However, even Polamalu's new three-year deal was just a way to get cap relief and allow him to retire as a member of the Pittsburgh Steelers.
The health/aging of players hasn't changed drastically over the last few years, as evidenced by a rundown of this year's top-10 injury issues. The perception of age and the new Collective Bargaining Agreement are what have changed the NFL free agent landscape.
MMMD 3: Deepest draft in 30 years and why college players declare early
Pittsburgh Steelers GM Kevin Colbert called this draft class the most talent-rich he's seen in 30 years. Is there a reason or is this just by chance?
When one considers that there are 224 draft picks (plus compensatory picks), a record 102 juniors declaring early has a big effect. Most juniors only declare when they receive advice that they will be drafted. Over a third of the draft picks may be underclassmen this year. This is the main reason why this draft is so deep.
So why are juniors declaring early? One reason is that with the new CBA, players want to get through their rookie contracts (where the earning power is restricted) a year earlier. The other may be to avoid possible injury while not being paid to play football.
Cardinals running back Rashard Mendenhall just retired after six years in the NFL, citing that he "No longer wanted to put his body at risk." If a player making millions doesn't want to put his body at risk, why should we expect college players to do the same for free when they can earn real money to do it?
MMMD 4: Jason Verrett to have shoulder surgery
The TCU cornerback performed well at his pro day, running a 4.37 40-yard dash. Verrett is a projected first round pick, but the question now is will he stay there with his pending shoulder labral surgery? Even with the self-reported poste rior labral tear, Verrett finished his season and was able to do 19 reps of 225 pounds on the bench press during his pro day.
Labral repairs are performed arthroscopically and take a minimum of 3-4 months to heal. Verrett will miss offseason workouts, but should be ready for training camp. In addition, posterior labral tears are not a particular area of concern for cornerbacks.
Assuming there are no medical surprises at recheck Combines in early April, I believe Verrett will maintain his first round status despite his shoulder surgery.
MMMD 5: Jimmie Ward runs well before undergoing foot surgery
The Northern Illinois Huskie is the top-rated strong safety in this year's draft class. However, Ward was prevented from working out at the Combines after a stress fracture in his foot was discovered.
Ward ran well at his pro day (4.47 40-yard dash), but is headed for foot surgery. He expects to be cleared in 6-8 weeks before the May 8-10 NFL draft.
That estimate may be a bit optimistic. Ward's medical recheck exam during the first week of April should give teams an early indication of healing. It may affect his draft stock to some degree, but how much depends on the surgery and early healing.
MMMD 6: Proposed NCAA "safety" rule is scrapped
The proposed '10-second rule' pushed by Alabama head coach Nick Saban was rightfully not adopted, as the NCAA tabled the discussion last week.
In the safety era, it is reasonable to look for rule changes to promote safety. This rule change proposal appeared to be cloaked in safety, but had ulterior motives.
I am not aware of a single study that shows a ten second wait would decrease injuries. Programs that play fast, like Oregon, or the teams they play against have not been shown to have sustain more injuries as a result. In addition, this would have been the only safety rule with an exception inside two minutes.
Typically, the ball is not even snapped inside ten seconds, but it is the threat that it could be snapped that befuddles defenses. The bottom line from my perspective is that this rule proposal didn't seem to be safety related and the rules committee appears to have agreed.