June 16, 2014 -
Dr. David Chao
Monday Morning MD
We've all heard of hernias, but what is a sports hernia and how is it different? Now that Jadeveon Clowney, the NFL's number one draft pick, had sports hernia surgery, many are curious.
Traditional hernias in the groin are considered indirect or direct "inguinal hernias" that relate to a weakness in the wall. Sports hernias are a completely different diagnosis and in fact do not involve a true hernia (protrusion of tissue) at all.
There are many alternate names for a sports hernia, including athletic pubalgia, core muscle/plate injury, and pelvic floor injury. Different names reflect the relative newness of the injury syndrome. Diagnosis and treatment continue to evolve and there is not universal consensus among physicians. In fact, the treatments are new enough that some insurance companies still consider surgical intervention experimental.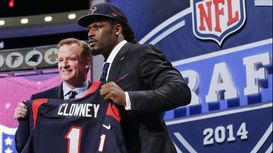 Clowney should be ready to go for the Houston opener.
A sports hernia is defined as an injury to any soft tissue (muscle, tendon or ligament) of the lower abdominal or groin region. This includes dozens of structures and is why all athletic pubalgia injuries are not the same. Injuries to the back, hip, groin and pubic symphysis also need to be considered and excluded.
Athletic pubalgia most commonly occurs in sports that require sudden changes of direction and a twisting motion. It is a common injury in hockey and soccer. Some have even referred to it as a hockey hernia. It is more common in high-level athletes, primarily a diagnosis of men and can be difficult to diagnose.
The Texans announced Clowney's sports hernia surgery on Thursday and projected the rookie to return by training camp. Details of the surgery were not released, but could include any combination of abdominal wall/muscle repair, adductor release and/or purposefully cutting inguinal nerves. Physiologically, structural tissue takes at least six weeks to heal if a true repair is performed. Based on the projected return, neurectomy and the release components (rather than repair) may be the bigger part of Clowney's surgery.
One might wonder if the Texans were not aware of Clowney's injury when they drafted him. That is doubtful, as he was known to have groin issues at the Combine and his Pro Day. I am quite sure the Texans medical staff had a complete evaluation including a MRI (often sports hernias are not seen) and were aware of his health status when they drafted Clowney first overall.
Another factor that might have contributed to the worsening of Clowney's sports hernia symptoms is his position change. Moving from defensive end to outside linebacker requires playing in space, flipping hips, dropping into coverage and more sudden change of directions. This puts Clowney at higher risk for a sports hernia related injury. It is quite likely that the Texans knew this and thus encouraged Clowney to get the simple fix now because with his new position, there is a higher chance to aggravate any athletic pubalgia.
Over the last 10 years, sports hernia treatment has continued to evolve. Like concussions, ACL and high ankle sprains, this previously little-known diagnosis has entered our regular sports vocabulary.
MMMD 1: Pay attention to players coming off surgery in mini-camps
ESPN's Herm Edwards speaking on mandatory mini-camp said one of the big things he looks for is how players look coming off surgery. This is the last chance to publically see players prior to training camp.
A player returning and performing well at mini-camp can end all injury speculation. In 2008, Chargers quarterback Philip Rivers was only three months removed from ACL surgery when he participated and performed well in mini-camp. By the time training camp and the season rolled around, there was hardly ever a mention of his knee, as Rivers went on to produce a career-high quarterback rating that season.
MMMD 2: Evidence of modern ACL advances in treatment this week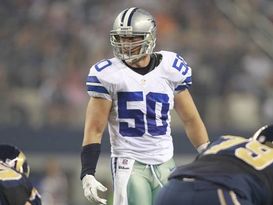 Lee has yet to be placed on injured reserve.
Exhibit A: Cowboys linebacker Sean Lee underwent ACL surgery last Thursday, but was not placed on injured reserve. Echoing what was written here two weeks ago, Pro Football Talk says Lee is not done for the season just yet, citing Melvin Ingram's return last year.
Exhibit B: Steelers center Maurkice Pouncey got a new five-year contract extension that makes him the highest-paid center in the NFL. Pittsburgh has invested this money in a player nine months into his ACL surgery recovery, prior to playing in a game and having one year left on his contract. They must have confidence in his new ACL.
Exhibit C: Colts wide receiver Reggie Wayne is 35-years-old and coming off ACL surgery that was performed eight months ago. Regardless, he is being called a "freak" and is expected to have a big year. Players in their mid 30s aren't supposed to do that, especially not when coming off major knee surgery.
MMMD 3: Texans offensive tackle diagnosed with cancer
David Quessenberry saw the team doctor for fatigue and a cough. Due to vigilant medical care, he was diagnosed with Non-Hodgkin lymphoma (cancer affecting white blood cells that normally help the body fight off infection). He was placed on the non-football injury list as he undergoes what hopefully is lifesaving treatment.
In general, NFL athletes get great medical care and this is a prime example. A 23-year-old being tired and having a simple cough could be easily overlooked.
In this medical-legal era, it is easy to focus on the negatives of team physicians. My guess is that Quessenberry and his family will never do that.
MMMD 4: Jon Beason likely to undergo surgery and miss opener
The Giants middle linebacker suffered an unfortunate, non-contact OTA injury to his right foot. He was defending a pass play, simply changed directions and suffered a ligament tear and a small sesamoid fracture in his big toe.
Beason's injury can be considered a severe form of a turf toe injury. In my experience, ligament tear and fracture in the first metatarsal phalangeal joint typically means surgery. He was sent for a second opinion before a final decision was to be made. If surgery is needed, it carries a minimum three-month recovery and Beason would likely miss the beginning of the season.
Hopefully, Beason will make a quick recovery and salvage the majority of his year.
MMMD 5: Sean Weatherspoon tears Ach illes during rehab, out for season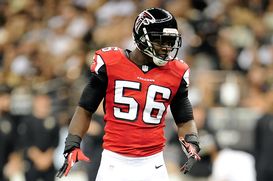 Atlanta's star defender is out for the season.
The non-contact, off-season injuries continue to occur. The Falcons starting linebacker was performing rehab drills for a knee injury and was not even a participant in OTAs. The Achilles tendon rupture means surgery and unfortunately, Weatherspoon will miss the entire 2014 season.
We have talked about how less contact in practice can still produce ACL tears. Achilles tendon rupture is the other common non-contact injury that results in missing a season.
Even though the tear happened under the auspices of the Atlanta medical staff, there is no reason to believe that they were somehow responsible in causing the injury. Achilles tendon ruptures happen as a result of quick acceleration/deceleration movements. It is common to incorporate these high-speed, change-of-direction drills into knee rehabilitation.
MMMD 6: Carl Nicks passes physical but will he be able to play?
Last year, the Buccaneers All-Pro guard had foot surgery complicated by MRSA infection and played in only two games. His infection brought on NFLPA concerns that were never substantiated.
Nicks was said to have passed his physical, but has yet to return to practice and has been limited to the elliptical machine. He plans to deal with the pain and play through it, but his ultimate status is still in question.
Having a toe injury may sound like nothing, but the big toe is responsible for push-off in running, cutting and planting. Loss of motion or continued pain in the first metatarsal phalangeal joint has ended NFL careers. Only time will tell what Nicks' status will ultimately be, but it is not a lock that he will play or be effective.
MMMD 7: Some college athletes to receive compensation
The NCAA has been slow to change and quick to blame others. In what could be a landmark event, the NCAA entered into a $20 million settlement in the first video game lawsuit. This will result in some current players getting paid, but they will retain eligibility.
Although this is clearly an exception to collegiate amateurism, the NCAA stubbornly denies this pay is related to a student's athletic performance. If it is not related, then why did the NCAA issue an eligibility waiver for these athletes?
The NCAA continues to move at a glacial pace. My hope is that they move more quickly on the medical issues raised by college athletes.
MMMD extra: ACL surgery series – Week 22
We continue to discuss the hypothetical ACL recoveries of Patriots tight end Rob Gronkowski and Broncos linebacker Von Miller. Last week we discussed recurrent effusion (swelling) as the number one reason for delay or prevention of return.
In this day of medical advances, 95 percent of players return to play their sport. If a patient is unlucky enough to be the one in 20 that doesn't return, articular cartilage damage is typically the primary reason.
As the ACL tears, the articular cartilage (smooth surface covering the end of bones) is often damaged. Sometimes the damage is severe or irreversible. If this happens, there is likely recurrent effusion and pain.
The best surgery and the best rehab cannot overcome articular cartilage damage. ACL reconstruction surgery cannot turn the clock back on that irreversible cartilage injury.
There are some cartilage repair/regrowth procedures, but they are all considered salvage surgeries. Microfracture, abrasion chondroplasty, autologous chondrocyte implantation (ACI or Carticel), osteochondral autograft transplantation system (OATS) and whole fresh osteochondral allografts are some of these options. However, once an NFL player needs any of these procedures, his full recovery is in doubt. Even if he returns to play, his longevity is in question.
Follow David on Twitter: @profootballdoc
Dr. David Chao is a former NFL head team physician with 17 years of sideline, locker and training room experience. He currently has a successful orthopedic/sports medicine practice in San Diego.