February 02, 2015 -
Dr. David Chao
Monday Morning MD
Patriots wide receiver Julian Edelman was allowed to stay in the game after the "eye in the sky" called down twice to have him checked for head injury. Was the NFL concussion protocol followed or were rules bent for the Super Bowl? From my seat in the auxiliary press box at University of Phoenix stadium, it appeared to me that the concussion protocol was indeed followed.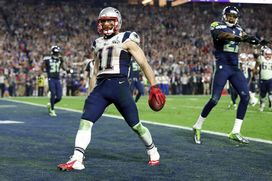 Edelman catches the winning touchdown.
I am not defending the NFL's historical handling of concussions or saying their current policies are perfect. Based on my 17 years as a NFL team physician and what I know about the concussion protocol, I believe the rules that are now in place were followed. One can argue that procedures should be improved, but as they exist today, there was nothing unusual. Of course, someone could theorize that the Unaffiliated Neurological Consultant (UNC) who practices medicine in Arizona, somehow conspired with Patriots medical staff to ignore Edelman's head injury symptoms to let him continue to play because it was the Super Bowl.
I admit that I had a distanced view of the original play live that caused concern in the fourth quarter and my seat location did not give me access to watch the NBC broadcast or see injury replays. My initial alert came via twitter when a media member overheard medical personnel in the press box calling down to alert Patriots medical staff that Edelman needs to be checked for concussion. The Patriots had the ball and there was no interruption in play. A second radio call was made minutes later by the same certified athletic trainer (ATC) since Edelman continued to play.
After the Danny Amendola touchdown, head Patriots ATC Jim Whalen was already waiting for Edelman as he jogged back to the sideline box. I watched through binoculars as two physicians, one from the Patriots and the UNC, spent several minutes speaking to Edelman (presumably checking for concussion). The two then headed straight for the sideline injury monitor where the "eye in the sky" had tagged the play or plays in question which typically includes the player being hit and his on field reaction immediately post collision. After several minutes of video review, they walked back to speak to Edelman again. After that, Edelman returned to the bench with his teammates and returned to fair catch the next punt and play the entire next series including catching what would ultimately be the Super Bowl winning touchdown.
Undoubtedly, this scenario invites several points of potential criticism, but assuming the doctors did not find any symptoms and he answered all screening questions correctly, the protocol was followed, and there is no need to take Edelman to the locker room for the longer 10-15 minute formal concussion evaluation.
The first point of potential criticism is why was Edelman allowed to continue for six plays when the Patriots medical staff was alerted by the "eye in the sky"? The answer is that the referee did not stop the game or direct Edelman to the sideline and the Patriots continued in no/limited huddle. Team medical staffs do not have the power to stop the game. Of course if a team doctor or the UNC saw something worrisome, they could alert the referee to stop the game. In addition, by the time the ATC in the press box reviewed the video and called down, several plays could have passed. I noticed Patriots medical staff positioned on the edge of the player area ready to check Edelman for two plays including the touchdown.
The second potential criticism is why didn't Patriots' doctors or the UNC look at the video before examining Edelman? It is routine for physicians to evaluate a patient first before looking at a blood test or MRI result. In the same way, many doctors choose to look at the video after their concussion screen to correlate their findings with the video. After all, how "bad" a hit looks has not always corresponded to concussion symptoms.
A third potential criticism is why Edelman wasn't taken inside for the lengthier, more comprehensive formal concussion evaluation? By protocol, there is not need to do this unless there are symptoms or the sideline concussion check was positive in any way. An alert from the ATC in the press box is just that. It does not require the athlete to be taken into the locker room and initial concussion checks can be done on the sidelines
A fourth criticism is the current sideline concussion screening is heavily dependent on a player honestly reporting symptoms. Is it possible that Edelman underplayed how he felt and fooled the doctors to stay in the game? Certainly that could be true but only the player himself would know that and I am not accusing him of that.
Although it is definitely possible to develop concussion symptoms after the game or overnight, the Patriots allowed Edelman to be interviewed, indicating they did not feel he was concussed as media contact for head injured players is not allowed.
Much of the confusion and uproar stems from a misinterpretation that the concussion protocol requires all concussion checks be performed off the field. Perhaps the use of "check" causes the confusion. Concussion checks or screens are done on the sidelines. If there is suspicion of head injury as a result of the screen, that subsequent concussion check or evaluation is performed in the locker room. Of course, doctors can choose to bypass the sidelines if on field symptoms are evident.
I am not defending the current rules and one can argue that the current protocol is inadequate. However, from my vantage point the existing concussion protocol was followed. There was no "deflategate" conspiracy happening here.
MMMD 1: Seahawks also followed concussion protocol
Doctors ran out immediately to attend to Cliff Avril after the Bobby Wagner interception. On the sidelines, he was first tested by the team orthopedist for neck/stinger issues. Subsequently, he was checked by another doctor on the sidelines for concussion. During this time he was without his helmet and not allowed to return to the game. By body language, it appeared that he didn't want to go in for the formal concussion evaluation and remained on the bench for several minutes. Eventually, he did head inside with doctors and was subsequently announced to be out with concussion. This was another example of where the concussion protocol was followed.

MMMD 2: Fourth Legion of Boom injury is costly
Kam Chancellor (knee), Earl Thomas (shoulder) and Richard Sherman (elbow) all started the game with injuries. They all seemed to play well.
The injury to Jeremy Lane appeared to be the straw that broke the camel's back. His first quarter endzone interception lead to a return where he was tackled low and sent flying by Edelman. As Lane broke his fall, he broke his forearm. A cart was immediately called and a fracture splint was used.
Jeremy Lane breaks forearm on interception return.
Although the team initially announced arm injury and doubtful return, by video and pictures it was clearly a radius and ulna fracture that will require surgery with plates and screws. He should heal and be 100% by the beginning of next season.
This fourth injury seemed to affect the Seahawks the most as the Patriots seemed to target and scored on Lane's replacement, Tharold Simon.
MMMD 3: Richard Sherman not likely to need Tommy John surgery
Some in media reports indicated that Sherman was likely to need ulnar collateral ligament (UCL) reconstruction surgery. I doubt that will be the case.
UCL reconstruction is most commonly reserved for elbows of throwing athletes. There are some cases of Tommy John surgery on non-throwing elbows but those are relatively rare.
Teammate Jeron Johnson dislocated his elbow and undoubtedly completely tore elbow ligaments, but is unlikely to get surgery. I have treated a dozen NFL players with UCL tears that have not needed the Tommy John surgery.
By video and report, Sherman hyperextended but did not dislocate his elbow. I don't doubt that he has a ligament tear but it is more likely a partial tear. He could need a smaller elbow surgery for loose chips or other reasons but I would be surprised if he needs Tommy John surgery like MLB players.
MMMD 4: Fewer concussions, no more knee injuries
At the NFL Health and Safety press conference, the league announced exciting new data on injuries.
A highlight was a 25% drop in concussions from 2014 vs 2013. Compared to 2012, there was a 36% drop.
The NFL also looked to see if knee injuries have increased due to new concussion rules leading to lower target zones. Their data showed that major knee ACL injuries have not increased.
Hopefully, the rules changes and awareness in the health and safety era are showing good returns. I have requested more details and the materials and methods of the NFL study to try to validate and further interpret results presented.
MMMD 5: Thursday night game safety
The NFL also said they found fewer injuries in Thursday night games vs Sunday/Monday, but they did acknowledge small sample size. Some are skeptical of the results and call for doing away with Thursday games. Players don't like games on short rest but owners love the extra income from Thursday games. Let me float my previous idea again: add a second bye week.
Players love the bye week and often complain if their bye is too early in the season. By having two byes, one could be early and one could be later. Only teams coming off a bye would play on Thursday. That would give 11 days between games and still leaves 10 days before the next game after the mid-week game. This would allow for an extra week of games that could even increase revenue but not compromise player safety. Under this system, you could even use the bye to play games on Wednesday if the NFL wanted.
MMMD 6: Solution to end of game chaos
The early rush of photographers on the field reminded me of the last Phoenix Super Bowl when a similar chaos occurred with people rushing the field and Belichick finishing the game in the locker room. Mayhem ensues in these big games but imagine if a player is hurt or if there is an officials' challenge or penalty.
All media and players should not be able to come onto the field until there is an official declaration from the referee. This would only take a few seconds in most cases but would allow the referee to make sure that the game is truly over and prevent the mayhem that sometimes happens spontaneously at the end of games.
MMMD 7: Super Bowl week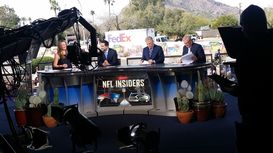 Super Bowl week was quite the extravaganza.
I wanted to give thanks to all media colleagues. It was my first official week with a media credential to cover the big game and events leading up to it. You made me feel at home.
I especially enjoyed meeting so many media members in person that I have been previously in contact with through twitter. I hope to expand on my collaboration with you all in the future.

Dr. David Chao is a former NFL head team physician with 17 years of sideline, locker and training room experience. He currently has a successful orthopedic/sports medicine practice in San Diego.