November 11, 2013 -
Dr. David Chao
Monday Morning MD
Health issues among NFL coaches are taking the forefront with Gary Kubiak's national TV collapse and John Fox's heart surgery. Here, I hope to provide some background related to the health and care of non-athlete team personnel.
Every fan knows about the on-field care provided by the team medical staff. What they may not realize is that the medical staff acts as the de facto caretaker of all off-field medical issues as well, from dentist appointments to counseling to never having to go to a pharmacy. This extends from assisting with Ob/Gyn appointments for wives and girlfriends to urgent pediatrician visits for kids to medication refills for visiting family.
This concierge medical care is routinely extended to the coaching staff, which includes routine physicals. We all know that the older we get, the more medical issues we experience and the team medical staffs are on top of this for coaches. In fact, former Chargers general manager John Butler's lung cancer was initially diagnosed through yearly coaches physicals.
Upon Kubiak's collapse, head team physician Walt Lowe and head ATC Geoff Kaplan were at his side. The medical team undoubtedly has continued to manage and coordinate Kubiak's care and return to the team. Denver medical personnel were managing Coach Fox's aortic valve issue and likely suggested and planned the visit to his personal heart doctor during the bye week. They continue to monitor his after surgery care and will participate in the decision and timing to return to the Broncos.
Contrary to the public nature of the Kubiak and Fox situations, not all head coach medical issues are even known by the public. During Norv Turner's head coaching tenure, he was diagnosed with acute appendicitis and had emergency surgery during the season on a Friday. He didn't miss any practices or games and the public never became aware of this procedure. Most of his players were even unaware at the time.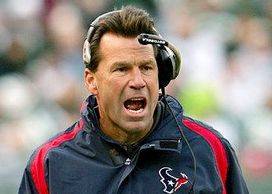 Kubiak was fortunate to have team personnel at his side when he collapsed.
Many times, the biggest health role for coaches is performing annual physicals, providing preventative medicine and helping them deal with stress. I have often heard my NFL team physician colleague Dr. Jerry Hizon state, "Stress is the X factor." Despite the best medical care, there is no accounting for the effects of stress. Coaches are well known for wanting the badge of honor of first to arrive and last to leave. Dr. Hizon has published an excellent short read entitled, "Men Die Young, Women Don't Care" that may help all men, not just coaches, stay healthy.
All of this off-field medical care is provided to allow team personnel to concentrate on the task at hand. The goal is to allow players to play and coaches to coach by eliminating distractions. With the hazards of their work, they deserve this special care.
In post-NFL life, one learns that medical care is no longer always easy. Former players have told me they have learned three things about post-NFL life: 1) same day medical appointments don't exist, 2) doctor's waiting rooms have a purpose and 3) medication is only obtained from a pharmacy.
MMMD 1: Aaron Rodgers injury aftermath
The Green Bay quarterback was injured last Monday night against Chicago, but Rodgers' non-throwing shoulder continues to spin off misinformation and speculation as to the type of injury and anticipated return to play.
Based on injury mechanism analysis, I believe his fractured clavicle (collarbone) to be atypical. It does not seem to be a classic shaft break like the ones sustained by Chargers running back Ryan Mathews last season, both of which required plating surgery. It appears to be a non displaced (in normal place) distal (towards shoulder) clavicle fracture at the acromioclavicular (AC) joint. This type of injury explains his ability to jog off the field and look normal to most people.
Unlike many injuries, his return is not based on pain tolerance or his ability to throw/play. Rodgers needs to be given time for the bone to heal. With repeat trauma, the fracture is likely to displace (move) or comminute (shatter). This would likely lead to season-ending surgery.
Based on my experience, I feel Rodgers has a 4-6 week injury. The risk of rushing back is too great and the Packers medical staff won't let that happen.
MMMD 2: Let the Jay Cutler second-guessing commence
The Bears starting quarterback made big news with his quicker-than-expected recovery from a groin injury. He beat the original minimum four-week estimate by starting Sunday against the Lions. However, by the second half, Cutler was visibly limping and was replaced by backup Josh McCown on the final series.
ESPN's Michael Wilbon and others are saying Cutler came back too quickly and worry that he aggravated the groin injury. In the past, Cutler has been criticized for not playing through injuries. Cutler says his groin was fine, but he came out due to an ankle injury. I think the truth is somewhere in between. I don't believe he reinjured the groin, but Cutler certainly suffered from fatigue to the groin as the game wore on.
Despite the excellent medical care to speed his recovery, it is hard to have a muscle injury heal in three weeks. Even if it healed or was asymptomatic, it is very difficult to condition the groin to withstand the rigors of an NFL game. It is common to experience muscle fatigue when first returning to action and I believe that is what happened. Cutler clearly had more difficulty in the second half and there was no distinct aggravation. A groin injury makes it hard for a quarterback to drop back in the pocket, as doing so repeatedly really works the muscle. I'm not trying to play the role of coach, but I think Cutler's groin would have benefitted from more snaps in the shotgun formation.
Since Cutler didn't suffer a setback, he will be much better in the coming weeks as the muscle injury is reconditioned.
MMMD 3: Jake Locker suffers significant foot injury
The Titans quarterback dodged a bullet earlier this season with his right hip posterior subluxation injury. Unfortunately for Tennessee, Locker may not be able to do the same with his reported Lisfranc foot injury.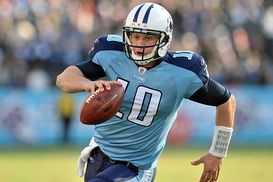 There is a chance Jake Locker's season could be over.
The Lisfranc joint is the tarsalmetatarsal joint (midfoot), with ligaments likely injured in the midfoot. In many instances there is an associated fracture and separation of bones. If Locker has a Lisfranc sprain, he may be able to return to the field in several weeks. If he has a Lisfranc fracture/dislocation, it will mean surgery and the end of his season.
Locker injured his midfoot on an option keeper. He stayed in for the next play, but was unable to push off to complete a handoff on a stretch play, which resulted in a fumble. Based on injury mecha nism analysis, Locker may have suffered more than the sprain variety. Hopefully he can dodge this second bullet.
MMMD 4: Peyton Manning headed for an MRI
It's always headline-grabbing news when Peyton Manning suffers an injury. The Denver quarterback missed some practice time two weeks ago with bilateral ankle injuries. After Sunday's win at San Diego, Manning indicated he would undergo an MRI Monday of his right lower leg.
I have had the good fortune of dealing with Peyton Manning directly and I can say with confidence that he is the consummate professional. I think he is just taking care of business with this precautionary MRI. If Manning had a real injury he was worried about, I doubt he would tell the media. Players don't like to expose their injury weaknesses to other teams.
Based on injury mechanism and video analysis, Manning does not appear to have a significant injury that will cost him playing time. Of course, an examination would tell us more. However, I am still willing to bet that the Chiefs will have to contend with Peyton next week in their attempt to remain undefeated.
MMMD 5: Christian Ponder injures non-throwing shoulder
The Viking quarterback was injured diving for the pylon late in last Thursday night's game. After the win over Washington, Coach Leslie Frazier announced that Ponder suffered a shoulder dislocation (out of socket).
During the game, real time video injury analysis determined it was a left shoulder posterior (towards the back) subluxation (transient dislocation). This less common injury is not likely to end his season. The NFL Network's Ian Rapoport later confirmed the injury was a minor dislocation and that Ponder himself thinks he will play next week.
MMMD 6: Dallas defense continues to sustain key injuries to key players
Many times it is not the severity of the injury, but the type of injury in the wrong player. We all know injuries to key players affect a team more. However, specific injuries can affect certain positions more.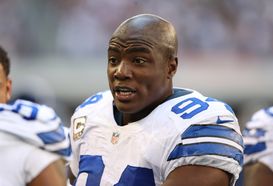 Ware was nowhere near 100% rushing the passer on Sunday night.
Defensive end DeMarcus Ware made his return from a quad strain Sunday night at New Orleans, but it still seemed to bother him. A quad strain for a rush end is one of the worst possible injuries. The quad is needed for the burst and power to rush the quarterback. This injury needs more time to heal.
Linebacker Sean Lee is another integral Dallas defender with a key injury, having departed the game Sunday night with a hamstring ailment. Lee can stuff the run with a sore hamstring, but covering in space will be a problem. This injury, like Ware's, may take awhile before Lee can be effective.
MMMD 7: Minnesota Vikings play shorthanded
In my 17 years with an NFL team, we always had the maximum number of players suited up to play. Up until last Thursday's Washington-Minnesota game, I had never heard of a team that didn't do the same. The roster size is 53 and the current rule permits 46 active players for the game. Leslie Frazier started last Thursday's game with just 42 players suited up due to injury.
Playing spots are precious on game day. On rare occasions, a player suffers an injury during the pregame warm-ups. The feeling when that happens is that you are playing a man down.
It is unheard of to start a game four men down.
The Vikings made it work and emerged with a 34-27 win over Washington. However, in this era of player safety, we need to find a way to make roster accommodations to suit up 46 healthy bodies.
Follow David on Twitter: @profootballdoc
Dr. David Chao is a former NFL head team physician with 17 years of sideline, locker and training room experience. He currently has a successful orthopedic/sports medicine practice in San Diego.