February 17, 2014 -
Dr. David Chao
Monday Morning MD
Last week we discussed the logistics of the Combine medical exam, so this week we will explore what actually happens during the medical exams and what specific elements team doctors are looking for.
Many general managers and coaches have told me that the medical portion is the most important part of the Combine. More and more players are skipping Combine workouts in favor of Pro Days, but no player skips the medical portion of the event.
Of course, these are players selected for their proven football ability and their general health tends to be excellent. Yet every year, there is still a surprise or two where a player is ruled out of future football play.
The bigger issue is not whether the athletes pass a physical, but what likely future problems they may encounter. Most have suffered injury and many have had surgery from high school or college football days. The job of the team physician is to analyze and project the risk going forward. No team wants to draft damaged goods with limited future effectiveness or longevity.
Starting Wednesday, approximately 330 draft prospects will undergo the Combine medical examination. Some medical information is gathered before the event through scouting reports and questionnaires.
Upon arrival, the participants are screened by athletic trainers for their medical history. Appropriate testing (X-ray, MRI, CT scan, etc.) is performed on injured body parts. Routine blood work and urine testing is done, which includes screens for recreational and performance enhancing drugs.
The following day, with imaging and lab results in hand, the medical and orthopedic examinations occur. The single general medical exam and the six orthopedic room exams take up the better part of a day.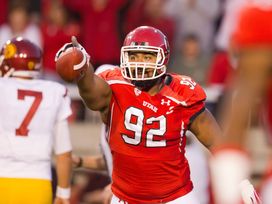 US PRESSWIREThe Combine medical exams caught something that forced Utah's Star Lotulelei out of the workout portion of the event.
Every team will have at least one general medical doctor in a big room with dividers. The players are examined by one or more doctors who share their medical findings to the group at the end of the day. Typically, there are few medical issues that would affect draft status, but some are always uncovered.
The medical exams come before the workouts. Last year, Utah defensive tackle Star Lotulelei had an abnormal echocardiogram and was held out of Combine workouts.
In my 19 years participating in the Combine medical exams, up to half of the participants may have orthopedic injuries that could affect future performance and longevity. 10-15% will have orthopedic issues that could significantly affect draft status. Fortunately, only a handful of players truly fail the orthopedic exam.
Due to the importance and prevalence of orthopedic injuries, every team insists on their own doctors getting a chance to examine every player. That is why the orthopedic exam is broken down into six rooms with five to six teams in each room. For example, one room will include the Chargers, Bengals, Jets, Titans and Jaguars.
Each of the six orthopedic rooms is examining the same issues, which makes it quite repetitive for the athletes. If a player had an ACL reconstruction, he is likely to have over 32 physicians examine his knee.
Most rooms have back tables where players are thoroughly examined and prepped for presentation by assistant physicians. They are then presented on a single central exam table to the other teams. After the presentation, the main doctors have a chance to examine every player hands on.
75-100 players are examined in this manner each day. Doctors have a chance to order additional imaging and diagnostic studies after their exam. One player in 2013 needed six MRIs, which interfered with his interview schedule.
The players are examined in four groups on consecutive days. Beginning Thursday, offensive linemen, tight ends, punters/kickers and a few throwing quarterbacks will arrive together. Some quarterbacks arrive with this first group so that there will be enough arms to throw to the tight ends during their drills.
Day 2 brings wideouts, running backs and the remaining quarterbacks. These positions are paired this way as they are a natural group to perform together through the workout phase.
Saturday is Day 3 and brings defensive linemen and linebackers. In my experience, these are among the most injured group of players.
Day 4 featuring defensive backs is the final day. This is typically the smallest group of players, so it allows for the doctors to return home to their families on Sunday afternoon, with a Monday return to their respective practices.
Team officials are so eager for this medical information that they want a daily preview instead of waiting for the final reports. Typically at the end of each day, the head athletic trainer and I would meet and update the general manager.
Each team will have their own medical grading system. I have worked with general managers who prefer to stay away from risky players as well as those who don't mind taking a risk on medical issues. The medical grade is just one component of the draft evaluation process. The Combine medical process is far from perfect, but it is an integral part of draft preparation.
MMMD 1: Quarterback Aaron Murray's ACL surgery
Georgia quarterback Aaron Murray stated that he is "Way, way ahead of schedule" and plans to throw at the Bulldogs Pro Day on April 16. This would be almost five months after his knee surgery.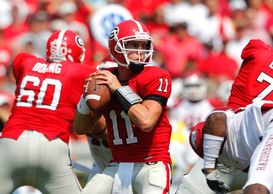 ICONDespite undergoing major knee surgery, Murray plans to throw at his Pro Day in April.
There is plenty of medical precedent for this recovery. Philip Rivers participated in mini-camp practice exactly 100 days removed from his 2008 ACL surgery.
There is much positioning and positive spin put out by eager players and hard-working agents, which is another reason why the Combine medical is so important. One might be able to fool people with a controlled Pro Day, but it is hard to fool a medical exam and even harder to fool an MRI.
MMMD 2: Louis Nix III meniscus repair and PRP
The Notre Dame defensive lineman is currently projected by many as a high draft pick. Nix had ongoing knee issues since the 2013 BCS Championship game.
Nix has had tendonitis and underwent meniscus repair surgery in November. It is unclear if he had a true repair (where the meniscus is stitched and requires longer recovery) or if the word repair was used to mean "the meniscus was taken care of."
It is not clear why platelet rich plasma (PRP) was used. If PRP was related to his tendonitis, it is likely not a big deal. If its use was related to a degenerative knee, that will affect his draft stock.
These are the types of issues that will be ferretted out by the medical portion of the Combine.
MMMD 3: Proposed new NCAA safety rule
A NCAA rules committee proposed a new rule where a team could not snap the ball within the first 10 seconds of the play clock. This, of course, makes defensive-minded teams happy and the offensive-minded, quick tempo teams very unhappy.
The proposal cites safety concerns relating to quick pace of play. My question is this: If safety is the concern, why is there an exception to the pace of play rule inside two minutes?
Other safety rules don't have exemptions inside two minutes. If your star player loses his helmet, he needs to come out for a play. This is true even if it is an important play that takes place during the final two minutes of the game.
A five yard penalty for delay of game when a team snaps the ball too quickly is an oxymoron. It seems to me that this might be a manipulation of the new safety culture to benefit certain teams.
MMMD 4: Jabari Greer's release may be for more than cap space
The Saints cornerback suffered a serious multi-ligament knee injury in November. Based on the severity of the injury, his position and age, it was postulated at that time that the injury was career-threatening.
I hope the Saints' latest move to clear salary cap space is just that. I hope it is not an indication of the end of a good career for Greer.
MMMD 5: DeMarcus Ware's elbow surgery
The Dallas Cowboys' star pass rusher is scheduled to undergo elbow surgery this week. The type of surgery has not been released, but it does not appear to be reconstructive in nature.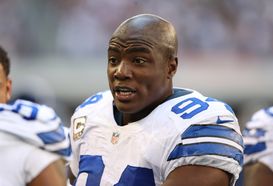 Ware notched a career-low 6.0 sacks in 2013.
Clean up and preventive maintenance offseason surgery is common. Whether it is a scope for spurs or an open surgery for bursectomy (removal of painful swelling outside of the joint), Ware's recovery should be quick and not affect his offseason program.
It is unlikely that the elbow injury is primarily responsible for Ware's career-low six sacks last season. A much more likely culprit was his quadriceps injury. This muscle injury has a significant effect on a defensive end's ability to get off the ball. Ware should have full recovery of both injuries this offseason.
MMMD 6: Jonathan Martin's non-football related injury
The Ted Wells report confirming workplace bullying was the big news of the week. Much has been said and written on this topic.
Now that the official NFL report implicates the workplace for Martin's absence, I wonder if his classification of a "non-football related injury" will change.
MMMD 7: Mike Ryan PT/ATC steps down from Jaguars
Mike Ryan was the only head athletic trainer the Jaguars ever had. He spent 26 years in the NFL and served as the lead medical man for all 20 years of Jacksonville's NFL existence.
Ryan was ahead of his time in the NFL. He was among the first to be dually trained as a physical therapist and athletic trainer. Several years ago, the NFL began requiring at least one physical therapist per team.
Ryan is only 51-years-old, but decided to step down so that he could spend more time with his children. He is also active in the National Athletic Trainers Association.
I had the good fortune of working in the same Combine exam room with Ryan for 18 years. The NFL and Jaguars were lucky to have him.
Due to Ryan's contributions to the league and the Jaguars, the team should consider his future induction into their Ring of Honor. Long time Minnesota ATC Fred Zamberletti was inducted into the Vikings Ring of Honor in 1998.
MMMD extra: ACL surgery series – Post-op Week 5
Patriots tight end Rob Gronkowski and Broncos linebacker Von Miller both underwent ACL surgery on the same day over five weeks ago. At this point in recovery, it is important to be focused on increasing strength and motion.
By week five, there should be a strong focus on closed chain exercises to strengthen the quadriceps and hamstring muscles. Closed chain exercises are safer and more effective compared to open chain. Exercises performed with the foot planted tend to better mimic real life, work more joints and muscles simultaneously and place less stress on the ACL graft.
Open chain exercises (foot not planted like knee extensions) tend to work only one muscle and place stress on the new ACL graft. These exercises should be avoided.
Squats, lunges and leg press are the mainstays. The key is quality form and high reps with low weight rather than sloppy form and low reps with high weight.
While working on strength, there should be a continued focus to regain full motion in extension and flexion. More to come in this continuing series that will parallel the progress of Gronkowski and Miller.
Follow David on Twitter: @profootballdoc
Dr. David Chao is a former NFL head team physician with 17 years of sideline, locker and training room experience. He currently has a successful orthopedic/sports medicine practice in San Diego.