October 21, 2013 -
Dr. David Chao
Monday Morning MD
Overall, Week 7 was a bad Sunday in the injury department, as several marquee stars suffered season-ending ailments. But before we get to that, let's revisit the big story of the week: Colts owner Jim Irsay and the decision to release quarterback Peyton Manning.
Manning's return to Indianapolis as a member of the Denver Broncos headlined the week with a featured slot on Sunday Night football. This is the untold medical story.
Jim Irsay had no real choice but to release Peyton Manning. We have all heard the salary cap reasons and the availability of Stanford signal-caller Andrew Luck. I don't say this because the Colts beat the Broncos. I say this because medically, Indianapolis really didn't have a choice.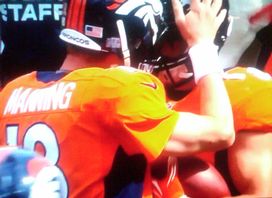 A look at Peyton Manning's right triceps after multiple neck surgeries.
Peyton had multiple neck surgeries and the pinched nerve in his neck led to muscle weakness. He had significant triceps muscle atrophy (loss of muscle size) in his throwing arm, which significantly affected his ability to throw and there was no promise on when or if it would return.
The triceps is responsible for elbow extension and is vital to finishing a throw. Nerve injury recovery is unpredictable and both the doctors and the Colts knew this. In fact, Manning rarely threw a spiral in his first few games with Denver due to significant atrophy of his triceps muscle. Fortunately for Peyton and the Broncos, the future Hall of Famer has since made a steady recovery, with his arm/triceps strength defying the odds by improving significantly. Since there was no way to know when and if it would recover, it was a no-brainer for Irsay to cut cost and go with Luck.
MMMD 1: Sam Bradford suffers season-ending injury
The Rams quarterback was pushed while running to the sideline and suffered a significant left knee injury. Video analysis immediately after the injury showed an ACL tear (possibly combined with an MCL injury). Bradford was seen with crutches and a large knee brace/immobilizer after being carted off the field at Carolina. Rams fans can hold out hope on the MRI results, but the news will not be good.
MMMD 2: Another major knee injury for Brian Cushing
Last year, the Houston linebacker tore the ACL in his left knee, effectively ending Cushing's season. On Sunday, a chop block at Kansas City injured that same left knee. This time, however, it was Cushing's LCL (lateral collateral ligament).
A broken bone was also reported and I believe that injury to be a part of this LCL injury (avulsion fracture where the ligament pulls off a small piece of bone), rather than a separate injury or traditional fracture.
Either way, Cushing will require season-ending surgery. The avulsion fracture is repaired as part of the LCL surgery. The lateral collateral ligament is the least often injured of the four main knee ligaments. It is also one that typically requires surgery and 6-9 months to recover.
MMMD 3: Reggie Wayne suffers his first major injury
The well-established Indianapolis receiver fell awkwardly and suffered a non-contact right knee injury Sunday night against Denver. Based on real time video injury analysis, it is believed to be an ACL tear. This, of course, would mean the end of Wayne's season, as one needs the anterior cruciate ligament to run, cut and change direction. ACL recovery is very difficult and many times the second season back from said injury is better than the first. For a 34-year-old wide receiver, it might also mean the end of Wayne's career. Lets hope not.
MMMD 4: Jermichael Finley leaves field on a spine board
The Green Bay tight end suffered a scary neck compression injury Sunday afternoon against Cleveland. Reportedly, Finley couldn't move or stand up. The Packers' medical staff quickly jumped into action and immobilized the tight end's neck before transporting him to the hospital for tests and treatment.
The good news is that Finley could move his arms and always maintained lower extremity tone. Initial tests were encouraging, as it appears Finley does not have any neurologic deficit. Sometimes spinal shock occurs and feeling or motion is temporarily impaired. As long as recovery is immediate, as it seems here, Finley should be fine. At this point, who cares when the 26-year-old returns as long as he dodges this bullet.
MMMD 5: Jay Cutler exits with a groin injury
On a sack taken Sunday at Washington, Bears quarterback Jay Cutler was injured and did not return. Based on video analysis and a look at his gait after the injury, it looks like a left hip flexor/groin injury. Even though Cutler is more of a pocket passer, he still needs his groin to be able to drop back and to provide a steady base for throws. Severity will be determined after undergoing an MRI, but with the Bears on the bye next week, Cutler might have a chance to return for the Green Bay game in Week 9. The injury is not to the hip joint as in the case of Titans signal-caller Jake Locker. Speaking of whom…
MMMD 6: Jake Locker's speedy recovery
Locker returned to the starting lineup just a few weeks after being carted off the field.
Tennessee Titans quarterback Jake Locker was on the verge of a breakout season when an awkward fall caused a significant right hip injury. The mechanism of the injury was similar to the famous Bo Jackson injury that ended the Oakland running back's NFL career.
However, Locker's recovery happened much faster than expected. The Titans and the quarterback are fortunate to have renowned hip expert Dr. Thomas Byrd on the sidelines as a team physician. He was there as Locker was carted off and accompanied the player to the hospital. This excellent medical care may have played a role in Locker's speedy return to the field.
MMMD 7: Josh Freeman over Christian Ponder
The Vikings don't play until Monday Night so there's no new injury to report here. However, knowledge of a medical injury still reveals a lot. When Josh Freeman was signed by Minnesota, one of the stated reasons was Christian Ponder's rib injury. A rib injury (even if a fracture) is not a significant enough injury to make a team look for quarterback depth.
This has proven to be true. Ponder is now healthy, but Freeman will start Monday night against the New York Giants.
Follow David on Twitter: @profootballdoc
Dr. David Chao is a former NFL head team physician with 17 years of sideline, locker and training room experience. He currently has a successful orthopedic/sports medicine practice in San Diego.