December 30, 2013 -
Dr. David Chao
Monday Morning MD
As the season concludes for non-playoff teams, the busiest medical time of the year commences. All teams are required to provide exit physicals at the end of the season and 20 organizations will have full medical staffs on hand Monday.
For the players and teams, this is a time to document all ongoing injuries and devise an offseason recovery plan. The goal is to get all athletes as healthy as possible and to eliminate any lingering conditions.
During my 17 years as an NFL team physician, we averaged 15-20 surgeries per year. Half or more of these operations are performed at the conclusion of the football season. The week after the season ends is traditionally the busiest surgical time for NFL athletes and surgeons. My schedule was always overbooked when this week arrived.
As I trained orthopedic sports fellows, I used to give them a simplistic axiom: Keep playing players playing and operate on non-playing players. A player in season typically tries to play as long as he is not causing permanent damage. A player who can't play (or can't play safely) should be operated on during the season. At season's end, all players become "non-playing" and thus, surgery is often used aggressively to fix/improve chronic problems, even if minor.
The typical surgical issues include degenerative knees, shoulder impingement/rotator cuff issues, ankle or elbow bone spurs, and herniated discs, to name a few. In short, clear up all medical issues and use the time before the offseason program begins to finally heal.
Even if a player doesn't need end-of-season surgery, he still needs to undergo the mandatory exit physical exam. All 53 active roster, eight practice squad and injured reserve players need to be examined and given an offseason plan. Typically, this means over 70 "head to toe" medical exams.
For players under contract, it is the time to create an offseason plan in order to get healthy. For players no longer under contract, the point is to establish all injuries from a legal/liability perspective. For retiring players, it is especially important to establish their ongoing medical issues. Most NFL players file for workers compensation benefits as a result of their football injuries. For lingering problems, it establishes the injury protection benefits. After an NFL season, almost every player has one or more medical issues.
Even though teams like Dallas, Chicago and others weren't expecting to, the medical madhouse starts this morning. Everyone is eager to leave and many have flights to catch or the family loaded up in the car. Most teams have the big season-ending team meetings squeezed in Monday as well. Regardless, exit physicals are an integral part of the NFL season.
MMMD 1: Resting star players in Week 17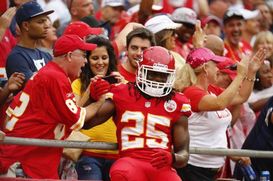 The Chiefs had no reason to risk playing Jamaal Charles, who amassed 1,980 total yards during the regular season.
Playoff-bound teams often rest their stars in meaningless games to stay healthy for the postseason. Kansas City benched most of their starters on Sunday and made quarterback Alex Smith, running back Jamaal Charles, wide receiver Dwayne Bowe, pass rusher Tamba Hali and others inactive.
Two non-playoff teams also rested stars. The Vikings rested Adrian Peterson and the Lions sat Calvin Johnson. Medically speaking, these were smart decisions because both players have injuries that could have been made worse by playing. Peterson had a mild Lisfranc foot injury while Johnson has battled knee swelling.
If teams rest their stars in preseason games, why not rest injured stars in the meaningless season finale? After all, isn't an eliminated team's Week 17 game just a preseason game for 2014?
MMMD 2: Offseason surgery for Calvin Johnson?
The Detroit Lions star wide receiver has been on limited practice since missing the team's Week 5 game. Reports indicate that knee surgery for swelling and loose bodies may be needed.
Loose bodies are floating chips of cartilage and/or bone. They act like pebbles in your shoe and need to be removed. This condition is typically associated with damage to articular cartilage surfaces and arthritis. If the damage is bad enough, sometimes microfracture surgery is needed in order to re-grow cartilage.
Johnson will likely forgo his Pro Bowl trip and take the offseason to get healthy. A knee scope is a quick procedure with recovery measured in weeks rather than months. However, if the damage is more extensive, this would give Johnson time to heal or potentially recover from a microfracture surgery that takes up to six months or more.
MMMD 3: Brian Hartline likely injures knee ligament
Based on video, the Miami wide receiver heard a pop and appeared to injury his posterior cruciate ligament. The PCL sits behind the ACL and is responsible for keeping the knee from shifting towards the back.
Fortunately, isolated PCL injuries rarely need surgery (as opposed to the ACL). Typical recovery for a mild PCL is 1-2 weeks, moderate 2-4 weeks and severe 4-6 weeks and longer. For example, Carolina's Steve Smith suffered a mild PCL injury in Week 16 against New Orleans which forced him to both exit the contest and miss the Panthers' Week 17 finale.
An MRI is pending on Hartline to determine the extent of ligament injury and the presence of any associated damage.
When Hartline injured his left knee, his season was over. This late in the year, even if Miami had won the game, I doubt he would have been ready to go for the playoffs.
MMMD 4: Giants offensive lineman "breaks leg," per coach
Will Beatty suffered a contact hyperextension injury to his right leg Sunday against the Redskins and was carted off the field.
Based on the injury mechanism, Beatty likely has a tibial plateau fracture. This is a fracture of the upper end of the tibia bone at the knee joint. Depending on depression or displacement of the joint surface, this injury can be either treated conservatively or require surgery with plate and screws.
In either case, Beatty should recover in plenty of time for training camp, although his offseason program will be affected. The potential danger here is long-term arthritis based on the intra-articular nature of the fracture, but there is plenty of hope. Packers wide receiver Randall Cobb returned on Sunday from a tibial plateau fracture suffered 11 weeks ago to catch the NFC North-winning touchdown pass. Kobe Bryant also has a much milder version of this injury.
MMMD 5: Clay Matthews has revision thumb surgery, likely out for playoffs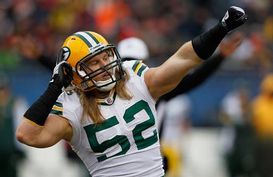 ICONGreen Bay's stud pass rusher isn't expected to return during the playoffs.
The Green Bay linebacker suffered a Bennett's fracture (base of thumb fracture/dislocation) in Week 5, underwent surgery and missed four games. He returned with a big club after five weeks and graduated to smaller casts each Sunday until he re-broke the thumb in Week 16, 11 weeks after the original injury.
As predicted, Matthews had revision surgery and did not play while his team captured the NFC North crown.
Fortunately for the Packers, quarterback Aaron Rodgers returned to action an d led the team to a win eight weeks after his clavicle fracture. Unfortunately, even with an extended playoff run, it is doubtful that Matthews can return. The first time he returned at five weeks with a larger club cast. Typically after re-injury and a second surgery, recovery is longer. If Green Bay needed the roster space, Matthews would likely go on IR.
MMMD 6: Helmetless ball-carrier rule protects San Diego's playoff bid
In overtime of a must-win/tie game, Chargers safety Eric Weddle made a gutsy impromptu call for a fake punt. Fans in the stadium saw a Chiefs player wrestle the ball away from Weddle and seemingly score. The officials ruled no fumble as forward progress was stopped beyond the line of gain resulting in a Chargers first down.
The controversy arose when the referee indicated that the play was not reviewable by rule. The key here is that even if it was reviewable, a new safety rule would have kept the Chargers first down. On replay, it was clear that after Weddle gained the first down, his helmet came off prior to losing possession of the ball. With the helmetless ball-carrier rule, the Chargers had their first down anyways, as the play should have been ruled dead before any "forward progress/fumble" issues surfaced.
MMMD 7: Rob Gronkowski vs. Anderson Silva
On Saturday night, UFC 168 saw star Anderson Silva break his left leg in grotesque fashion. As predicted on twitter, Silva suffered a tibia and fibula fracture and required rodding surgery. This gruesome injury drew comparisons to both former Washington Redskins quarterback Joe Theismann and Louisville basketball player Kevin Ware.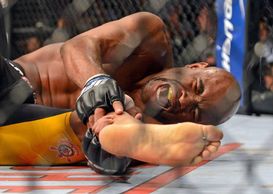 Silva suffered a gruesome knee injury Saturday night at UFC 168.
I was asked which injury I would rather sustain between Rob Gronkowski's multi-ligament ACL/MCL knee injury or Silva's tib/fib fracture. Although Silva's injury was more spectacular, I would rather suffer his tib/fib fracture.
Tib/fib fractures heal reliably after rodding surgery and take six months to return to sport. The key is that the all-important knee joint is spared. However, this still will make for a difficult physical and mental recovery for the 39-year-old UFC fighter.
Multi-ligament knee injuries often have associated intra-articular joint (cartilage) damage that may have long-term consequences. Six months is the absolute minimum recovery time in these cases.
Silva already had his surgery and is on his way to healing, while Gronkowski is still waiting for the swelling to go down before he has his surgery. The bottom line is that recovery from tib/fib fracture is typically more reliable.
MMMD extra: ACL recovery
Since ACL injuries continue to reamain a big focus of attention, I will take readers through a sample ACL recovery this offseason. This MMMD feature will start when Rob Gronkowski undergoes his ACL surgery and will parallel his recovery timeline. A journal of a hypothetical offseason ACL surgery recovery will be created weekly to give fans an idea of the rigors and issues these athletes face.
Follow David on Twitter: @profootballdoc
Dr. David Chao is a former NFL head team physician with 17 years of sideline, locker and training room experience. He currently has a successful orthopedic/sports medicine practice in San Diego.