June 09, 2014 -
Dr. David Chao
Monday Morning MD
The issue of muscle cramping in sports took center stage recently when the Miami Heat's LeBron James exited Game 1 of the NBA Finals. How often do NFL players cramp and how do medical staffs deal with the problem?
Muscle cramps are prevalent in the NFL, especially during training camp and early in the season. The heat and lack of conditioning are a setup for cramping. A player's size and lean muscle mass are additional factors. It is documented that certain players are just physiologically more prone to cramping.
Medically, cramps are poorly understood. It is easy to say, "drink water or Gatorade," but for some athletes, that is just not enough. It is important to stay ahead of cramping as once it has begun, it is hard to prevent progression by simply drinking fluids. Absorption of oral fluid takes time and one needs to replace electrolytes (potassium, sodium, etc.) as well.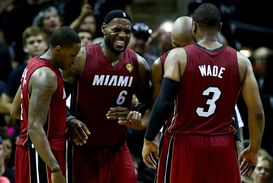 James was forced to exit Game 1 due to cramping.
Water and Gatorade are plentiful on every NFL sideline. Traditional orange wedges and bananas are in halftime locker rooms. Special electrolyte products like Gatorlytes or medical drinks like Pedialyte are even used. Quinine or salt pills are available. Even pickle juice has been implemented.
Often times oral methods are not enough and intravenous (IV) fluids must be used. IV fluids go straight into the blood stream and are the quickest and most effective treatment for dehydration.
When a body locks up from cramps, it can be the most painful thing an athlete has felt. If one muscle cramps, stretching or massage is usually helpful to break the spasm. When opposing muscle groups cramp simultaneously, there is no way positional or manual treatment will help.
In extreme cases, even back muscles will cramp. One time, a 300+ pound defensive lineman locked up in the team's cold tub after practice and literally had to be hauled out and carried by multiple teammates to the training room for emergency treatment. On several occasions, I have had to start IVs on plane flights home due to a player suffering severe body cramps.
IVs are commonly used and perhaps overused in the NFL. No one wants to take a chance of cramping. On many teams it is a ritual for up to a dozen athletes to get pregame IVs in the training room. Some teams do it the night before at the team hotel. Halftime IVs are routine for players that are prone to cramping. Pressure bags are used in order to quickly infuse normal saline or lactated ringer's solution as halftime in the NFL is only 12 minutes. Post-game IVs are frequently needed as well.
Cramping is inevitable in high exertion sports played in heat. With proactive medical treatment, fans don't often see any NFL players sitting out of a big game due to muscle cramps.
MMMD 1: Dan Marino sues NFL and then withdraws
The Dolphins Hall of Fame quarterback was reported to have joined the ongoing concussion litigation. A day later, Marino announced, "I am withdrawing as a plaintiff effective immediately." Marino did not claim any current injury, but initially joined the lawsuit to protect himself in case he did develop symptoms.
Any legal issue is complicated. Attorneys from both sides are tasked with presenting a purposefully biased story. This one is even more complex as it involves attorneys with varying interests, scientists with different biases, and players across multiple decades with unique circumstances.
Medically, there is more we don't know about concussions than what we do know. I think the same can be said about the litigation outcome. That is why I stick to my direct experience and medical opinions and let our legal system play out.
MMMD 2: Men in White (labcoats): Will Smith's new movie
Several Hollywood projects based on the NFL concussion saga are in the pipeline. The Men in Black leading man was announced to star in a new drama focusing on the doctors/scientists.
Like the recent Draft Day movie, the new feature should draw considerable interest, but don't expect much reality. As an orthopedic resident working in emergency rooms, I was bemused by the drama of the then-hit show ER. Each episode contained a lifetime of embellished circumstances.
Philosopher Fyodor Dostoyevsky said: Art imitates life. These Hollywood projects show that public interest regarding concussion issues is unlikely to wane anytime soon.
MMMD 3: Dallas Cowboys to join the ballet?
Not quite, but the team did install several sets of ballet bars outside the locker room. The goal is to prevent hamstring injuries by providing an additional tool to help stretch and keep players flexible.
Flexibility is key in the NFL. During my first years working in the league, I was surprised and impressed to find out how flexible players actually were. Even huge offensive linemen were more flexible than I ever was in grade school. This flexibility contributes to athleticism and is important in injury protection.
MMMD 4: David Wilson's neck not medically cleared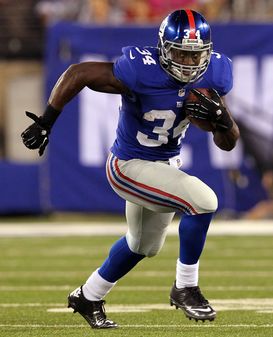 US PRESSWIREWilson has not yet been cleared to resume practicing with the Giants.
The Giants running back had cervical spine fusion surgery in January. Although I have not examined Wilson, players undergoing this procedure typically can be cleared in 3-6 months. Fox Sports' Mike Garafolo reported Wilson was not cleared for contact after his scan last week.
At first I began to worry about Wilson's recovery after several in the media (not Garafolo) erroneously reported that he underwent an MRI. An MRI after spine fusion surgery would be an ominous sign, as it would have indicated a worry about the spinal cord, nerves or other discs. Instead, it was later confirmed that a CT scan was performed. That is the routine and expected test in order to evaluate cervical vertebral body fusion.
Signs point to Wilson being on track to be cleared for contact by training camp. He will have a repeat CT scan (not MRI) to evaluate his bone healing from surgery.
MMMD 5: Julio Jones recovery from Jones fracture
The Falcons wide receiver missed most of last season after he re-fractured his fifth metatarsal bone. This type of fracture is referred to as a Jones fracture. Of course, the injury is not named after Julio, but after British surgeon Sir Robert Jones who first described the injury in 1902.
Eight months after surgery, Jones has yet to be fully cleared. This is not unusual, as the typical recovery timeline is long in this problem fracture.
I anticipate that Jones should be on track for a training camp return. In fact, Jones made a limited return for OTAs and that is a good sign.
MMMD 6: Jermichael Finley's $10 million backup plan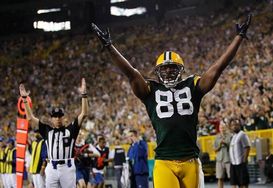 Finley's insurance policy likely cost somewhere in the neighborhood of $200,000.
All indications are that the star tight end wants to play football, but Finley has a contingency plan.
I have always expected Finley to be medically cleared. Typically, single level cervical spine fusions are cleared again for football.
In the event the ex-Packer tight end can't return to the NFL, he is reported to have an eight-figure insurance policy. In the end, he may need a sizeable contract offer to make it worth his while to grace the gridiron again.
As a team physician, 5-10 players per year would have me certify their health for insurance purposes. The $10 million policy is more than most players carry and likely cost him over $200,000 for the year.
A good sign for Finley's return is that Pittsburgh brought him in for a visit even though the team didn't request a medical examination. A Steelers spine surgeon performed the spine fusion surgery so they already have first-hand knowledge of Finley's medical status.
MMMD 7: Nate Burleson says he didn't re-break his arm
The new Browns receiver denied reports last month that stated he re-fractured his arm. Burleson claims to have banged his arm, which caused a shift in the plate that was surgically implanted last year. Burleson didn't deny that he needed surgery to reposition the plate or that he is still in a cast.
If the fracture had healed (or not re-broken as Burleson claims), there would be no need at all for a plate or cast. Hardware can be commonly removed from a healed fracture placed nine months earlier.
I don't know the extent of the re-injury, nor am I doubting the projected return for training camp. However, the fact remains there was an issue with Burleson's bone integrity. Otherwise, there would be no need for the re-positioned plate or cast.
MMMD extra: ACL surgery series – Week 21
As we follow along the hypothetical recovery of Patriots tight end Rob Gronkowski and Broncos linebacker Von Miller, the focus has been on how to return. What factors would delay or prevent their return?
Despite the 95 percent chance of return to sport, there are many potential pitfalls that might slow or block recovery. Over the next few weeks, we will analyze some of these hazards.
Recurrent swelling is one of the most common pitfalls after ACL surgery. Intra-articular (within the joint) swelling is termed effusion, which sometimes can accumulate over 100cc of fluid.
A small amount of synovial fluid is normally present in the knee joint to lubricate the articular cartilage surfaces. One might compare it to a normal amount of tears in one's eyes to allow them to move smoothly. However, if there is something that is irritating the knee, it will swell up or create an effusion. Similarly, if you poke or scratch or get sand or smoke in your eyes, they will tear up. A knee joint effusion is like your eyes watering and is a sign that something is wrong. When one's eyes water, one doesn't see very well. When the knee swells up, it doesn't function very well either.
The key is to determine why there is an effusion and attempt to prevent it. Recurrent swelling will delay ACL recovery and inhibit return to sport.
Follow David on Twitter: @profootballdoc
Dr. David Chao is a former NFL head team physician with 17 years of sideline, locker and training room experience. He currently has a successful orthopedic/sports medicine practice in San Diego.