October 27, 2014 -
Dr. David Chao
Monday Morning MD
Halfway through the 2014 NFL season, the Dallas Cowboys are the surprise team atop many power rankings in large part based on their running game. DeMarco Murray has been the workhorse in getting Dallas in position to be the first organization to seven wins.
The Cowboys star running back has seven straight 100-yard games and is averaging almost 27 carries and 30 touches per contest. At his current pace, Murray will rush for 2,087 yards and challenge Eric Dickerson's all-time 2,105-yard record. Murray projects to have 427 rushing attempts this season, which would easily eclipse Larry Johnson's all-time record of 416.
Now at the Week 8 halfway point, the big question is whether or not Murray can keep up this pace for the rest of the season. More importantly, can he stay healthy at this work rate?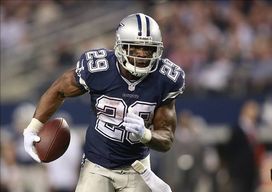 Murray needs 87 rushing yards against the Redskins on Monday night to eclipse the 1,000-yard barrier.
Workhorse backs seem to be a thing of past, with most teams currently employing a platoon system. Part of this strategy is to keep the running backs fresh and injury free. The Carolina Panthers began the season with three quality running backs in DeAngelo Williams, Jonathan Stewart and Mike Tolbert, but were without all three by Week 5.
As an NFL team physician going back two decades, I have seen both ends of the spectrum up close. I saw what it took for Natrone Means to be the workhorse and I had the pleasure of watching LaDainian Tomlinson start his career as a three-down back and in later years receive help from Michael Turner and Darren Sproles. I have also seen Ryan Mathews and Mike Tolbert split carries.
I do believe that Murray can keep up this pace and avoid injury for the rest of the season. He is young and strong while being elusive enough to rarely take a direct blow.
Of course, Murray would need to ward off unlucky injury. At 6-0, Murray is slightly taller than the prototypical running back. The top three all-time career leaders in rushing yards are Emmitt Smith, Walter Payton and Barry Sanders, who were listed at 5-9, 5-10 and 5-8, respectively. In the long run, being taller provides a bigger target area for taking hits, but Murray can do it for this season. After all, Dickerson, the single-season rushing leader, was listed at 6-3.
However, I don't believe Murray can maintain this pace over the long run, season after season, as the cumulative toll is too great. Seven times a player has rushed for over 2,000 yards in a season, but the following year, those seven players averaged only 1,100 yards.
If a running back has 25 touches per game. it likely means he is taking a minimum of 20 hits. These blows are likely delivered by eight to ten different defensive players who are universally bigger than the runner. The cumulative effect can take its toll. Taking punishment 300-plus times during the season adds up.
Can DeMarco Murray maintain his current pace and avoid injury? In my opinion, he can for this season. In the long run, he will not be able to sustain and stay healthy. I hope this column doesn't jinx him for injury.
MMMD 1: Another sack celebration injury
In Week 3, Detroit Lions linebacker Stephen Tulloch tore his ACL after sacking Aaron Rodgers and then mimicking the "discount double check" maneuver. Chicago Bears defensive end Lamarr Houston should have learned from that mishap to curtail his sack dance.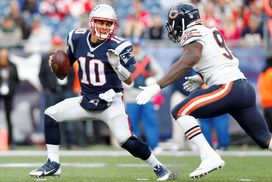 Houston went down after celebrating a sack of New England backup quarterback Jimmy Garappolo.
Houston got his first sack of the season in Sunday's blowout loss at New England, jumped to celebrate and landed awkwardly. By my video analysis, Houston appears to have torn his right knee ACL and the Bears fear the worst. There were eerie similarities to the Tulloch mechanism.
Houston realizes his mistake: "I probably shouldn't have been celebrating as they were blowing us out." Up by 25 points with under four minutes to go, Tom Brady was already resting for next week when Houston sacked backup Jimmy Garoppolo.
The vast majority of ACL tears occur with a non-contact mechanism. Landing awkwardly is a common way for it to happen. As we await MRI confirmation, a second player has learned a hard lesson about over exuberant sack celebrations.
Editor's note (10/27 at 1:30pm ET): Houston will miss the remainder of the season with a torn ACL, per Bears General Manager Phil Emery.
MMMD 2: A second Rams ACL re-tear
St. Louis quarterback Sam Bradford and left tackle Jake Long each tore an ACL last season and underwent offseason surgery with extensive rehab. Both players made quick returns to play this season. Now it seems that both have re-torn the graft in their reconstructed knee.
Bradford re-tore his ACL during this preseason with a fairly innocuous looking hit to his lead leg. Long yesterday had a fairly benign misstep and appears to have re-torn his same surgical ACL as well. Before blame falls on the team physicians, it's important to note that neither surgery was performed by Rams team doctors.
Players now routinely return the season following an ACL tear, but it is a medical fact that the graft is weaker until the second year back. This explains the minimal forces required in both of these re-injuries. Very few players are willing to sit out a second season waiting for full incorporation and a stronger graft, but in this health and safety era, maybe it should be considered.
Statistically, players who miss a second consecutive season often don't return to the same level. The worry now is both Bradford and Long are forced to sit out a second season.
MMMD 3: Lions Nick Fairley carted off in London
Detroit's defensive tackle went down with a knee injury when he and teammate Ndamukong Suh collided in Sunday's win over the Atlanta Falcons. Fairley limped off the field but was carted to the locker room.
My initial thought by video was a milder MCL injury and I postulated a 1-3 week absence. After the game was over, I found some additional film. I still believe it not to be an ACL tear or other season-ending injury despite concerns. However, I now believe Fairley will miss more time than initially thought. He appears to have a significant MCL sprain/tear where he is not likely to need surgery but may miss a minimum of 4-6 weeks.
Typically, injury news comes out the day after the game. Since this game was in London and the teams do not fly home immediately after, it may be Tuesday before we hear the MRI results regarding the severity of the injury.
MMMD 4: Hamstring affects Aaron Rodgers
The Packers quarterback denied significant injury and after the game stated, "I am not going to miss any time." However, there is no doubt the hamstring affected his play Sunday night.
What makes Rodgers special is he is among the best in the pocket and on the move. A hamstring injury certainly hampers his mobility, but also can affect his throwing base.
Early in Sunday's game, Rodgers had a quarterback rating of 133.1 with almost 300 yards, a touchdown and no interceptions. After the injury, Rodgers' rating dropped to 45.8 with only 120 yards, no touchdowns and two interceptions.
The injury is expected to be mild, but one can see how even lessor injuries can affect overall performance.
MMMD 5: Bleeding from ear after head injury sounds ominous
There was initial concern as Eagles wide receiver Jeremy Maclin was taken to the locker room for a concussion evaluation while bleeding from his ear.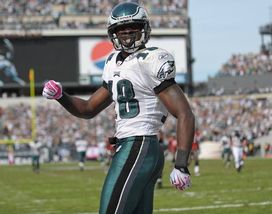 Maclin passed his concussion test and returned to have a big day against the Arizona Cardinals.
Bleeding from the external ear is not particularly dangerous. Blood or fluid from the ear canal is of grave concern and could mean anything from a skull fracture to eardrum rupture.
Fortunately, Maclin's bleeding was from his outer ear. This is actually not uncommon. A helmet can be torqued off and tear or abrade the ear to cause bleeding. Players who wear diamond studs have additional risk of tearing the earlobe. It is not illegal to wear jewelry during a game.
Maclin cleared his second quarter concussion check and bleeding ear and returned to have a big game totaling 12 catches for 187 yards and two touchdowns.
MMMD 6: Sometimes what you don't see is a good thing
With sports medicine experience, often I can see an injury as it happens. Despite decades of experience, this method is far from perfect.
Many times what one doesn't see is just as meaningful. Philadelphia wideout Riley Cooper left Sunday's game after a big catch. I did not know what his specific injury was, but I did not think it would be significant based on my real time video analysis and Cooper did indeed return the following series.
Bengals running back Giovani Bernard left in the fourth quarter with a hip injury and did not return. No additional information is available.
Although every injury cannot be seen, the significant ones are usually captured on tape. In my review of Bernard, I do not see a significant hip injury like I saw when Dennis Pitta dislocated his hip or when Chandler Jones subluxed his hip.
Hopefully, the lack of a significant injury mechanism translates to a minimal hip injury for Bernard and he will be able to play next week.
MMMD 7: Pair of Rams shoulder injuries two plays apart
Sometimes when it rains, is pours. Not only did St Louis likely lose left tackle Jake Long to an ACL re-tear, the Rams lost a pair of starters to shoulder injuries in quick succession Sunday at Kansas City.
Wide receiver Brian Quick injured his left shoulder in what appeared to be an unusual posterior subluxation/dislocation injury and did not return. Right guard Rodger Saffold left two plays later with a shoulder injury.
One may remember that Saffold's left shoulder injury caused him to fail his Raiders physical, which voided his big free agent contract this past offseason. However, time it was Saffold's right shoulder. He has been playing with a shoulder brace on the left side.
Hopefully this pair of shoulder injuries are ones that the players can play through, but I expect both to miss some time.
MMMD extra: London expansion continues
The second of three 2014 London games was played this past weekend with the Lions taking on the Falcons. Plans were announced to play five games next year. This all eventually will lead to a London-based franchise.
Sunday's game was played at 9:30am eastern time. If the teams have an east coast fan base, this shouldn't be an issue as the regular west coast start time for the first game is 10:00am and in the playoffs, 9:30am is routine.
We previously discussed some of the medical implications of placing a team in London. That reality is getting closer, but the interesting cultural differences remain.
When Detroit's Nick Fairley was injured, local medical personnel jumped the gun and came onto the field with a stretcher. Instead, Fairley limped off under his own power. Perhaps the Londoners were used to how soccer players seem to react to injury.
Follow David on Twitter: @profootballdoc