September 22, 2014 -
Dr. David Chao
Monday Morning MD
Aaron Rodgers has made the "discount double check" famous through his State Farm Insurance commercials. Detroit Lions linebacker Stephen Tulloch celebrated a sack of the Packers quarterback on Sunday by emphatically mimicking Rodgers' patented championship belt move to potentially dire consequences.
After Tulloch's first quarter sack of Rodgers, the Detroit linebacker ran several steps, leaped and stomped down with both feet while landing awkwardly on his left knee resulting in a non-contact giving way-type injury. Unfortunately, via video analysis, that mechanism is consistent with an ACL tear and Tulloch's knee did appear to buckle.
Updated (1:05pm ET, Monday): It has been confirmed that Tulloch did, indeed, suffer a torn ACL in Sunday's win over Green Bay and will miss the remainder of the 2014 season.
After falling to the ground celebrating the third-down stop, Tulloch did hop up without assistance and jogged off the field. He returned for one play during the next defensive series, but could not generate any force on his knee and was attended to by the Detroit medical staff.
The middle linebacker did not return to the sidelines and was seen with ice on his knee. Postgame, Tulloch said he was "good" with no swelling, but will undergo an MRI on Monday.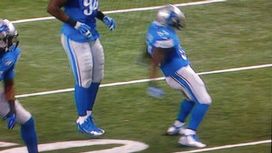 Tulloch's celebration cost him his season.
I am glad to see the player remain optimistic and, quick frankly, I hope my analysis is wrong and Tulloch does not have an ACL tear. It is in his favor that he hopped up, jogged off, played another down and didn't have swelling. Unfortunately, if the linebacker has an isolated ACL tear, that fact pattern is still possible.
For 17 years as an NFL team physician, I studied injury video every Monday morning after our games and I stand by my conclusion, but I certainly have not examined Tulloch. I do fear that the Detroit medical staff already knows what the MRI will show.
If indeed Tulloch tore his ACL, this will conjure up memories of placekicker Bill Gramatica tearing his ACL while celebrating a successful field goal. Others may remember Washington quarterback Gus Frerotte running for the team's only touchdown and then knocking himself out of the game by head butting the end zone wall and, thus, injuring his neck.
I am not trying to embarrass or chastise Tulloch. This would just be a very unfortunate way to end his ninth NFL season. I wish him and the Lions the best on his MRI news and hope ACL surgery is not in his future.
MMMD 1: Dennis Pitta heads to the hospital
NFL medical staffs are ready for almost any emergency. When a player needs to be transported to the hospital, that is never a good sign. In Pitta's case, his overall health is fine, but there is considerable concern on his hip dislocation. The Baltimore tight end needed a CT scan to evaluate joint stability and likely fracture. Because it was a road game, Pitta remained in the hospital overnight while his team flew home.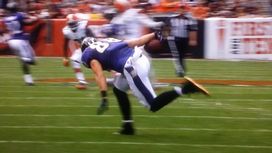 Pitta's career may be in jeopardy after another hip injury.
During the 2013 preseason, Pitta suffered a right hip fracture dislocation and underwent surgery. By video analysis, I concluded he suffered recurrent posterior dislocation on a non-contact play.
Hip dislocations are always serious conditions. The fact that this is a second time dislocation that occurred without trauma does not bode well for Pitta. The easier a joint dislocates, the more inherently unstable it is and, therefore, more likely to re-dislocate. This would indicate that perhaps his initial injury, which necessitated fracture fragment surgical excision, left him with a more shallow and less stable socket.
Best wishes to Pitta and the Ravens. Bo Jackson's career ended with a hip fracture dislocation injury. With this serious re-injury, I hope Pitta's career is not in jeopardy.
MMMD 2: Friendly fire injures Ike Taylor
As the Steelers cornerback was wrapping up on a tackle Sunday night in Carolina, teammate Lawrence Timmons flew in to assist. By video, it is clear that Timmons' helmet struck Taylor's forearm, causing a both bone (radius and ulna) fracture.
Taylor will need surgery with plates and screws to stabilize the injury. Typically, this type of fracture is season-ending, although Taylor could be placed on injured reserve/designated for return and make a late-season comeback.
Too bad for Taylor and the Steelers that a great defensive play rallying to the ball inadvertently leads to this significant injury.
MMMD 3: DeAngelo Hall tears Achilles
The Washington star cornerback was announced with an Achilles injury. He had a classic mechanism for complete tear where he planted coming out of a back pedal and suffered an obvious complete rupture.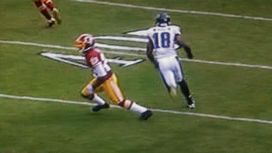 DeAngelo Hall is the latest victim of the season-ending Achilles injury.
Hall later confirmed the injury as a tear. Unfortunately, he joins the growing number of players sidelined this year with the tendon tear, as the Achilles really is becoming the new ACL.
Many have asked why there seems to be an increase in Achilles injuries. My thoughts were nicely summed up in an article by Greg Bedard of The MMQB. As players get bigger, faster and stronger, the foot/ankle remains the same size. Planting a bigger tree in the same pot leads to the increase in lower extremity injuries like Achilles tears.
MMMD 4: Let the Teddy Bridgewater era begin
Veteran Vikings quarterback Matt Cassel injured his right foot against the Saints on a scramble Sunday. He limped off and never returned.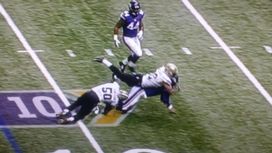 The Teddy Bridgewater era is underway in Minnesota following Cassel's injury.
After the game, head coach Mike Zimmer announced that Cassel has several fractures in his foot. First-round draft pick Teddy Bridgewater finished the game and will likely finish the season as the starting signal-caller. I could not tell what bones were fractured or if surgery is needed, but Cassel is unlikely to return for at least six weeks and could be placed on injured reserve.
MMMD 5: Good that John Abraham was placed on injured reserve
No, I don't wish any injuries on Abraham. Yes, I do think Abraham being placed on IR is a good sign of the times.
Abraham was contemplating retirement when he stated that he has had up to one year of memory loss. Later in the week, he decided he wanted to continue to play. Instead, Abraham was placed on injured reserve.
This was absolutely the right move by both physicians and the Cardinals. A player with memory loss should not be cleared for football.
Despite his football talents, Abraham, for his own good, should not be allowed to return if he has continued memory loss. It is a good sign that the concussion culture has now changed the "Play at all cost" NFL culture.
MMMD 6: Can't comment on all injuries
With up to ten games taking place at one time, I certainly can't see or analyze all injuries. Even if I could, often times the video is not clear on what an injury might be. In this column I try to highlight seven subtopics each week and I apologize if I don't cover every injury.
Sometimes due to confidentiality reasons, I purposefully don't comment on an injury. I only tweet or write on what I learn through the public domain.
Chargers running back Danny Woodhead had a significant injury that I saw as it occurred, but I intentionally did not address it. I am trying to share insider knowledge but feel it is unfair to present the appearance of giving insider information. As a former Chargers team physician, I will continue to respect HIPAA and patient confidentiality.
MMMD 7: Thanks to you for 10k
After almost two decades in the NFL, with my fourth spine surgery and the joys (and trials) of my boy/girl one-year-old twins, I stepped back from all travel and team physician duties. As I watched football games from home and commented on injuries, my wife said, "Tell it to someone who cares," and started me on twitter last October.
Thanks to her and all of you, my twitter account reached ten thousand followers last week. I especially enjoy corresponding with numerous media professionals and respect the work they do.
Follow David on Twitter: @profootballdoc
Dr. David Chao