October 06, 2014 -
Dr. David Chao
Monday Morning MD
Quarterback Carson Palmer led the Arizona Cardinals to a season-opening victory over the San Diego Chargers, but has been out of action ever since due to a nerve issue in his throwing shoulder. Why was Palmer able to finish the first game but not able to play for the next month? Now that backup Drew Stanton suffered a concussion, all eyes are on Palmer's nerve recovery.
Nerve injuries are tough to treat and usually go one of two ways. They are either resolved quickly in a matter of minutes like a stinger or require a prolonged period of time like Peyton Manning's nerve issue which, believe it or not, took years. The bottom line is that nerve injuries rarely improve much on a day-to-day basis as has been the hope for Palmer over the last month.
Palmer's injury has been reported as an axillary nerve contusion. This nerve is a terminal branch of the brachial plexus off the posterior cord. It innervates the deltoid, part of the rotator cuff (teres minor) and long head of the triceps as well a sensation on the outside of the shoulder.
The good news is that there is no structural damage and Palmer's injury is peripheral and not central. A nerve injured further away from the spinal cord responds better versus a nerve compressed at the neck like the one that led to Peyton's need for multiple surgeries, prolonged recovery and resultant triceps atrophy. Where the axillary nerve is susceptible to contusion usually spares the rotator cuff and triceps muscles and usually only partially affects the deltoid. Additionally, Palmer finished that Week 1 game against San Diego indicating a mild injury that likely does not involve total nerve shut down.
The bad news is that it has already been a month and it is a throwing shoulder injury. The deltoid is a stabilizer and abductor of the shoulder and is involved in throwing mechanics.
Axillary nerve injury is rare but there are other examples in the NFL. I have direct knowledge (not citing name due to patient confidentiality) of a first-round draft pick who came out of college with a chronic axillary nerve issue leading to complete deltoid atrophy. He has had a successful NFL career despite his permanent nerve damage. However, he is a defensive player and not a quarterback.
When a nerve is injured, treatments are somewhat limited. While there is no surgical cure, medication and therapy are of limited value. The nerve needs to wake up and that takes time.
Fortunately for Palmer, a deltoid weakness is something he can work through where he doesn't need 100 percent recovery to return. He has been throwing some and he stayed behind in Denver to get more treatment.
At this point, it finally appears that Palmer is closer to a return. However, it is unlikely that the nerve injury is completely resolved. Hopefully, there is enough deltoid recovery along with strengthening of compensatory muscles to work through this weakness. Just like how Peyton's arm gradually got stronger as he played, expect Palmer's arm strength to continue to improve over time when he returns to the gridiron.
Nerve injuries have their own timetable, but things are hopefully looking up for Palmer. The Cardinals need him now more than ever as Stanton is now out with a concussion.
MMMD 1: HGH testing not as comprehensive as initially thought
Over three years after the initial agreement between the NFL and the NFLPA, human growth hormone (HGH) testing has finally arrived. For the first time, NFL players will be required to give blood, as HGH is not easily detected in urine like other performance enhancing drugs (PEDs) and substances of abuse.
Just over 2 percent of players will be tested for HGH on Monday. Every week, five players on each of eight teams will be randomly selected for blood samples. For all other PEDs, five players on all 32 teams are chosen, amounting to almost 10 percent of the league tested weekly.
HGH blood testing is landmark progress. However, approximately 75 percent of players won't be tested for HGH this season. Almost every player is tested at least once for other PEDs each season.
MMMD 2: "Dirtiest play" causes injury
Cardinals head coach Bruce Arians was furious that defensive lineman Calais Campbell was injured Sunday at Denver, going so far as to say it was, "The dirtiest play I've seen in 37 years." The Broncos were penalized for an illegal chop block on the play in question, which negated a 77-yard touchdown pass.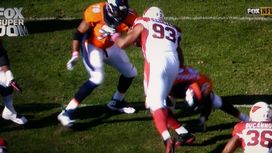 Cardinals head coach Bruce Arians was fuming over this chop block.
Chop blocks are illegal as they have a high chance of causing knee and ankle injuries. By video analysis, Campbell has an MCL sprain which will likely keep him out for several weeks.
Blocks below the waist are not illegal, but they become illegal when the defensive player is engaged with or recently disengaged with another offensive lineman. By video, Broncos tight end Julius Thomas appears to cut Campbell prior to left tackle Ryan Clady engaging Campbell. Although I feel bad for Campbell and the Cardinals, I'm not sure the play was illegal. Perhaps Mike Pereira or Mike Carey can clarify since I am not a rules expert.
Perhaps in this health and safety era, it is best to change the rule to no blocking below the knee from the side regardless of contact with another player up high. Even though Campbell wasn't engaged, he still was injured.
MMMD 3: The injury mechanism I fear the most
Despite all of the talk about concussions, a spinal cord injury is the one I always feared as an NFL team physician. The typical mechanism of catastrophic injury is axial load with some flexion, which is why football should be played with your head up in order to see what you hit.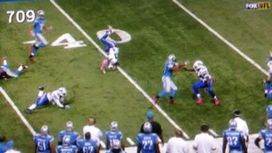 Thankfully, it appears the worst was avoided when Brooks hit the turf as seen above.
Bills cornerback Ron Brooks was upended on a special teams play and suffered an axial load neck injury. He was placed on a spine board and eventually transferred to a local hospital. The immediate good news was that there was no flexion component to the axial load force and that he waived to the crowd as he was carted off.
Brooks remained behind at a Detroit hospital overnight. Typically, a team athletic trainer stays behind with the player and the home team doctors assist with the medical care. Fortunately, early reports say the CT scan was negative, meaning no fracture.
It's always better to be safe than sorry with this worrisome mechanism of injury.
MMMD 4: Most common and worrisome hand injury for quarterbacks
Certain ailments happen more commonly at certain positions. Thumb ulnar collateral ligament (UCL) sprains frequently happen on the throwing hand of a quarterback as it can be injured on a linemen's helmet during a follow-through.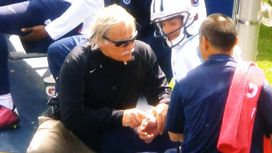 Locker could miss some time after injuring his thumb against the Browns on Sunday.
Titans quarterback Jake Locker appeared to succumb to that exact injury Sunday against the Browns. He left the game and was later seen with thumb spica tape used to stabilize thumb ligament injuries.
In severe cases, complete tears of the UCL (also called gamekeeper's thumb) can lead to surgery. Based on mechanism and the lack of a cast, I don't think Locker will be out for a prolonged period of time. However, this is a debilitating injury for a quarterback as it interferes with gripping the ball.
Buccaneers quarterback Josh McCown has a similar, but perhaps, more severe thumb injury and has missed two games already. Locker is likely to beat McCown back, but neither may return to the field next week.
MMMD 5: Jairus Byrd to injured reserve
The Saints announced a Thursday practice injury, Friday knee surgery and subsequent IR status for star safety Jairus Byrd.
Byrd was reported to have a "bucket handle" lateral meniscus tear. This means a large piece of cartilage is flipped out of position. One can trim/remove the torn piece or attempt to suture back the meniscus. A menisectomy (trimming) leads to quicker recovery. A meniscus repair requires at least three months to heal.
A previous study showed the vast majority of NFL athletes choose menisectomy for the quicker recovery and forgo the potentially better long term results with repair due to longer recovery.
Perhaps the health and safety era makes athletes like Byrd think more about the long term and choose meniscus repair even though it brings an end to the season.
MMMD 6: Star players play it safe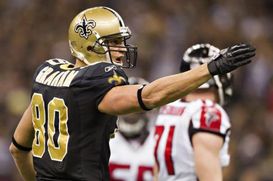 Graham exited Sunday's game against Tampa, but should be ready to go when the Saints return from the bye.
Both Saints tight end Jimmy Graham and Giants running back Rashad Jennings left games on Sunday due to injury and their teams still won. I am certain the injuries were painful and limited their play, but both appeared to be relatively mild.
Graham took a direct blow to his shoulder and should not have suffered any significant structural damage. He was knocked from the game, but we should anticipate a quick recovery of what was termed a sprain.
Jennings got caught up under a pile and appeared to suffer a mild MCL sprain. Although he left the game and is due for an MRI, I doubt he will miss much time, if any.
Sometimes it is better to live to fight another day without aggravating a mild injury.
MMMD 7: Montee Ball likely to miss time
The Denver running back had his appendix removed earlier this preseason and didn't miss any games. I don't think he will be so lucky after his most recent injury.
Ball left Sunday's matchup against Arizona after tangling with a pass rusher and appeared to strain his groin/adductor muscle. He is due for an MRI, but early indications are that he will miss some time. Based on the mechanism, I would not be surprised if imaging shows a tear.
I have treated several NFL running backs with groin injuries and it severally inhibits lateral movement and explosiveness. Depending on the extent of the damage on the MRI, I would not be shocked if Ball missed 4-6 weeks.
Follow David on Twitter: @profootballdoc